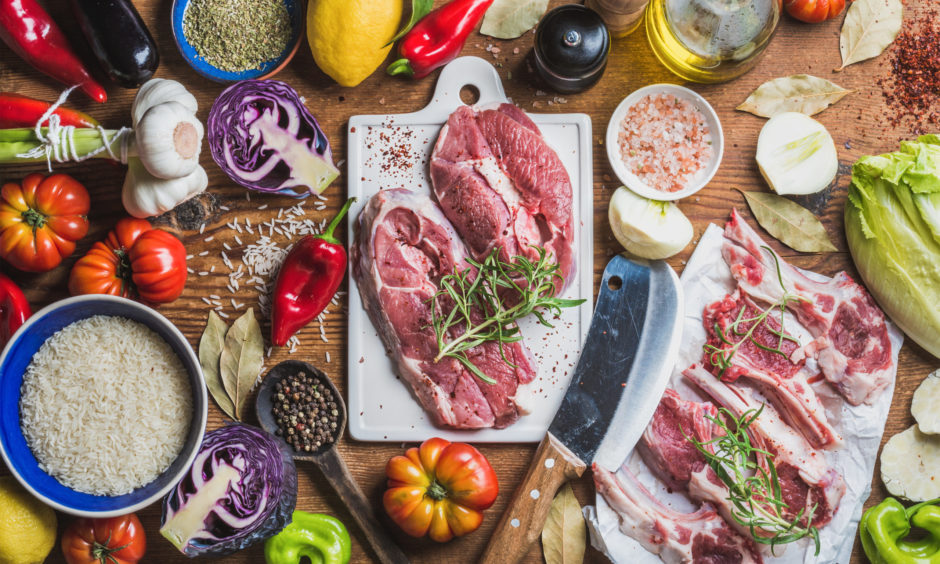 Can't make it to Greece this summer? Then make these Greek-inspired dishes using fabulous Scotch Lamb
So many things have changed this year – including perhaps not being able to take that holiday to the sun you planned.
But you can still enjoy a taste of the Med with these Greek-inspired recipes from Quality Meat Scotland (QMS), made using fabulous Scotch Lamb PGI.
QMS will also, as always, inject a ray of sunshine into the annual Taste of Grampian Festival, which this year will be a virtual event.
QMS has supported the festival, which showcases the best food and drink the north of Scotland has to offer, for more than two decades, and it has pledged to support this year's online event, which takes place from September 18-20.
Alan Clarke, chief executive at QMS, said: "A virtual event is the perfect way to showcase Scotch Beef PGI, Scotch Lamb PGI and Specially Selected Pork, which have earned a global reputation for their taste and quality.
"These brands are underpinned by world-leading quality assurance which makes animal welfare a priority."
Circle these dates in your diary and get ready to log on and enjoy a range of fun cook-offs, celebrity cooking demos, competitions and fantastic collaborations.
---
Pulled Scotch Lamb wrap
(Serves 4)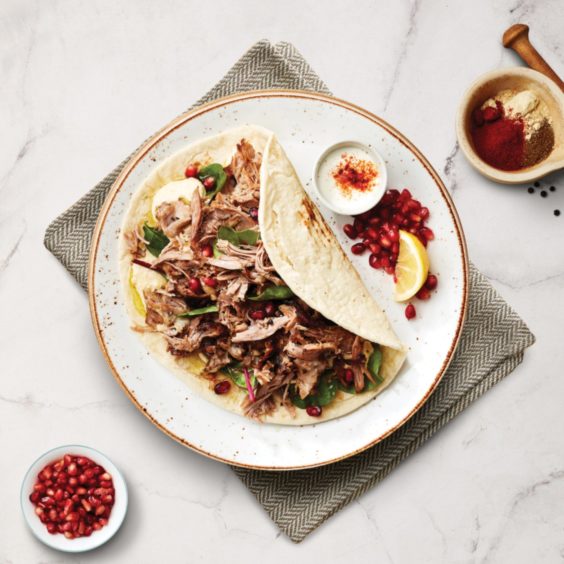 Ingredients
1.25kg half bone-in or boneless Scotch Lamb PGI shoulder joint
1 onion, peeled and roughly chopped
4 garlic cloves, peeled and roughly chopped
Juice of 1 lemon
2 tbsp rapeseed oil
1 heaped tsp each of ground fenugreek, ground paprika, ground cumin and ground cinnamon
12 black peppercorns
Sea salt
Method
Pre-heat the oven to 170C/150C fan/gas mark 3.
Transfer the onion and garlic to a food processor or 'bullet' blender.
Add the lemon juice, oil, spices, peppercorns and some salt.
Blend to a paste.
Put the lamb joint into an ovenproof roasting dish or slow cooker. With a sharp knife cut some slashes into the meat and rub the paste all over the joint.
Pour a little water into the base of the roasting dish or slow cooker.
Cover the roasting dish with foil and roast for four hours.
Alternatively, cover the slow cooker and cook on low for six hours, or high for three hours. Remove from the oven or slow cooker and allow to cool slightly before shredding the lamb with two forks.
Serve immediately with flatbreads, houmous, salad, Greek-style yogurt and pomegranate seeds.
---
Scotch Lamb and tzatziki pitta
(Serves 4)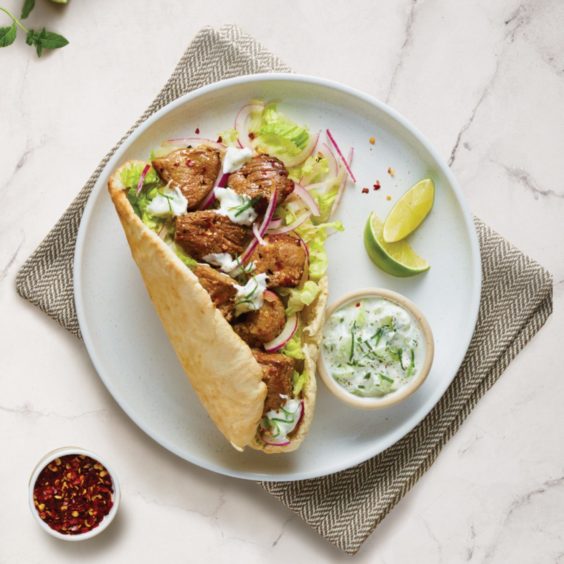 Ingredients
600g boneless Scotch Lamb PGI leg steaks, cut into cubes
2 tbsp light soy sauce
Juice of 1 medium orange and 1 lime
½ tsp each red chilli flakes, ground cumin, garlic powder, ground ginger and ground black pepper
120g reduced fat Greek yogurt
⅓ cucumber, halved, deseeded and sliced
1 tsp dried mint
To serve:
4 pitta breads
1 Little Gem lettuce, shredded
1 red onion, peeled and thinly sliced
1 lemon, cut in half
Method
Put the lamb into a large bowl and add the soy sauce, orange and lime juice. Sprinkle over the dried spices and mix well.
Cover and marinate for 10 minutes, or longer, in the fridge, if time allows.
Thread the lamb cubes equally on to four metal or wooden skewers (previously soaked in water) for 20 minutes.
Cook on a pre-heated moderate grill or on a prepared barbecue for 15 minutes, turning occasionally, or until any meat juices run clear.
For the tzatziki: Mix together the yogurt, cucumber and mint.
To serve: Warm the pittas, split in half, divide the lettuce and red onion between them.
Top with the lamb, squeeze over the lemon juice and serve with the tzatziki.