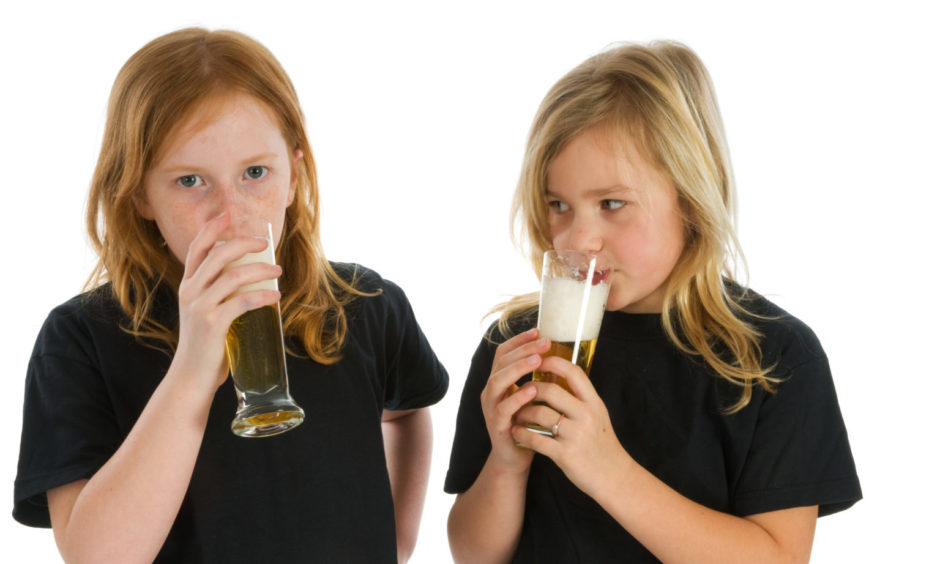 Researchers have discovered that pre-teen children permitted to try alcohol by their parents are 85% more likely to become binge-drinkers in their teenage years.
Parents who allow their pre-teen children to enjoy sips of alcohol at the dinner table could be condemning them to an adolescence of binge-drinking, research has revealed.
The study, by experts at the National Drug and Alcohol Research Centre in Australia (NDARC), researched whether drinking alcohol during childhood, either as sips or entire drinks, was connected to problem drinking later on in life.
And the researchers found that children permitted to sip alcohol at the dining table were 85% more likely to turn to binge-drinking during adolescence.
There was no evidence to suggest that introducing alcohol to children in a responsible setting by giving them small sips of alcohol had a "protective effect" on them in their relationship with alcohol in later life.
In fact, the opposite appeared to be true, with being permitted to sample just a small amount of drink increasing the likelihood that teens would binge-drink.
And the risk was increased further when children were given larger quantities of drink.
Lead author Alexandra Aiken said: "Whilst many parents may supply sips of alcohol to their underage children as a harm reduction strategy, results shows that supply of sips exists on a continuum of increasing risk of adverse outcomes.
Adverse outcomes
"Parental supply of sips in one year was associated with increased risk of binge drinking and alcohol-related harms a year later, compared with no supply. As the quantity of alcohol supplied increased, so too did the risk of adverse outcomes," said Ms Aiken.
"Sipping" is the most common form of alcohol consumption among children and young adolescents, is usually supervised, and is associated with child perceptions of parental approval and familial modelling of alcohol behaviours.
"While parents supplying larger amounts of alcohol is associated with worse outcomes, even supplying relatively small quantities such as sips increases the risk of adverse outcomes for adolescents relative to no supply," said Ms Aiken.
"Relative to no parental supply, parental supply of even small amounts of alcohol in early adolescence may hasten alcohol initiation, may be perceived by children as permissiveness and approval, and may reduce barriers to alcohol use, all of which in turn might encourage further alcohol consumption."
The study, by experts at NDARC, surveyed 1,910 Australian pre-teens with an average age of 12.9 years annually over seven years.
What do you think?
Although evidence suggests we drank less as a nation during lockdown, families spent more time together and parents may have been tempted to allow their children try out some drinks at home.
Do you allow your children to try alcohol at home in the hope that it will show them a responsible way of drinking or do you have a zero tolerance approach to children and drink?
Email us on foodanddrink@dctmedia.co.uk