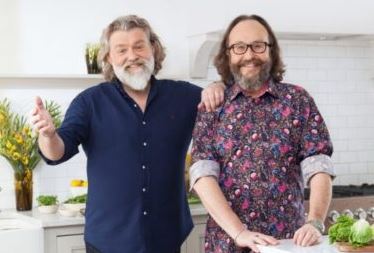 The Hairy Bikers share a recipe for banana ice cream, ahead of this year's virtual Taste of Grampian festival.
We're seeing a lot less of favourite TV chefs Si King and Dave Myers – aka The Hairy Bikers – these days, which is both good and bad news…
The bad news is they were scheduled to appear at this year's Taste of Grampian Festival, along with fellow celebrity chef James Martin.
The pandemic postponed the festival, but the good news is this year the festival is going virtual, so you'll still be able to take part from the comfort of your own home from September 18 to 20.
Meanwhile the lads, Si, Dave and James, have been confirmed for the 2021 event.
But as we said at the start, regardless of them being in the north-east this year or not, you'll be seeing a lot less of them as between them, Si and Dave have lost six stones over the last 10 years.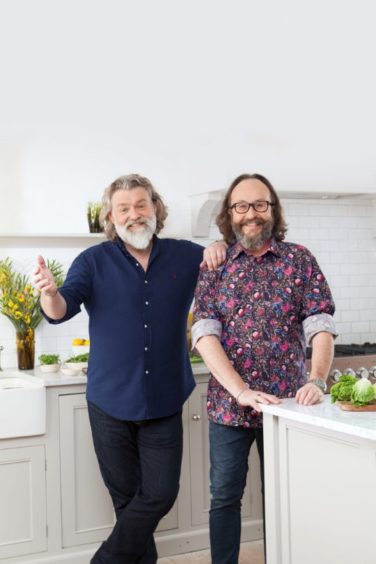 The lads, who have written more than 20 cookbooks including British Classics, Mediterranean Adventure and Mums Know Best, have drawn on their own weight loss journey for their latest recipe book: The Hairy Bikers Eat to Beat Type 2 Diabetes.
The book is ideal for anyone with type 2 diabetes, or at risk of developing type 2 diabetes, and those looking to eat well, but stay trim.
The aim is to provide healthy, uncomplicated meals for those with type 2 dietary requirements, but anyone can eat these dishes.
They've covered all the basics, be it soups (like their courgette, mint and lemon offering) and salads (from tabbouleh to smoked trout with celeriac fries) and heartier dinners (think lamb dhansak and fish crumble), as well as desserts (the coconut and carrot macaroons sound intriguing).
The book is very easy to use – recipe lists can be a tad long, but they are designed to be entirely balanced, so it's worth sticking to them.
But once you've assembled your ingredients, the steps that'll get you from raw items to dinner on the table are very straightforward.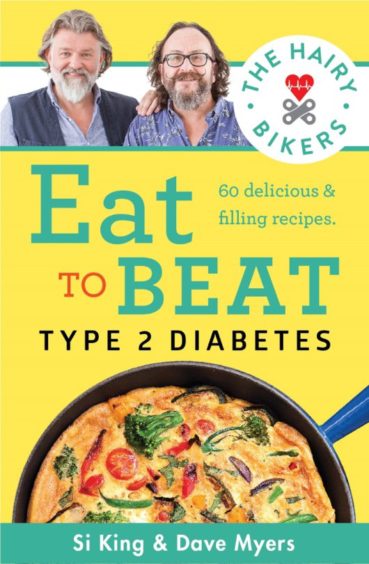 One of the favourite recipes from the book is the instant banana ice cream featured below, while the chicken tray bake with fennel, peas and new potatoes, which sounds like the kind of thing you can bung in the oven in the evening and everyone will be happy, came a very close second!
It's a book filled with healthy versions of family recipes that should still leave you sated, rather than unsatisfied and hollow.
The Hairy Bikers Eat to Beat Type 2 Diabetes by Si King and Dave Myers is published by Seven Dials, priced £12.99. Photography Andrew Hayes-Watkins.
---
The Hairy Bikers' instant banana ice cream
(Serves 4-6)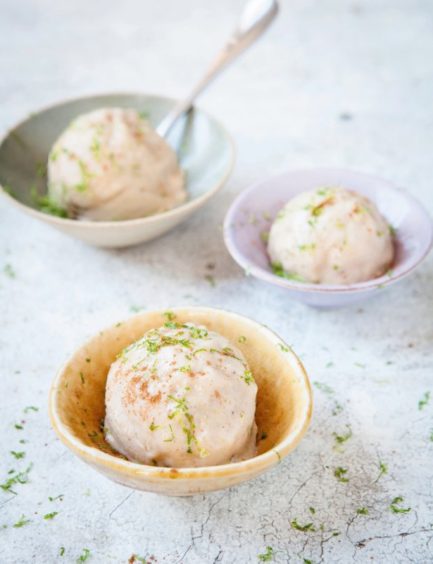 Ingredients
4 very ripe bananas
Juice of half a lime
Grated zest of half a lime, plus extra to garnish
½ tsp cinnamon, plus extra to garnish (optional)
A few drops of vanilla extract
Calorie-free sweetener, to taste
100ml yoghurt or reduced-fat creme fraiche
Method
Peel the bananas and cut them into fairly small chunks.
Toss the chunks in the lime juice and arrange them on a baking tray.
Put them in the freezer and leave them until they're completely solid all the way through – this will take at least two hours, but leave them overnight if possible.
Put the frozen bananas in a food processor with the lime zest, cinnamon, vanilla extract, sweetener and the yoghurt or crème fraiche.
Blend until the mixture is beautifully thick, smooth and creamy, then serve sprinkled with some extra lime zest and cinnamon if you like.
---
More in this series…
Taste of Grampian: Everything you need to know about taking part in this year's virtual food and drink festival