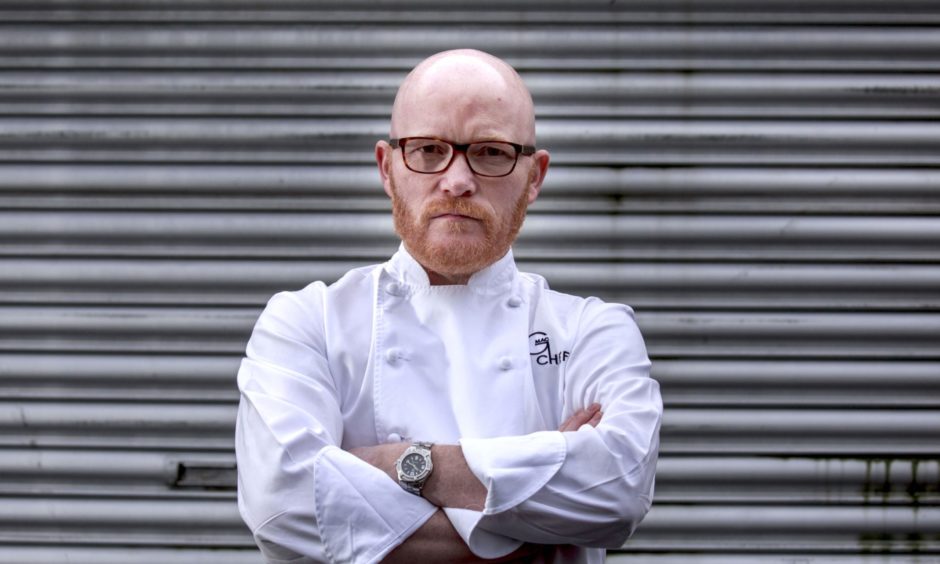 Ahead of his appearance at this year's virtual Taste of Grampian festival, Scotland's national chef Gary Maclean shares uses local ingredients to perfect two of his favourite recipes
Like many of us, Scotland's national chef, Gary Maclean, had to get used to working from home during lockdown.
But while some of us struggled to get to grips with appearing on video, Gary took to it like a duck to water.
"I'm very lucky as my daughter Laura, who is 18, is a film student so we've been working together for weeks," said Gary, who is taking part in this year's virtual Taste of Grampian festival.
"It's been good and I think we'll look back on this experience as being good fun – it has been fun working together.
"I actually designed my kitchen at home so I can film in it, putting in all the equipment and lights needed a couple of years before anyone had heard of Covid-19.
"I've been doing a stream every Wednesday night from the kitchen and broadcast to the world.
"I get viewers, not just from Scotland, but from all over the world including regulars from Australia, South America, Turkey, Greenland and Cuba."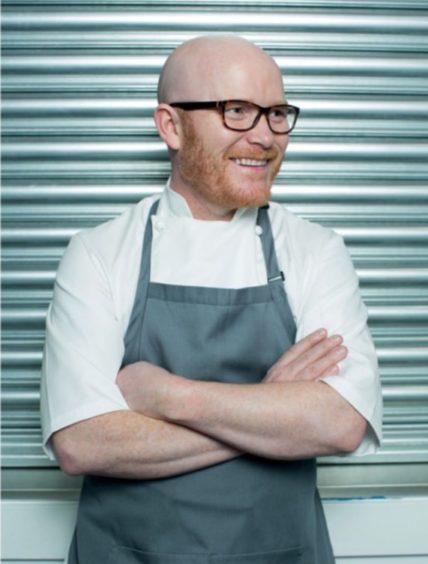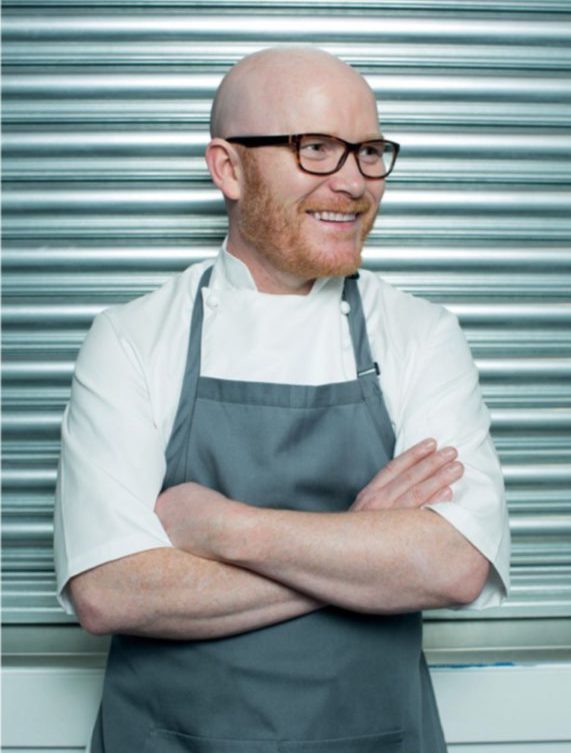 This would have been Gary's fourth appearance at Taste of Grampian, so naturally he is disappointed he is not going to be there in person, but virtually he will showcase some wonderful produce from the region.
One product Gary is particularly keen on, and would like to see more people eat, is Specially Selected Pork.
"I'd like to elevate pork so people see it as an amazing, luxurious and beautiful product," said Gary.
"Pork is 100% underrated and probably the most economical bit of meat you
can buy, yet full of flavour and easy to
cook."
His first recipe for today features pig cheeks.
"They probably don't sound appetising but for me they are one amazing cut of pork – I just love them.
"You might have to spend a little time trimming them, or ask the butcher to trim them for you.
"I always cook these in a pressure cooker, but if you don't have one you can cook it in the oven at 130C."
---
Braised pig cheeks
(Serves 4)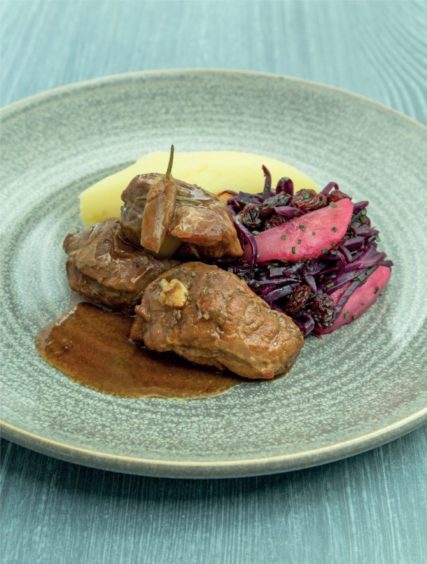 Ingredients
1kg pig cheeks, trimmed
100g flour, for dusting the pork
1 carrot, peeled and roughly chopped
1 stick celery, peeled and roughly chopped
2 sprigs of thyme
1 medium onion
50g tomato puree
2 garlic cloves
2 ltr meat stock
½ a red cabbage, shredded
2 banana shallots
50g sultanas
30ml red wine vinegar
50g brown sugar
½ tsp allspice
¼ tsp ground ginger
1 Williams pear, chopped
Enough mashed potatoes to serve 4
Vegetable oil for cooking
Salt and pepper
Method
Pre-heat the oven to 130C or set up a pressure cooker.
Add a little oil to the pan and heat it.
Roll the trimmed pig cheeks in a little flour then pop them into the pan to brown them. You may have to do this in batches.
Once all the pork is browned, add the chopped onion, carrot, celery, thyme and garlic and mix well.
Once the veg has started to soften, add the tomato puree, stock and bring to the boil. You may have to add a little water depending of the size of your pressure cooker.
Pop on the lid and bring up to pressure.
Once you have established pressure turn the heat down to as low as it will go and cook for 45 minutes.
If not using a pressure cooker, after bringing the meat/veg to boil, transfer to a deep tray.
Cover with foil and braise in the oven for about two and a half hours.
Next, place the shredded red cabbage, spices, chopped shallots, vinegar and sugar into a large pot. Slowly cook with the lid on until the cabbage is tender.
Then add the sultanas and pear and cook for another 10 minutes.
Once the pork is ready, transfer the cooking liquid into a separate pot and bring to the boil on the stove.
Reduce until you have a tasty sauce.
Once the sauce is ready, pop the pig cheeks back in.
When the cheeks are hot, serve with red cabbage and mashed potato.
---
Specially Selected belly of pork with set polenta, black pudding, spinach and apricots
(Serves 4)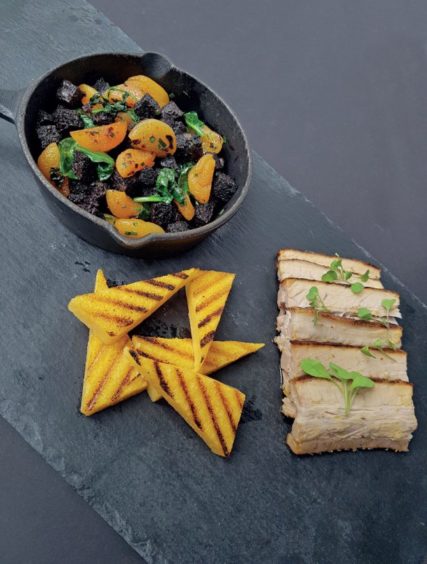 Ingredients
For the pork:
1kg pork belly, rind removed
1 onion, roughly chopped
1 carrot, peeled and chopped
2 cloves of garlic
Small bunch of thyme
30ml olive oil
1 tsp paprika
½ tsp each chilli powder and ground cumin
150ml vegetable stock
For the set polenta:
1.5 ltr veg stock (a good-quality cube will work for this)
350g polenta
75g Parmesan, grated
Salt to taste
For the apricot and black pudding:
150g black pudding, diced
100g dried apricots, sliced
½ a packet baby spinach, stalks removed
Method
To make the pork: 
Pre-heat the oven to 130C.
Take the pork belly and rub in the oil, then gradually rub in the spices and a little salt.
Place the veg, garlic and herbs into a deep roasting tray. Pop the pork on top, pour in the veg stock and cover the tray with a couple of sheets of tin foil.
Bake in the oven for two to two and a half hours, depending on the pork.
Once cooked, carefully remove the pork from the tray and place into another tray.
Pop a clean tray on top of the hot pork.
Use a couple of heavy cans to weigh the tray down, and leave until the pork belly is cold. Once cold the pork can be cut and reheated when needed.
To make the set polenta:
Bring the stock to boil in a large pan.
Once boiling gradually add the polenta, stirring continually with a wooden spoon.
Lower the heat and cook, stirring occasionally, for 10 mins.
Meanwhile, line a 20 x 30cm tray with baking parchment.
Stir the Parmesan into the polenta, then spoon out on to the tray.
Cover with another sheet of baking parchment and a flat baking tray.
Top with some cans to press and flatten the polenta.
Allow to cool before placing into the fridge.
Once cold, cut into triangles, brush with a little oil and griddle when needed.
To make the apricot and black pudding: 
In a large hot frying pan add the black pudding and cook until it has started to crisp up.
Add the apricots and cook for a couple of minutes.
Add the spinach and cook until it wilts.
Check the seasoning.
To serve:
When ready to eat, reheat the pork, griddle the polenta and serve along with the hot black pudding, apricots and spinach.
---
Read more in this series…
Main course: Gary Maclean's north-east nosh provides show-stopping flavours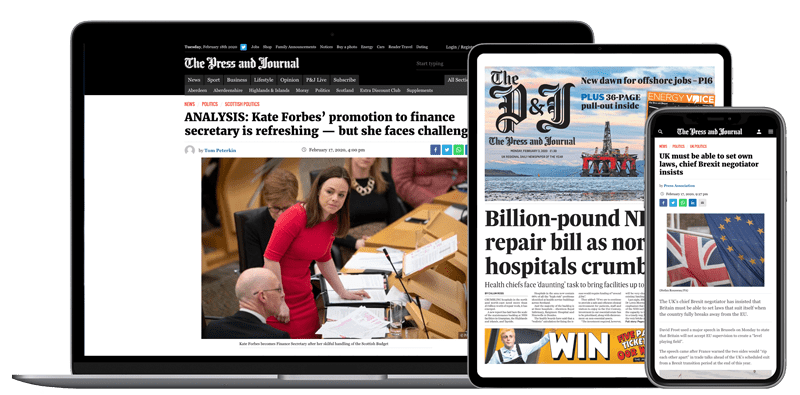 Help support quality local journalism … become a digital subscriber to The Press and Journal
For as little as £5.99 a month you can access all of our content, including Premium articles.
Subscribe