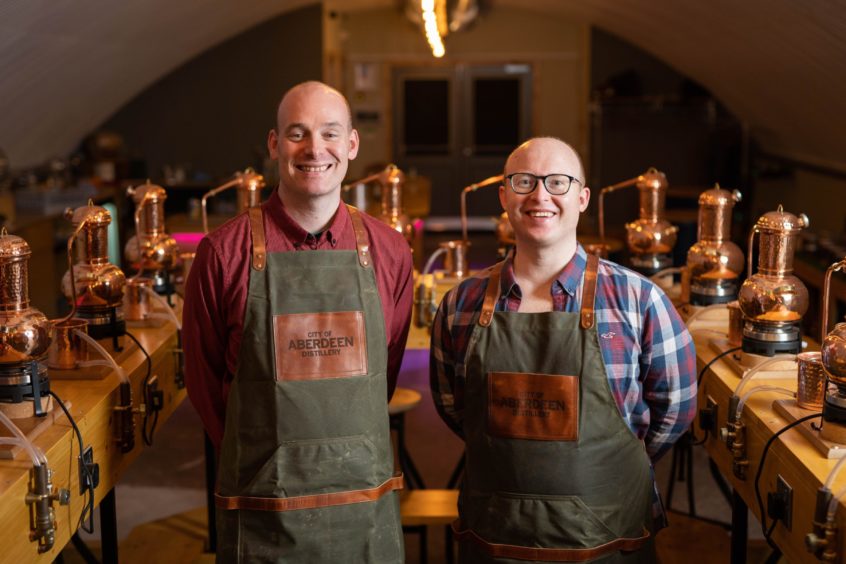 Secrets revealed, new gins launched and a chance to be a part of a historic decision awaits those tuning in to the virtual Taste of Grampian. Susan Welsh finds out more…
Dan Barnett and Alan Milne made history when they opened The City of Aberdeen Distillery last December and began distilling their own spirits – the city's last distillery closed in 1941.
Now there's a chance for those taking part in this year's virtual Taste of Grampian festival to help them make history again – and earn themselves a bit of kudos at the same time…
Alan said: "People will be able to log on and see me chatting about the distillery, Aberdeen's distilling history, our school and tastings, but the exciting part is that we are going to be offering a tasting pack of four 5cl bottles of new gins to try at home.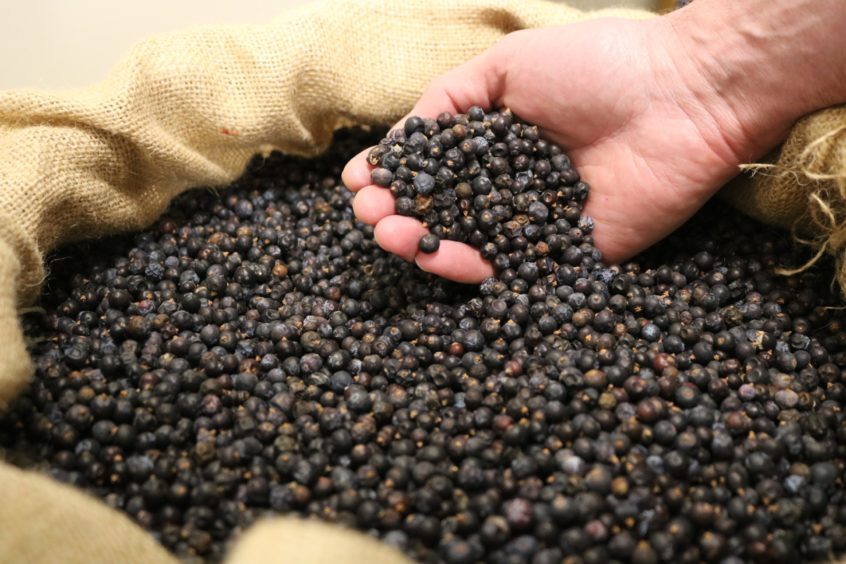 "The packs are very special, as they will include a voting card, and having sampled each gin, customers then have an opportunity to go on our website and vote for their favourite.
"The gin receiving the most votes will become the City of Aberdeen Distillery signature gin."
"It's a big responsibility, but it should also be fun," added Alan.
"The Taste of Grampian Food and Drink Festival is a great opportunity to get the gins out to as many people as possible."
Gin packs, priced £20 for four double measures, can be ordered and collected at the distillery housed in an old railway arch on Aberdeen's Palmerston Road, or ordered online and posted out anywhere in the UK (P&P applies).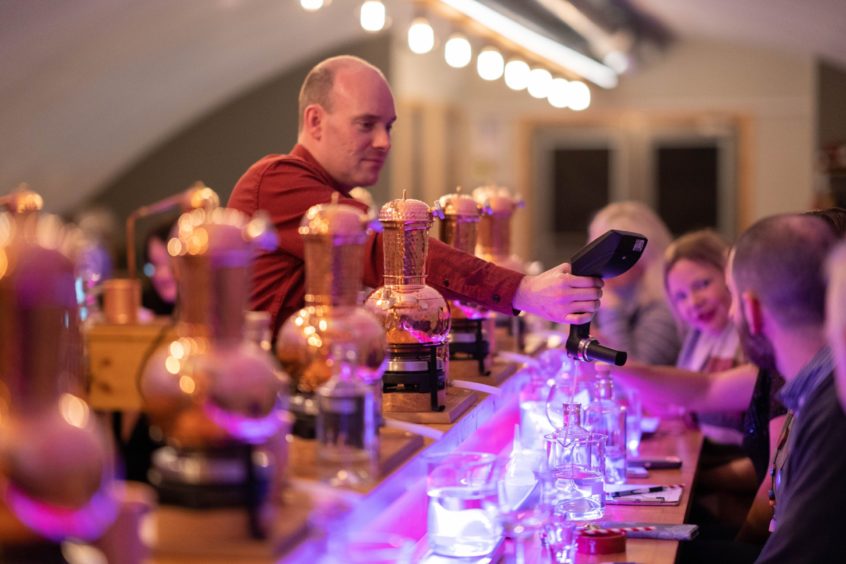 "We don't provide mixers, as some people prefer lemonade or soda water, but if using tonic we recommend a light tonic water such as that made by Fever Tree, as it lets the flavours of the gin come out."
At Taste of Grampian, the lads will also launch a new gin made with Scottish brambles, and reveal a well-kept secret…
"We have been working on a top-secret project for the last year and at the festival we'll reveal what it's all about," said Alan.
"I can't say too much just yet, apart from that it will delight gin lovers."
What's clear is that Alan and Dan's passion for making rather special gins in their home city has gone from strength to strength since they first met.
"I first began experimenting by making wine in the late 1980s, when I was still a teenager," said Alan.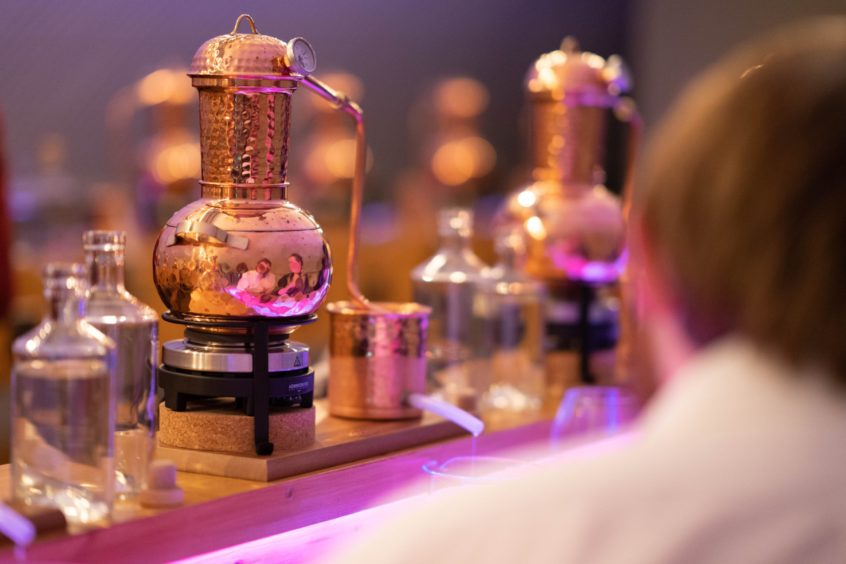 "I used a tin of grape concentrate, a demijohn and some yeast.
"Back then, you could pray to whatever god you believed in and these 'wines' would still turn out to be horrible.
"But I don't give up easily and discovered that we have a lot of soft fruit available to us in this region, so rather than take a short cut and use a tin of concentrate, I began using locally grown soft fruit which I fermented into really nice wine.
"As a student, I discovered a great way to tell if my wines were any good or not was to invite my pals round.
"If the wine I'd made was good, my friends would drink all of it, if not, I'd be left with most of it.
"It was a basic but foolproof way to find out how I was progressing.
"I then joined the university wine society and learned how to taste wine and what to look out for.
"Through the society I met Dan and it turned out that while I'd been dabbling around using fruit to make wines, he'd been making his own beer from raw ingredients.
"Over time we realised that many beers also used botanicals such as juniper, and that there wasn't a million miles between making a good wine or beer to making a cracking gin."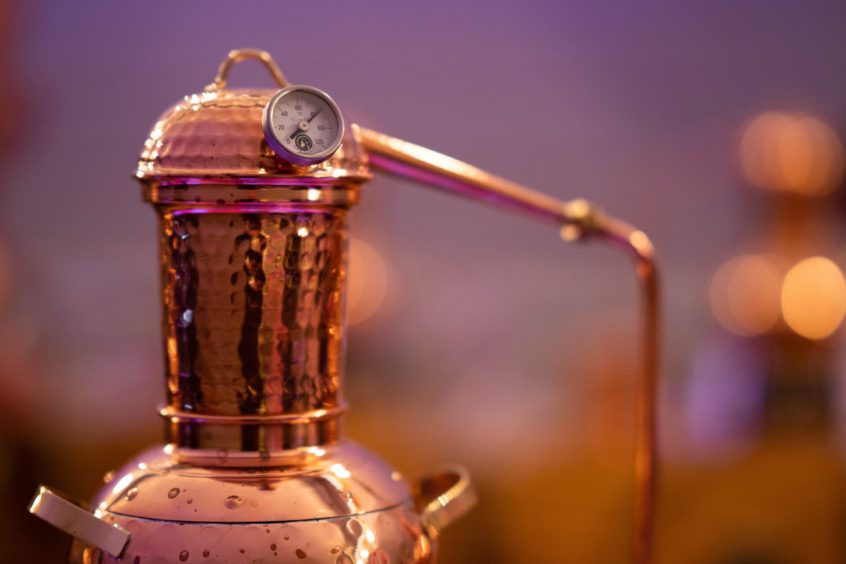 The result was the creation of The City of Aberdeen Distillery and Gin School, which has 20 mini stills where members of the public can make their own gin, along with a few other stills used by the lads to create their own range of hand-crafted gins.
"Whisky gets better the longer it's allowed to age, but gin doesn't – it's best made and drunk while fresh which is why we make a fresh batch every three weeks," said Alan.
The gins he creates are made with as many locally sourced ingredients he can get his hands on as possible.
"Our most recent gin is made with rhubarb grown in my own garden – you can't get much more local than that," he joked.
Voting to decide which of the four new gins will be the distillery's signature gin closes on Saturday October 17.
However, the tasting four-pack will be available for several months – an ideal Christmas present – and you'll be able to view his Taste of Grampian video online for around six months after the event.
The virtual, online festival takes place from Friday to Sunday, September 18 to 20.
Visit www.tasteofgrampian.co.uk for full details of  this year's festival.