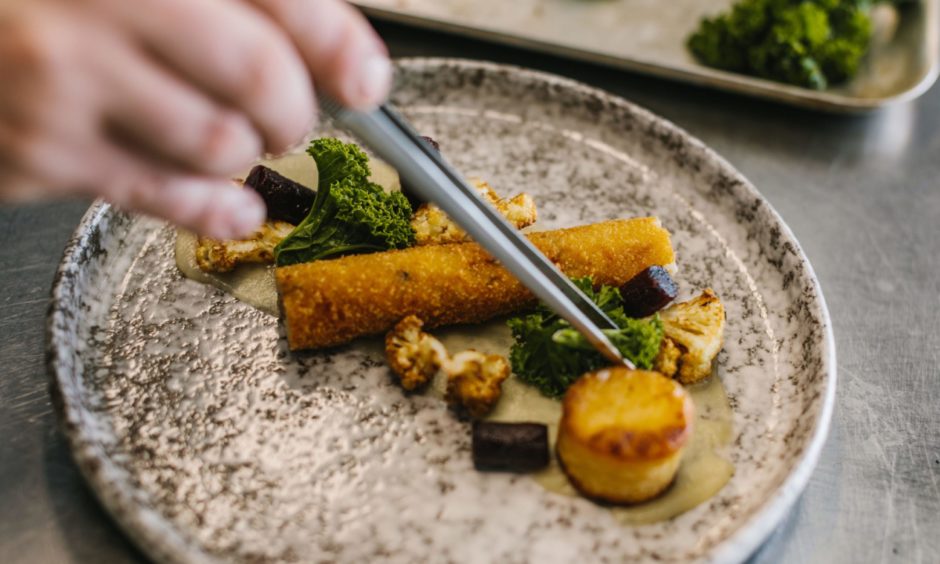 After five months of eating nothing but home-cooked food, Susan Welsh experiences dining out once more…
I love eating out and can't resist an opportunity to experience good hospitality, relax in pleasant surroundings and eat food created by talented chefs.
I like to think of myself as being a fairly decent home cook, but I'm fed up eating food I've cooked myself and am starting to miss dining out.
The government's Eat Out To Help Out Scheme has encouraged some to eat out, but many, understandably, are nervous about venturing beyond their own kitchen.
It's been a tremendously difficult time for those in the hospitality industry, and keeping customers and staff safe has taken priority over everything else.
At Maryculter House, an independent, family-run hotel on the outskirts of Aberdeen, they've made a huge amount of changes.
Peter Walker, MD, explained: "Before lockdown, Maryculter House had entered into a transformative few months with our anticipated refurbishment.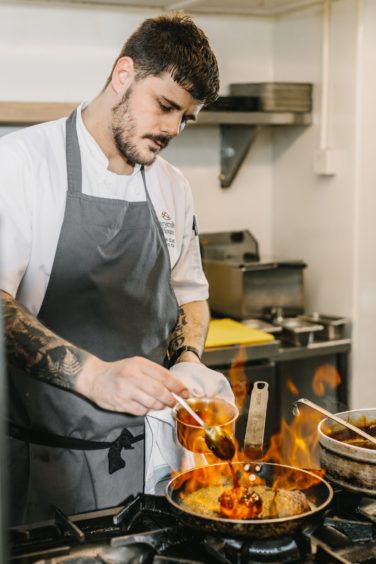 "Behind the scenes we have continued to work hard to come back and deliver the best hospitality and traditional customer service we can, with the appropriate health and safety measures in place."
My partner Andy and I went for dinner in the hotel's Poacher's Brasserie which overlooks a pretty courtyard and the River Dee.
We wore face coverings and the staff wore masks, and despite not being able to see them properly smile, our welcome was warm and friendly.
Peter explained the changes, which include pre-booking, taking our contact details, sanitising our hands before proceeding through the hotel, not having our coats/jackets hung up, and being asked to follow social-distancing requirements.
There were only four tables set up in the restaurant, all well spaced apart, and they were simply set with just a candle and flower vase.
Sadly, because of Covid-19, linen tablecloths and napkins, and tables beautifully dressed with sparkling glasses and cutlery, are a thing of the past.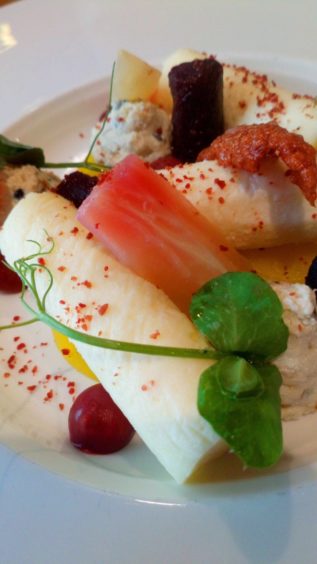 Disposable napkins and laminated menus, sanitised after each use, are used, while cutlery and glassware was delivered to the table as and when it was required.
Initially it felt a bit strange, but our waiter quickly put us at ease and we soon relaxed over a cocktail – a spicy Bloody Mary for me and Foraged Old Fashioned for Andy.
The paper-wrapped straw for my drink and a complimentary snack were presented in an unusual manner – clipped to an empty glass in order to reduce contact. It's the new way, at least for the moment…
One thing that hasn't changed is the fantastic food created by head chef Alan Clarke.
Originally from Forres, he has created culinary masterpieces at some of the most prestigious restaurants in Scotland.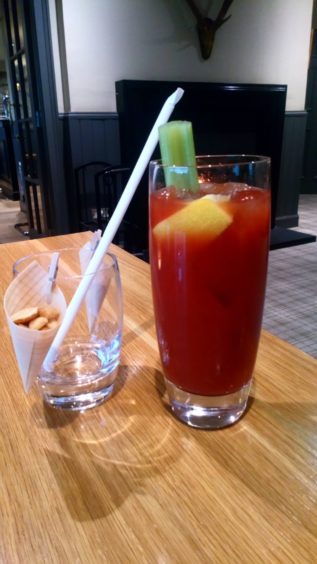 He is currently offering a reduced menu but hasn't compromised on taste or presentation, which was evident in my starter of whipped Bonnet's goats cheese with black crowdie, beautifully carved purple beetroot, watermelon and micro herbs.
It was an absolute feast for the eyes and tastebuds – this is what I've been missing!
Meanwhile Andy demolished his starter of French onion soup like a man who'd been starved of good food for months…
My main course, Grace's Highland Beef, featured beef from Grace Noble at Aberdeenshire Highland Cattle, based near Banchory, cooked three ways – melt-in-the mouth Jacob's ladder, cheek and rump – served with carrot, kale, roast potato, and mini Yorkshire pud, and it was simply tremendous.
Andy's main, a seafood platter, was also superb – salmon cured and hot-smoked, breaded mussels, mussels in a creamy wine sauce, battered langoustine tails and haddock.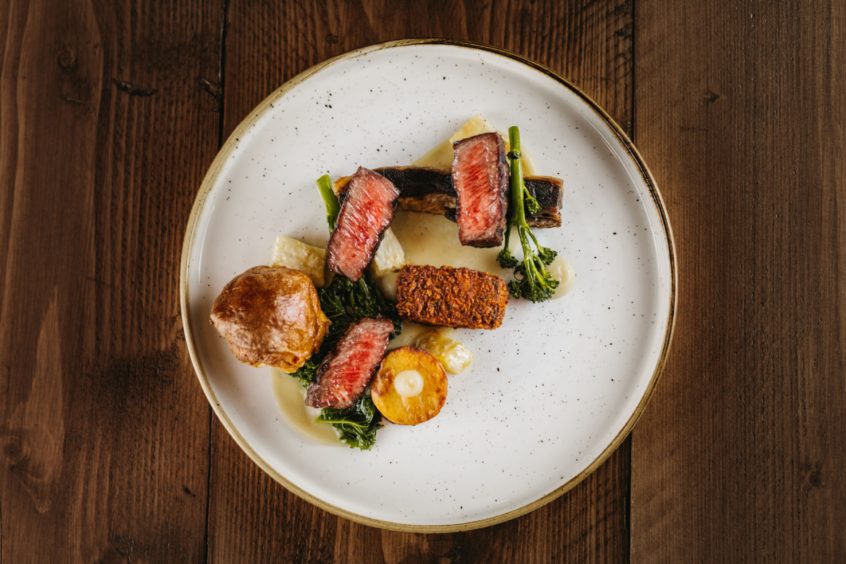 We weren't going to have a dessert but were enjoying the novelty of eating out so much we couldn't resist Alan's special rowie and Dundee marmalade pudding, a sweet yet salty sensation, while the biscoff cheesecake with vanilla ice cream was right on trend.
This was a different dining experience, but thanks to the excellent hospitality and chef skills at Maryculter House, we felt welcome and safe and thoroughly enjoyed, and really appreciated, our eating-out experience.