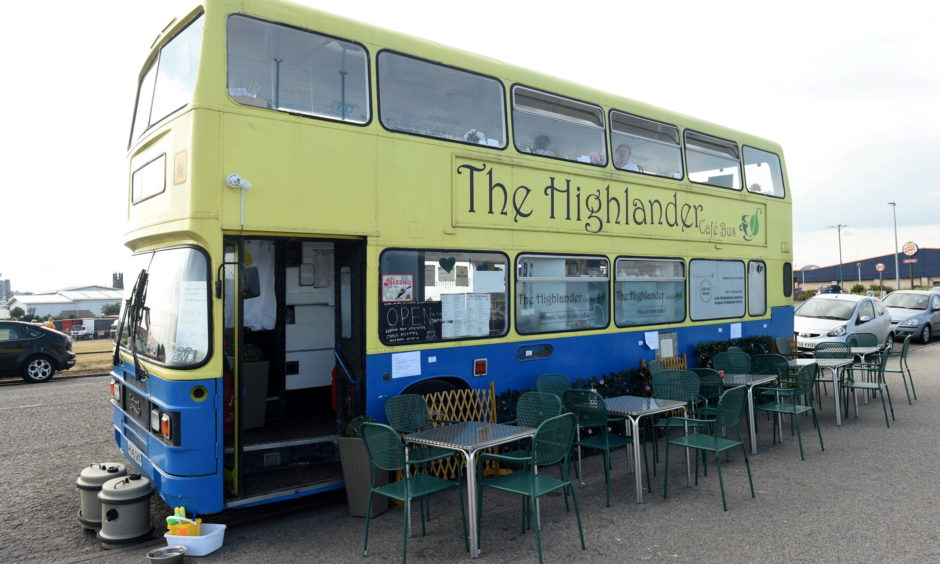 Businesses have been seeking clarity from the city council as new cycle path plans get under way with concern over a loss of parking spaces.
Aberdeen beach has been a safe haven and a place of serenity for thousands of people throughout lockdown.
From families and dog walkers meandering along the sandy beach, to runners and cyclists using the promenade to keep fit, not to mention surfers, paddle boarders and swimmers enjoying the waves in the North Sea, the city's residents, and those travelling from further afield, have found real tranquillity at the popular hot-spot.
Coming out of the Scotland-wide lockdown was a Godsend for many of the food vendors who call the beach home. Reopening their hatches, they were inundated with customers on the hot summer days they were able to trade.
Local lockdown then brought all of this success crashing down. With no real opportunity to take part in the Eat Out to Help Out scheme, reopening to catch the end of the summer trade was vital to many of the vendors who are located up and down the road of the beach front.
And now traders are being hit with another obstacle as Aberdeen City Council begins works on a new cycle lane along the beach which will see parking restrictions and one-way systems from its junction with Beach Boulevard south to the roundabout in operation.
The new routes are being created along the length of the Esplanade to encourage people to social distance as part of the Spaces for People initiative.
While the restrictions will still see parking outside the front of cafes and the Codonas amusement park, it is the independent food trucks and vans that reside permanently at the beach which will potentially see stretches of parking being reduced near their premises.
Located along the beach-front at the Fittie side of the area is Ramona Obafemi's cafe on wheels, The Highlander Bus Cafe.
Using a double-decker bus which has been renovated into a cafe, Ramona has assembled seating outside her unique eatery where customers can enjoy a range of dishes including breakfast rolls and delicious lunches.
Having only been made aware of the new works at the beginning of September, Ramona, alongside other business owners – including from Roots at the Beach, a burger van, Nostalgic Ice Cream and Scot Surf School – all turned to the council for answers.
She said: "Initially they (the council) told me the works would start on Wednesday last week and be complete by Friday, so I closed my business as all the roads would have been closed. There was no point as there would have been no trade.
"Then I was updated on Thursday that it would move to Monday and Tuesday this week, but it was weather dependent. I was able to trade a bit last week, but I have suppliers who need time to get products to me, so it has been really challenging. Going forward I'm going to close Monday to Wednesday and just open Thursday to Sunday."
Bad timing
Having just emerged from a local lockdown in Aberdeen, Ramona says the works couldn't have come at a worse time when she and other traders are in the process of trying to re-build their businesses.
She added: "We don't want to get in the way of progress, my concern is mainly around the timings of everything. We're just coming out of a second lockdown. It is hard as it is trying to get back to business and getting people down to the beach and out again. We didn't really benefit from the Eat Out to Help Out scheme either, so to be planning works right now is just not the right time.
"Everyone is in survival mode and businesses are struggling every day and then something like this happens. You just don't know when the effects of the pandemic will all end."
Lack of communication
While some vendors have criticised the local authority due to a lack of communication, it is the communications with the public in informing them of road updates at the beach which Ramona says is most challenging, with many of her customers messaging her presuming she may be closed.
"The communication has really been lacking from the Council in this case. We know the beach really well as we work here all day long and if we had managed to have a proper chat with them, I honestly think we could have created a wonderful space," said Ramona.
"It is in all of our interests to be attracting more people to the beach area. There was no communication for us to make provisions. We were just told we had to close for the works. If there had been better communication things may have gone a little smoother. I understand we're looking to a greener future, so why wasn't something like getting all of the food vendors linked up to the grid something they wanted to investigate instead of us using generators? There's so much potential for the beach front and it's just frustrating not being able to speak to the council before decisions are made.
"There will be less parking down on the beach front which means there is less opportunity for our customers to park up. I feel everything has been quite rushed as we were only really shown the plans last week when the works were scheduled to take place. By the looks of it there will be a cycle lane, another zone and then parking spaces, it is going to be very tight to park and drivers will have to be very careful with all the changes.
"The car parking space is so important to my business. It is hard to tell how big an impact it is going to have on my business. At this point in time it is just a case of wait and see. I think people are really confused about what is happening at the beach just now, we're trying our best to share what is happening on social media."
Nick Coetzer who owns vegan catering firm Roots Catering, operates his green food van, Roots at the Beach, at the Beach promenade and is trying to see the positive side of the area's latest addition.
While his Roots at the Market pop-up launch didn't go to plan due to Aberdeen Market going into administration and facing challenges with his kitchen residency at 99 Bar & Kitchen on Back Wynd during local lockdown, Nick is optimistic that keeping a positive mind frame will help in getting business back to normal.
He said: "You've just got to deal with it as it comes and stay positive. I'm looking for the best outcomes for each of the businesses just now. It must be hard for the council trying to keep everyone happy, but for us, unfortunately, it has had some negative impacts but we're just trying to do the best we can. Once everything settles down hopefully things will go back to normal."
Accessibility
Serving up his vegan junk food-inspired dishes at the shore's front, Nick says it is access for his customers to park which he is most concerned about.
He said: "A lot of my customers enjoy the beach because they can drive there, park up and can eat their food on our tables, on a bench or in their car, or they can take it home. The access is really important and makes it easy for them. We don't get too much random passing-by trade as such, it's people coming specifically for the food.
"With some of the roads closed or having poor access, it already has had an impact with sales, but I'm hoping this is just a temporary measure. We're hoping there will be parking at both sides of where the van is. It looks like there is going to be, but we're just not sure yet. There will be some impact on the parking, and I do have concerns for people not coming down as it might be too much hassle. They might just avoid it as it isn't as easy or safe as it used to be. Only time will tell.
"We're looking at making the most of our space and work with the other traders on more positive things we can do at the beach."
Future progress
Looking forward, the businessman says that these new established connections with Aberdeen City Council might allow the traders to progress some future plans they have had up their sleeves.
"The timing of it with us coming out of peak season might be good timing, but do we really need this over winter? I'm not one to knock future plans or progress but there needs to be better communication. It is much better now, but at the beginning none of us were notified about it. We were all a bit anxious about what was going to happen, but this last week a member of the council staff has been down to hear all the individual business' concerns about it which has been really good. It also feels like he had really listened to us which is great," said Nick.
"At least we're now we're all communicating a lot better and they have been settling our nerves on how we're going to operate as we all work with vans alongside our food trucks and have to offload food and orders. The communication is vital, and people have just been trying to protect their business. An email or a letter goes a long way."
A plastic eyesore
Passionate about reducing plastic waste and using recyclable packaging, one thing Nick is keen to see changed is the line of bright orange tubes which have been erected to highlight the cycle lane, along with road markings.
Commenting on how beautiful the beach is and how many businesses have plastic waste reduction as a priority of theirs, Nick believes that using something else more attractive and fitting with the landscape would be much better for the environment and local area.
He added: "I don't enjoy the aesthetics of it as it is just a big row of plastic. Maybe over time they will put down something less invasive, but the beach is a place where so many people have enjoyed throughout the pandemic and there's been a real positive feeling down here. Now that lockdown isn't as restrictive there's not that same intensity of people, but there are so many people down here enjoying the space and it is great to see.
"I guess there's a big concern around safety, too, in getting in and out of cars, but the speed limit for the beach will be slowed right down, so traffic will be slower, which would be a really positive thing for the area as well."
City council
Aberdeen City Council claims it held a public consultation regarding the proposals relating to the area which residents and locals alike were able to attend. The area has been updated as part of the Spaces for People initiative.
Councillor Sandra Macdonald, Aberdeen City Council's transport spokesperson, said: "At the end of June, we held a public consultation on the proposals for the beach area. This was publicised widely via social media, our website, and through press releases published in the local media.
"The Press and Journal and the Evening Express covered stories in the paper, online and on social media. There was also advance warning signage posted in the area to let people know of the changes. We have been clear from the start that works were going to take several weeks to complete.
"In August, we hand-delivered a letter to food vans and other businesses likely to be affected by the Spaces for People work and a roads engineer was on hand to answer any queries.
"Last Friday, following consultation with traders, we publicised through our social media that roadworks were to be suspended for the weekend to allow people to access the beach area, including the cafes and food vans.
"The traffic cylinders are fixed to the ground and help to delignate the cycleway from the vehicle parking, and when Spaces for People is finished, they will be stored for future use.
"We have been asked by the Scottish Government and NHS Scotland to create spaces to allow pedestrians to queue and walk about while physically distancing, and to continue to encourage people to cycle where possible. Numbers of people walking and cycling in the beach area are still much higher when compared to this time last year. By creating the segregated cycleway, we would encourage cyclists to use it which then gives more space for pedestrians, particularly when people are walking about in family or friend groups."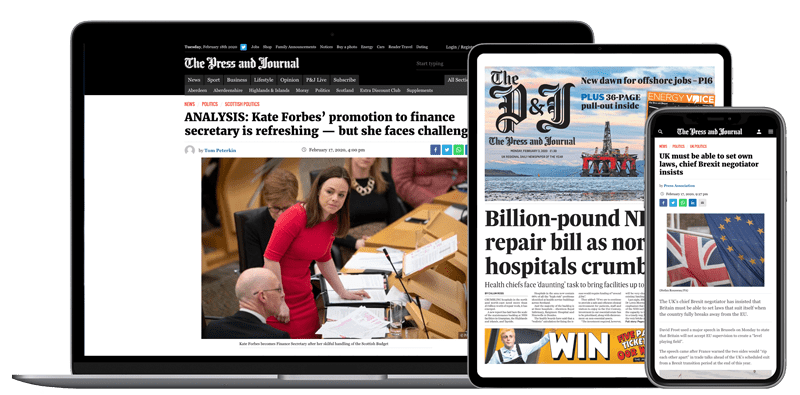 Help support quality local journalism … become a digital subscriber to The Press and Journal
For as little as £5.99 a month you can access all of our content, including Premium articles.
Subscribe