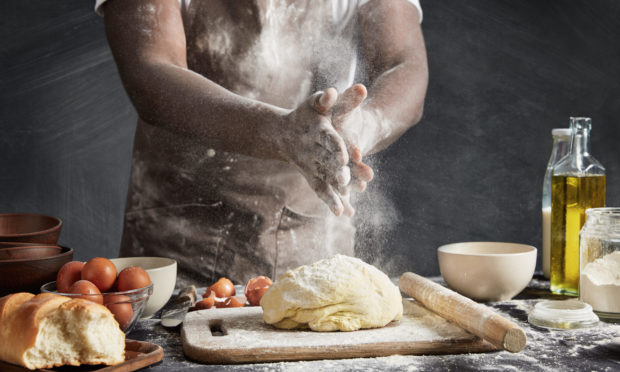 Hone your bread-making skills with these three recipes, straight from the 1930s, including raisin loaf, caramel fig bread and a recipe for making breadsticks.
The art of making bread experienced a resurgence in popularity during lockdown months, with sourdough taking off, cloud bread becoming a thing, and a documentary featuring local artisan producers released last month.
But, during Aunt Kate's time, from the 1880s to the 1960s, making bread was a regular occurrence and adding things like raisins, nuts and dates was all part of the process.
In her 1933 Baking Book, Aunt Kate, who regularly contributed recipes to the People's Journal and the People's Friend, the writer dedicated three whole pages to bread recipes, under the headings "Home-Made Bread is always welcome" and "Bread for the Tea Table".
This week, we're featuring three of these Aunt Kate bread recipes, including raisin loaf, breadsticks and some mouth-wateringly delicious caramel fig bread.
For more inspiration or to try out some more of Aunt Kate's recipes from the early 20th Century, including recipes using berry jam, making the most of lemons, and even recipes for two types of chocolate cake, everything you could possibly need is right here.
---
Raisin Loaf
Ingredients
½ cup (approx 100g) granulated sugar
1 egg
Grated rind of half a lemon
1 tsp orange extract
2 tsp baking powder
Pinch of salt
½ cup (approx 113g) butter
2 cups (approx 256g) flour
2/3 cups (approx 156ml) milk
½ cup (approx 65g) large raisins, seeded and chopped in half
1/3 cup (approx 45g) citron peel, chopped
Method
Cream together the butter and sugar then add flour sifted with salt and baking powder. Add the raisins and citron peel.
Beat the egg with the milk and add to the mixture, along with lemon rind and the orange extract.
Bake for 45 minutes in a well-greased pan at approx 180ºC.
---
Caramel Fig Bread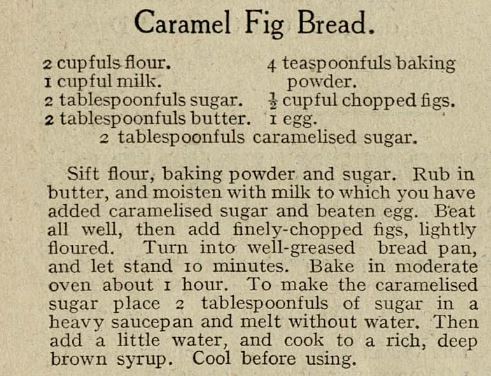 Ingredients
2 cups (approx 256g) flour
1 cup milk (approx 235ml) milk
2 tbsp sugar
2 tbsp butter
4 tsp baking powder
½ cup (approx 45g) figs, chopped
1 egg
2 tbsp caramelised sugar (see step 5)
Method
Sift together the flour, baking powder and sugar. Rub in the butter and moisten it with milk to which you have added the caramelised sugar and beaten egg.
Beat all well, then add the finely-chopped figs, lightly floured.
Turn into a well-greased bread pan and let stand for 10 minutes.
Bake in a moderate oven (approx 190ºC) for about 1 hour.
To make the caramelised sugar: place 2tbsp of sugar in a heavy saucepan and melt without water. Then add a little water, and cook to a rich, deep brown syrup. Cool before using.
---
Bread Sticks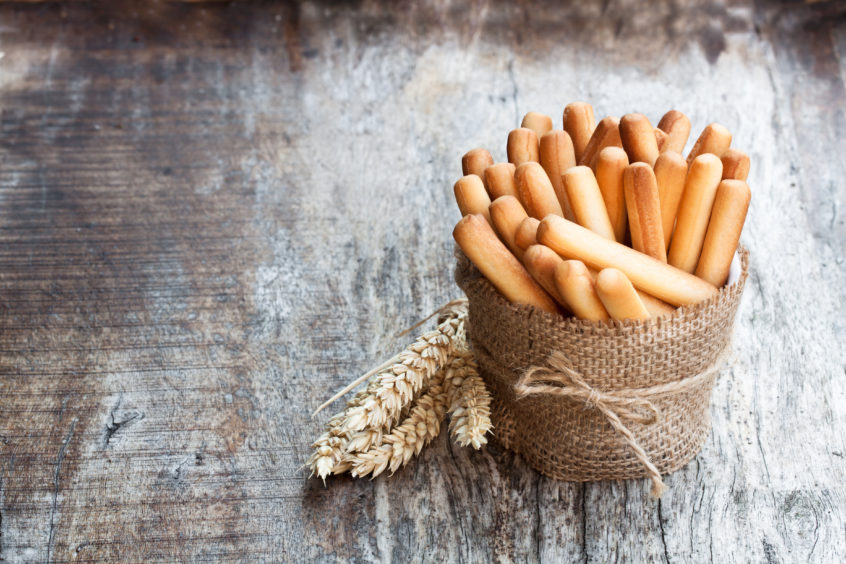 Ingredients
½ lb (approx 226g) light dough
1 egg
Method
Any bread dough can be used, but a light Vienna dough is best.
Work in the egg, and if there is no butter in the dough then add about 30g of it to the mixture.
Knead until the dough is elastic, and cut it into pieces about the size of an egg.
Roll these pieces until they are a little thicker than a pencil, then place them on a greased and floured tin, and set in a warm place to rise for 10 minutes.
Bake in a moderate oven (approx 190°C) until crisp and pale brown.
These are nice to serve with soup.
---
Read more in this series…
Aunt Kate's Kitchen: Meringue recipes from the 1930s that have stood the test of time
Aunt Kate's Kitchen: Three pancake recipes from the early 1900s that will still hit the sweet spot