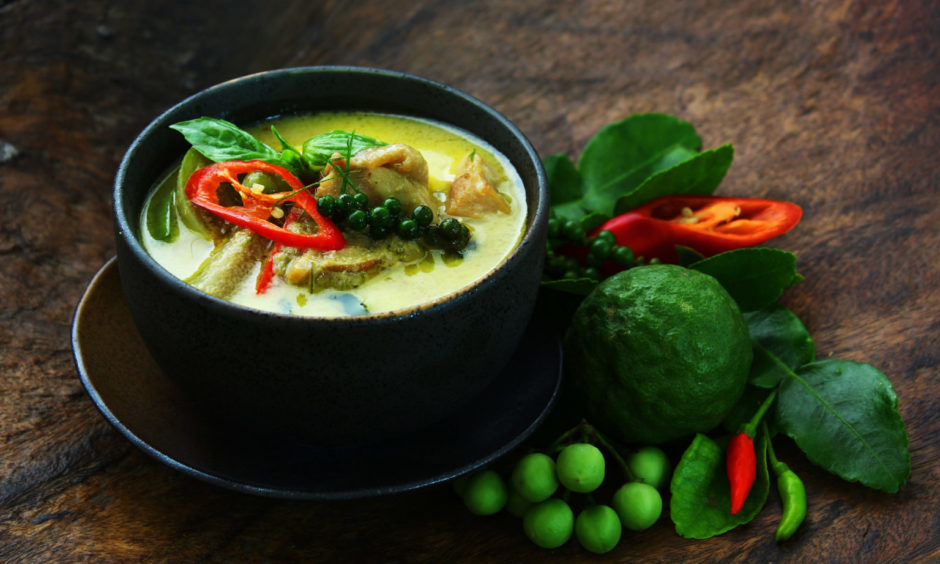 Thai is one of the most amazing cuisines on the planet and, for me, when I visit a Thai restaurant or enjoy a takeaway it simply has to be the green chicken curry.
Hot, sour and creamy with a real kick of spicy goodness, the Thai curry is, without doubt, a wonderful dish and has to be one of the country's most successful culinary exports.
The good news is, it is rather easy to make at home, the only question being how close can you get it to the real thing?
Personally, I like to add mangetout and baby sweetcorn to mine, and sometimes maybe mushrooms, but you can add whatever you like because just about every vegetable can complement this curry.
The ingredients for a Thai green curry are not nailed down in stone and you will find different versions from different regions and chefs.
Kaeng khiao wan, as it is called in Thailand, is a relatively new dish having evolved during the reign of King Rama VI or Rama VII in 1908-1926.
Although in Thai kaeng khiao wan does mean green curry it refers to its pale colour rather than the flavour.
Thai cuisine's window on the world is also relatively young with the dish first being mentioned in a Thai cookbook on 1926, with the earliest cookbooks in the country only produced in the 1890s.
Try this recipe and bring a little bit of Thailand into your own home.
Thai green chicken curry
(Serves 4)
Ingredients
4 chicken breasts cut into chunks
1 400ml can of coconut milk
2 garlic cloves crushed
2 tbsp Thai fish sauce
2 tbsp Thai green curry paste
3 fresh green chillies chopped
3 kaffir lime leaves shredded
200g mangetout
200g babycorn
4 tbsp fresh coriander
Steamed or boiled rice to serve
Method
Prepare your chicken and add the coconut milk to a large pan or wok and bring to the boil over a high heat.
Add your chicken, garlic and fish sauce to the pan and bring back to the boil. Then lower the heat and simmer for 30 minutes until the chicken is cooked through.
Remove the chicken with a slotted spoon and keep warm.
Stir in the green curry paste, mangetout, babycorn, chillies and kaffir lime leaves and simmer gently for five minutes.
Return your chicken to the pan and adjust your seasoning with salt and pepper before adding the coriander.
Serve immediately in a bowl on top of boiled or steamed rice.
---
More in this series
Friday Fakeaway: Indian chef shares his signature dish, Chillies' Garlic Butter Chicken
Friday Fakeaway: Enjoy what they ate to toast the Taj Mahal by making this tasty chicken korma