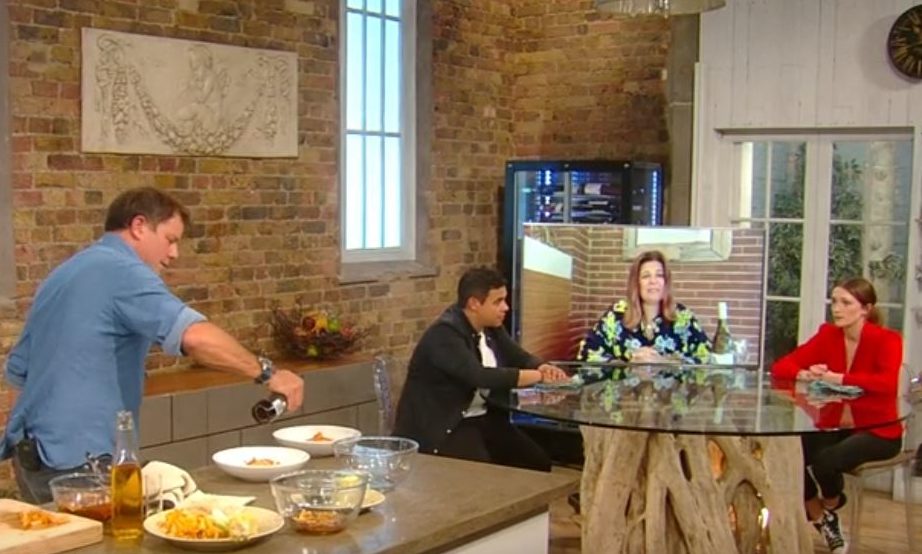 Malt vinegar made by an Orkney firm made a special appearance on BBC One's Saturday Kitchen today.
Chef and presenter Matt Tebbutt told viewers he had been on the island recently.
He said while Orkney is known for its "fantastic seafood", he met a man who makes malt vinegar.
His verdict of the produce, made by Orkney Craft Vinegar, was it "really is delicious".
Cooking for fellow chef Paul Ainsworth and actress Charlotte Ritchie, the presenter made roasted scallops with seaweed butter, sweetcorn, girolles – pickled in the Orkney vinegar – and spring onions.
He told his guests he had absolutely loved his time on Orkney, describing it as "amazing" and "beautiful".
Owner Sam Britten said: "We have got quite a bit of attention on the back of it which is great for a relatively new business.
"He said he was going to include it in Saturday Morning Kitchen. I didn't really think that he definitely would but it is great that he did.
"Product placement with the BBC is pretty tough but he stuck his neck out for that one so it is pretty good.
"It is quite an honour to be featured. He is a good guy and it is just ever more exposure and moving past just using malt vinegar just for fish and chips.
"Our vinegar is a malt vinegar in its principle but in its flavour, there is a lot more to it. It's not just acidity, it is the background flavour as well.
"It has created a bit of awareness of different things to use it in.
"It was great exposure and with as large an audience as it has. It was subtly done and just from him saying 'a man up in Orkney making vinegar', it has generated a bit of interest for us and we have just had a spike in sales.
"The pandemic has not been that bad for us. We managed to do a lot of online sales. Wholesale dropped off with restaurants closing and just not happening over the pandemic so we were relying on direct trade, but it has picked up again.
"This feature will be the gift that keeps on giving because we can use it on our social media platforms.
"The premise of our business is something that is hyperlocal and has connections with ingredients to the island. The malt has been fantastic for us, it is not the only thing that we do, but whatever we do produce, we use Orkney's natural larder which is great.
"It keeps your focus narrow because you don't have everything in abundance here but what you do have creates something quite special and connected to the island.
"We still want to be a craft producer. We don't have aspirations to go massive with a cheaper product and sort of sell out. We do have our principles that we are firmly sticking to."