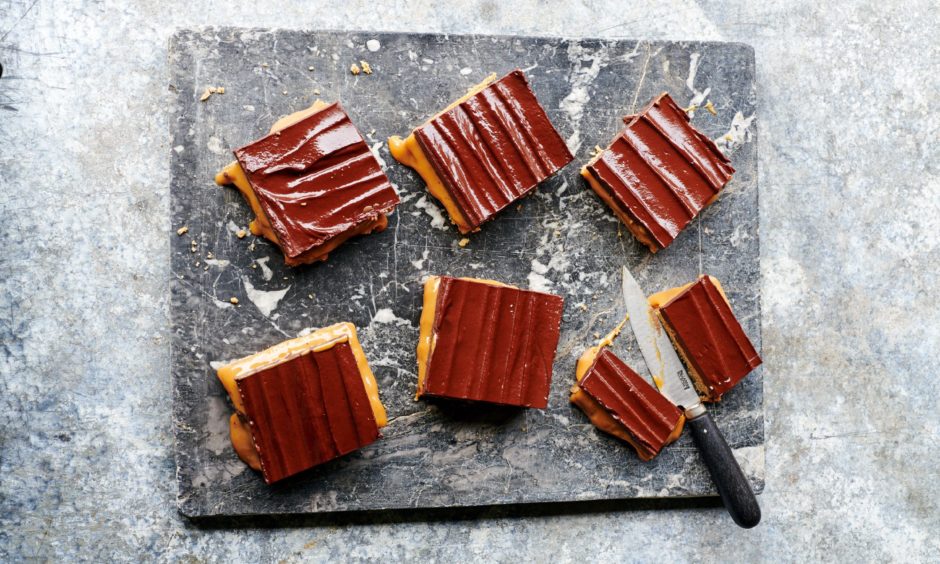 The perfect blend of chocolate and caramel, Millionaire's shortbread is always a winner at every occasion, with this recipe no exception.
Millionaire's shortbread is a classic sweet treat that is difficult to get enough of. This recipe, straight from celebrity chef James Martin's Islands to Highlands cookbook will have your tastebuds tingling in no time.
Remember to leave enough time (between four to eight hours) to let it set properly and set your timer so you can be sure to get the biggest slice.
For more sweet treat and dessert ideas, take a look at our previous recipes here.
Recipe from James Martin's Islands To Highlands by James Martin, photography by Peter Cassidy, Quadrille, £25.
---
James Martin's millionaire's shortbread
(Makes 12)

Ingredients
For the biscuit base:
300g salted butter, softened
200g dark soft brown sugar
350g plain flour
125g cornflour
For the caramel filling:
1 x 397g jar dulce de leche
250g salted butter
150g caster sugar
For the topping:
400g dark chocolate (70% cocoa solids), broken into pieces
100g salted butter
Method
Preheat the oven to 170C (150C fan)/325F/gas 3. To make the biscuit base, put the butter, sugar and both types of flour into a large bowl.
Use your fingertips to rub the butter into the other ingredients until the mixture looks really crumbly.
Press the mixture into a 23 x 30cm loose-bottomed cake tin (no need to line) and use a palette knife to even out the surface.
Bake for 20 minutes, then remove from the oven and cool in the tin on a wire rack.
To make the caramel filling, combine the dulce de leche, butter and sugar in a large saucepan over a medium heat. Whisking the mixture, bring to the boil (be careful as the mixture will be extremely hot).
Pour evenly over the biscuit base, cover and leave to set for at least four hours or overnight at room temperature.
To make the topping, put the chocolate and butter into a medium heavy-based pan and gently heat. Once everything has melted, whisk to combine.
Cool slightly, then pour over the caramel and level with a palette knife.
Cover, then leave to set overnight at room temperature.
Cut into 12 squares to serve.
---
Read more in this series…
Sweet Treats: This cherry bakewell oven-baked pudding is perfect to welcome in autumn