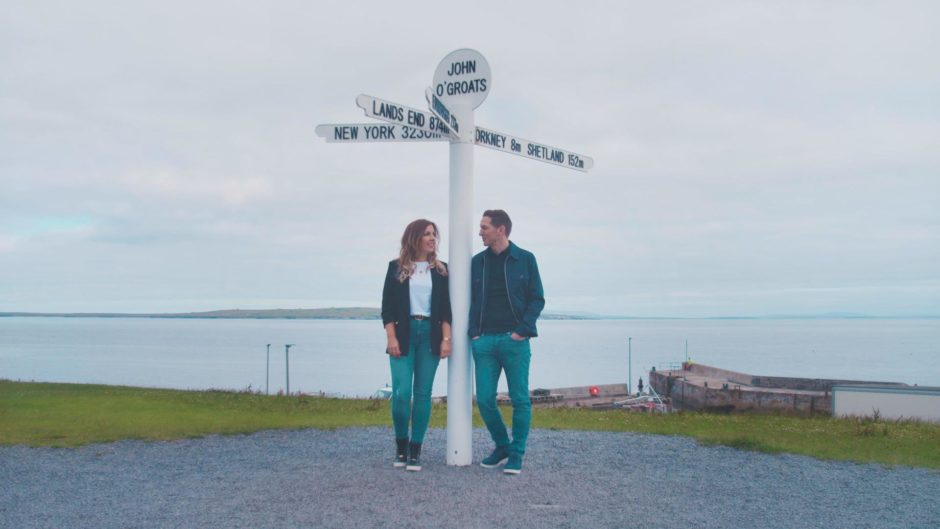 Highland couple to bring first whisky distillery and visitor centre to John O'Groats in more than 180 years.
Works for a new Scottish whisky distillery and visitor centre will start next month as the build for 8 Doors Distillery in John O'Groats begins to take shape.
An idea thought up by husband and wife team Derek and Kerry Campbell six years ago, the name is inspired by local legend Jan de Groot who ran a ferry to Orkney and had an eight-doored house with an eight-sided table inside.
Launching the £1 million project last week, the couple were shocked to find its limited release of 250 casks, which could be purchased via its 847-member club, had sold out within two days of its launch.
Derek said: "We sold 250 casks within two days of launching which was just incredible. Some of the casks we've sold have been international so we've had people in Germany, the Netherlands, Singapore and Australia purchasing them so we're already kind of exporting which is amazing. We can't quite believe how well it has went down already."
Scheduled to open around August 2021, the Scottish whisky distillery will be the most northerly on UK mainland and is the first in the area since 1837.
Derek said: "We've been thinking about the business for the past six years or so. We've both worked full-time and over the years we've gained our own experience and got a lot of transferrable skills we can bring to the whisky industry so we just thought 'let's go for it'."
Kerry added: "We both enjoy whisky and I actually started liking it having tasted it at a family BBQ. I tried it as a long drink with ginger beer. It was a game changer for me and ever since then I've really enjoyed it. It is one of those things we both like, we have a passion for the area and were both born and brought up here. As a location, it it great to bring it all together. Hopefully it will encourage people to come up to the area and enjoy whisky with us."
With a capacity to produce around 60,000 litres each year, building will commence on the 32,670 square feet site in November. It will feature a visitor centre, a bonded warehouse and the distillery.
Kerry said: "We've got planning permission and a building warrant in place and we're due to start in November with the view of being open late next summer around August time.
"I think it is something customers will really enjoy. I guess it's something we've done a lot of ourselves; going around visitor experiences. There's a lot to tell around our story and around John O'Groats, the story behind our brand and why it is called 8 Doors which comes from a local legend. We're really keen to share that with anyone who visits.
"Our location is also stunning. The visitor centre will have amazing views across the top of the Pentland Firth. Our tasting room inside the building is elevated in the distillery so there will be some even more fantastic views to be enjoyed on the tours. That's where our 'whisky from the edge' strapline came from as we're going to be the most northerly distillery on the UK mainland – unless someone builds right in front of us – so it will be quite cool for people to come and see.
"I think the North Coast 500 has brought a lot of visitors up our way recently too which is great. It sounds like there will be a great opportunity to add our offering to the already great attraction list in the area."
With sustainability in mind the couple will also install solar panels and will source their water on the distillery site which will extracted from a borehole.
She added: "Within the design we've got lots of glass. With our location we really wanted to make the most of it, so for the frontage of the visitor centre there will be a lot of glass used so people can enjoy the view. Sustainability is really important to us so we're continuously looking into new things we could be doing. We'll have solar panels fitted as well."
Whisky master
Calling on the help of whisky master John Ramsey, who has been in the industry for more than four decades, Kerry and Derek are delighted to have a whisky veteran like John involved in the development of their whisky.
With no whisky making experience of their own, John brings a wealth of knowledge which he is sharing with the couple ahead of beginning distilling.
"We're not from the industry so realised we needed an expert to come in and help us. John has 43 years experience in the industry and we want a great product out there, so we know with someone like him on board we'd be able to achieve that together. We've both learned so much from John which has been great," said Derek.
"He is retired so he will be working part-time and we'll employ a full-time distiller to work in the distillery. We'll look to start recruiting for that position in six months time.
"It is a little unknown at the moment as to what the whisky will be as we're just at the start of our journey, but we're buying our first still and we'll be using sherry casks – so that is a definite. In terms of the age we think around five to six years, but we can't confirm that until we know nearer the time. It will be ready when John tells us it is ready. We just want to make sure the first product we get out there is a real quality product."
Kerry added: "I think over the years we'll look to have a portfolio of products. We'll release some a little earlier as we know a lot of people will be keen to taste it and sample it. We will be laying down casks, too, so we have a longer portfolio maturing as well."
874 membership club
The Highlands and Islands Enterprise is investing up to £198,000 in the new venture and to generate additional funds, Kerry and Derek launched an exclusive 874 club which was inspired by the Lands End to John O'Groats route.
"We're really excited about the 874 club. That part stems from the road trip from Lands End to John O' Groats which is 874 miles. We're starting on an epic journey of our own and it seemed really nice to tie it in with the founders club, said Kerry."
"For those getting involved in it we had casks for sale – but they have now all sold out. We've also got bottle packages available and you get a nice membership card and a welcome pack. When we open, we'll send them some new make spirit and a branded glass to enjoy. You also get advance notice of exclusive bottlings and future expressions.
"The response so far has been incredible. The amazing thing has been that we've been reconnecting with so many people that we haven't spoken to in ages. They are joining the club, reaching out and sending good luck messages. For me, that's what whisky is all about – reconnecting people and bringing everyone together.
"Local support has been really nice. In Caithness and the Highlands people really want you to succeed and want to support you."
Future
Looking to the future, the new project will bring around eight new jobs to the area, with local employment a real focus for the business.
Derek added: "We're thinking around eight people in total, not initially though, as we'll need to slowly grow the team. We'll have the distilling team and then will need to staff the visitor centre so we think we'll start with four or five and then build up to eight.
"I think it is really nice that there are so many great people living locally who have some amazing skills and to be able to offer a potential new employment avenue is brilliant.
"Getting our product out to different countries when we do launch will also be a priority, and that's where Highlands and Islands Enterprise has been really helpful."
---
For more on whisky…
'The time for action is now': Meet the women who are changing the face of the Scotch whisky industry
How a gin aged in whisky casks is bringing a whole new flavour to the drinks market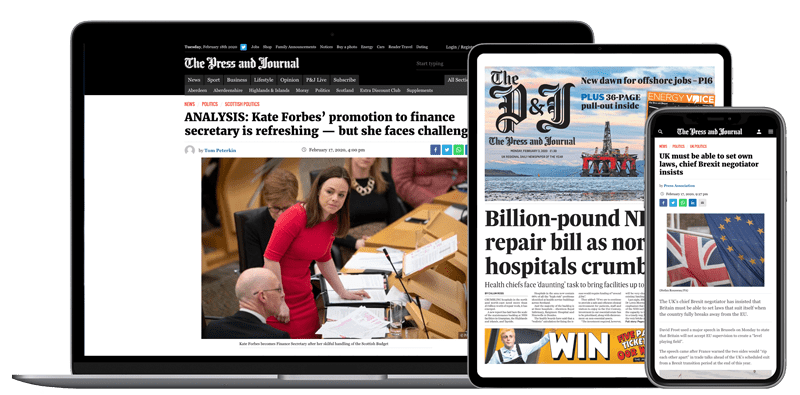 Help support quality local journalism … become a digital subscriber to The Press and Journal
For as little as £5.99 a month you can access all of our content, including Premium articles.
Subscribe