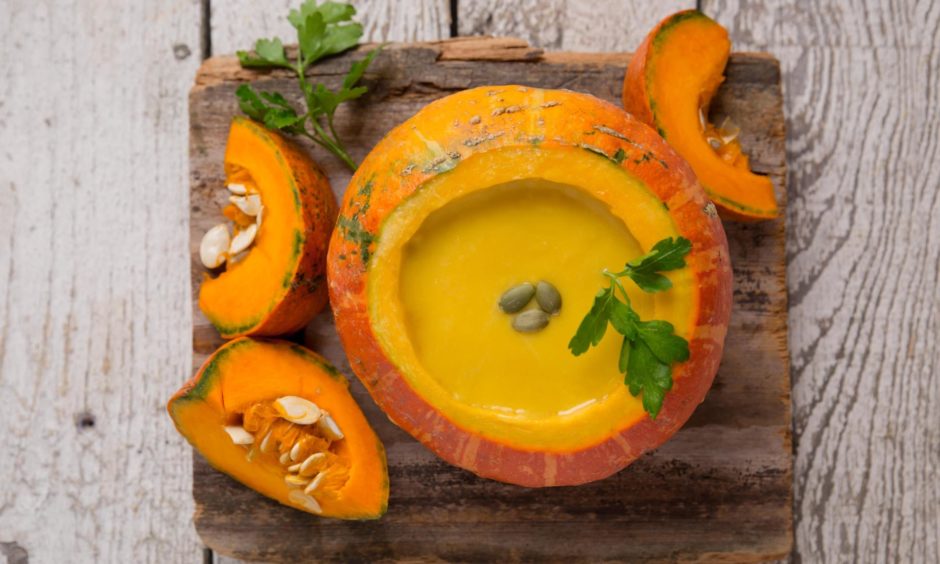 Eat seasonally with these delicious recipes using pumpkin.
Pumpkin season is finally here and the options are endless when it comes to using the seasonal vegetable in cooking. Here, we've featured three recipes from www.watercress.co.uk that use pumpkin – a risotto, chilli bowl and a spicy smoothie.
For more inspiration, take a look at previous recipes in this series here.
---
Pumpkin risotto with watercress pesto
(Serves 4)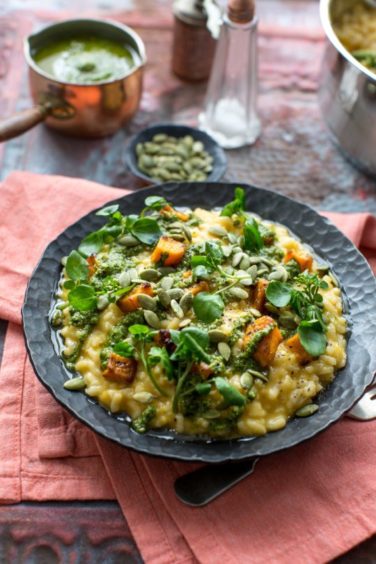 Ingredients
1 small pumpkin or butternut squash
1 tbsp olive oil, plus more for drizzling
5 shallots, peeled and finely diced
2 cloves garlic, finely chopped
Salt
200g Arborio risotto rice
100ml white wine
1 litre of hot vegetable stock
35g watercress
25g cold butter
2 tbsp pumpkin seeds, toasted
For the pesto:
50g vegetarian parmesan
50g pine nuts, toasted
50g watercress
75ml olive oil
Directions
Preheat the oven to 180C. Peel the pumpkin, remove the seeds and chop into 2cm cubes. Place half of the pumpkin on to an oven tray, drizzle with olive oil and season with salt and pepper before placing into the preheated oven for 25 minutes, or until the pumpkin is soft in the middle and starting to colour on the outside.
Put the remaining pumpkin into a medium-sized saucepan and cover with cold water. Add a pinch of salt and bring to the boil, simmering for 15-20 minutes or until the pumpkin is soft and cooked through.
Drain and blend in a food processor until smooth. This pumpkin purée will be stirred through the risotto to give it a good colour and flavour. Next, make the pesto by blending together the parmesan, pine nuts and watercress before slowly adding the olive oil and seasoning to taste.
Take a large frying pan or wok and place on a medium heat. Add a tablespoon of olive oil and throw in the diced shallots and garlic along with a pinch of salt. Fry gently for a few minutes, being careful not to allow the shallots to colour or burn.
Add in the risotto rice and continue to fry for a further few minutes before adding in the white wine.
Reduce the heat to medium-low and stir the rice and shallot mixture until almost all the wine has been absorbed. Use a ladle or small jug to pour one quarter of the vegetable stock into the pan and cook until the liquid has been absorbed, stirring frequently.
Repeat until all the liquid has been used up which should take around 20 minutes. Check that the rice is cooked through and add a splash more water if necessary.
Finally, stir in the watercress, pumpkin purée, diced roast pumpkin and cold butter then season to taste with salt and pepper. Spoon the risotto into four bowls, scatter over the pumpkins seeds and drizzle generously with watercress pesto.
---
Pumpkin chilli con carne with mini jacket potatoes and watercress crème fraîche
(Serves 4)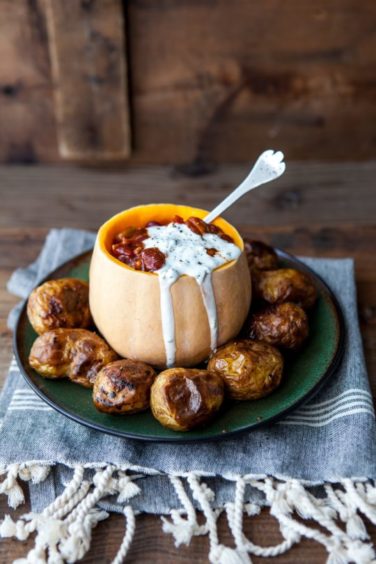 Ingredients
1 small pumpkin or butternut squash
Vegetable oil
Salt and pepper
500g ground beef
1 small onion, diced
1 green pepper, deseeded and diced
1 tbsp tomato purée
1 tin kidney beans, drained and rinsed
1 carton passata
1 tsp chilli powder
½ tbsp dark brown soft sugar
1 tsp yeast extract
1 tin chopped tomatoes
700g baby potatoes
1 tub crème fraîche
30g watercress, finely chopped
Method
Pre-heat the oven to 180C. Peel and halve the pumpkin and scoop out the seeds. Dice half of the pumpkin into 1cm cubes and reserve.
Chop the remaining pumpkin into large chunks, place in an oven tray, drizzle with oil and season. Roast in the oven for approximately 25 minutes or until cooked through.
Meanwhile, place a large pot on a medium-high heat. Add half the oil and heat until beginning to smoke. Add the minced beef and fry until browned. Drain the beef on to some kitchen towel.
Turn the heat down to medium. Add the beef back to the pan then add in the onion, diced pumpkin and pepper, cooking until onions are translucent. Stir in the tomato purée and cook for a further minute before adding the kidney beans, tomato passata, chilli powder, sugar, yeast extract and chopped tomatoes. Cover with a tight-fitting lid and simmer for one hour.
Place the potatoes in an oven tray, drizzle with vegetable oil and season. Place in the oven and roast for 30-40 minutes or until cooked through and crisp on the outside.
Once the roasted pumpkin is cooked, remove from the oven and place into a blender.
Add a ladleful of liquid from the chili and blend until smooth. Add to the simmering pot and stir through.
Mix together the crème fraiche and watercress and add seasoning to taste. Divide the potatoes between four bowls.
Add a ladleful of chilli and serve with a generous dollop of crème fraîche.
---
Spiced pumpkin green smoothie
(Serves 1)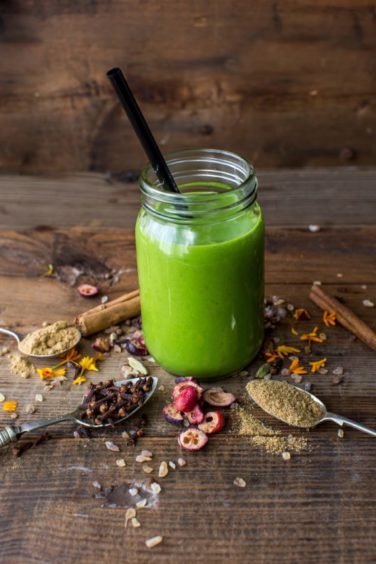 Ingredients
1 small frozen banana
50g pumpkin purée (available tinned from most supermarkets)
40g watercress
40g baby spinach
60ml coconut milk
80ml unsweetened almond milk
½ tsp mixed spice
Method
Add all ingredients to a blender or smoothie maker and blend on high until smooth.
Scrape down sides to make sure everything is incorporated and pulse again.
Taste and adjust flavour as needed, adding more almond milk if too thick.
Serve immediately or keep in the fridge for up to two days.
---
Read more in this series…
Three ways with double cream: a quiche, some tarts and a delicious gold-topped rice pudding
Three ways with cheesecake: Make the most of summer berries and ginger with these tasty dessert recipes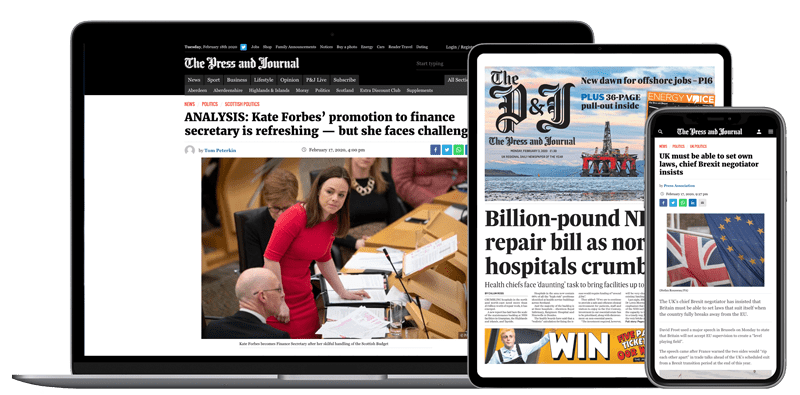 Help support quality local journalism … become a digital subscriber to The Press and Journal
For as little as £5.99 a month you can access all of our content, including Premium articles.
Subscribe