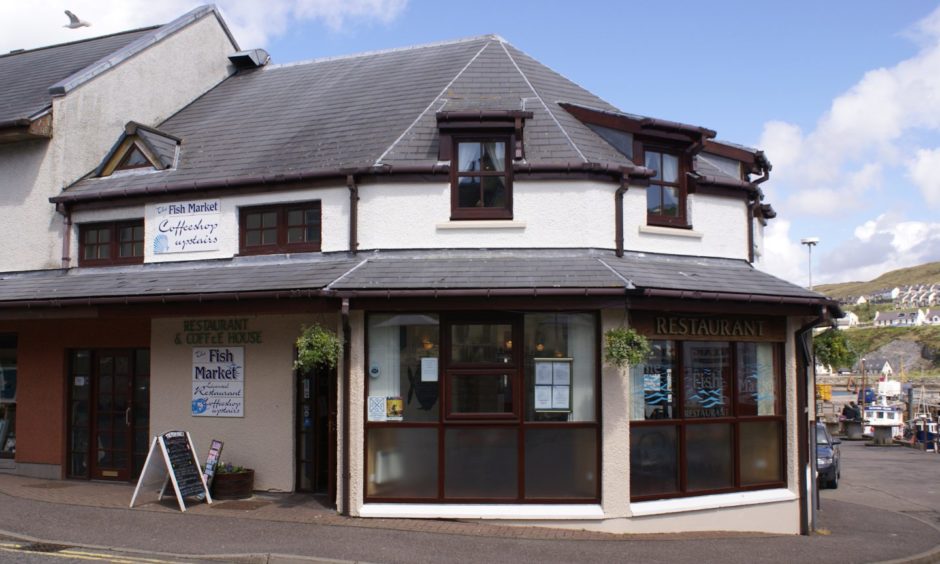 Shona Gossip and her dining partner try out one of Mallaig's seafood hotspots – The Fishmarket Restaurant
Every day, hordes of visitors descend on Mallaig after taking the famous Jacobite steam train from Fort William.
Whether genuine train enthusiasts or Harry Potter fans keen to imagine they are on the Hogwarts Express as it goes over the Glenfinnan Viaduct, the town is a picture-perfect stop at the end of the line.
The pubs and hotels are also bustling – when government restrictions allow – with those following the Road to the Isles, as regular ferries run to Skye, Rum, Eigg, Muck and Knoydart.
But for us, Mallaig was the ideal spot to just get away from it all and recharge the batteries after a busy few months at work.
After a day of exploring the beautiful Camusdarach Beach and Silver Sands of Morar, and watching the train cross the viaduct, we returned to the town ready to eat.
As we sipped our drinks, darkness fell on the bay and the colour-changing wall opposite lit up the boats in rays of pink and blue.
As a keen follower of everything Scotland has to offer on social media, I have seen plenty of chatter about the hustle and bustle of the Fishmarket Restaurant – and the appetising images of langoustines piled high on plates and takeaway boxes.
With those images in mind, we headed in on a Saturday night and were lucky enough to land ourselves a table overlooking Mallaig's picturesque harbour.
As we sipped our drinks, darkness fell on the bay and the colour-changing wall opposite lit up the boats in rays of pink and blue.
Pretty at it was, my eyes were quickly drawn back to the menu and the specials board. Stand-outs included surf'n'turf and mussels in a Thai curry sauce, and looking around the busy restaurant, I could see plenty of customers had been tempted by both.
The menu varies according to the catches by the local fishing boats, which bring in some of the largest hauls of prawns in western Europe. For those not so fond of seafood, there are other options on the menu too.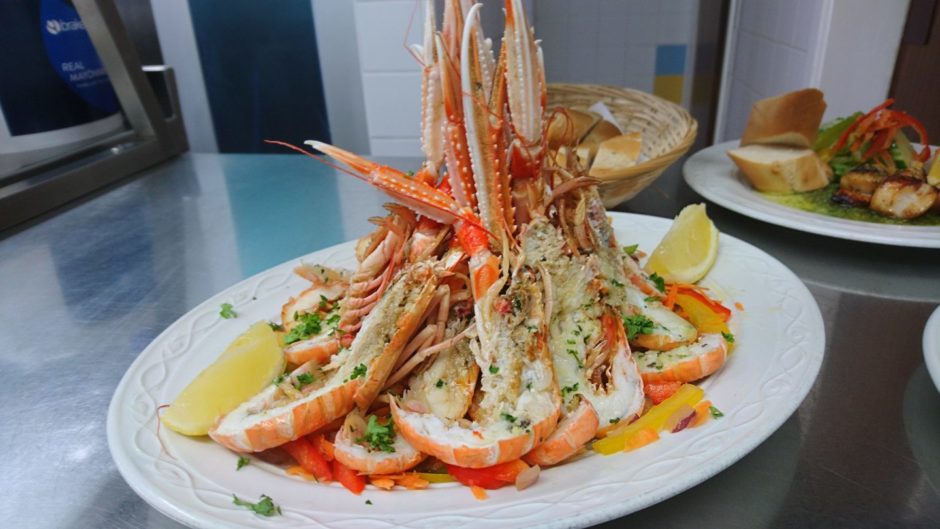 There was really only one option for me, however, and I plumped for a half portion of freshly caught langoustines and a side of chips, while my dining partner went for the traditional fish and chips. Our waitress seemed delighted with my choice in particular and, after promising I wouldn't be disappointed, left us to enjoy our drinks and take in the relaxed atmosphere.
The restaurant has been simply decorated, with several nods to the maritime industry it celebrates.
Due to coronavirus, a few of the tables have been removed to enable physical distancing, but those that remain offer prime views of the harbour, and staff were kept busy all night.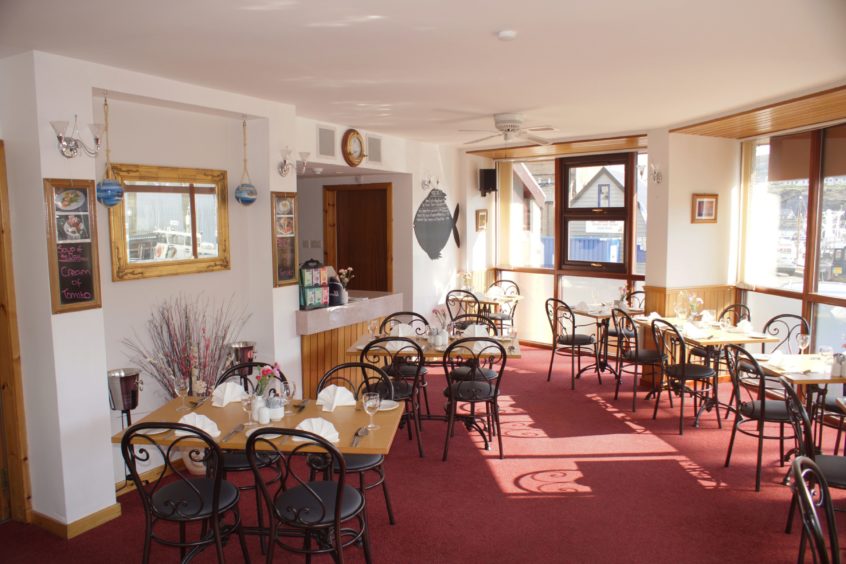 However, the popular upstairs 26-seat coffee shop has not yet reopened following lockdown, and is unlikely to do so until Easter. It normally offers a wide selection of lunch options, such as homemade soup, hot rolls, sandwiches and toasties, as well as fresh Mallaig prawns, salads and homebakes.
Some of these options will be included on the restaurant's winter menu.
Thankfully, the staff seem quite upbeat despite the challenges, and were genuinely delighted to welcome visitors back to the area, offering recommendations for local attractions and boat trips, adding to the relaxed hum of chatter around us.
To make up for some of the lost custom, the restaurant has expanded its takeaway service to include more of the restaurant favourites, which certainly seemed popular.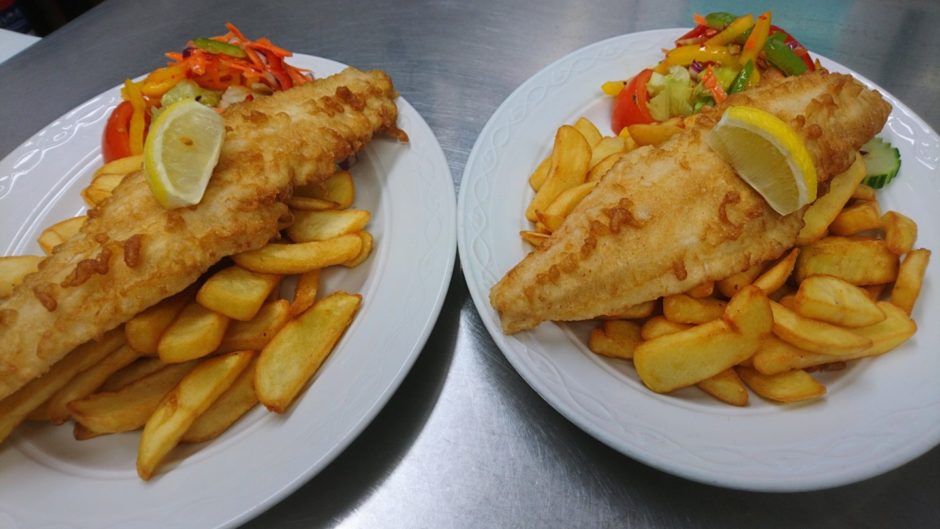 Before long our mains arrived, and our waitress was true to her word. My platter of plump langoustines came served in an eye-catching pyramid on top of a salad. The light dressing beautifully complemented the fresh flavour of the seafood, and was mopped up nicely with the fresh bread that came as a side and my golden, crisp, chunky chips.
The fish supper also went down a treat, with a generous portion of battered haddock and pile of chips not staying on the plate for long. The crumbly flakes of white fish and steaming hot batter looked very tempting, and had I not been saving myself for pudding I would definitely have stolen some from across the table.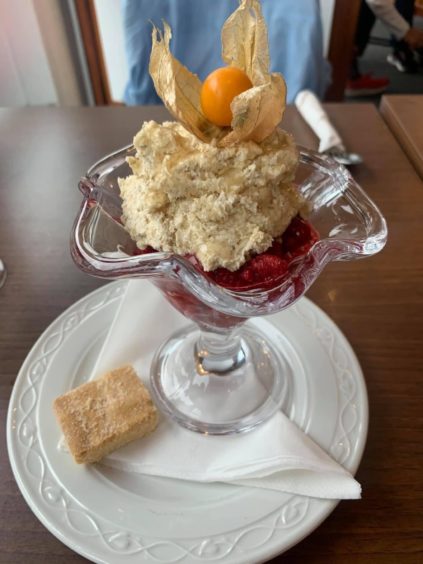 Having spotted the list of desserts as we first looked through the menu, I knew Boy Wonder would go for the ice cream. I, however, had some tough choices to make. Coconut meringue or sticky toffee and ginger pudding?
I went for the latter, with vanilla ice cream, and knew immediately it was the right choice. The large chunk of soft, sticky sponge spiced with tangy ginger was like a warm hug – perfect for the walk back to the hotel via the harbour on a cool evening.
Whether staying in Mallaig or a day tripper, make sure you have time to fuel up at the Fishmarket Restaurant – you won't be disappointed.
---
The Fishmarket Restaurant
Station Road, Mallaig PH41 4QS
t: 01687 462299
w: www.thefishmarketrestaurant.co.uk
Price: Langoustines (starter portion) £13.95; chips £2.50; haddock supper £11.75; sticky toffee and ginger pudding £7.50; ice cream trio £6.95; glass of house white wine £4.50; pint of Tennent's £3.50
Total: £50.65
Food: 4/5
Service: 4/5
Atmosphere: 3/5
Total: ​11/15​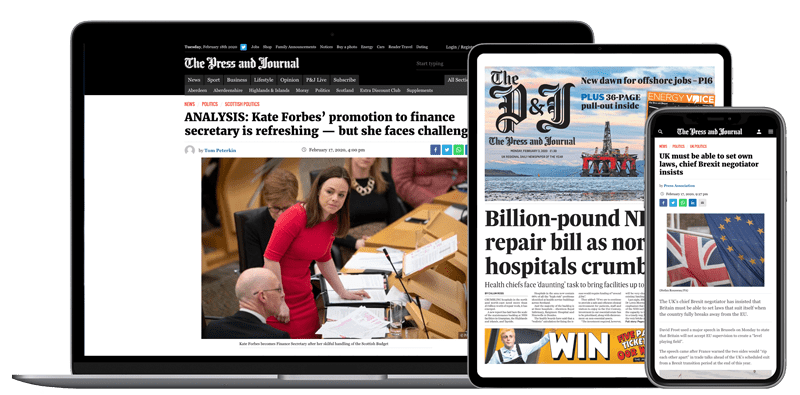 Help support quality local journalism … become a digital subscriber to The Press and Journal
For as little as £5.99 a month you can access all of our content, including Premium articles.
Subscribe