The vegan firm will move from its beloved caravan into a new space which will allow them to increase production exponentially.
Husband and wife team Joni and Kev Phippin have kicked off 2021 with a positive start as the couple announced they will be moving their vegan confectionery business to a well-known Highland estate.
Originally working in their caravan named Priscilla, which is based at Caiplich, Kiltarlity, Prissy Queen of Desserts will move nearly 15 miles up the road to its new home at Belladrum Estate.
Although the caravan will remain very much part of the enterprise, the new premises will have a kitchen and Joni says she would be able to fit the caravan into the space around eight times over, with the width of building twice the size of it.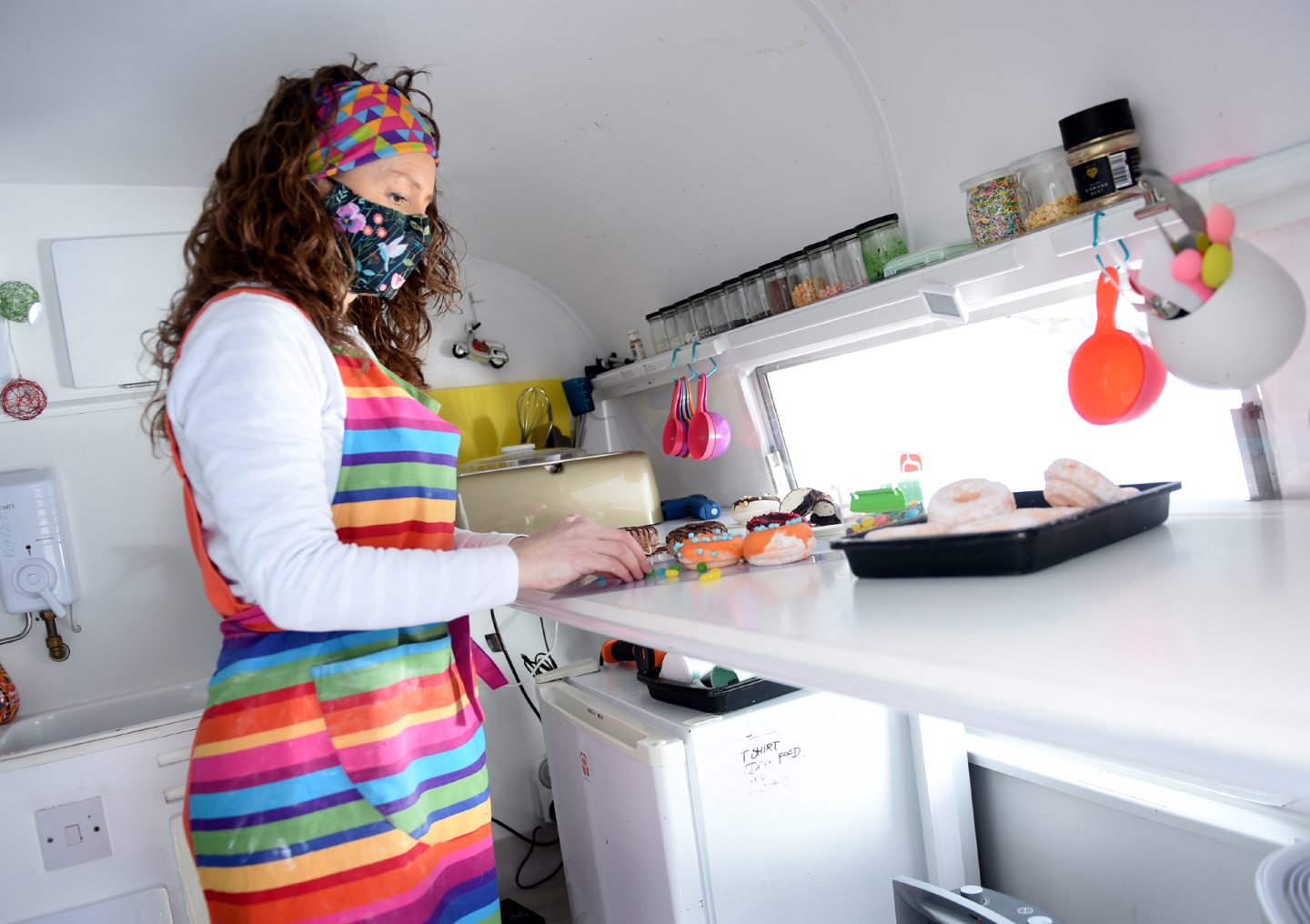 Having initially started out in early 2018, the new move will see the business massively increase its capacity and will allow Joni, who specialises in handmade small-batch mallownuts (vegan marshmallow doughnuts) and vegan chocolate, to meet demand due to the increased interest in her products since lockdown first began last March.
Where it started
Reflecting on the business's first home, Joni says having her vintage caravan has been the main driver in getting her enterprise to where it is today, giving her a unique space to work from.
She said: "I worked as a freelance community artist for 10 years and was looking for a change in direction. A friend gave me a vintage caravan just before my 50th birthday. It was an Ace Airstream made the year I was born and I took that as a sign. Both 50, both looking for a new lease of life.
"I've always made sweet treats and enjoy making people happy so I converted the caravan into a food truck and called her Priscilla. It was a labour of love – I even vinyl wrapped her myself."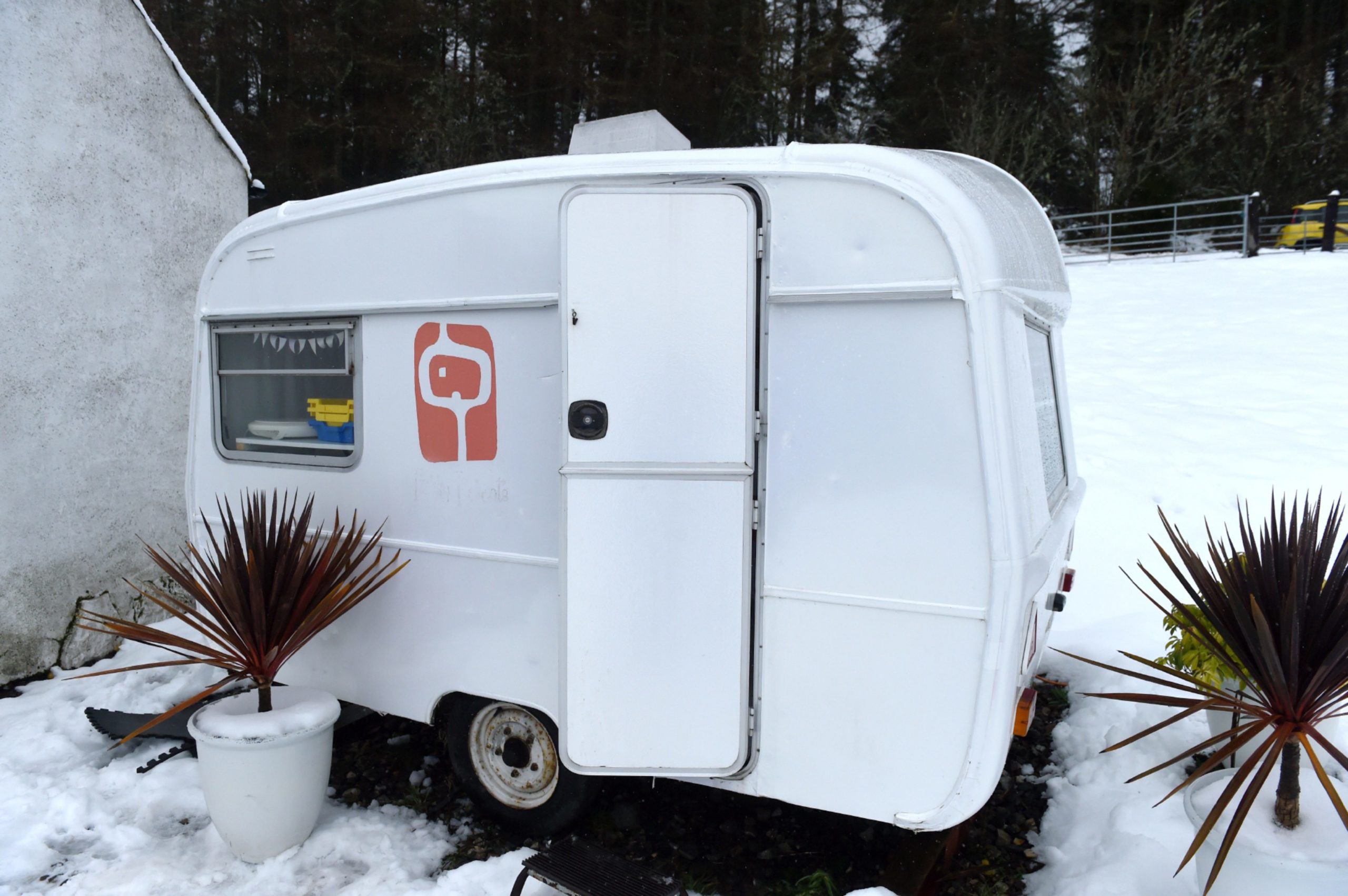 From veggie to vegan
A vegan now herself, Joni adapted her product offering from using vegetarian products to being fully vegan to suit her own beliefs. This resulted in her creating her own vegan marshmallow which Prissy Queen of Desserts is now best known for.
"In early 2018 I started selling bubble waffles at outdoor events but rapidly realised I didn't enjoy moving my beloved caravan and become a stall," said Joni.
"It was a hassle moving everything in the car but doable. During this time I was moving from vegetarian to vegan so the ethics in my business changed, too.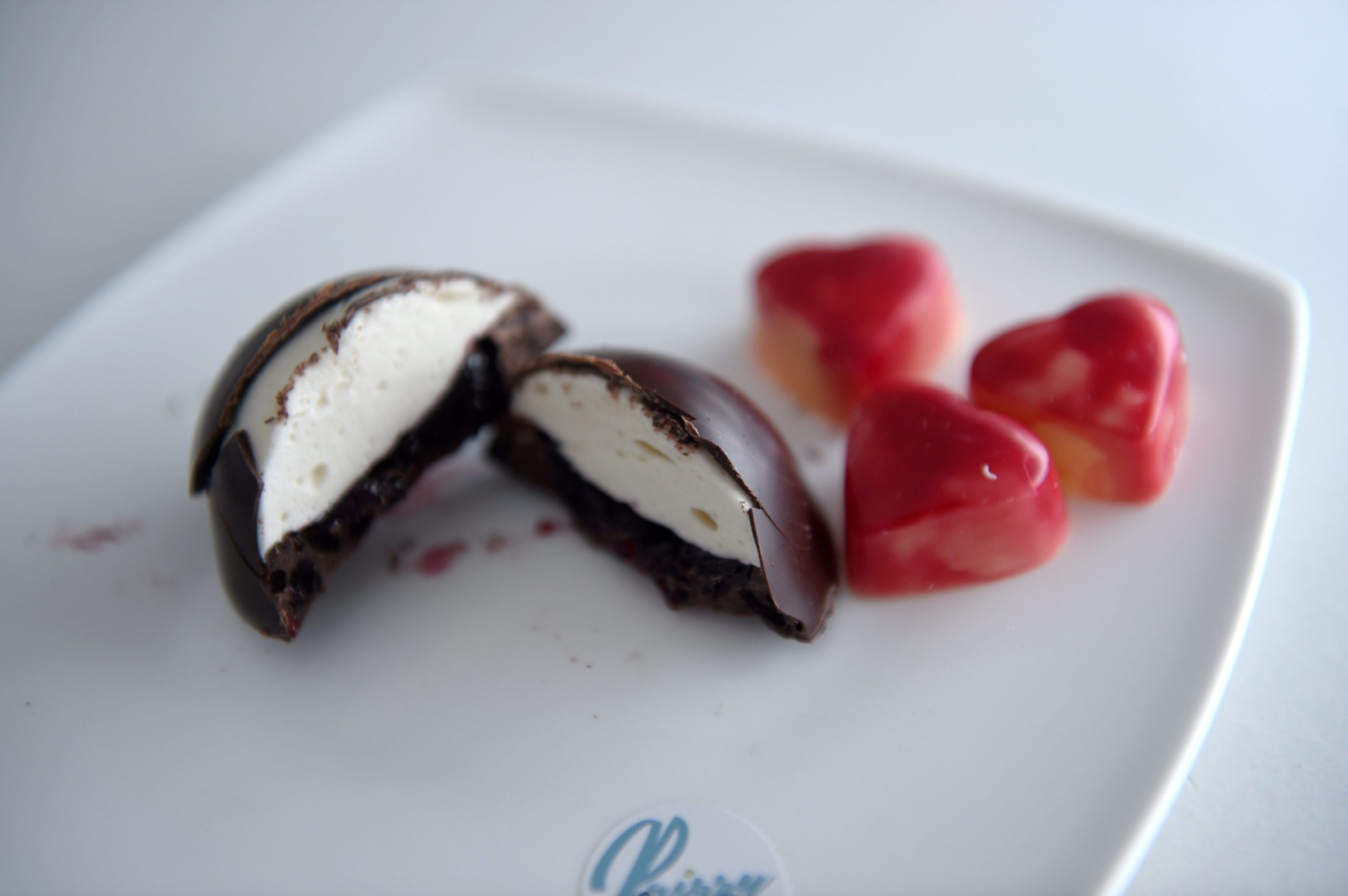 "I was always aware of dietary needs, so many people around me have allergies or intolerances, but more and more of our customers were coming because I didn't use milk or gluten etc. It felt fantastic to make truly indulgent treats that were accessible to almost everyone without compromising on taste.
"I wanted to use marshmallow but couldn't find any without gelatine or egg locally so I set to work on creating my own. Two months of daily trials and I cracked it. The reaction from our customers was amazing."
The birth of the mallownut
Creating the mallownut – vegan marshmallow crafted into the shape of a doughnut – Joni takes great pride in developing a range of products her customers will love.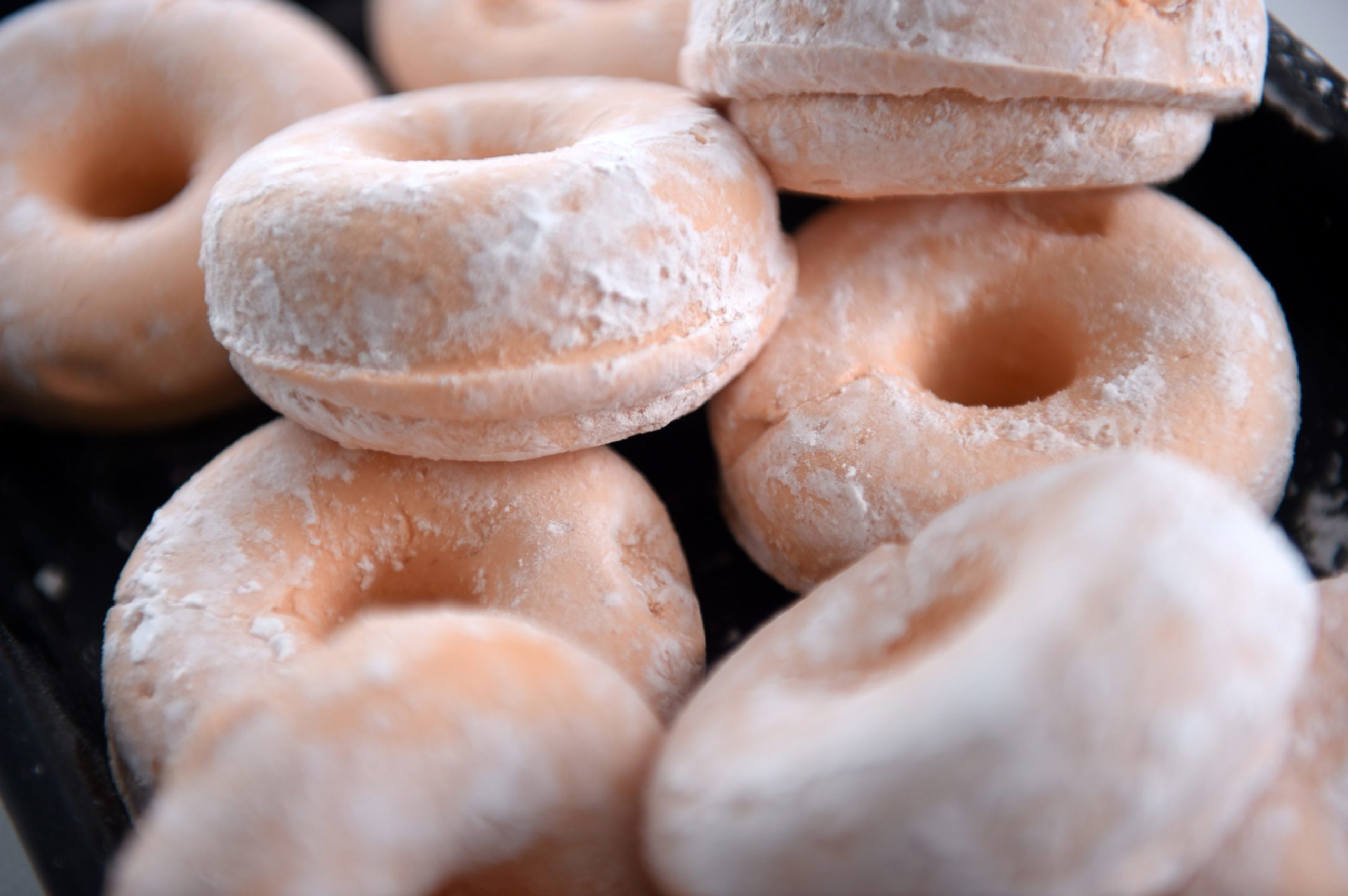 She added: "The artist in me kicked in and I created mallownuts – doughnut shaped mallow dipped in chocolate and decorated. They are fun, colourful and even people who didn't like marshmallow were coming back for more.
"I created a vegan teacake called a teafake which is made with dark chocolate with fresh mallow and jam, or a Biscoff spread base with crushed Oreo chocolate. I also created a vegan version of Wagon Wheel biscuits which I call Tractor Tyres
"In October 2018 we became Prissy Queen of Desserts and focussed on 100% vegan confectionery."
Veganuary, Covid-19 and beyond…
While movements like Veganuary have been helpful in raising awareness of her brand, nothing would prepare Joni for the impact Covid-19 would have on her business.
Like many, she created a website to be able to survive the pandemic, which, luckily for her, ensured her business thrived at times throughout.
"Veganuary 2019 was great and throughout 2019 I was attending three or four markets a month. My tiny 1.8 x 2.4m space was becoming an issue and limiting what I could produce so I knew I would have to get something bigger. I sold out at every market leaving customers disappointed so I made a website to allow people to order online and help spread the making days.
"Early 2020 I viewed a few places but nothing was suitable. Then I heard about what can only be described as my dream location, so I approached them and found the perfect space.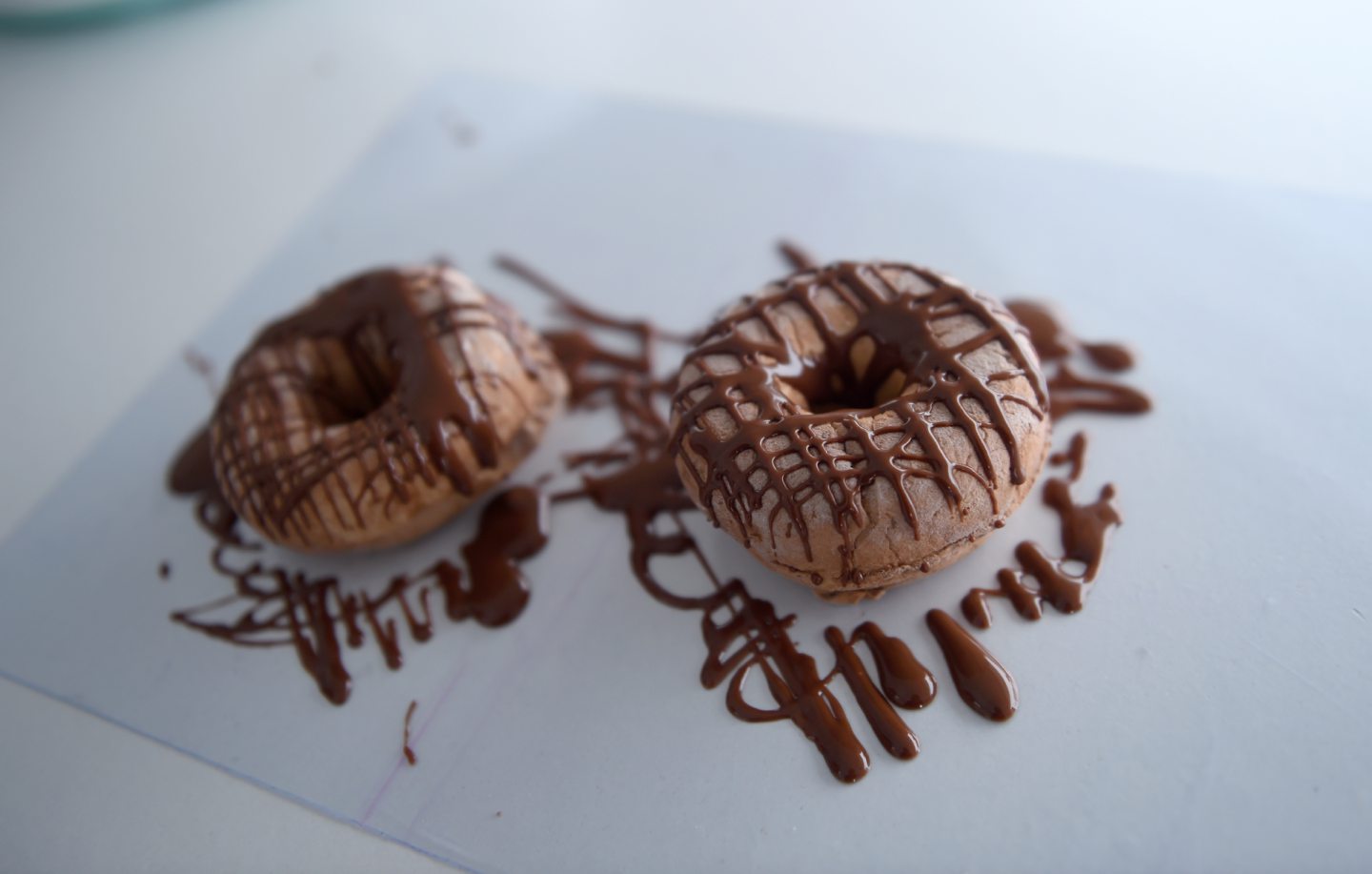 "January and February are quiet for me – no markets and few events – so I got on with planning the year excited with what lay ahead. Then Covid-19 hit. Early March I was going to a large vegan market but there was the initial three-week lockdown so it was cancelled. Things weren't looking good.
"I received an email understanding that I may not want the studio at Belladrum Estate and I knew it was sink or swim. I put off emailing back initially as I wasn't sure how I was going to survive never mind take on a studio, but it was that or Universal Credit. I took to social media and found nothing but love and support.
"The online orders came flooding in and our customers were ordering to send to friends and loved ones all over the UK. Those people then also ordered to send to people they missed or knew needed a lift.
"I offered local delivery which was 100% the best tonic – driving around was easy because the streets were empty and people were delighted to get a box of treats to their door with a cheery wave. It's not something you hear often but I will look back on the summer of 2020 fondly.
"Online sales doubled then doubled again and I will be eternally grateful to everyone who ordered from us, shared our posts or got involved in supporting us. They got Prissy Queen of Desserts through."
New home
Looking to move into their new premises later this year, Joni and Kev are excited for the next chapter of their business and welcoming customers to the space.
Joni added: "Timing couldn't be better for the move to the studio at Belladrum Estate, Prissy could fit eight times inside it.
"I'm very excited about the possibilities this gives Prissy Queen of Desserts. Going forward I will need a staff member and a wrapping area, not to mention storage space. I have plans to collaborate with other local vegan producers to create exciting chocolate bars while supporting their businesses.
"When things settle down with Covid-19 I will run chocolate workshops and training as well as being involved again in Earth Kind markets, too."
---
For more on vegan businesses…
Broughty Ferry restaurant has 'no idea' how they won a top prize at vegan food awards
As Asda opens vegan aisles, these are the Scottish food firms that are blazing a trail