If your daily commute takes you through the north-east countryside, you may be one of many people who travel through New Pitsligo without giving it a second thought.
But take the time to stop and explore and you'll find that, with a population of less than 1,000, it has surprisingly lots to offer. And it is a village which has recently become synonymous with great food.
The community recently came together to save its only bakery after its owner announced his imminent retirement. They backed a campaign by Fraserburgh Community Trust to take over the running of the shop, and there are now plans for a new £1million bakery.
New Pitsligo is also home to one of Scotland's best-kept secrets – the Last Bus Cafe, a spectacular, hand-built vegetarian diner.
But the beating heart of the village is the recently revived Pitsligo Arms Hotel, in the High Street.
Like most people, I'd heard only good things about the restaurant since it was relaunched by owners Norman and Colin McIntosh-Forbes almost five years ago.
I thought it would be the ideal place to unwind with the family after a stress-filled week of moving house. In fact, when myself, my wife and our 11-year-old daughter set out to central Buchan, we were waiting to hear if our latest offer on a property had been accepted.
My stomach was in knots, but a quick glance at the menu brought back my hunger with a vengeance.
Colin previously worked at the Pennan Inn, which featured in Bill Forsyth's 1983 film, Local Hero. In 2004, he met Banff and Buchan College graduate Norman, who was working in catering for the oil and gas industry.
In 2009, they decided to embark on their own venture, to create a place to "eat, stay and relax" in north Aberdeenshire.
According to the Pitsligo Arms' website, it is where "first impressions last", and that appears to have worked for Colin and Norman as a driving business statement.
The first thing that strikes you about the Pitsligo Arms is how modern and well kept it looks.
Inside we're greeted by a friendly member of staff and shown in to the hugely comfortable bar area where we have a drink while we wait for a table.
There's a healthy mix of clientele in the main restaurant area: a table of "ladies who lunch", a large family on a summer holiday day out and a small group of businessmen. The room is bright, nicely decorated and uncluttered and, after just a short wait, we are shown to our table.
All the ingredients on the menu are super fresh and locally produced.
To start, we share a portion of duck spring rolls, served on a bed of leaves with shredded cucumber and spring onions. It's a great appetiser, very well presented. We had reservations the duck might not be that special, given that it doesn't seem to feature anywhere else on the menu. Thankfully, our concerns proved to be unfounded.
My daughter's choice for her main course was an easy one. If there's scampi on the menu, she's going to pick it. All seafood at the Pitsligo Arms is bought from the Fish Plaice in Fraserburgh, which sources its produce from the Buchan markets.
Staff say the scampi alone brings diners to the hotel again and again. It really is delicious and it's a treat to taste, so fresh out of the sea.
My wife goes for the steak saftie for her main course, from the "light bites" section of the menu.
The sirloin steak is beautifully cooked and served in a toasted bun with onion rings (another Pitsligo speciality) with a black peppercorn sauce. It's an incredible dish and she gives it 10 out of 10.
One minor quibble: can you really call a steak sandwich that stands several inches high a light bite?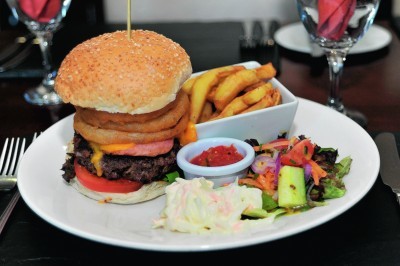 I'm a sucker for a good pun, so I opt for the Fraserburger, a 4oz burger topped with bacon, cheese and onion rings. When it's put before me I have serious doubts whether I'm going to be able to finish it. It really is enormous. But, although it looks like something I should win a T-shirt for finishing, the Fraserburger is surprisingly light and goes down a treat.
The hotel is keen to promote the freshness of its ingredients and that really does seem to be the secret to the great taste of its dishes.
For pudding, my daughter orders a triple ice cream which is, once again, beautifully presented and tastes amazing.
As we get ready to leave, my wife gets a call to say the offer on our new house has been accepted. It's great news and another reason to celebrate. But we're already on cloud nine.
THE PITSLIGO ARMS
51 HIGH STREET,
NEW PITSLIGO.
PHONE 01771 653208.