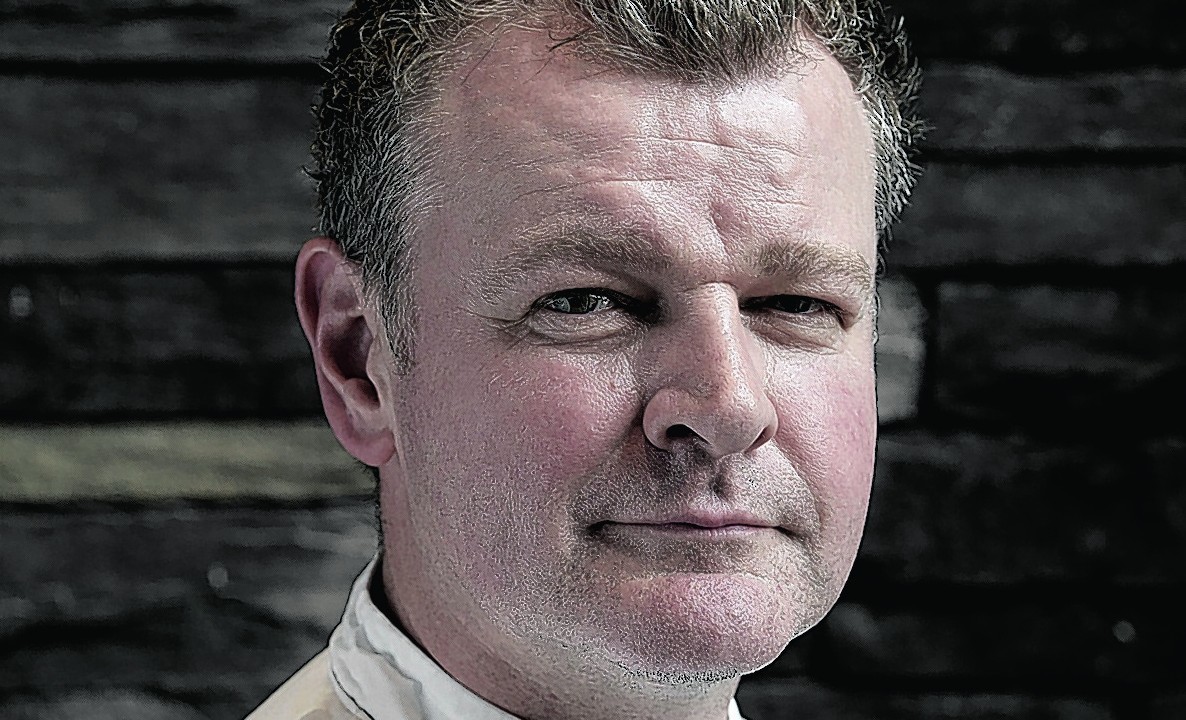 This is a landmark year for Scotland. We've already had the Commonwealth Games – and done a wonderful job of hosting them – there's the Ryder Cup to look forward to, along with myriad events taking place as part of Homecoming Scotland.
All these events are a shop window to showcase the finest of regionally sourced, premium-quality produce and products Scotland's natural larder has to offer.
Helping promote these is food and drink ambassador, Roy Brett, one of Scotland's top seafood chefs who honed his skills with Rick Stein, Mark Hix and Terry Laybourne.
Roy, who launched his critically-acclaimed restaurant, Ondine, a few years ago, has a passion for sourcing the best local produce and is uncompromising on seasonality and sustainability.
Here he creates two wonderful seafood dishes for YL readers to try at home: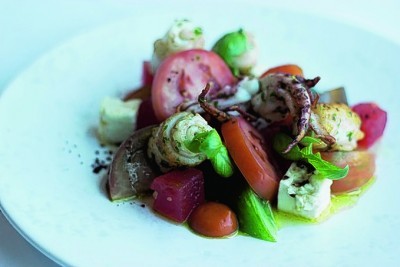 CHARGRILLED SQUID WITH A FETA, TOMATO, CUCUMBER AND WATERMELON SALAD
SERVES 4-6
One of my closest friends once invited my family to enjoy real Greek cookery for the first time. I fell in love with the simple but beautiful flavour combinations and grew a new respect for common Greek ingredients.
This dish, which is dedicated to my friend that introduced me to Greek cookery, Anna Laming, is featured on our menus every year and is our most popular salad to date.
200g squid
12 assorted Heritage Tomatoes cut into wedges
1 cucumber, cubed
80g Greek black olives, pitted
1/2 watermelon, cubed
200g feta cheese, cubed
1 lemon, juiced
1 pinch chilli flakes
60g mint, basil and oregano, mixed
100m olive oil
Sea salt
Pepper
For the tomato ketchup (makes 1 litre):
1.5kg tomatoes
1 red onion
3 garlic cloves
1/2 cinnamon stick
2 bay leaves
150ml red wine vinegar
Salt
Olive salt: Chop the green pitted olives into small pieces. Blend with a spoonful of sea salt and allow to dry overnight.
Tomato ketchup: Sweat the onion and garlic in a frying pan until soft.
Tie the cinnamon, bay leaf and peppercorns in a muslin and add to the pan. Add the tomatoes and cook for 20 minutes.
Add the vinegar and cook until a ketchup consistency has formed.
Salad: Mix together the tomatoes, cucumber, watermelon and feta in a large bowl to form the salad.
Add a small amount of lemon juice, chilli flakes and olive oil then mix lightly. To finish, add half of the mixed herbs to the salad and season.
Squid: Remove the body from the tentacles and remove the beak. Run your finger under the membrane and remove the wings, scrape clean. Remove the quill from the body. Cut the body down one side and open up. Wash well then scrape off any membrane and score in the inside of the squid to tenderise.
Warm a heavy based non-stick griddle or sauté pan. Brush the squid in olive oil and sprinkle with olive salt, pepper and chilli flakes.
Place the squid scored side down along with tentacles into the pan. When you turn the squid it will curl up into a cylinder, cook for a further minute then remove from the pan.
To assemble: Divide the salad between four plates and with a squeeze bottle add 5-6 drops of tomato ketchup around the salad.
Slice the squid into rings and place on top of the salad.
To finish, sprinkle with olive oil, olive salt, lemon juice and the remaining herbs.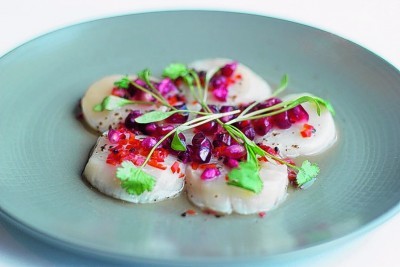 SCALLOP CEVICHE
SERVES 4
The sea beds around Scotland are home to a wealth of beautifully fresh scallops. Ceviche dishes cure the seafood in citrus juices and the chilli in this gives it some extra bite.
12 hand dived scallops
4 tbsp yuzu
4 tbsp lemon juice
2 red chillies (finely chopped)
2 pomegranates (fruit removed)
Micro coriander
Olive Salt (see squid recipe for preparation)
Salt
Remove scallops from shells then remove the white scallop meat from the roe. Wash well and slice in half making small discs. Salt the scallops for 10 minutes, then rinse and pat dry.
Mix the yuzu and lemon juice together and marinate the scallops in it for 5 minutes.
Place the scallops in the centre of a plate in a tight circle. Sprinkle with pomegranate, red chillies and some extra marinate juice.
Garnish with micro coriander and olive salt.