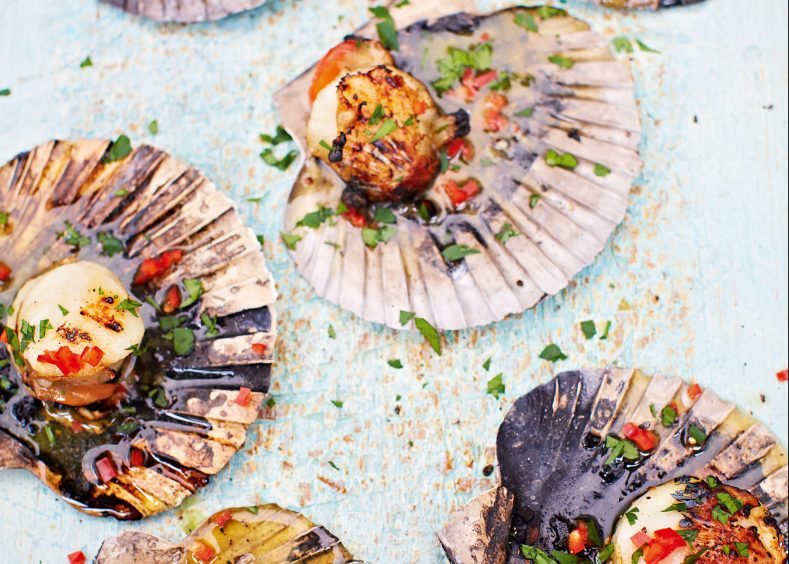 It may be turning cooler, but don't pack away your barbecue just yet. As king of the coals Christian Stevenson tells Kate Whiting, you can grill your grub all year round.
While we like to think we know our way around a barbecue, we generally just throw a few burgers and sausages on the grill a few times a year when there's a heatwave.
But for our North American cousins, barbecuing is a way of life that goes on long after the sun has set on summer.
Christian Stevenson, aka DJ BBQ, is an American on a mission to keep us all barbecuing long into autumn and winter.
"Brits are embracing barbecuing but the supermarkets aren't helping," he says. "People think, 'Summer equals BBQ', but that's not the case. Barbecuing should be 365 days a year and the supermarkets need to stock charcoal or wood all year long.
Stevenson learned to barbecue when he was just eight years old from his dad, who learned from his father before him – and their recipes are among those that feature in his new cookbook, The BBQ Book.
"My grandparents were great cooks, so when my grandfather passed away, my father went to all his siblings and asked for all the recipes, and made a book for everyone in the family of grandma and grandpa's recipes, so there's a couple of them in there as well."
Here's a little bunch of DJ BBQ's recipes for you to try at home, any time of year
SCALLOPS WITH CHILLI GARLIC BUTTER
SERVES 2
12 scallops, trimmed, with the shells
100ml dry white wine
1/2 a bunch of fresh flat-leaf parsley, leaves picked
For the chilli garlic butter:
2tbsp olive oil
100g salted butter
3 cloves of garlic, peeled
1 fresh red chilli
1 tsp freshly-ground black pepper
Spread hot coals over the base of your barbecue in a flat and even layer – the scallops are going to be cooked directly on the coals, so it doesn't matter what barbecue technique you use here.
Start by making the chilli garlic butter, which you can do on the barbecue or over a medium heat on the hob – basically, the longer those flavours get to hang out together, the better.
Place the oil and butter in a pan to melt. Meanwhile, finely chop the garlic and chilli (keep the seeds in if you like the heat), then add to the pan with the black pepper. Give it a good stir, let all the ingredients party, then set aside.
Place the shells with the scallops inside them on a platter, then add a dash of white wine to each one. Using tongs, place each shell directly on the grey coals, carefully positioning them so they can't tip over.
Cover with the lid like an outdoor oven and cook for four to six minutes, or until cooked through, turning the scallops halfway with tongs. Carefully remove the shells to a serving platter and drizzle about one tablespoon of the melted chilli garlic butter over each golden scallop. Roughly chop and scatter over the parsley leaves, then serve right away.
MEGA STUFFED SWEET POTATOES
SERVES 4
4 large sweet potatoes, scrubbed clean
Olive oil
Sea salt
8 rashers of higher welfare smoked streaky bacon (optional)
125g Monterey Jack or Cheddar cheese
4 spring onions, trimmed
1-2 fresh red chillies
To serve:
Soured cream
Set up your barbecue with coals on opposite sides to make two heat walls. Cover with the lid and allow to heat up like an outdoor oven – you want a temperature of around 175C/345F.
Rub the sweet potatoes all over with a drizzle of oil and a good pinch of salt. Place on the middle of the barbecue, cover with the lid and bake for around one hour, or until soft in the middle and crisp on the outside. Meanwhile, fry the bacon (if using) in a pan over a high heat (you can do this on the hob) until golden and crisp, then set aside for later.
Split the potatoes open, crumble in the bacon (if using) and grate over the cheese. Return to the indirect heat on the barbecue for a further five to 10 minutes with the lid on, or until the cheese has melted.
Finely slice the spring onions and chilli, then sprinkle them over the potatoes. Serve with spoonfuls of soured cream and devour.
The BBQ Book by DJ BBQ is a Jamie Oliver Food Tube book, published by Penguin, priced £7.99. Check out DJ BBQ's video on Jamie's Food Tube channel.