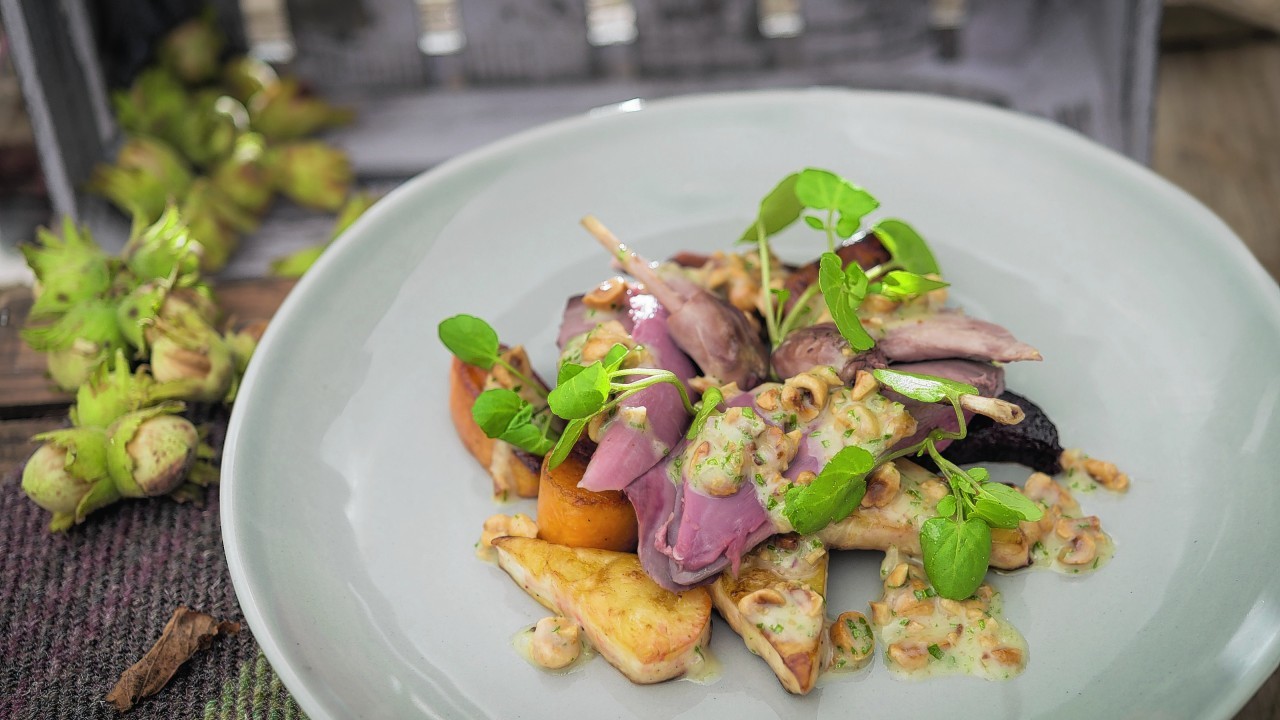 Award-winning chef Tom Kitchin creates a fabulous autumnal dish using seasonal grouse and vegetables
SCOTTISH GROUSE WITH ROASTED PUMPKIN, JERUSALEM ARTICHOKES AND BEETROOT WITH HAZLENUT DRESSING
SERVES 2
2 grouse, prepared and wrapped in bacon
1 tbsp vegetable oil
50g/2oz each of celeriac, carrots and celery all diced
10 baby onions
2 sprigs fresh thyme
1 tbsp brandy
250ml/9fl oz chicken stock
Sea salt and freshly ground black pepper
FOR THE ROASTED VEGETABLES
2 beetroot, peeled and quartered
Sea salt and freshly ground black pepper
4 Jerusalem artichokes
Lemon, juice only
1kg/2lb 2oz pumpkin, peeled, seeds removed
Olive oil, for frying
50g/2oz hazelnuts, roughly chopped
2 shallots, finely chopped
1 tbsp chopped chives
50ml/2fl oz hazelnut oil
1 tsp sherry vinegar, or to taste
Handful watercress sprigs
FOR THE GROUSE
Take the grouse out of the fridge so that they can come to room temperature before you start cooking, and preheat the oven to 200C/400F/Gas 6.
Heat the vegetable oil in a large heavy-bottomed roasting tin. Season the grouse well, inside and out, then sear them in the tin until golden brown all over. Add the diced vegetables, baby onions and thyme sprigs to the tin.
Place the grouse on one breast and roast in the hot oven for 3-4 minutes. Flip the birds on to the other breast and roast for another 3 minutes.
Pour brandy into the cavity of both birds and place them on their back to finish roasting – another 5 minutes. Remove the tin from the oven and leave the grouse to rest for 10 minutes, out of the tin, breast upwards so the juices are evenly distributed.
Remove the vegetables with a slotted spoon for later use, and set aside all the pan juices.
Put the roasting tin back on the heat on top of the stove and begin to reduce the cooking juices. Add the chicken stock, bring to the boil and let the sauce reduce and thicken. Take off the heat and pass through a fine sieve – keep warm until ready to serve.
FOR THE ROASTED VEGETABLES
Heat the oven to 180C/350F/Gas 4. Place the beetroot quarters into a saucepan and pour in enough water to cover. Add salt and bring to the boil. Simmer for 30 minutes or until the beetroot is nearly cooked. Drain and set aside.
Meanwhile, peel the Jerusalem artichokes, cut them in half and immerse in a bowl of cold water with the lemon juice added to stop them discolouring.
Cut the pumpkin into thick slices. Heat a large non-stick ovenproof frying pan (or a cast-iron roasting pan) over a medium-high heat and add a drizzle of olive oil.
Place the pumpkin and Jerusalem artichokes into the pan, season with salt and cook for 3-4 minutes, until they start to colour. Transfer the whole pan to the oven and roast for 15 minutes.
Cut the par-cooked beetroot into wedges, add to the pan and cook in the oven for a further five minutes.
Meanwhile, make the dressing. Combine the chopped hazelnuts, shallots, chives and hazelnut oil in a bowl. Add a splash of sherry vinegar and season with salt and pepper to taste.
Once the grouse have rested, carve the legs and breast meat onto a plate and spoon over the pan juices. Serve the roasted vegetables alongside with the dressing and watercress on top.