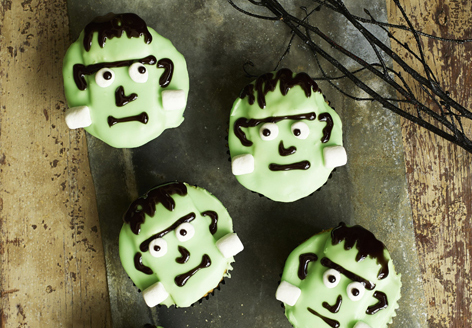 The spookiest night of the year is a great excuse for throwing a party. Here's some treats to tempt even the most reluctant Halloween fan
EYEBALL PASTA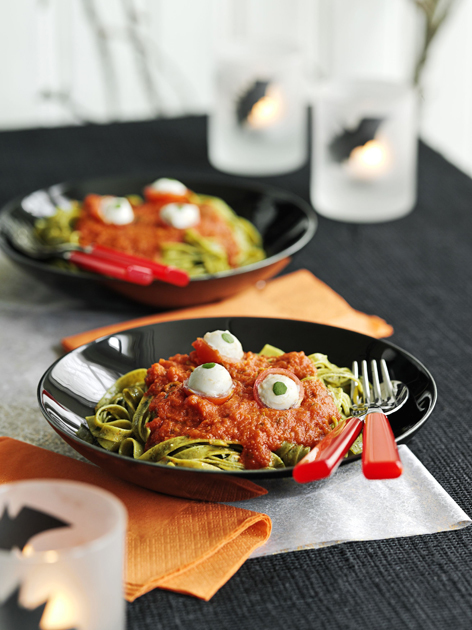 Serves 4-6 children
Keep kids entertained and fill little tums with this healthy dish.
100g cherry tomatoes
150g pack mini mozzarella balls, drained
Handful of basil
400g green tagliatelle
350g jar tomato sauce
4tbsp fresh pesto
Halve the cherry tomatoes and use a small, sharp knife or a teaspoon to remove the seeds. Cut the mozzarella balls in half. Place one half inside each tomato, trimming the edges if necessary to fit it in. Either cut the smallest circles you can from a basil leaf or finely chop the leaves and scrunch into small circles. Place one at the centre of each mozzarella ball.
Boil the pasta. Meanwhile, heat through the tomato sauce. When the tagliatelle is cooked, drain and stir through the pesto and any remaining basil, chopped finely. Divide between four to six serving bowls. Spoon over some tomato sauce, then arrange the stuffed tomato eyeballs on top.
FREAKY FINGERS AND BRAINBALLS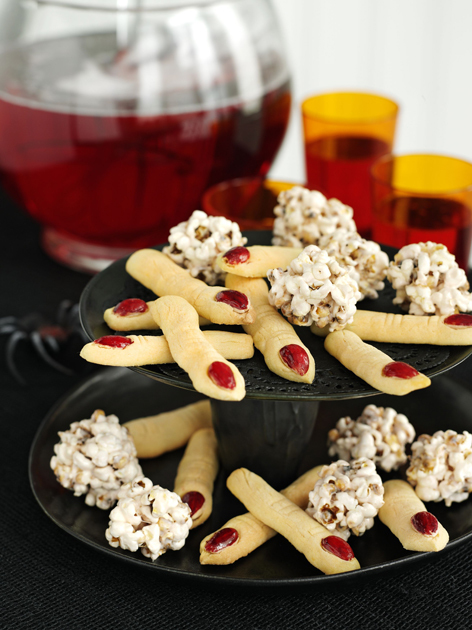 Little hands will snaffle these snacks in a second
FREAKY FINGERS
Makes 20
100g caster sugar
100g butter
1 egg yolk
200g plain flour
0.5tsp vanilla extract
20 blanched almonds
Red food colouring
Pinch of salt
BRAINBALLS
Makes 10
85g popping corn
1tbsp vegetable oil, plus extra for shaping
25g butter
85g marshmallows
FOR THE FREAKY FINGERS
Place the first five ingredients and a pinch of salt in a food processor and whizz until a ball of dough forms. Tear off a golfball-size piece of dough and use your hands to roll into finger-size cylinders – you should get about 20. Place on a baking sheet lined with baking parchment – a little apart as they will spread during baking. Use a knife to make a few cuts, close together, for the knuckles. Place an almond at the end of each finger and trim away excess pastry around the edge to neaten.
Place in the fridge for 30 minutes, heat oven to 180C/160F/Gas 4, then bake for 10-12 minutes, until firm. Leave to cool a little, then paint the almond with food colouring, if you like.
FOR THE BRAINBALLS
Place the popping corn and vegetable oil in a large pan set over a medium heat. Stir the kernels around the pan to coat in the oil. When the kernels starts to pop, place a lid firmly on top and turn the heat down to low. Cook, shaking the pan often to stop the popcorn burning or sticking, until the corn has stopped popping, about five minutes. Tip into a bowl, discarding any unopened kernels.
Heat butter and marshmallows over a low heat until melted. Pour over popcorn and mix well until coated. Lightly rub oil over your hands and shape the popcorn into small balls. Set aside on a tray lined with baking parchment and leave to set.
FRANKENSTEIN CUPCAKES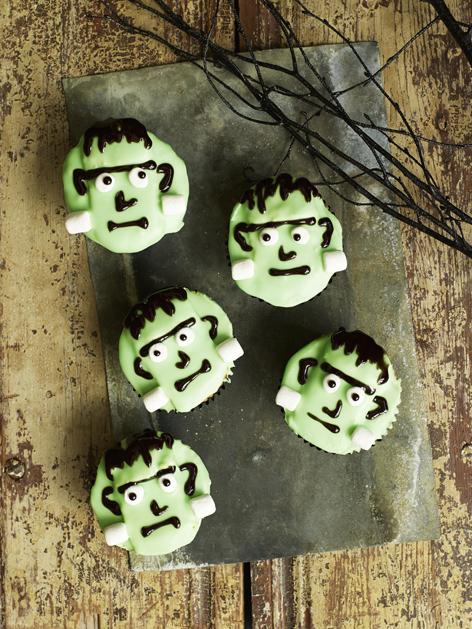 Makes 12
Make your own monsters.
200g soft butter
175g golden caster sugar
250g self-raising flour
1tsp baking powder
0.25tsp salt
3 large eggs, at room temperature
0.5tsp vanilla extract
100ml milk, at room temperature
TO DECORATE
300g icing sugar, sifted
2-3tbsp milk
Green food colouring paste
36 mini marshmallows, 12 snipped in half
Tube of black piping icing or gel
Heat oven to 180C/160C fan/gas 4 and line a 12-hole muffin tin with deep muffin cases. Cream the butter with the sugar until pale and fluffy. Add the remaining cake ingredients and beat until smooth. Spoon into the muffin cases and bake for 20 minutes, or until golden and a skewer inserted into one of the middle cakes comes out clean. Cool for five minutes in the tin, then completely on a wire rack.
Using a small, sharp serrated knife, cut a semi-circle piece of cake from the left and right of each cake, to make stepped edges, level with the cupcake case. Next, make a widthways cut about 3cm from the top of the cake, about 1cm deep. Slice a 5mm piece off the surface of the cake to meet this cut, to make a flat, raised face and prominent forehead. Chill for 10 minutes to firm the crumbs.
Mix the icing sugar, milk and green colouring to make a very thick icing that flows slowly from the spoon. Spoon one tablespoon onto a cake and let it begin to spread itself over the cut shape. Ease it here and there with a palette knife to coat. Add marshmallow neck bolts and eyes. Repeat for each cupcake. Leave to set, then pipe on the faces and hair.
Recipes courtesy of BBC Good Food Magazine. The 25th anniversary issue is on sale now, priced £3.99.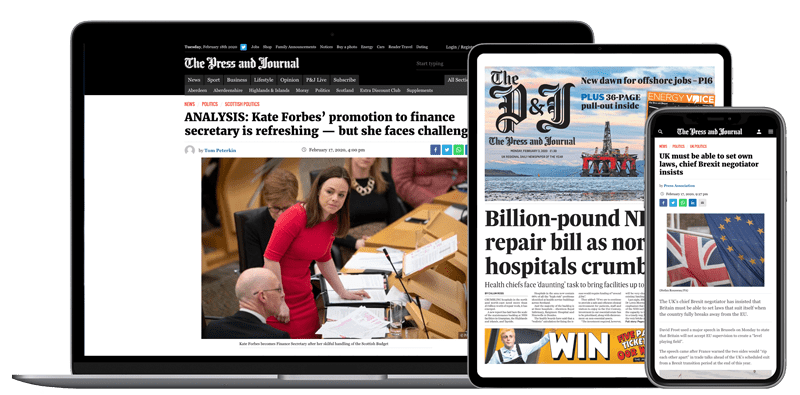 Help support quality local journalism … become a digital subscriber to The Press and Journal
For as little as £5.99 a month you can access all of our content, including Premium articles.
Subscribe