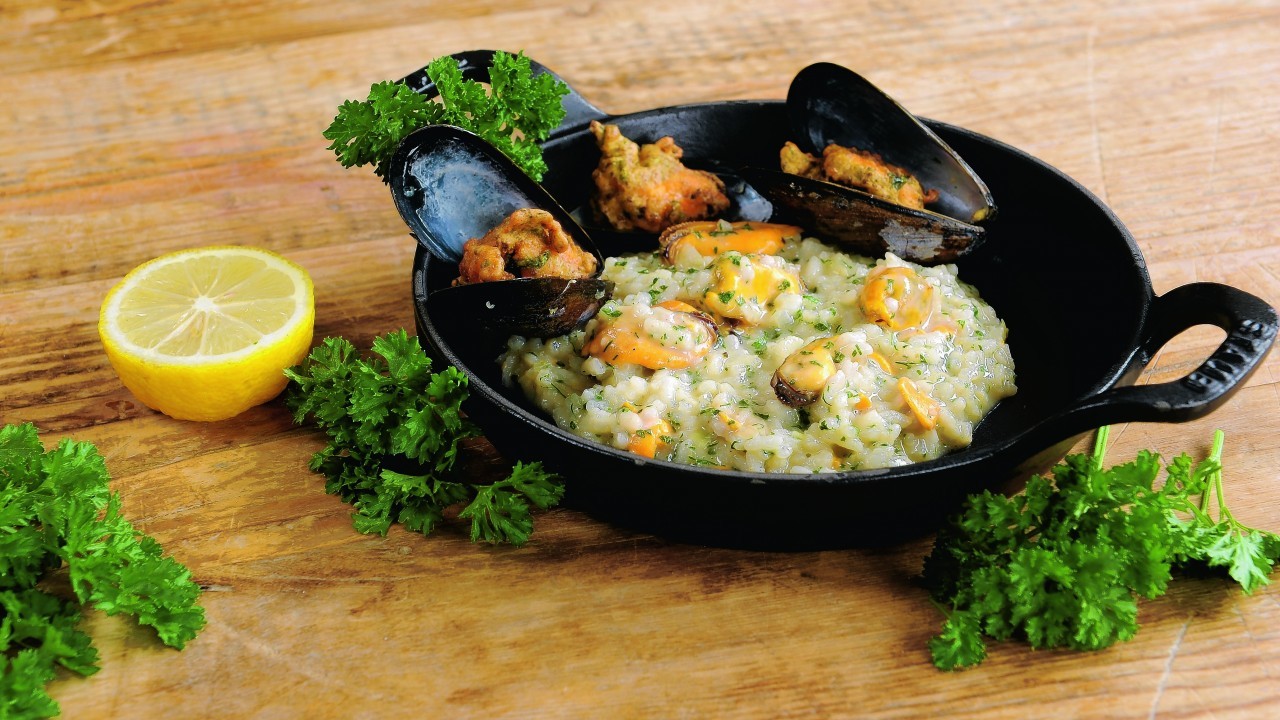 Michelin-star chef Michael Smith, from Skye's Three Chimneys restaurant, showcases west-coast mussels and a show-stopping dessert with a Highland flavour
As a nation, we Scots are known to have a love of seafood, curry and the odd deep-fried dish or two. Today's main recipe – West Coast Mussel Risotto and Mussel Pakora, brings all three together, but it's also a fusion of different cultures and fabulous flavours.
The waters around Scotland are particularly good for producing mussels, and there's strict controls in place to make sure they are fresh and healthy, so when buying from a fishmonger or supermarket, look out for fresh Scottish mussels.
Before you start cooking, drop the mussels into a basin of water and discard any that don't immediately close up tightly. Use a knife to pull out any loose strands, aka "beards" from the mussels. After cooking, discard any mussels that have not fully opened.
The second recipe, Frozen Gaelic Coffee, is a fantastic, make-ahead dessert that is really sexy as it combines dessert with an after-dinner coffee.
It's easy to make but a real show-stopper in terms of dinner-party food – one that will leave your guests hoping they get a repeat invitation to dinner soon!
WEST COAST MUSSEL RISOTTO, SYBOE AND MUSSEL PAKORA
SERVES 4
1 kg cleaned mussels
120g best risotto rice (carnaroli)
1 medium onion, finely chopped
2 sticks celery, finely chopped
Half a bulb of fennel, finely chopped
4 peeled cloves garlic
1 small bunch syboes, sliced on the angle
Half a medium red onion, thinly sliced
100g Gram flour
Pinch plain flour and baking powder
Garam masala (or any spice to taste)
1 bottle dry white wine
Oil for frying
Cook the mussels first. In a large pot, add half of the finely chopped veg with a little oil and cook gently until the veg is becoming soft. Now finely grate the garlic cloves and stir into the veg cooking for a further minute. Next, add the white wine and 400ml of water and bring to a rapid boil. Once boiling, add the mussels, place on a lid and steam for 5 minutes on a high heat.
Now, carefully pour the contents through a large colander and leave to cool. Once cool, decant the stock into a jug and pick the flesh from the shells. Turn on a deep fryer to 180c.
In a broad-based shallow pot, add
a little oil and then the rest of the chopped veg. Cook as before until soft. Now add the rice and mix well over the heat for 2 minutes. Gradually begin to add the stock to the hot rice (always make sure the stock is hot), moving the grains so as they do not stick to the base. The rice is ready once it has become creamy and tender but not soft. Turn off the heat.
Place the flour and other dry ingredients into a bowl and gradually whisk in the remaining stock until smooth batter akin to double cream is achieved. Add the sliced onions and remaining mussel flesh into another clean bowl and dress with some batter, just enough to coat the contents. Now, carefully and gently drop the pakora mix into the hot fryer and fry until golden and crispy. Remove and drain, seasoning with a little of the Garam Masala.
Serve the risotto in warm bowls with some season greens and top with the crispy mussel pakora and a good squeeze of lemon.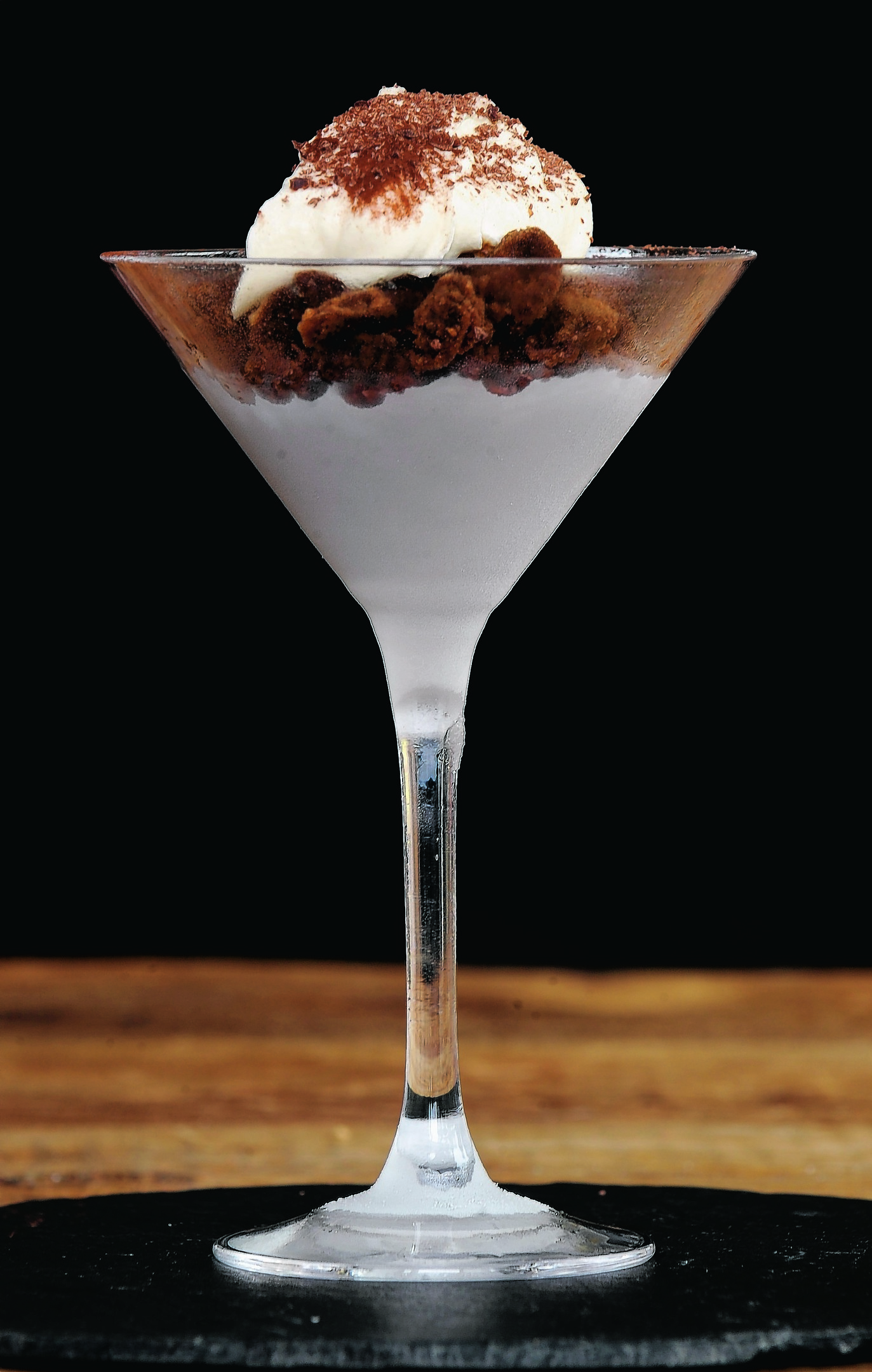 FROZEN GAELIC COFFEE
SERVES 4
600ml/1 pint strong, hot espresso coffee
120g/4oz castor sugar
300ml/10fl oz double cream
Good slug of a whisky of your choice
1 tbsp castor sugar
Put a shallow baking dish (about 1 litre/1-2 pints capacity) into the freezer. Stir and dissolve the sugar (4oz) into the coffee over a low heat. Set aside to cool.
Pour the coffee mixture into the dish and freeze for 40 minutes. Check to see if there are any ice crystals forming around the edge. If there is, gently bring them into the liquid centre using a fork. Place the mixture (granita) back into the freezer. Have another look again in about 20 minutes and repeat the same process as step 3. Keep doing this until the entire mixture is a mass of coffee crystals with no remaining liquid parts. Once this has been achieved, tip the granita into a plastic, lidded box and store in the freezer until needed.
Place the whisky and sugar in a bowl and whisk until dissolved. Add the cream and whisk until dropping consistency. Place the glasses you're going to serve the dessert in into the freezer for a few minutes to pre-chill them. When ready to go, remove the glasses, add the granita and top with the whipped-cream mixture on top.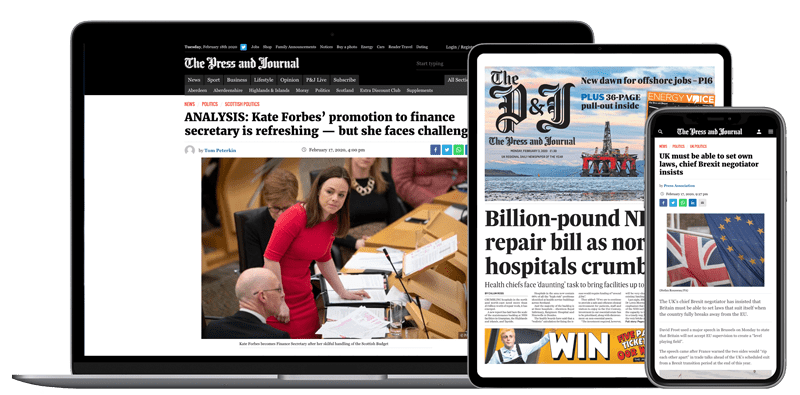 Help support quality local journalism … become a digital subscriber to The Press and Journal
For as little as £5.99 a month you can access all of our content, including Premium articles.
Subscribe