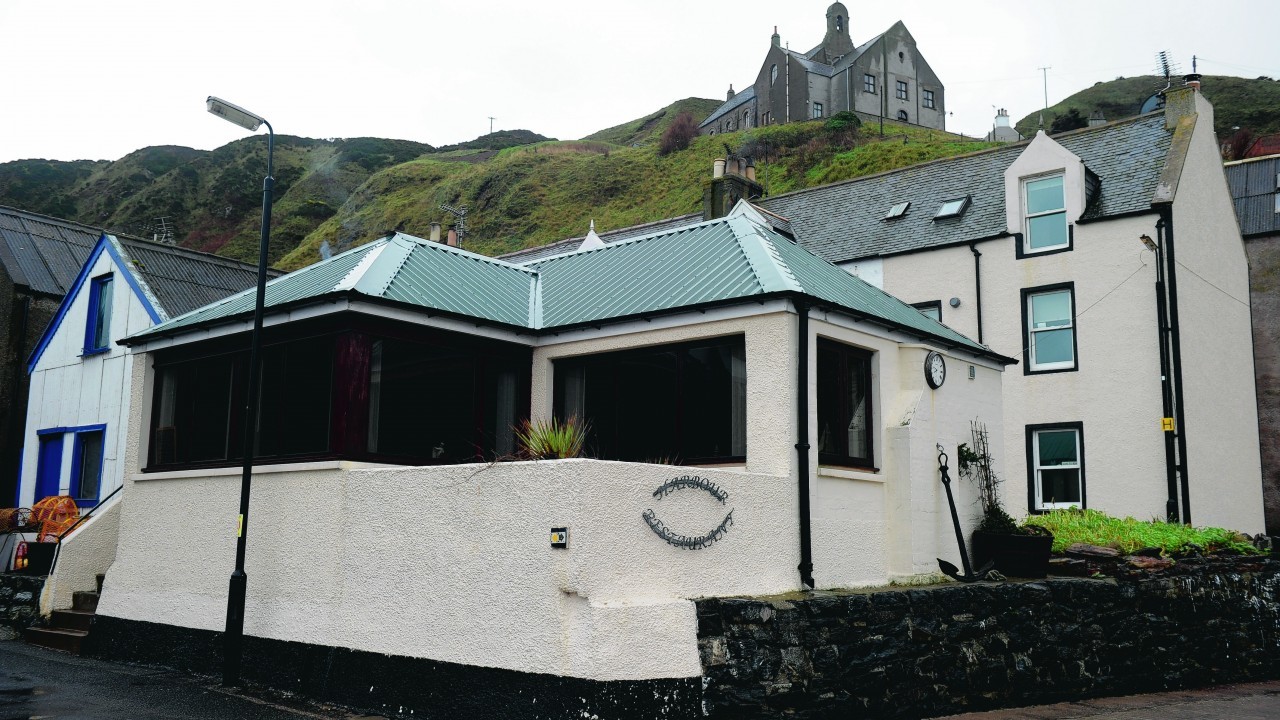 The north Aberdeenshire coast is blessed with a number of picturesque villages such as Gardenstown, built into sandstone cliffs overlooking the Moray Firth.
On a clear day, it is a beautiful spot to visit, and if you arrive at the right time, you may even be lucky enough to witness dolphins frolicking in the water.
Our trip north, however, was on a dark and windy November evening, with fireworks lighting up the night sky as we negotiated the winding coastal roads down to the waterside.
Thank goodness then, for the welcome we received as we entered the Harbour restaurant for the first time.
After parking on the water's edge, just yards from fishing boats moored for the night, we felt as if we were guests arriving at a family home for dinner.
A wood-burning stove built into the wall provided the warmth in a cosy eating space with just five tables seating about 15 diners in total.
If there was a sense of familiarity in the surroundings, it was partly because I, like every other visitor who books a table at the Harbour, had already talked at length with the owner, Moira.
In the winter months, the restaurant is only open on the weekends, Friday, Saturday and Sunday evenings.
I had left a message for Moira, and upon returning my call, she gave me a choice of three main course dishes, which had to be ordered ahead of time.
The offerings will change depending on the season, but for our visit, we were told that we could choose from halibut, fillet steak and chicken with Stornoway black pudding.
My partner opted for the fish, sourced locally from the harbour market in Peterhead, while I chose the steak, which also came from a local butcher in Strichen.
Making those decisions prior to arrival meant that we were not presented with menus when we took our seats. And as the Harbour is unlicensed, which we had also been told in advance, we took our own bottle of wine.
There were still some choices to be made, however, with a selection of three starters; home-made tomato soup, a caramelised red onion and goats cheese tart and what was tantalisingly described as a "trio of fish".
The selection of fresh chunks of salmon, a pot of baked smoked haddock in a creamy cheese sauce and prawn cocktail, was served on a bed of rocket leaves.
Both the salmon and the prawns tasted like they had just come out of the water, while the hot smoked haddock was a perfect winter warmer on a cold night.
It wasn't long before our mains arrived.
My steak was at least three inches thick, and cooked as requested – medium rare and a little bloody. The meat was exquisite, and even without a steak knife, you could cut through it without any great effort – "like velvet" Moira would later tell me.
The meat was served with a creamy peppercorn sauce on the side, with portobello mushroom, beef tomato and steamed tender stem broccoli.
My partner's large fillet of halibut came in a delicately flavoured cream sauce topped with grated cheese and was served with steamed asparagus spears.
An ample side dish of home-made chips, crispy on the outside and fluffy on the inside, was also provided to share.
For dessert, there was again a choice of toffee cheesecake, creme brulee and a chocolate mousse.
My spoon cracked through the crisp caramelised sugar topping of the creme brulee to reveal a decadent, rich custard base.
My partner's delicious toffee cheesecake was topped with chocolate flakes and served with warm slices of caramelised banana.
In keeping with the warm atmosphere that greeted us on arrival, Moira appeared from the kitchen as we were enjoying our coffees to chat about the food.
It was a nice touch, and certainly served to add to the personal element of the dining experience.
There was only one sitting on the evening we visited, which really created the impression that Moira had been cooking for us alone.
We considered this restaurant to be a real find, and look forward to returning. We had been warned to book in advance, which turned out to be welcome guidance that was echoed by the family next to us, who said they had been trying to get a table for months.
Certainly for the coming weeks, it would be advisable to get in touch as early as possible, as the limited opening times will continue over the festive period.
But if you do have to wait, this restaurant is most certainly worth it, marrying the best of local produce in simple, well cooked dishes in warm and homely surroundings.
THE HARBOUR RESTAURANT
HARBOUR ROAD, GARDENSTOWN. PHONE 01261 851663.