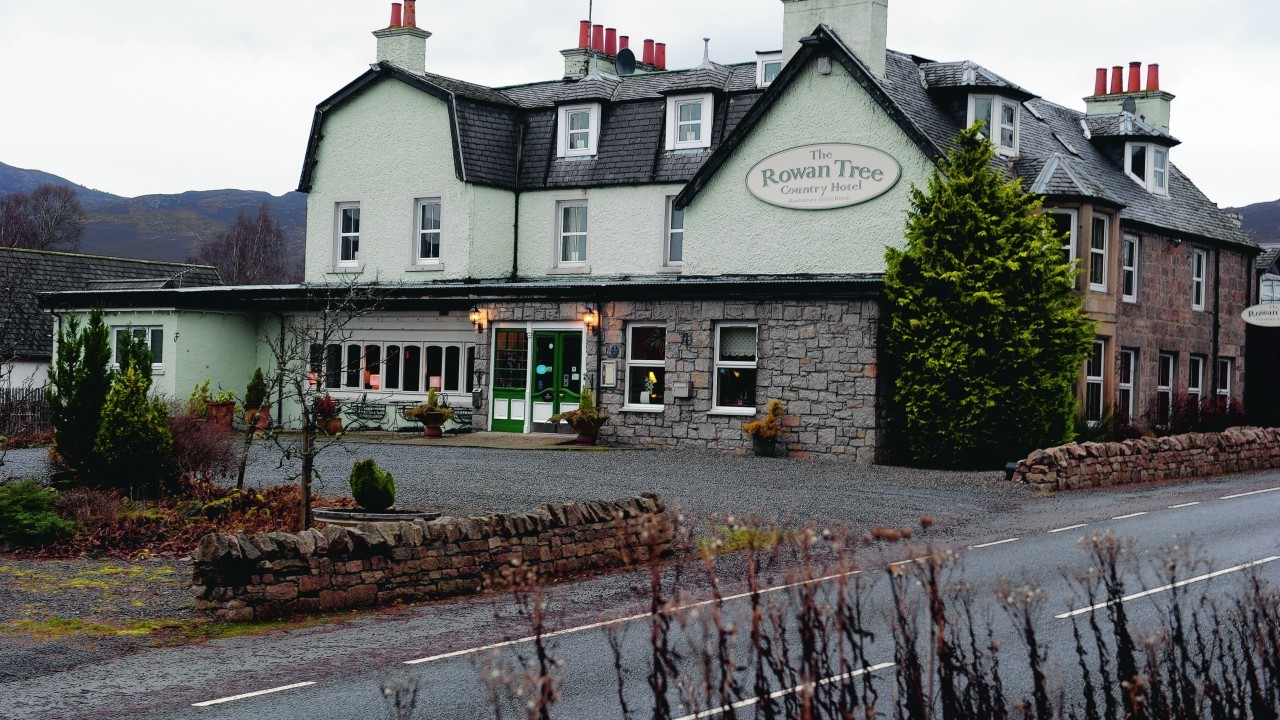 Nothing could be better than the prospect of a meal at a traditional country hotel in the Cairngorms National Park. Imagine a warm fire beside a bar full of Highland whiskies…
This is the treat in store at the Rowan Tree country hotel, which nestles close to Loch Alvie, one of the Cairngorms National Park's prettiest lochs. It was built as a coaching inn in the 1700s and might be one of the oldest in the area.
Entering the building, it feels very much like a typical Scottish hotel – wood panels and tartan carpets.
We were quickly greeted by a friendly member of staff and offered a choice of three places to sit and peruse the menu – lounge, snug or bar. We chose the latter, but the others looked comfortable, too.
The bar did not disappoint. We huddled close to the fire as we read the lengthy menu. Making a choice is not easy when the selections run to more than six options per course.
From the cosiness of the bar and into a sharply contrasting restaurant. With purple walls, dark wood tables and leather-look chairs, it is more reminiscent of a city bistro.
I chose hoisin duck spring rolls with oriental salad and sweet chilli jam to start, while my partner went for pork belly, slow roasted, and haggis, oven baked and served with mixed leaves and apple puree.
My spring rolls were extra crispy and steaming hot. The jam was a good accompaniment, as was the salad, although the portion was a little too large for a starter.
On the other side of the table was a work of art, with the alternating layers of light pork and dark black pudding, covered in a light breadcrumb coating. My partner described it looking like a "meaty liquorice allsort" and tasting just as good.
For the main course, I chose cod fillet wrapped in Parma ham, with spring onion mash, red wine sauce and seasonal vegetables. The fish was cooked well though the flavour of ham sometimes seemed a bit lost. The vegetables were welcome but again meant the helping was a bit too much for me.
My partner went for steak and chips, which arrived adorned with peppercorn sauce, onion rings, mushrooms, peas and a salad. The meat was cooked just how he asked and he made it through most of the accompaniments.
Notwithstanding the two healthy sized courses we had just consumed, we were tempted by dessert, searching out what we thought might be the lighter option.
For me, the intrigue of marshmallow meringue with poached autumn fruits was too much to resist. It did not disappoint, though such was its height and girth, iceberg meringue may have been closer to the mark. But I soon brought the tower down to size.
And my partner snaffled the last coconut and white chocolate crème brulee. His delight was slightly tempered when it arrived and the sugar seemed a little too burnt. But the coconut and white chocolate worked well together and the plate went back cleared.
The staff were attentive throughout our meal, checking if we needed anything more. The only minus was at the end of our meal when we were asked to leave the table because it was needed for their next customers. Admittedly it was a busy weekend night but nothing was mentioned on arrival or at booking about a time limit.
While our exit was a bit rushed, we happily sank into the car to drive home, our stomachs so full we could never have walked. It's safe to say that a large appetite is needed for the Rowan Tree and walkers looking to replenish their calories after a hard day in the wild should swing by. Anyone else should make sure they loosen their belt.
ROWAN TREE HOTEL
LOCH ALVIE, AVIEMORE. PHONE 01479 810207.