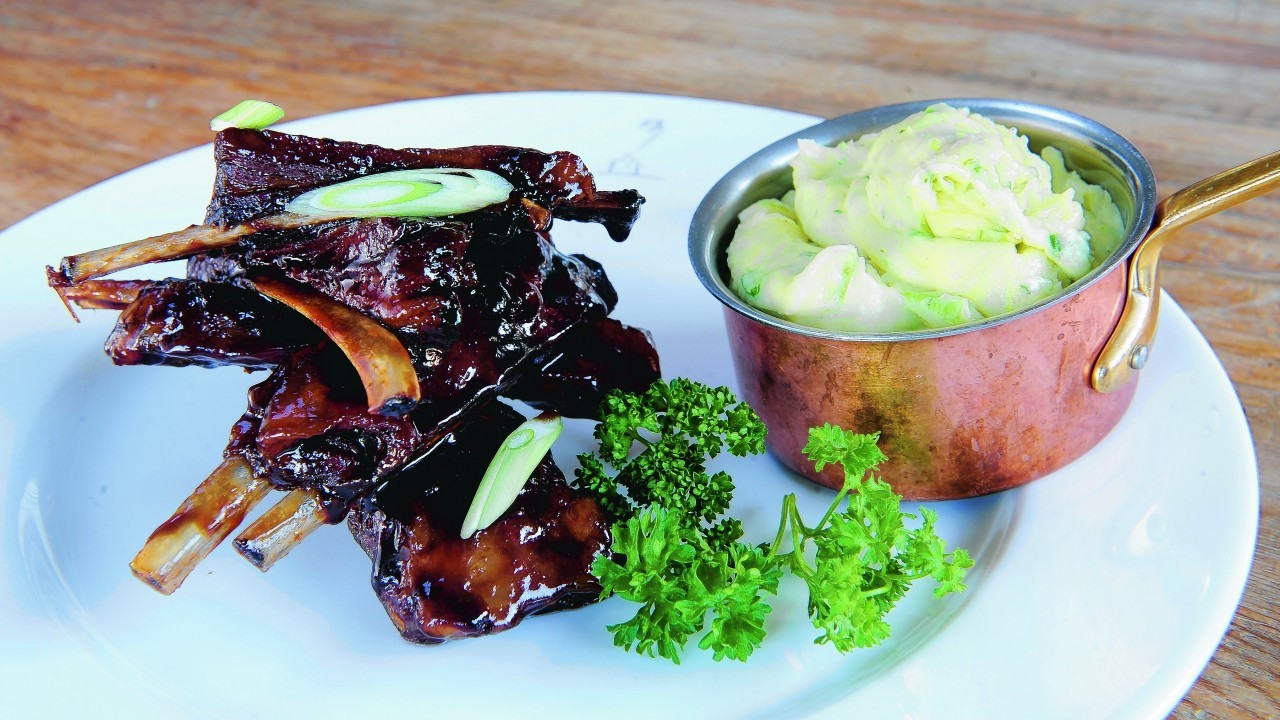 Michelin-star chef Michael Smith creates a flavour-packed lamb dish, and a toffee apple dessert that will have the family calling out for more
First piece of advice for today is get to know your local butcher and start asking for lamb ribs. You don't see these for sale very often, certainly not compared to pork ribs, and there's a good reason for that – butchers like to keep them for themselves because they're so tasty! You can either ask for ribs alone, or the next time you're ordering shoulder of lamb, ask the butcher to cut off the ribs so you can take them home and use them at a later date.
The winter months are when you want to eat comforting soul food and sticky Scotch Lamb ribs are the perfect comfort food. They're low maintenance, you simply pop them in the oven at a low heat for several hours and forget about them while they gently cook. You don't even need to make a sauce to go with them, there are lots of ready-made options which can simply be poured over, then put back in the oven at a higher temperature for 10 minutes, until the sauce becomes bubbly and sticky. Ribs and mash are perfect together but to make the mash extra special, use double cream and syboes to take it to the next level.
Today's dessert is another winter favourite, a cross between a traditional crumble and a tart, but with a difference as it features sweet apples and flavour-packed prunes soaked in marinade. Marinaded prunes are great to keep in the store cupboard as they are fantastic in desserts, delicious on their own, served with creamy yoghurt and superb when taken with porridge in the morning.
WHISKY-GLAZED LAMB RIBS
SERVES 4
Lamb rib joints (cut from shoulder)
Whole garlic, smashed
Fresh rosemary
Salt and pepper
Rapeseed oil
For the glaze:
150ml reduced lamb stock
75g passatta
30g dark brown sugar
20ml cider vinegar
Good slug peaty whisky
Rub the ribs with salt and pepper, drizzle with rapeseed oil wrap in foil with the garlic and rosemary. Place in a roasting tray a slowly cook at 150C in the oven until very tender, about 3-4 hrs.
For the glaze, place all the ingredients in a pan, bring to a boil and simmer for 8-10mins. Once cooked, generously coat the ribs in the sticky glaze.
SYBOE MASH
200g mashed potato, hot
3 spring onions, finely shredded
50mls double cream
Knob butter
Add the cream, butter and onions together in a pan and bring to a boil then simmer for 1min. Mix immediately into the mash and serve.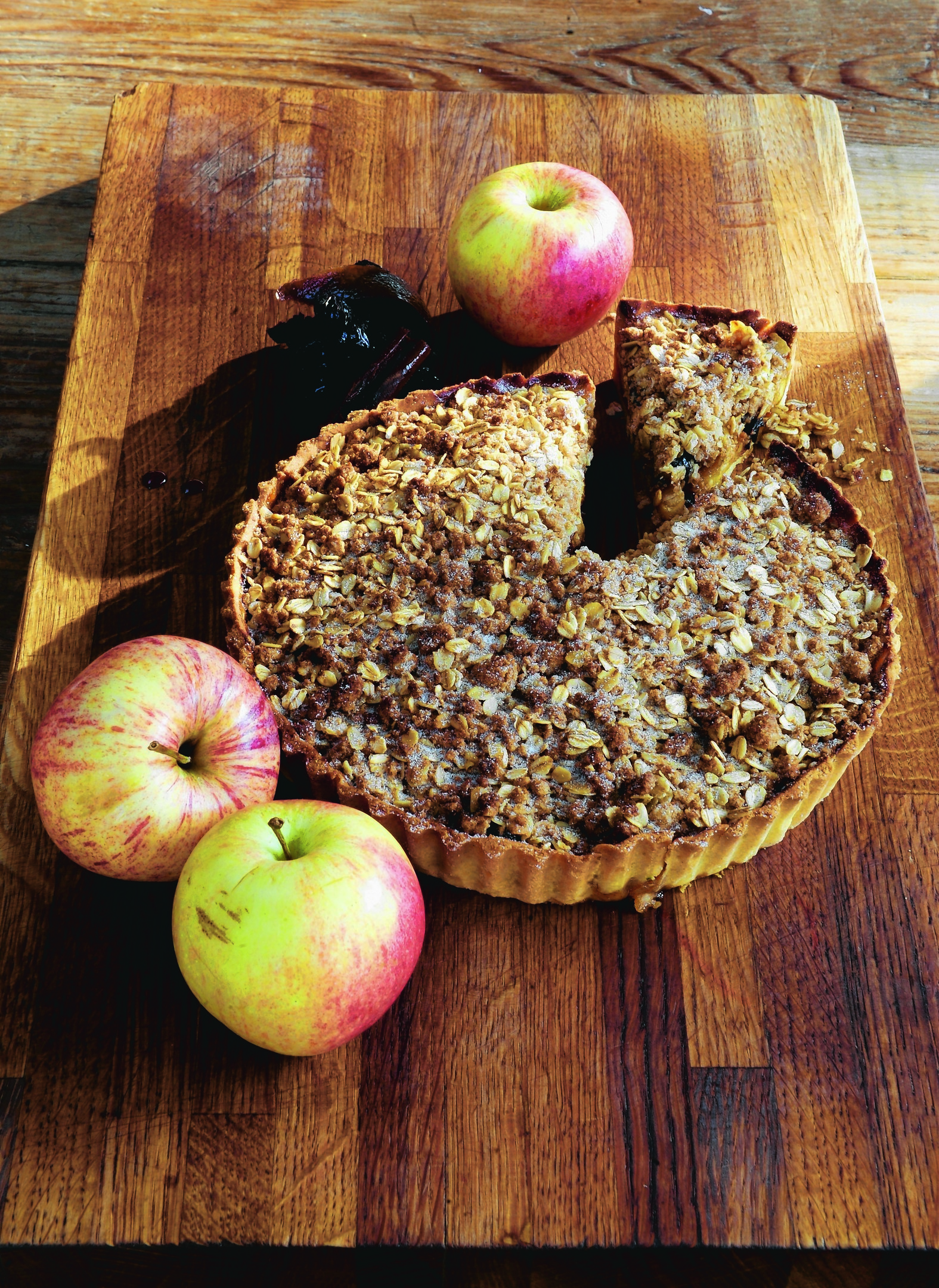 TOFFEE APPLE AND PRUNE CRUMBLE TART
SERVES 8
5 dessert apples, peeled, cored & cut into 8ths
10-12 marinated prunes (see below)
200g caster sugar
Small knob butter
1 pre-cooked tart case (25cm)
Crumble mix (see below)
Marinated prunes:
1 orange, 1 lemon, zest and juice
750ml water
200g caster sugar
1 vanilla pod
1 stick cinnamon
1kg agen prunes
3 Earl Grey teabags
250ml brandy/Armagnac
Bring to a boil the water, zest and juice, sugar, vanilla and cinnamon in a pan large enough to hold the prunes. Simmer for 3-4 mins then add the prunes and the teabags. Remove and cool and pour over the brandy before storing in Kilner jars for up to 2 months.
For the toffee apples: In a shallow pan, add the sugar heat gently until the sugar starts to melt and caramelise. Once it is deep golden caramel carefully add the butter and swirl around before adding the apple segments. Move the apple pieces around until evenly coated in the toffee then turn off the heat and cool.
Crumble Mix:
6 tbsp flour
6 tbsp Muscavado sugar
3 tbsp fine ground, blanched almonds
3 tbsp jumbo oats
3 tbsp unsalted, softened butter
Sift the flour into a bowl and mix with the other dry ingredients using your fingers. Add the butter and continue to work in with fingers until crumbly.
To assemble: Once the apples are cool add them in an even layer into the tart case. Now dot the prunes around the tart. Cover the fruit with the crumble topping. Bake in a pre-heated oven 200C until the crumble is golden brown.