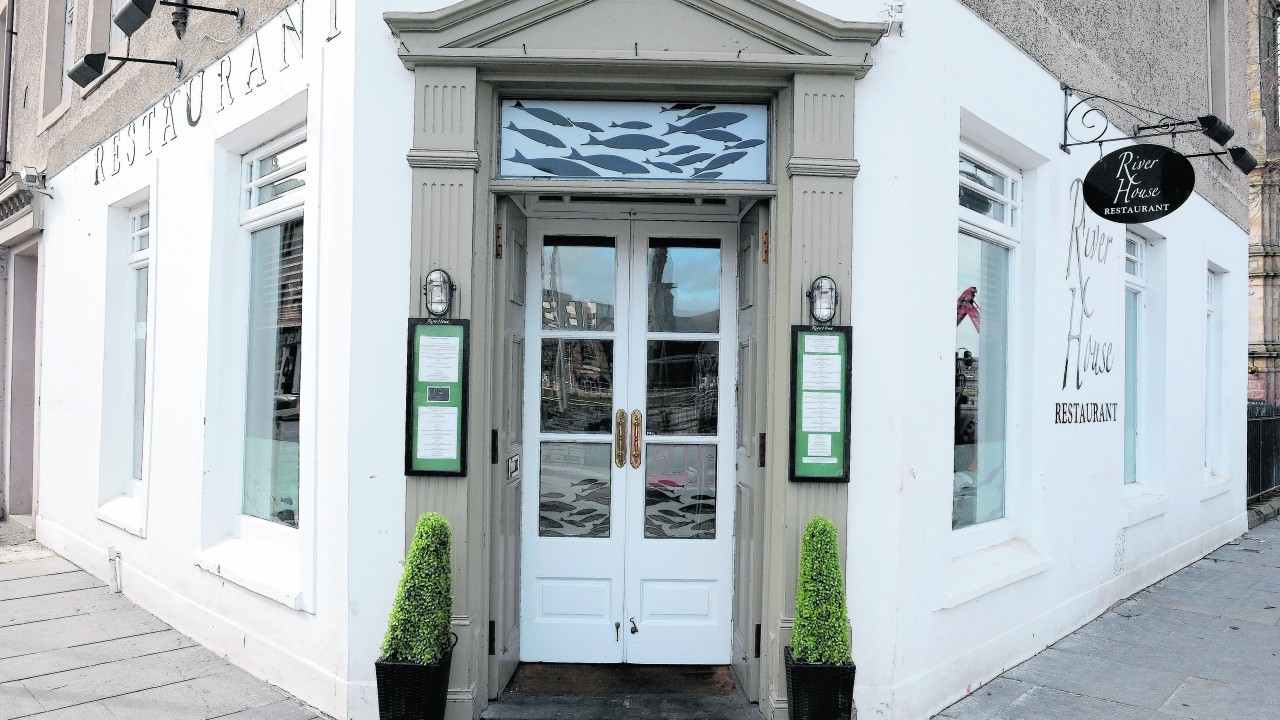 There's a growing trend for foodies to opt for a dining experience known as the chef's table. This basically offers diners a front row seat in a hotel or restaurant kitchen where they can observe the chef creating dishes that will wow them. It's an experience that can be pretty expensive.
Because it's compact, bijou even, some tables at the River House Restaurant in Inverness let you enjoy this experience free of charge as the open plan kitchen is at the heart of the restaurant which means you can, if you want, watch chef and proprietor Allan "Alfie" Little at work, while he gets the opportunity to chat to guests and greet them with a cheery, hello.
The restaurant sits in a fantastic location, almost on the banks of the River Ness and with fine views of the castle. As this part of the city is undergoing flood prevention work, the restaurant is currently surrounded by a maze of mesh fencing, but inside it's an oasis of calm with gorgeous wood panelling, good lighting and interesting decor – I particularly liked the Tin Tin posters and funky stag's head.
Perhaps it's being next to the Ness, an excellent river for salmon, that makes Alfie feel at home. Brought up in the small Cornish port of Fowey, he's always had an admiration for the sea and its produce, something that's evident on the menu.
The choice of starters included smoked salmon gravadlax, Isle of Skye oysters, North Uist crab, Isle of Harris scallops, goats cheese, soup of the day, and a Spanish-style salad. But my eye was drawn to the mussels menu and in particular, Mussels Normande made with a local cider, apples and cream.
I was unaware of any local cider makers but our friendly waitress revealed it was made in Drumnadrochit. Served with thick artisan bread, this big bowl of Shetland steamed mussels made a nice alternative to the usual wine-based dish, the cider and lightly cooked apples giving a lighter, sweeter taste which allowed the flavour of the mussels to shine through.
My daughter chose handpicked crab from North Uist served on char grilled artisan bread with chilli rapeseed oil, coriander and fresh lime. This was a simple dish but the freshness of it made it special. The fresh lime really brought the flavour out while the chilli oil added just the right amount of heat.
When you have a chef specialising in seafood it seems silly not to choose a fish dish for mains, so, as tempting as the pan roasted guinea fowl sounded, my daughter plumped for grilled fillet of plaice while I selected the west coast cod.
Her fillet of plaice was served with crispy pancetta strips, baby leeks, a Dijon mustard mash and finished with a spoon of dill butter and a Dijon mustard. This was a beautiful cut of plaice, perhaps slightly underdone for her tastebuds, but delicious when combined with the salty pancetta and sweet baby leeks while the mustard mash added a nice touch of savoury heat.
My dish was a ray of warming Mediterranean sunshine on a plate. My thick, dazzlingly white cod fillet was sitting in a sea of colourful red tomatoes, teeny green peas, plump potato gnocchi and surrounded by fat king prawns. It instantly brought back memories of warm sunny nights on the Costas.
It's awfully easy to ruin a good prawn, two seconds too long in the pan can do it, but these were wonderful. Perfectly cooked and seasoned, while the cod was first class. The sauce, rich and with hints of chilli and garlic, was superb and I greedily mopped up every last drop of it.
Alfie prides himself on having a good relationship with local fishermen and fishmongers and he certainly seems to have landed some excellent fish for his restaurant if these dishes were anything to go by. Incidentally, on recommendation by the waitress, I had a glass of Torre Solar, Macabeo Sobre Lias, a lovely crisp, white wine which complemented the cod nicely.
All the desserts sounded tempting. Dark and rich treacle tart, classic lemon tart, passion fruit creme brulee, and rum 'n' raisin ice cream with chocolate shards and a shot of Pedro Ximenez, which in my opinion is simply the best sherry in the world. Despite these temptations I ordered the cheeseboard, which contained generous pieces of stilton, Roquefort, smoked Orkney cheddar, Clava brie, comte and goats cheese, served with oatcakes, walnuts and a small bowl of runny honey – I think I might just have discovered my new foodie favourite.
The creme brulee also got top marks. It was fantastically rich and creamy and had a lovely crisp topping, but what made it special was the fresh passion fruit shell which had been carefully filled with a lovely tropical-flavoured jelly. The homemade shortbread which came with it was delicious, but not really required.
For seafood fans like ourselves, this was an enjoyable feast. We may just have to drop anchor here again.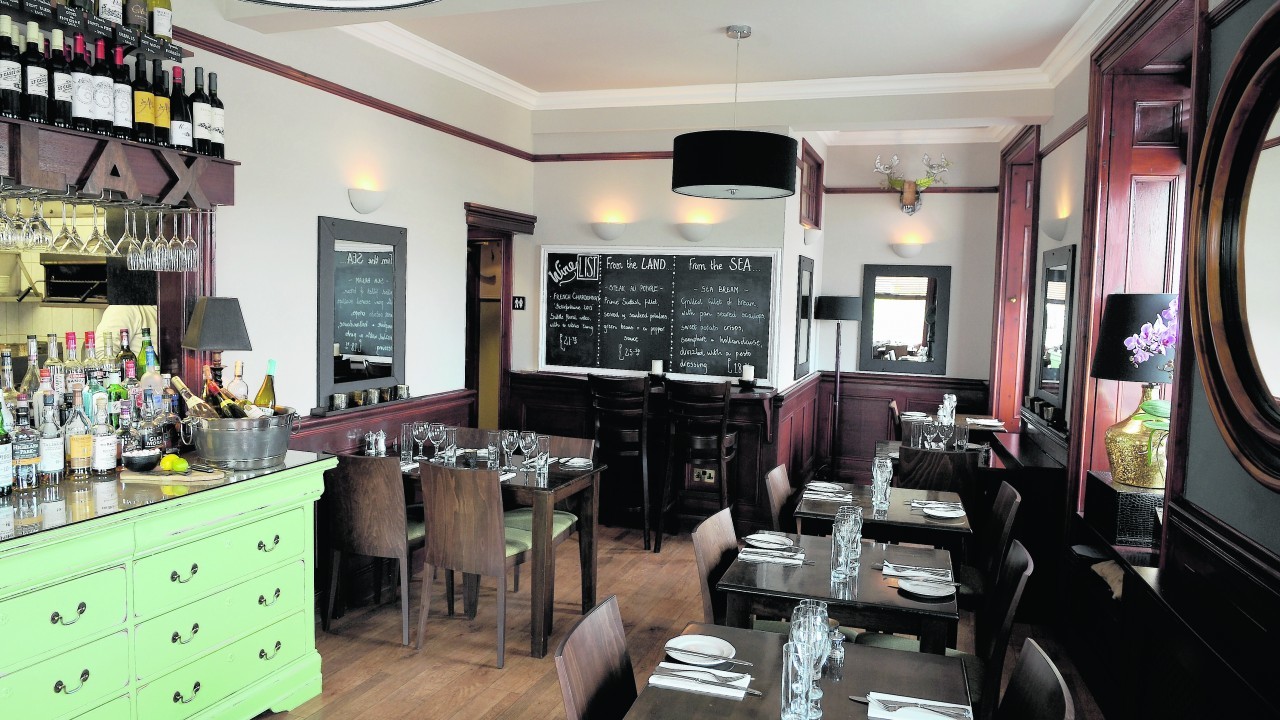 RIVER HOUSE RESTAURANT, 1 GREIG STREET, INVERNESS. PHONE 01463 222033.