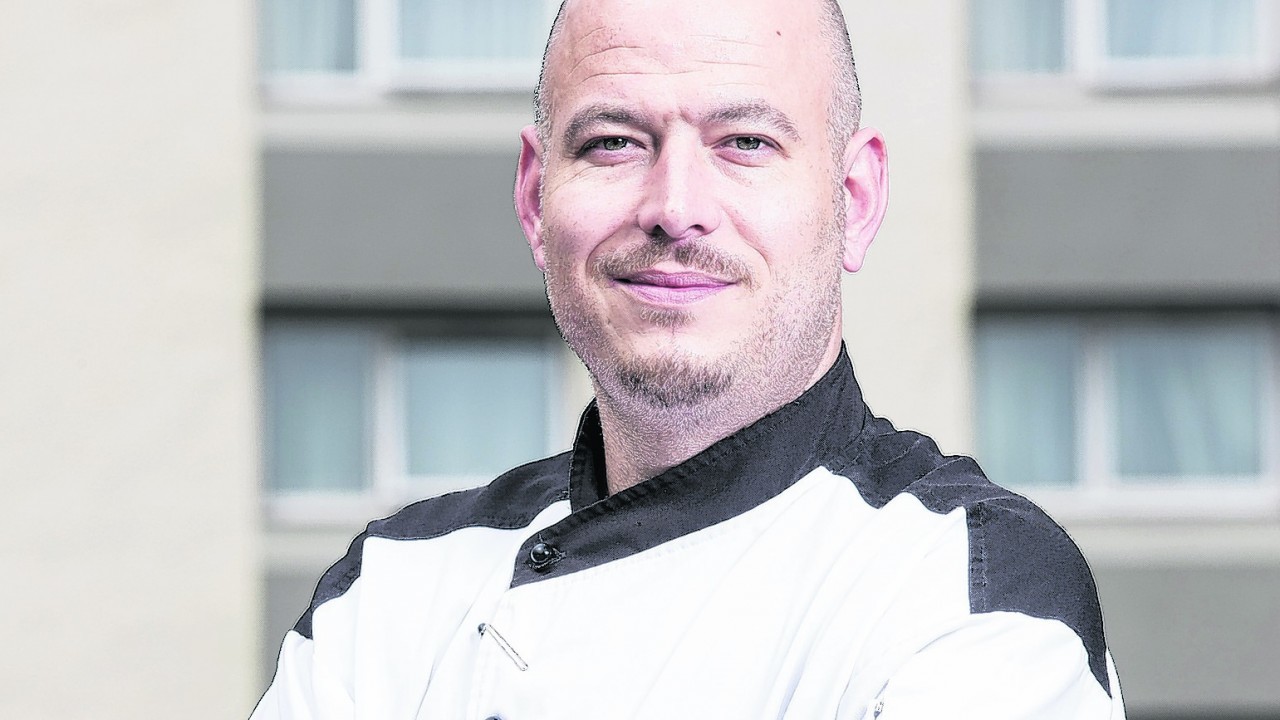 It's not every day you get to meet one of your heroes but for John Gotts, head chef at the Thistle Inverness hotel, it was once a regular occurrence. During his 22-year career he's cooked for the likes of Sylvester Stallone, Natalie Imbruglia and Dolph Lundgren, but it was while working at a restaurant in Windsor in the late 90s that he stuck up an unlikely friendship with Led Zeppelin guitarist Jimmy Page.
"I was head chef at a restaurant called Good Measures, opposite Windsor Castle, when the manager said, 'Jimmy Page wants to see you.' I thought he was joking," said John, 38. "When I went through, there was Jimmy sitting at a table for two. He asked me to cook up two plates of whatever I fancied eating, and invited me to join him for lunch. It was an incredible experience – he was really down to earth, and was more interested in hearing about my life than chatting about his music. He used to come in every few months and we'd have lunch together."
John, originally from Ascot, worked his way up the food chain both home and away, and has held a number of high profile jobs. He's been head chef at Thistle Inverness for two years. A favourite dish with diners is John's harissa chicken skewers which feature on the hotel menu, or can be made at home using this simple recipe: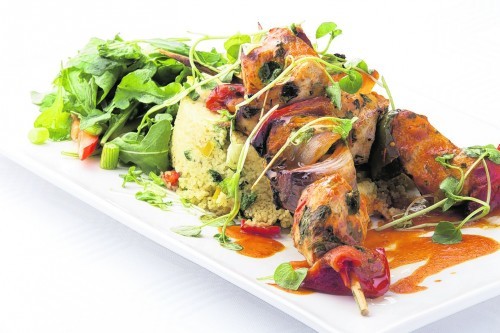 HARISSA CHICKEN SKEWERS
SERVES 1
1 chicken breast
75g harissa sauce
56g couscous
5g coriander
10g red onion
5g red pepper
5ml extra virgin olive oil
5g coriander
10g wild roquette
10g red chard lettuce
10g tomato
Dice the chicken and marinade in half the harissa sauce. Skewer the chicken and cook on the grill. Coat the skewer in the remaining warmed harissa sauce. Roast the vegetables in oil at 180C until soft. Cook the couscous as per instructions, and combine with the diced roast vegetables and coriander. Shape couscous in a cup to serve, and place salad garnish on the plate with chicken skewers.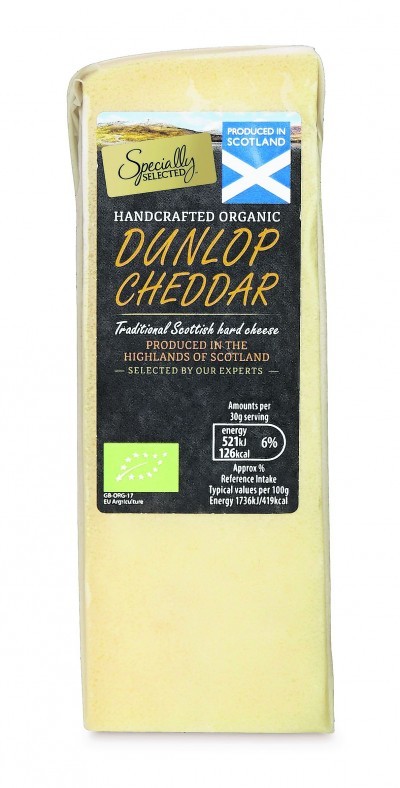 BIG CHEESE
Connage Highland Dairy, a family-owned dairy based in Ardersier near Inverness, is celebrating after striking a £110,000 deal with Aldi to supply the retailer with a selection of Highland cheeses. Founded in 2006 by brothers Callum and Cameron Clark and their wives Jill and Eileen, the dairy produces a range of award-winning organic and handcrafted vegetarian cheeses. A selection of these will be available at branches of Aldi under the retailer's Specially Selected brand.
Products available in the Highland Cheese collection include: Dunlop Cheddar, 150g, £1.79; Gouda, 150g, £1.79 and Farmhouse Crumbly, 150g, £1.79.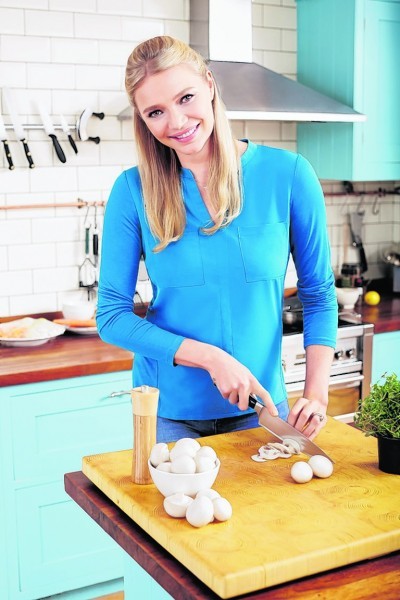 MORE MUSHROOMS
TV presenter, model and celebrity Masterchef runner-up Jodie Kidd is encouraging shoppers to cook more with fresh mushrooms and has created three simple and healthy mushroom meal ideas – all perfect for feeding a hungry family. These include a super-quick mushroom and roast chicken risotto, a hearty mushroom and sausage casserole, and a vegetarian mushroom, sweet potato and kale pie.
As well as being low in fat and calories, mushrooms also have a whole host of health benefits, with roughly four mushrooms counting as one of your five-a-day fruit and vegetable portions. As a natural source of vitamin B, which helps reduce tiredness and fatigue, mushrooms are an easy way of adding flavour and nutrition to a wide range of meals.
Jodie said: "I've always been passionate about healthy eating but since becoming a mum, I've become increasingly aware of the importance of giving my son a nutrionally balanced diet. Mushrooms are the perfect ingredient for this, they can add fantastic flavour to any dish."
Her recipes, and other tasty ideas for mushroom meals can be found on www.justaddmushrooms.com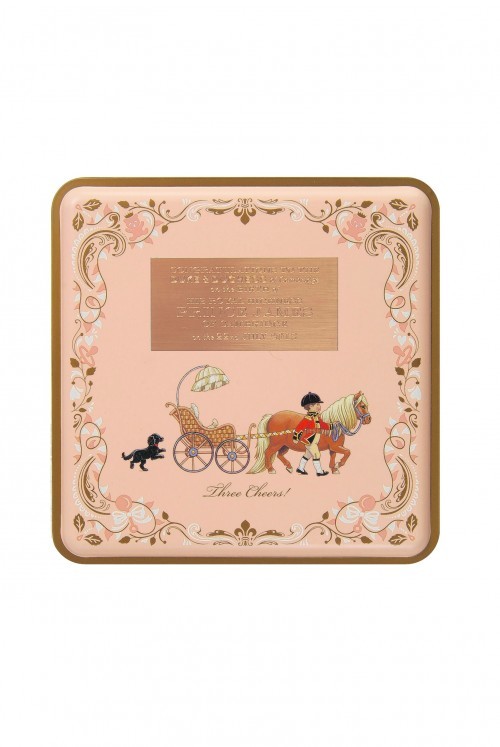 BABY FEVER
Baby fever has hit Marks & Sparks. To commemorate the birth of the Duke and Duchess of Cambridge's baby, M&S will launch two commemorative tins, including an extra special limited edition engraved tin, so customers can celebrate the new arrival within 12 hours of the child being born.
The M&S team will work overnight to produce the first collectors' commemorative tin engraved with the prince or princess's full name and title. Only 2,500 are being produced, each etched with a limited edition number. The tin will be sold in either pink or blue, and will be filled with delicious shortbread tails. If you want to get your hands on one of these special tins you'll need to move fast – in 2013 their Prince George tins sold out in hours.
The collector tins will be priced at £20. For those who don't manage to snap one up, there will also be a Duke & Duchess of Cambridge Scottish shortbread tin, decorated with a stylish pram. This tin will be on sale within 24 hours of the birth and priced at £6.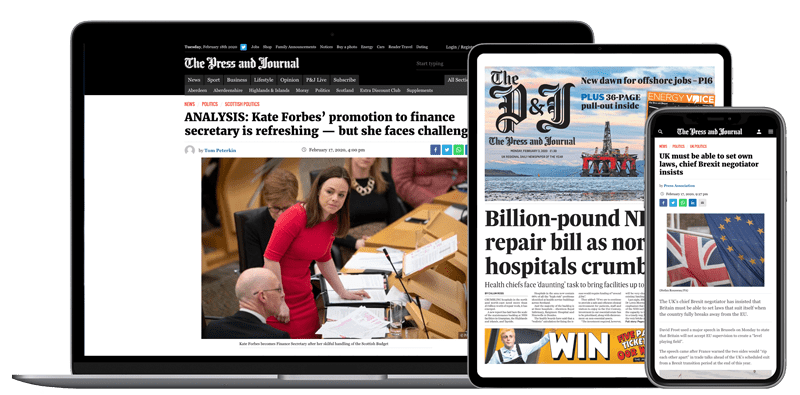 Help support quality local journalism … become a digital subscriber to The Press and Journal
For as little as £5.99 a month you can access all of our content, including Premium articles.
Subscribe