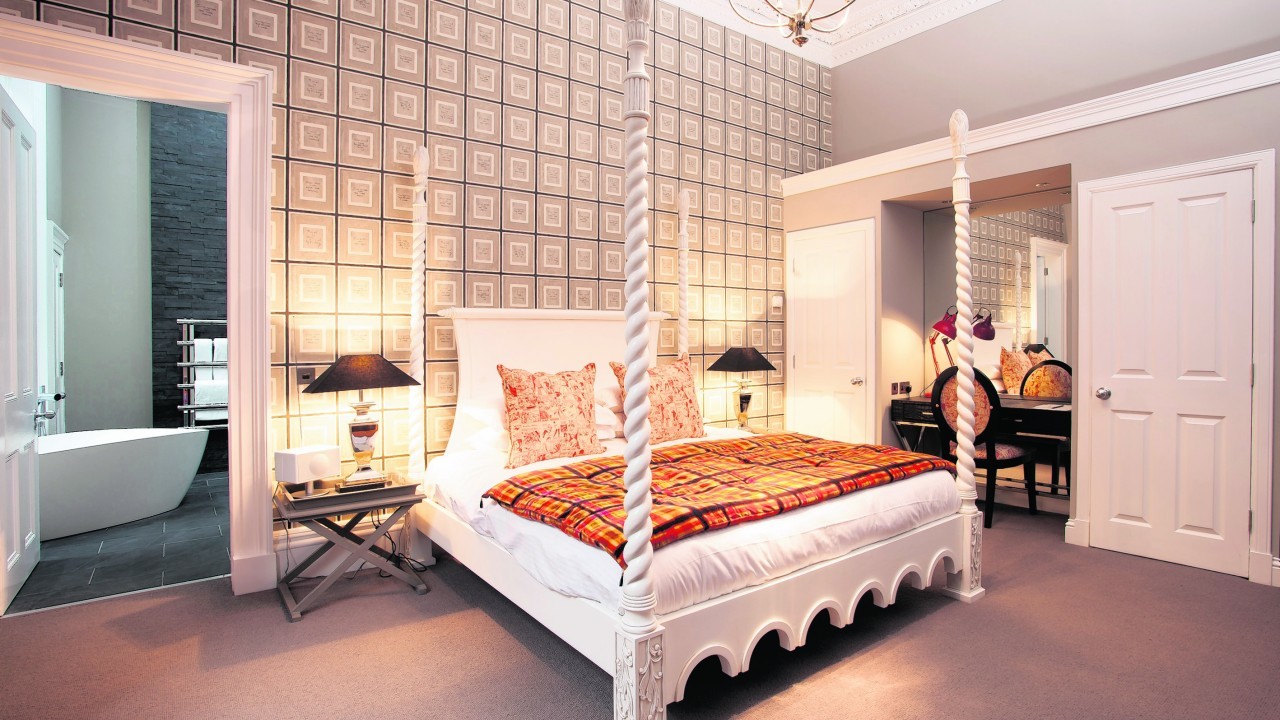 Burger. That was all we knew about the restaurant – it's name. So as we walked along Lothian Road in Edinburgh trying to find the place where we would be kicking off our weekend in the capital, we didn't really know what to expect.
Within minutes, we were seated in the restaurant we had been looking
for and had the menu in front of us.
Our surroundings provided a fantastic stylish space featuring a mix of interior-design themes from industrial, with the metal chairs, graffiti artwork and exposed walls and wires, to 70s art deco with its parquet-style flooring and a hint of the 80s in the form of a neon sign.
The way it works is you find what you want to eat on the menu, order at the till, wait for your pager to tell you your food is ready and then, after collecting it, you are left to indulge yourself. It's a very relaxing atmosphere, but still makes you feel like you are eating somewhere more glamorous than a fast-food restaurant.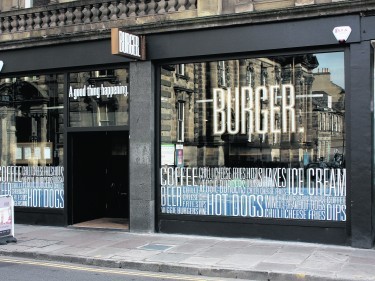 As you can imagine, burgers play a big part on the menu, but there are a few more options on there, too. However, having thought about the word burger all morning, that was all we were wanting to eat. And so while I went for a double cheeseburger with chips, my husband was more adventurous and tried the chicken katsu burger – panko crusted minced chicken, roast garlic and spring onions with Tonkatsu sauce and wasabi mayo.
The food is all prepared from scratch, which was evident the minute we bit into our burgers. Mine was full of flavour and super juicy and the burger sauce was spot-on. The fact that the burgers come in a brioche bun is a big plus for me. My husband's wildcard choice also turned out to be a good one and we both left Burger completely stuffed.
We then spent our afternoon shopping on Princes Street before heading to our accommodation for the weekend – one of the Rutland Hotel's self-catering apartments. We were met by very friendly staff at the hotel's reception who took us over to our apartment. The accommodation was given a makeover recently, so I knew we were in for something special, but nothing could have prepared me for just how elegant our sleeping quarters were.
Through the door and we were greeted with a gorgeous lounge and kitchen on open plan – a huge room with some stunning features, from the decorative ceiling and grand fireplace to some really stylish pieces of furniture. Through another door and we found an equally huge master bedroom with four-poster bed, flat-screen TV and an uber-stylish en suite with a shower and bath. We were in heaven. After a day of walking around the shops, we wanted nothing more than to cosy up in front of the TV and chill out. So that's what we did.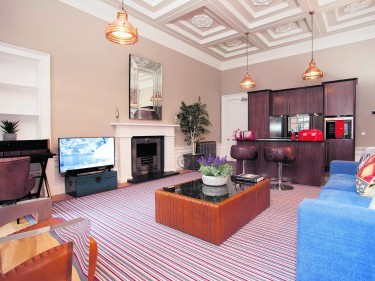 The next morning, we had planned to head to a nearby restaurant for breakfast, but no amount of alarms could have awoken us from our comfortable slumber. But all was not lost. Within a minute's walk of our apartment were four supermarkets where we could get breakfast. And we had a super-cool kitchen in which to cook it. It's one of the many reasons self-catering really appeals to me. You can make it work to your schedule.
The rest of the day was spent exploring Edinburgh once more, this time taking in the independent shops of Stockbridge. When our tummies began to rumble, we headed back towards our apartment to a nearby restaurant, Kyloe.
This restaurant has many surprising features. First and foremost, it has a large cow sticking out of a window. It has lots of animal print, but manages to make it look really stylish and elegant, and it has an amazing view over one of Edinburgh's busiest streets.
The menu was really varied and it was a tough choice on what to try out. Eventually, I went for the pumpkin and butternut squash with toasted pumpkin seeds and harissa creme fraiche, and my husband had rillette of duck, which he finished before I could even get a taste, proving just how lovely it was. My soup was also great and had a lovely spicy kick to it.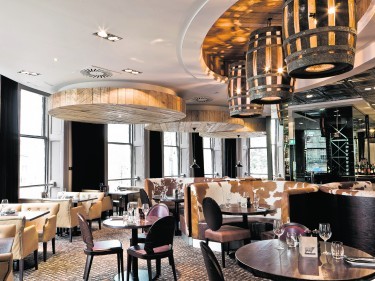 For mains, I went for the 225g rump steak with hand-cut chips and David had braised pork cheeks with root vegetables, champ, braising liquor and pickled apples. Having asked for my steak to be cooked medium, I was delighted when it arrived exactly that. It was seasoned perfectly and tasted beautiful. The pork cheeks were equally impressive.
For dessert, we each gave in to our sweet tooth and went for a milk and dark chocolate pave with hot caramel sauce and creme fraiche. Chocolate fans will absolutely love this dessert. It was rich without being too sickly and was the perfect ending to our Kyloe – and Edinburgh – experience.
THE HOLIDAY
The Rutland Hotel – Luxury Apartments, No. 15 Rutland Street, Edinburgh EH1 2AE. 0131 229 3402, www.therutlandhotel.com, info@therutlandhotel.com
Rates start from £220 for two adults in a one-bedroom apartment on a weekday (£270 at weekend) (until July 31).
BURGER, 94a Fountainbridge, Edinburgh EH3 9QA, 0131 228 5367, and 91/93 Shandwick Place EH2 4SD, 0131 228 1429, www.burgeruk.co.uk/ @burgeredinburgh. Open seven days – 11am-9.30pm.
Kyloe Restaurant & Grill: Gourmet Steak Restaurant. 1-3 Rutland Street, Edinburgh EH1 2AE. 0131 229 3402, www.kyloerestaurant.com, info@kyloerestaurant.co.uk. Opening hours: Monday-Sunday, noon-10:30pm.