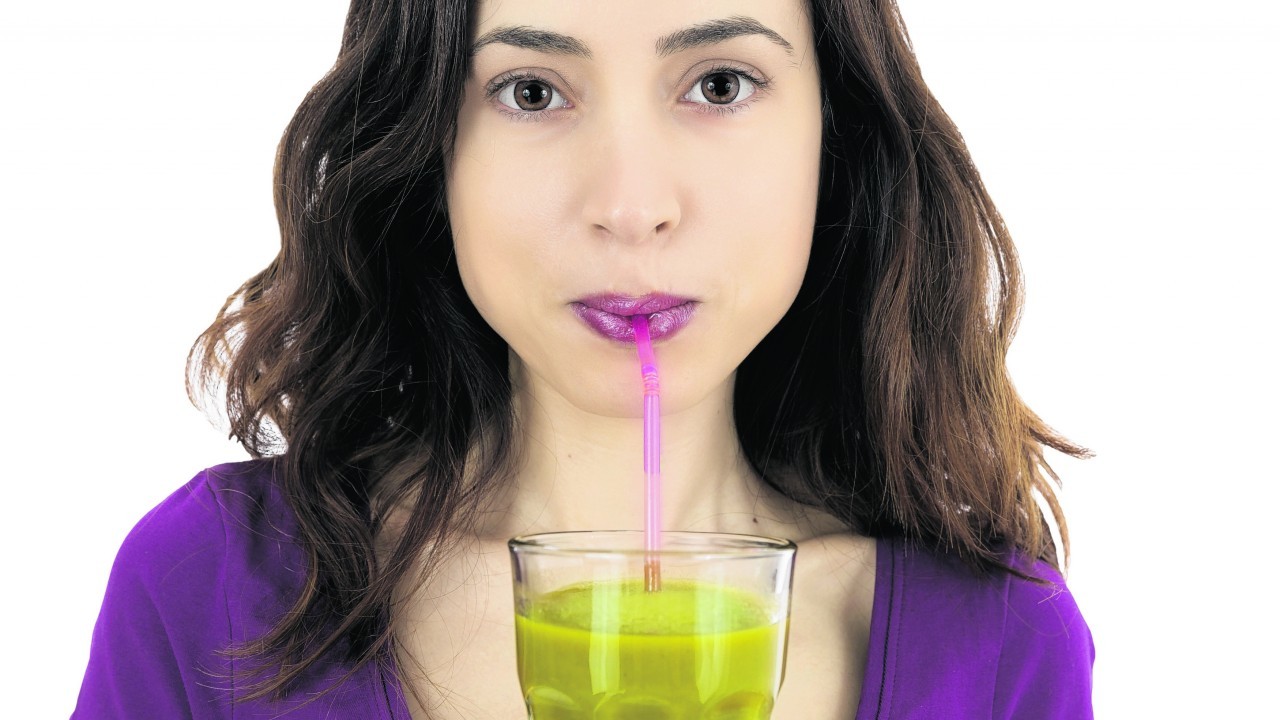 Celebs and gym junkies have been at it for years – but is it worth it? And what's the deal with all this hemp and wheatgrass? Still a bit confused about blending and blitzing? Then here's our expert guide
Isn't it better if we just eat our fruit and veg in its whole, natural form?
"It is far better to eat fruit in its whole form rather than just juice, as you get the fibre too, which helps slow down the release of sugars in the fruit," says Primrose Matheson, founder of Primrose's Kitchen (primroseskitchen.com). "However, smoothies should, if made correctly, contain the whole fruit and be made smooth with water, so they're just as good!"
Plant-based nutritionist Carol West (www.obsidianwellness.com; www.juiceprogrammes.com), adds: "There are many stories which claim juicing loses nutrients. There is no one fruit or vegetable that deteriorates at a quicker rate than others – the best way to drink a juice is straight after it is made. When you juice produce, you can lose anything between 5-15% of the nutrition. Cooking also loses nutrients as well!"
Is it really for people on diets, or can smoothies be part of general, balanced healthy eating?
"Smoothies can definitely be part of a balanced diet and don't need to be about weight loss – although they can help with it," says Matheson. "They're about increasing nutrition, and when our body gets the nutrition it needs, it doesn't crave sugar to stay energised.
"Digestion takes a lot of energy – which is why you tend to feel sleepy after lunch – and smoothies can help maintain balanced energy through the day. Plus, if you struggle to eat veg, smoothies can be a great way of disguising them."
Becki Douglas, chief nutritionist at Champneys, adds: "A juice fast generally wouldn't do you any harm if it's just for three to four days, but they're certainly not for everyone and I wouldn't advocate them as a quick-fix for weight loss. Green smoothies can be an excellent way to boost micronutrient, fibre and antioxidant intake, to help your energy levels, skin, digestive system and immune defences, but they work best as an addition to an already healthy diet."
Are smoothies meant to be a meal replacement, or can you have them alongside meals?
"Either – it depends what you're trying to achieve and what you put in them," says Douglas. "They can make a great snack between meals, deterring you from the less healthy lure of the biscuit tin. Alternatively you could create a nutritionally-balanced green smoothie by adding protein and essential fats, like some natural yoghurt and flaxseed oil, and that could be a great breakfast."
I've heard too many juices and smoothies can wreak havoc with the bowels…
Some people, especially those with IBS, may be sensitive to certain fruit sugars, plus too much raw fruit and veg may trigger symptoms like bloating and diarrhoea. If you're suffering with IBS, and consuming a lot of fruit-loaded concoctions, there may be a link. Play around with variations until you find ones that work for you. On the other hand, if you're prone to sluggish digestion, smoothies may be particularly helpful. "Smoothies will improve regularity of the bowel if you have a tendency for constipation, and this in turn means you are removing toxins more effectively from your body," says Matheson. "This will make you feel much lighter and less bloated."
It seems everybody's adding 'superfood' and protein powders to their smoothies these days – what's that about?
"There are lots of powders on the market – it can be a bit of a minefield," agrees Matheson. "Generally, green powders like barley grass, spirulina, wheatgrass and chlorella are about nutrient support and detoxification. These can be added to smoothies, although on their own, the last three can be rather challenging on the palette! It helps to add more fruit to smoothies that you use green powders in, or add baobab, acai or lucuma powder, which are vitamin-rich dried fruit powders.
"Protein powders are popular with athletes; the main ones are whey, hemp, pea and soya. Protein's important for sustaining our nervous system, building muscle and maintaining blood sugar balance, so it's great to add a teaspoon of any of these.
"My preference is hemp, but I go for the shelled seeds rather than the powder, as they're tastier and can be mixed in with muesli, porridge or salads.
"There are other plant foods, like maca, a root vegetable great for improving stamina and supporting hormonal health and immunity, or mushroom powders like cordyceps that help energy levels."
Why is everybody obsessed with 'green juice'?
"A green juice is the industry name for a juice made without using any fruit – it is purely vegetable based and tends to be more 'savoury'," explains West. "These are normally favoured by people trying to cut down their sugar intake, or tackling health conditions. The calorie content tends to be lower, because vegetables have less calories than fruit. Other juices normally have a fruit base, something like apple. This gives it a sweeter taste."
Can you add anything to a juice or smoothie?
"You can juice almost any fruits and vegetables," says West, "but there are some that need a bit of preparation. Oranges, grapefruit and limes we always suggest you peel first; oils in the skin can sometimes cause reactions as they're quite strong and hard to digest.
"The harder the fruit or vegetable the more juice you'll get from it, as it's at its peak of ripeness. Things you cannot juice are things you wouldn't normally get any liquid from, like mushroom or aubergine. You can juice chilli and garlic, but be aware these tend to intensify when juiced, so only put a small amount in to start with. Ginger's a great addition to give it a little bit of a kick without the intense heat of chilli."
I've heard cold pressed juices are far better – what does that mean?
"There are two types of juicer; a centrifugal and a cold press or masticating juicer," explains West. "A centrifugal machine grates the produce and spins it to extract the juice, a cold press crushes the produce then squeezes the juice from it. Because a cold press machine is slower and doesn't generate as much frictional heat, it's said to retain more nutrients.
"Which one's best? If I'm honest, either – I'd rather someone was getting at least one juice a day from any machine than none at all. A juice is a daily dose of multi-vitamins in a very easily absorbable form."
Matheson adds: "I tend to avoid juices – but if it's freshly squeezed and you drink it immediately, it's better than one that's been pasteurised and left on a shelf. Pasteurisation means boiling juice, which basically means the fruit loses lots of its nutritional value."
Do I have to follow a recipe?
"Following recipes is a great idea until you get an idea of how different fruit, vegetables and powders work together taste-wise," says Matheson. "Basic kitchen stores should be frozen summer fruits/berries, avocados and kiwis. These are my favourite as they are vitamin C-rich and create a great creamy base, perfect for adding in a handful of kale, spinach or a small beetroot. A couple of little fantastic extras are fresh ginger or turmeric – these are great metabolism stimulators, anti-inflammatory and immune boosters! If you want a more milkshake type smoothie, try adding nut and seed butters to almond or rice milks with a choice of fruit."
Douglas suggests: "Try to create recipes that are at least 50:50 fruit and vegetable to control the sugar content albeit natural sugar. Every 80g of whole fruit or veg counts as one portion, so it's a convenient, tasty way to help you achieve your five-a-day."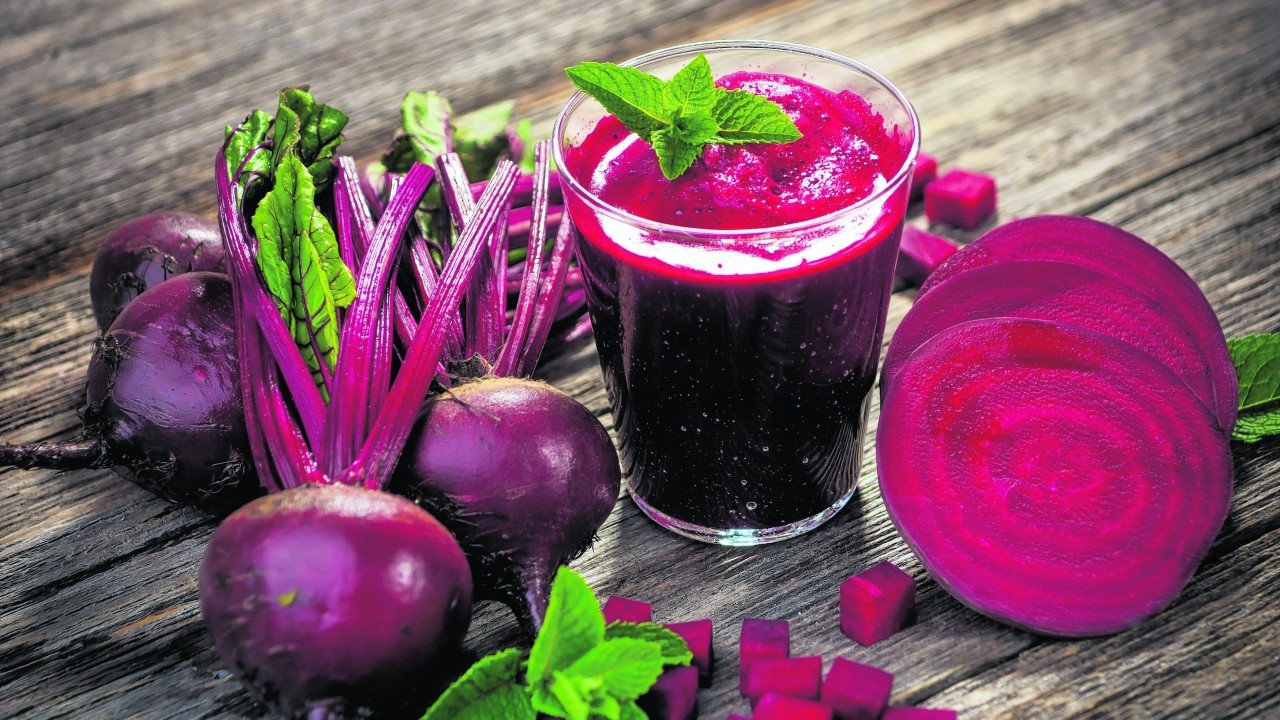 READY, STEADY, BLITZ!
Here are three recipes to get you started.
Kale, Banana And Kiwi Smoothie (courtesy of Primrose's Kitchen)
1 ripe banana
2 kiwis, peeled and sliced in half
1 cup kale, washed and tightly packed
1/4 cup almond milk
1tsp honey (can add 1tsp of PK Cleanse powder too if you like!)
1/2 cup ice
Basic Recipe For 'Creamy' Smoothie (courtesy of Champneys)
1 cup milk of choice (cows'/goats'/soya/almond/coconut etc)
Handful of mixed berries
1/2 banana
1tbsp ground nuts/seeds
1tbsp of silken tofu, or 1/2 an avocado, or 1 tbsp natural live yoghurt
Add any other fruit of choice (mango, kiwi, pineapple etc)
Basic Recipe For Juice Based Veg Smoothie (courtesy of Champneys)
Handful of Dark green leafy vegetables such as spinach , kale or broccoli
1/2 stick of celery
1 cup Apple juice/water (50/5O)
Fresh/frozen fruit such as mango, berries or pineapple
Green powder (spirulina/wheatgrass – optional)
1tbsp ground nuts/seeds, or 1tbsp flaxseed oil