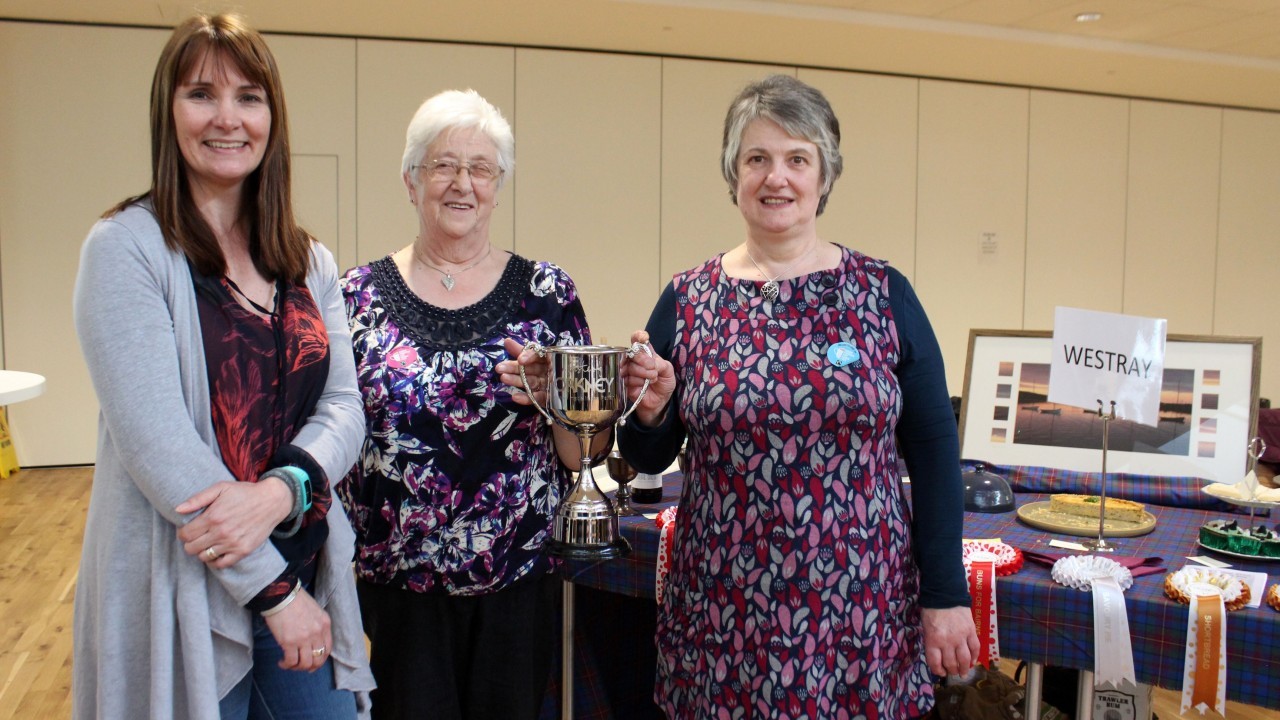 The island of Westray was crowned Orkney home produce champion after a fiercely contested community-wide competition held in Kirkwall. A dozen Orkney parishes went head to head in the first ever Homemade in the Parish event, staged by Orkney Food and Drink.
The contest, part of the 2015 Year of Food and Drink programme in Orkney, saw teams from throughout the islands submit home made products across a wide range of categories – everything from jams, chutneys, shortbreads and cakes, to home-brew, cheeses and savoury pies. There was also a special Buns for Bairns baking category for children under 12 and an award for best-presented table.
A panel of judges, and members of the public, had a chance to taste and vote who the winners should be. "We've been really impressed by the standard of all the produce entered," said Fiona MacInnes, of Orkney Food and Drink. "We didn't know what the event was going to be like as it was the first time we've ever done it, so to see the effort everyone has put in has been fantastic."
Westray was represented by keen home bakers Netta Harcus and Ena Fergus, who encouraged fellow islanders to get involved with the event and submit their produce. On the day, Westray came away with several awards across the competition categories, making the island a certainty for the overall Parish Cup. The prize for the best-presented table went to the island of Shapinsay.
It's hoped the competition will become an annual event in the future. Full results on www.orkneyfoodanddrink.com
GLENTURRET RELEASE
Glenturret Distillery has released a rare, 28-year-old single cask malt whisky, described as the best cask that has ever been produced by Scotland's oldest working distillery. Only 240 bottles of The Brock Malloy Edition #Cask328 (70cl, bottled at cask-strength) will be available to buy online exclusively and they are expected to be snapped up by whisky enthusiasts and collectors.
Stuart Cassells, general manager of The Famous Grouse Experience at Glenturret Distillery, said: "The Glenturret single malt is a hidden gem in the whisky world – a genuinely handmade malt crafted with passion and care or, as we like to say: by hand and by heart. Cask 328 has always been known to be special and I'm delighted we are able to give whisky enthusiasts the opportunity to taste this rare and exceptional whisky." Each of the 240 bottles is hand-numbered and signed by Neil Cameron, Glenturret's distillery manager, and priced at £200 for 70cl.
TEA FOR TWO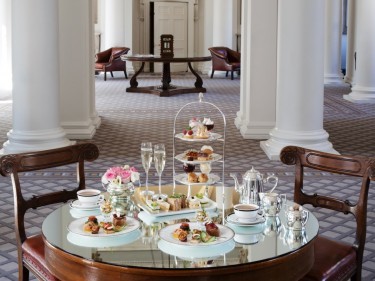 Edinburgh's historic Signet Library will throw open its newly-refurbished doors to become a glamorous afternoon tea venue from June 1st. In partnership with premium caterer, Heritage Portfolio, it aims to offer the finest in food and drink throughout the year. Called, Colonnades, which is a reference to the classical pillars that grace the building the venue will have its own Tea Sommelier, Champagne experts and mixologists and an on-site pastry chef, with all food cooked from scratch and served in style.
Colonnades will work in partnership with some of Scotland's best food producers such as the Wee Tea Company and Aberdeenshire-based Summerhouse Drinks, alongside the Signet Library's favourite tipple: Pommery Champagne. The signature afternoon tea will change with the seasons and reflect the best of Scottish produce. A gluten free afternoon tea option will feature, alongside a range of seasonal specialities and the best in Champagne and cocktails.
THE RETURN OF LAPHROAIG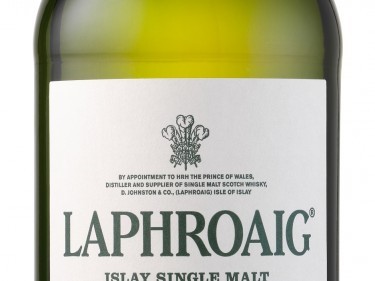 Established in 1815, this year sees the 200th anniversary of Laphroaig Islay Single Malt Scotch Whisky. To commemorate the occasion, Laphroaig has released a very special and limited release of Laphroaig 15 Year Old. A long revered expression in the Laphroaig range, Laphroaig 15 Year Old was originally launched more than 30 years ago, with a lower level of peat and a higher bottling strength of 43% all combining to give the whisky a mellow, rounded taste, its briny orchard fruits adding bite and depth, the overall feel rich and smoky. Laphroaig 15 Year Old is available in all good whisky retailers now, with a RRP of £75, with additional new releases planned across the year.
ON THE ROAD WITH NICK AND PAUL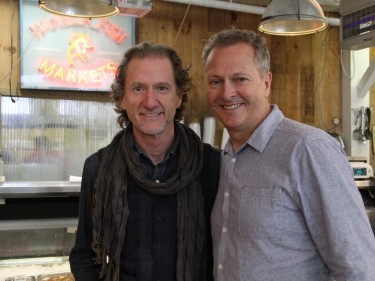 P&J columnist and chef Nick Nairn hits our TV screens again this month with a brand new cooking series, Paul and Nick's American Food Trip, which follows Nick and fellow celebrity chef, Paul Rankin, on a culinary road trip along the east coast of America.
The new eight-part series sees the foodie friends find out about the history of the Ulster-Scots and Scottish immigrants who defined modern America. Travelling to Maine, New Hampshire, Philadelphia and Pennsylvania, they cook a three-course meal for some of the descendants who remain proud of their Scottish and Ulster-Scottish ancestry.
Nick said: "It's unusual to find someone on your wavelength who you not only enjoy cooking with but is also your best friend, and Paul and I both love meeting people and chatting about their stories, so filming this series in America was a fantastic all-round experience. It's also great to be part of a returning format and travelling through the states gave us an incredible history lesson as it really brought to life the stories of the Ulster-Scots and Scottish immigrants who would have arrived in Boston all those years ago."
CAITHNESS GIN
Rock Rose Gin, made at Dunnet Bay Distillery in Caithness, is making waves in the drinks industry, gaining a plethora of awards in the UK and beyond. The gin, which is hand-distilled, features botanicals hand-foraged from local cliffs and forests to create a gin with a unique flavour profile.The gin takes its name from Rhodiola rosea (a rose in the rocks), which was discovered on the distillery's first botanical forage along the Caithness cliffs.
It's made by husband and wife team Martin and Claire Murray, and priced at £34 for a 70cl bottle. Mr Murray said: "Rock Rose Gin has been three years in the making and features our unique 'Rock Rose', a precious plant that was once pillaged by the Vikings who believed it would give them extra strength and make them live to 200. We have been blown away by its sell-out success and the response from the industry to date, especially as this time last year we only had a field and a dream! We are so proud to now be able to share our wee taste of the Highlands with the rest of the UK."
Contact: www.rockrosegin.co.uk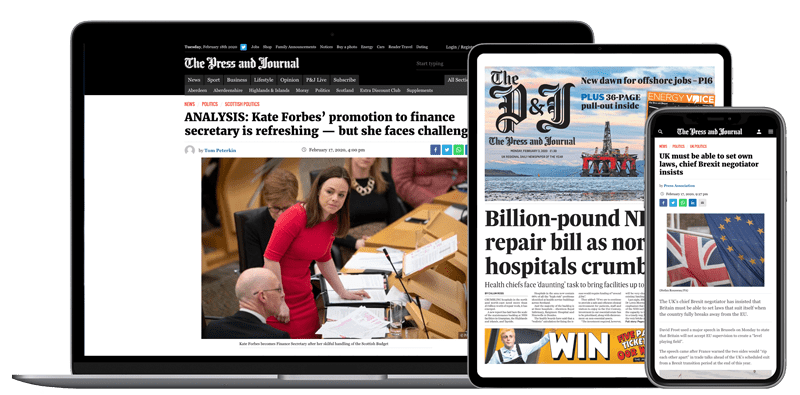 Help support quality local journalism … become a digital subscriber to The Press and Journal
For as little as £5.99 a month you can access all of our content, including Premium articles.
Subscribe