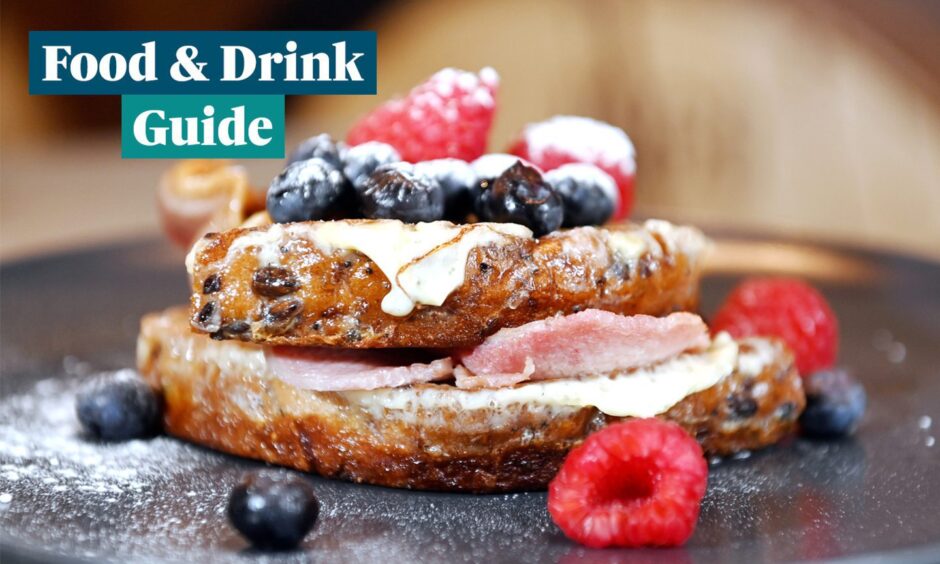 Huntly is a town I'm fairly familiar with when it comes to its food and drink scene, and that's purely because my grannie Anne has lived there for roughly 17 years.
Sadly, a good few cafes, restaurants and shops have come and gone, while others have been able to withstand the challenges the past few years have brought.
Of course, new ventures have sprung onto the block too.
Keen to shine a light on some of the Huntly food and drink businesses with tempting offerings, I have pulled together this listicle for those of you planning on spending the day in the town.
Whether you're a fan of mammoth-sized home bakes, adore cocktails, or would rather tuck into a fish supper, there is something to suit all tastes.
Breakfast
8am to 11am
I have so many fond memories of visiting Deans. In fact, I even enjoyed a quick fly cup here before sitting my theory test back in 2017. Maybe the coffee was to thank for my pass…
I digress.
The coffee shop serves a list of tempting dishes to kickstart your day (or to enjoy well into the afternoon as well for that matter).
From full breakfasts — featuring sausages, hash browns, eggs, bacon and more — to light bites and vegetarian alternatives, you'll find something that tickles your fancy.
Be sure to check out the gift shop while you're there. There's a fantastic range of artwork, ornaments and snacks.
Coffee and cake
11am to 12pm
Now that breakfast has been scoffed down, it's time for coffee and a cake (or a scone or pancake, which I would highly recommend from The Market Café).
It's a cosy, homely space that is sure to already be playing host to a few locals — in need of curbing their sweet tooth — when you stop by.
I ordered a scone and a portion of soup when I last visited, so you can head here for lunch if you fancy a bigger meal.
Lunch/brunch
12pm to 3pm
In saying that, I'd urge you to avoid filling yourself up before grabbing an item or two from Huntly's The Larder…
I'm in the lucky group of people that have tried a number of sweet and savoury treats from the business over the years and, oh boy, they are out of this world.
Although everything I have ordered to date has been incredible, the white chocolate, strawberry and tablet cheesecake, and caramelised onion, mustard and cheese sausage roll are standout bakes.
Please be aware that the shop is open from 10am to 2pm Monday to Thursday and 10.30am to 2pm on Fridays while stocks last. Be sure to head there as early as possible.
Snack
3pm to 4pm
If you fancy a short drive out the road, then pop Littlefield Farm Shop on your must-visit list.
Homegrown potatoes and neeps, homemade tray bakes and funcy pieces, plus jams and chutneys are just some of the products you can expect to find.
And there's a selection of products by local food and drink producers — such as Castleton Farm and The Damn Fine Cheese Company — too.
Dinner
4pm to 7pm 
You've returned to the town centre, had a wander round the streets, have worked up an appetite, and dinner is on your mind.
If you plan your visit ahead of time, you could pay Huntly a visit purely to try out The Big Orange — a popular food truck run by Moray chef Mike McGarrie.
Mike only takes his truck to Huntly on the odd occasion, but you can keep up to date on where he's visiting via The Big Orange Facebook page.
However, fish and chips may be more up your street. If that's the case, then consider placing an order at Huntly Chip Shop.
While there's a list of fish options on the menu, you can also opt for chicken-based dishes, pizzas, wraps, burgers, pies, puddings and chips.
There are usually meal deals on the go too, so feel free to ask a member of the team what's on special offer.
Drinks
7pm to late
You can also tuck into a quality dinner at The Bank, however, the tipples are a must-try.
The team at Duncan Taylor Scotch Whisky run the café and restaurant — set in a former Clydesdale Bank — and have done a fantastic job at ensuring there are food and drinks to suit all.
I can think of fewer better ways to round off your day in Huntly than by sitting back and relaxing with a cocktail, spirit or mocktail in hand here.