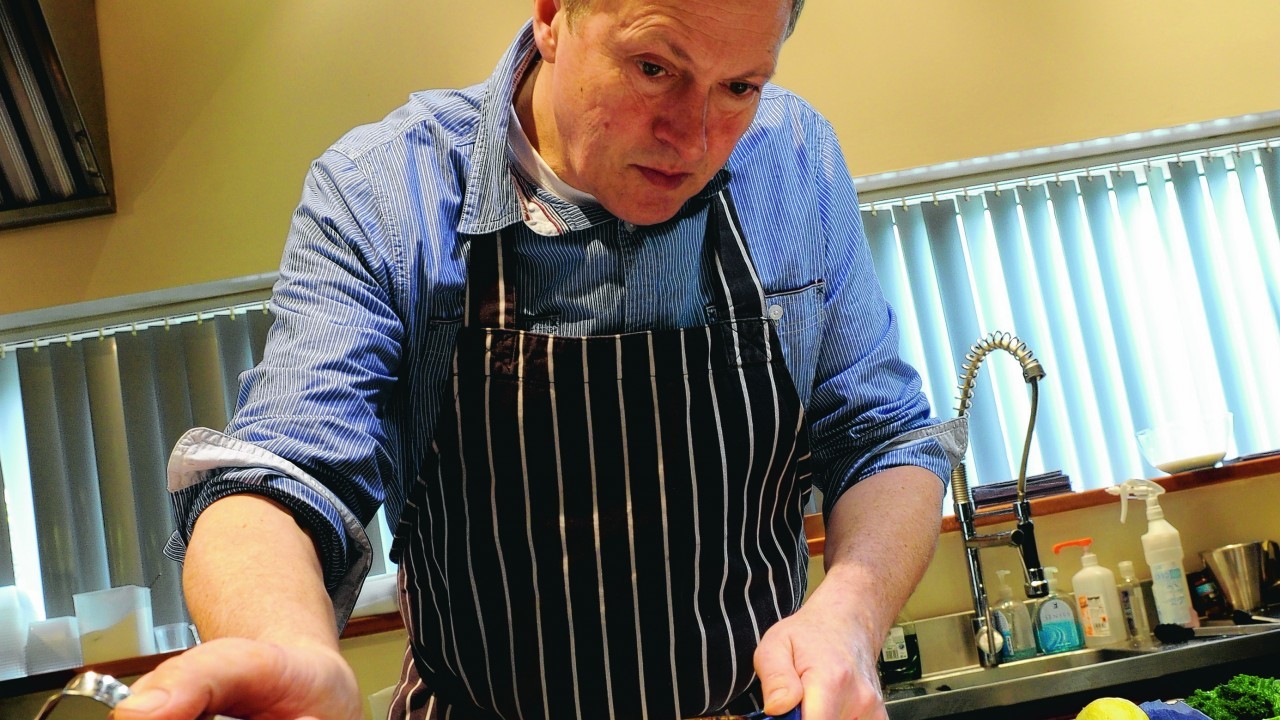 Michelin-star chef Nick Nairn turns to the warmth of Morocco for his North African inspired dishes
Charmoula is a North African form of pesto and the best way to make this is to use a stick blender which usually comes with a jug attachment. Hang on to that as it's perfect for making this paste. Charmoula is a trendy new flavour which has heat from the chilli, but it is also fragrant. The fattoush salad which accompanies the prawns is really fresh with lots of texture and crunch which comes from the toasted pitta bread.
Today's cake is an old Claudia Roden recipe and was quite famous years ago but had kind of fallen out of fashion a bit, but there's currently a great interest in North African food, something I've been predicting for about six years now. The cake features a whole orange which makes it slightly bitter but very moist so ideal for serving as a dessert, and as it's made without flour, is suitable for those who are gluten free.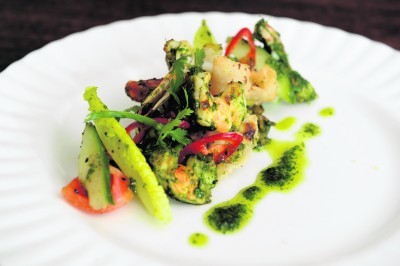 CHARMOULA PRAWNS WITH FATTOUSH SALAD
SERVES 2
6-8 raw prawn tails in their shell
1 x cos lettuce
1 avocado
2 spring onions
Half a cucumber
3 tomatoes
A few coriander leaves
1 red chilli, finely sliced
2 x brown pitta bread, toasted until crisp
Half a tsp ground sumac
For the charmoula paste:
1 tbsp paprika
Half a tsp cayenne pepper
2 tbsp ground cumin
4 garlic cloves, crushed
juice of half a lemon
6 tbsp chopped coriander
60ml olive oil
Maldon salt
Freshly ground black pepper
A few hours before you plan to serve the dish, take the charmoula ingredients, place in a bowl and mix well. Peel the prawns, leaving the end of the tail intact. Butterfly them with a sharp knife – split each one, but leave the end part together. Lay the prawns into a shallow dish and coat with about half of the charmoula paste – the rest will be used as a dressing for the salad. The more mix and the longer you leave to marinade, the stronger the result. If you are pushed for time, a minimum of 30 minutes to marinade the prawns will give reasonable results.
For the salad, peel and de-seed the cucumber and chop. De-seed the tomatoes and slice. Peel and chop the avocado, slice up the spring onions, and chop up the toasted pitta. Finally sprinkle over the sumac. Separate the cos leaves. Mix all the ingredients together with the chilli slices and coriander. Toss the salad in the leftover charmoula with your hands, adding a little oil if necessary.
At the last minute, pan fry the butterflied prawns in a large pan, in a little oil. Serve immediately with the dressed fattoush salad, finally sprinkling over the sumac.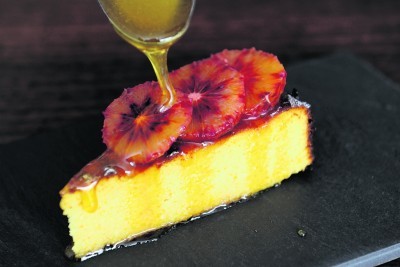 ORANGE AND ALMOND CAKE
2 oranges
6 eggs
250g ground almonds
250g sugar
1 tsp baking powder
1 tbsp butter
To serve
3-4 oranges (we used blood oranges)
1 tbsp golden syrup
plain yoghurt with honey (optional)
Wash and boil the oranges un-peeled, in a large pan of water, covered for 1 and a half hours or until they are very soft. Let them cool, then cut them open, remove the pips and turn the whole lot into a puree in a food processor.
Beat the eggs in a large bowl. Add all the other ingredients, mix thoroughly and pour into a buttered and base-lined cake tin with a removable base. Bake in a preheated oven at 180C for about 1 hour. If it is still very wet leave it in the oven for a little longer. Cool in the tin before turning out.
For the syrup, squeeze the juice from 2 oranges and mix with a tbsp of golden syrup, heated and reduced in a small pan. Carefully peel the skin and pith from the final 1-2 oranges with a sharp serrated knife. Now slice the orange flesh into rounds. Dip these in the warm syrup and serve with the sliced cake, with extra syrup drizzled over.
This cake also goes well with a dollop of plain thick yoghurt and honey.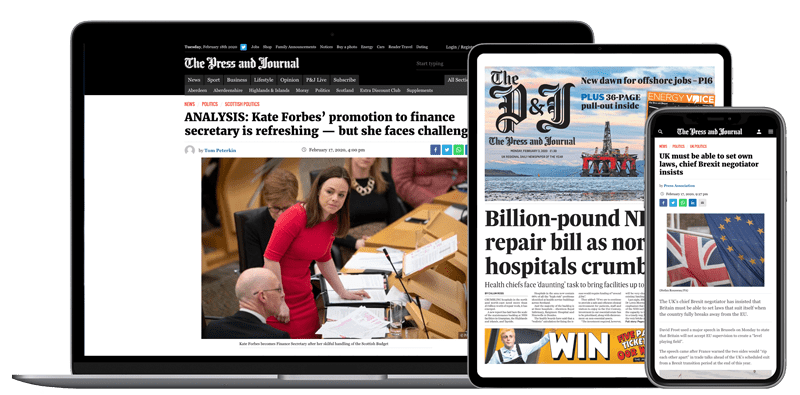 Help support quality local journalism … become a digital subscriber to The Press and Journal
For as little as £5.99 a month you can access all of our content, including Premium articles.
Subscribe