One of my favourite stretches of the A9 is the section which swings through coastal villages such as Golspie. Dunrobin Castle, on its outskirts, is a favourite haunt yet, despite being close to the castle entrance, I'd never stopped at the Golspie Inn Hotel before. This time, a combination of unseasonal weather and a welcoming, warming glow from the inn tempted us to stop.
The hotel has been around for 200 years and was for a while called the Sutherland Arms Hotel, but has now reverted to its original name.
Claims to fame include having the oldest active post box in Scotland and being the first inn in Sutherland to have a bar. It was also used as a Session Court and would have witnessed events including the Highland Clearances of the early 1800s.
Today the busy hotel offers a nice line in pub grub at reasonable prices which explains why, along with tourists, our dining companions included groups of workmen and locals.
There are a number of areas within the hotel where you can eat. As the main restaurant was busy we were shown into a smaller, cosier area with a mixture of regular tables and chairs and booth seating. We opted for the latter and having been warmly welcomed, ordered a beer and soda water respectively to help digest the menu which offered a good range of pub favourites made with, whenever possible, fresh local and seasonal produce.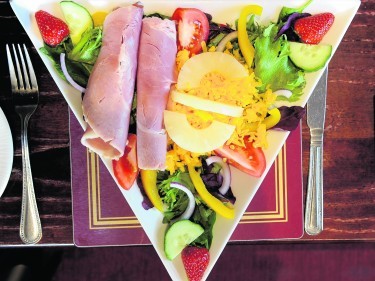 Meat comes from butcher R Grant and fish from A Campbell, both of whom have shops on the main street just yards from the hotel, while I understand some of the fish is landed via the owner's family boat. Diners can also choose from a list of daily specials which, on this visit, included starters of smoked salmon, Cullen skink soup and moules mariniere.
I'm a sucker for mussels so immediately ordered that followed by mains of poached salmon with a hollandaise sauce. My partner decided to swim with the fishes too and ordered Cullen skink, haddock and chips. A nice touch was being asked if he wanted his fish cooked in batter or breadcrumbs and served as a reminder that food was being cooked to order.
We laughed when the waitress brought out the soup because it was so thick it had formed a mound in the centre making it higher than the sides of the bowl. This was a meal in itself with lots of yummy smoked haddock and potatoes swimming in a very thick and creamy flavoursome sauce.
My mussels were also rather good, with nice plump ones well cooked. All too often mariniere sauce (garlic, parsley and cream) can be heavy on the cream which makes it sticky, but this sauce, which packed quite a garlicky punch, was deliciously creamy yet light which I liked. I'd have preferred to eat it with a soup spoon instead of the proffered teaspoon (too fiddly) and a nice chunk of crusty bread to soak up all that lovely jus wouldn't have gone amiss.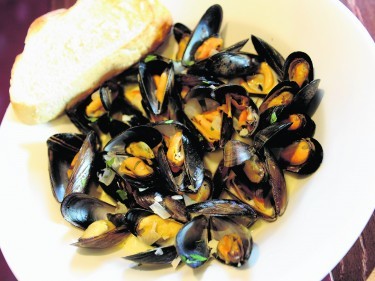 Main courses on offer included mac and cheese, gammon steak and chips, mince and tatties, haggis, neeps and tatties, curry, and a nice-sounding Highland beef burger, all of which looked good while being served to others. The timbales of haggis looked particularly impressive and for a split second I wished I'd ordered it.
However we weren't disappointed with our mains. I had a generous portion of salmon cooked well, although I prefer my skin fried and crispy, and a delicious fresh flavour. It was served with some of the best new potatoes I've tasted in a very long time, plus carrots, green beans and broccoli. It really was a lovely, fresh dinner that filled you up nicely without being too much.
The fish and chips were also a delight as the haddock was thick, dazzlingly white and moist and again, a really fresh flavour. It came with a nice side salad and a large portion of really good chips that were crispy on the outside and perfectly fluffy inside. The portion was so generous that my partner couldn't finish them. If he'd been a child he wouldn't have been allowed a pudding, but we're grown ups and allowed to bend the rules so we ordered a fruit crumble for him, and sticky toffee pudding with ice-cream for me.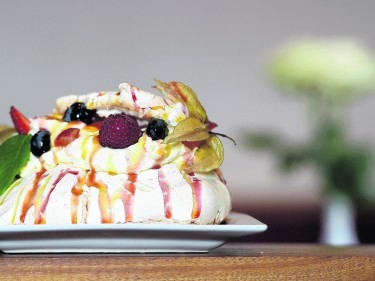 Well if you can't throw the rule book out the window now and then, what's the point of living, I say …
The crumble was tasty although the topping was slightly soft, but the star of the show was the sticky toffee pudding, which had sweet sticky dates topped with feather-light sponge and drenched in a rich, toffee sauce. Incidentally the portion could easily have served two.
While the surroundings are a wee bit dated, the service is friendly and the food wholesome and good. Paying just over £50 for two three course dinners plus drinks and coffee was enough to persuade us to come back the next time we're passing.