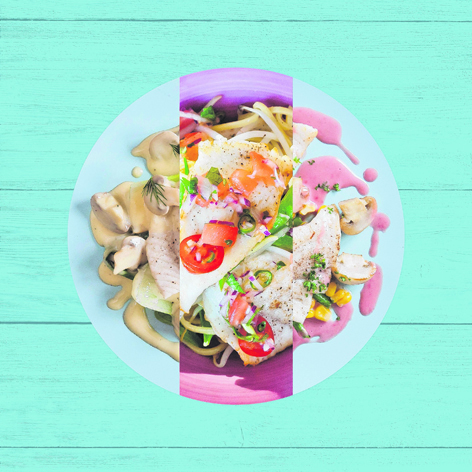 Here's three mouth-watering seafood dishes that take just minutes to prepare and cook.
For more recipe ideas and interesting information about seafood for all the family visit www.fishisthedish.co.uk or visit www.seafoodweek.co.uk
TUNA PARCELS WITH VEGETABLES
SERVES 6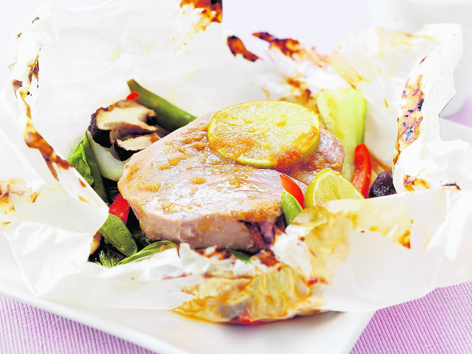 6 x 140g (5oz) tuna steaks
4tbsp Soy Sauce
2tbsp cooking wine or white wine
1tbsp sweet chilli sauce
Finely grated zest and juice of 1 lime
2cm piece fresh root ginger, peeled and finely grated
1tbsp brown sugar
400g (14oz) pak choi
145g (5oz) sugar snap peas, sliced lengthways
1 red pepper, thinly sliced
85g (3oz) shiitake mushrooms, sliced
2 limes, thinly sliced
Preheat the oven to 200°C, 400F, Gas mark 6. Cut six 45cm squares of foil and place a slightly smaller square of greaseproof paper in the centre of each piece of foil. Mix together the soy sauce, wine, chilli sauce, lime zest and juice, ginger and sugar. Roughly chop the pak choi, cutting the thicker stalk ends into smaller pieces. Mix the pak choi with the remainder of the vegetables and divide the mixture between the greaseproof paper parcels.
Top each parcel with the tuna and a slice of lime. Spoon over the sauce. Close the greaseproof and foil into a parcel. Place the parcels on a baking sheets and cook for 10-12 minutes. Discard the foil and transfer the greaseproof paper
with the tuna and vegetables to a serving plate.
TIGER PRAWN AND LOBSTER SALSA SALAD
SERVES 2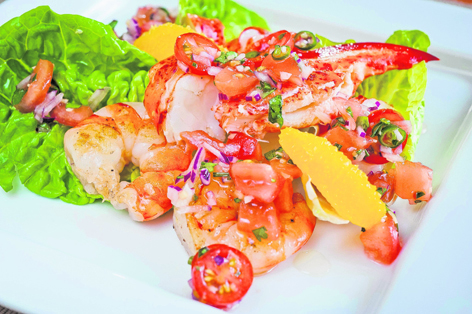 1 cooked lobster tail, sliced
8 raw tiger prawns
Curry powder, to taste
1 baby gem lettuce, broken into leaves
1 orange, peeled and segmented
FOR THE SALSA
1 small red onion, finely sliced
Half a fresh chilli, seeds removed and finely sliced
Half a tsp grated fresh ginger
Half a small clove garlic, crushed
1 ripe tomato, chopped
Fresh lime juice, to taste
1-2 tbsp olive oil
Half a bunch coriander, chopped
Make the salsa by mixing the red onion, chilli, ginger, garlic and tomatoes in a bowl, add the lime juice to taste, just enough olive oil to moisten and season with salt and black pepper. Stir through the coriander. Season the prawns with a little curry powder to taste.
Heat a non-stick frying pan, and dry fry the prawns for 30 seconds or until just cooked. Arrange the lettuce leaves on a serving plate. Top with the lobster and prawns, spoon over the salsa and decorate with the orange segments.
APPLE-Y MUSSELS
SERVES 4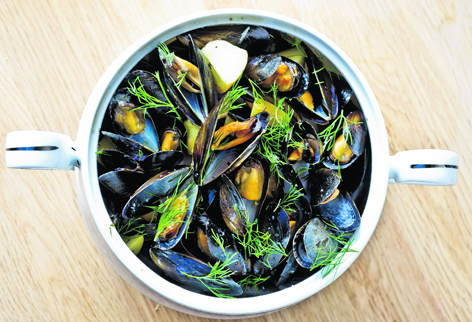 1kg fresh, live mussels
2tbsp butter
2tbsp olive oil
1 onion, chopped
3 garlic cloves, chopped
1 large Granny Smith apple, core removed and cut into cubes
300ml apple juice
Zest and juice 1 lemon
1tsp chopped fresh thyme leaves
Fresh dill, to garnish
Prepare the mussels: Check all the mussels are closed and discard any that are open or don't close with a gentle tap, together with any that are cracked or damaged. Pull off the beard and scrub with a stiff brush under cold running water to remove any barnacles. Heat the butter and oil in a large wide saucepan. Add the onion and garlic and cook gently for two minutes. Add the apple and cook for one minute. Add the apple juice, lemon zest and juice, and thyme, and bring to the boil.
Add the mussels, shake the saucepan a few times and cover with a lid. Cook for about two minutes, then shake the mussels again. Cook for another six to eight minutes, until all mussels have opened. Discard any unopened mussels and serve immediately, garnished
with dill.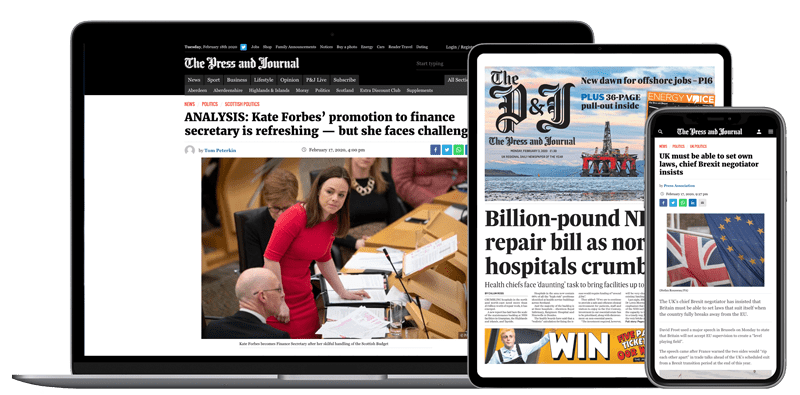 Help support quality local journalism … become a digital subscriber to The Press and Journal
For as little as £5.99 a month you can access all of our content, including Premium articles.
Subscribe