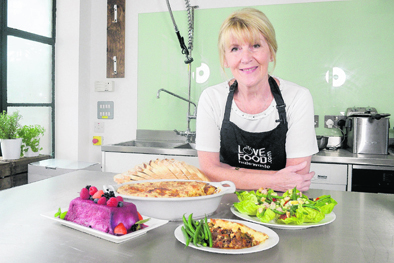 Love Food Hate Waste has joined forces with reigning Great British Bake Off champion, Nancy Birtwhistle to remind shoppers that bread can be used in so many ways.
"Leftover crusts can be blitzed into breadcrumbs and stale bread is fantastic for making bread and butter pudding, croutons or garlic bread," said Nancy.
As well as providing a selection of tasty bread-friendly recipes below, here are their top tips for bread success:
Most bakery products have a "best before date", which refers to quality. Your bakery products can still be eaten after this date, but may no longer be at their best.
Sliced loaves and other bread products are all great for freezing and can be toasted from frozen as and when needed.
Make slightly stale bread and leftover crusts into breadcrumbs by whizzing up in a food processor – these can be stored in the freezer to use later.
Storing bread in the fridge can make it go stale faster. The best place to store a loaf is in a cool, dry cupboard or your bread bin.
Freshen up a day old loaf by running it briefly under cold water and popping it in a hot oven for 10 minutes.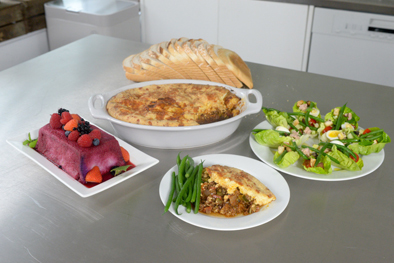 THRIFTY MOUSSAKA WITH A BREADCRUMB TOPPING
SERVES 6
This truly delicious recipe can be modified, double up on the lentils and take off the meat for a full veggie meal. My personal favourite, is half and half!
250g minced steak
25g Puy lentils, 25g green lentils and 400ml veg stock
3 tbsp olive oil
1 large onion chopped small
1 large or 2 small aubergines cut into small dice
1 courgette cut into small dice
2 red peppers deseeded and cut into small dice
3 cloves garlic chopped small
1 tin tomatoes or 400ml fresh tomato sauce
2 tbsp tomato puree
1 tsp ground cinnamon
1 tsp Herbs de Provence or mixed herbs
Salt and pepper
100ml red wine
Fresh parsley – chopped (2 handfuls)
For the topping:
400g Crème fraiche
1 egg
45g Grated cheese
70g Fresh breadcrumbs
Grated nutmeg and grated parmesan cheese
I begin by washing the lentils and placing them in a sieve, simply rinse under cold water and add to a saucepan then add vegetable stock. Bring to the boil and simmer for 40 minutes.
While the lentils cook, dry fry the minced steak in a frying pan, in batches, until it is well browned. Set aside then use the same pan to fry the aubergines until they start to colour.
Heat up a dash of olive oil in a large casserole dish, add the onions and fry them gently for 10-15 minutes until soft. Add the courgettes, peppers, herbs, spices, seasoning and garlic to the dish. Follow this by giving everything a good stir and allow the vegetables to gradually heat.
Add the fried mince, aubergines, lentils, tomatoes, puree, wine and a large handful of chopped parsley (and any remaining cooking liquor) into the dish. Simmer, then cook in the oven on a low heat (160 degrees) for 90 minutes. Once the mixture is thick and lovely, give it a taste and check for seasoning, stir in another handful of fresh parsley and add the topping (see below).
Place back in the oven, this time at 190 degrees for a further 40 or so minutes until golden brown and bubbling.
Serve with green vegetables such as broccoli florets or green beans.
NANCY'S SALAD STARTER
SERVES 4-6
Baby salad leaves
Pack 3 baby gem lettuce
250g cherry tomatoes
1 cucumber
1 bunch spring onions and/or shallots
White wine vinegar
100g cooked green beans
Tin tuna chunks in oil
Lemon juice
Grated zest of lemon
2 tbsp mustard powder
Rapeseed oil
Tapenade
Olive oil
4 slices stale white bread (crusts removed)
1 quail's egg, poached
I like to begin this with an almost empty jar of tapenade. Add olive oil and place the lid on top then give it a good shake. Dice the four slices of stale white bread, add them to the jar, give it another shake then add the freshly coated cubes on to a baking sheet. Place into the oven for 10 minutes until you have crispy croutons.
To create the dressing, add 3 tablespoons of lemon juice, 2 tablespoons of white wine vinegar, 8 tablespoons of rapeseed oil and 2 tablespoons of mustard powder. Mix it all together, then for a final touch add the grated zest of one lemon.
For this simple yet elegant salad, chop all the remaining ingredients, apart from a some baby gem lettuce leaves and a few green beans, very finely. Mix the salad with dressing, spoon onto individual lettuce leaves and dress with slivers of quail egg, green beans and croutons.
SUMMER PUDDING TERRINE
SERVES 4-6
I promise this is the best summer pudding you will ever taste, it will leave you with a bitter sweet after taste consisting of a depth of flavour. Using a mixture of berries – fresh from the garden and frozen blackberries, this dessert is one I want you all to enjoy. You'll need two 1lb loaf tins.
4 slices sliced white bread crusts removed
350g Fresh summer berries (redcurrants, blackcurrants, strawberries, raspberries, blueberries, blackberries)
25g Caster sugar
25ml Ribena
30ml water
Zest and juice of 1 orange
1 tbsp fruit jam
20g French Morello flavour glace cherries chopped (with scissors) – I recommend these specifically as they have much more flavour than standard glace
In a medium saucepan, I place the sugar, Ribena, orange juice, zest and water, then allow it to dissolve over a low heat until the sugar has gone. Add Morello cherries, the jam and all of the berries – apart from those very soft raspberries and strawberries. Bring the ingredients to boil and simmer for a couple of minutes until soft. Remove the mixture from the heat and add the strawberries and raspberries – stir this and then allow it to breath.
Line one loaf tin with a large piece of cling film, with it over lapping the edges. Use a rolling pin to flatten your four slices of bread and line the tin with them ensuring there are no gaps. Add the fruit mixture into the tin but set aside a small amount for serving – cover with bread and fold over the sides. Place the second tin over the top and ensure you weigh it down with (I like to use weights from my kitchen scales).
Place this in the fridge and leave for 12 hours or overnight. When ready to serve, remove the weights etc. and upturn on an oblong plate, pour juice over any white bits and serve garnished with fresh berries, crème fraiche or double cream.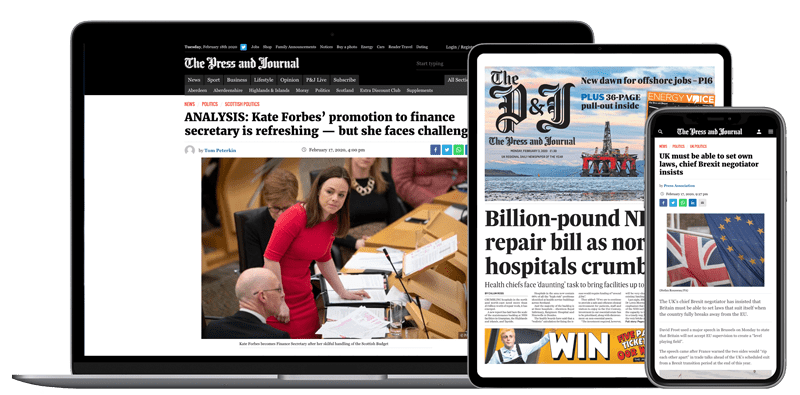 Help support quality local journalism … become a digital subscriber to The Press and Journal
For as little as £5.99 a month you can access all of our content, including Premium articles.
Subscribe