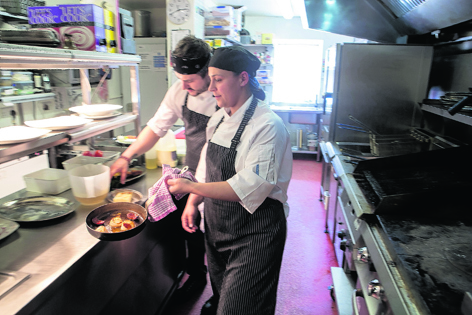 North-east Scotland has a natural larder which we should all be cooking and enjoying.
The Ship Inn, which has overlooked Stonehaven's idyllic harbour for more than 240 years, is one restaurant that takes full advantage of the produce available locally and takes pride in its seasonal menu which is packed with fresh fish, seafood and steak dishes.
Head chef Fallon Oliveria said: "Our seafood comes straight from a local supplier, just a few miles away, so that our customers can enjoy fish that's sea to plate in just a matter of hours.
"The mild, sweet taste of scallops makes them an ideal option for both seafood-lovers and haters alike. They are not overpowering and can be served alongside a wide variety of side dishes such as bacon or black pudding.
"Venison can be overlooked during the winter months in favour of beef or lamb. People tend to forget just how versatile it is, working well in soups, stews or casseroles.
"As it's so lean, venison doesn't need to be cooked for as long as other meats, making it a quick and simple dish to satisfy hungry dinner guests this winter.
"The rich, gamey flavour and soft
texture also means that there's no
need to marinade or season for extra flavouring."
Fallon has paired the scallops with chorizo for a fiery kick, whilst her venison steak is accompanied by spiced cherries and celeriac puree.
SCALLOPS AND CHORIZO
SERVES 4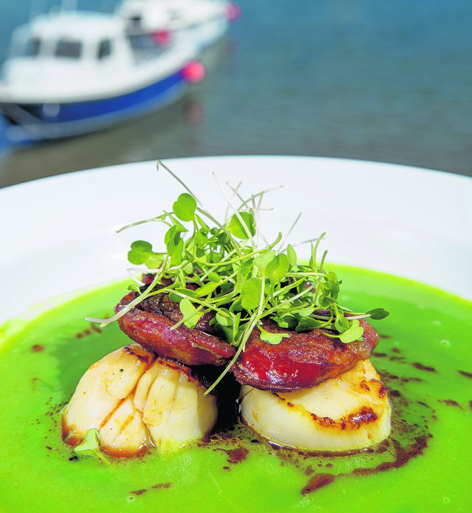 12 scallops
2 chorizo sausages
1 bunch or 2lb of asparagus
1ltr vegetable stock
2 leeks (white parts only, cleaned and sliced)
Remove and discard about half an inch of the bottom stem of the asparagus. Slice asparagus stems into 3 pieces. In a large sauce pan heat oil on a low heat, add leeks and cook until soft. Add stock and bring to boil. Once boiling, add asparagus stems and cook until tender (about 4/5 minutes). Remove soup from heat, puree using a blender and season to taste.
Ensure scallops are at room temperature. Fry in a little oil in a hot pan for no more than 2 minutes on each side, alongside the chorizo. Pour the soup into a four bowls. Place three seared scallops into each bowl and top with four slices of the chorizo. Garnish with microherbs and serve.
VENISON WITH SPICED CHERRIES, CELERIAC PUREE AND DAUPHINOISE POTATOES
SERVES 4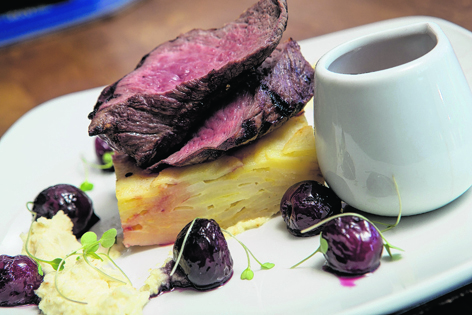 4 x 8oz venison steaks
FOR THE SPICED CHERRIES
The rind and juice of 1 orange
The rind and juice of 1 lemon
120g caster sugar
2 cloves
1 cinnamon stick
300ml port
100ml red wine
2 punnets cherries
FOR THE CELERIAC PUREE
1 celeriac
200ml milk
100ml double cream
Salt and pepper
FOR THE POTATOES
250ml double cream
250ml milk
2 chopped garlic cloves
6 large potatoes
50g parmesan cheese
Begin by making the dauphinoise potatoes. Heat the oven to 190c, Heat cream, milk and garlic in a large saucepan and bring to simmer. Slice the potatoes, add to the pan and simmer for a further 3-4 minutes. Remove the potatoes with a slotted spoon, place them in layers into a shallow ovenproof dish. Pour over cream and scatter over parmesan. Bake for 45 minutes or until potatoes are cooked and gently browned on top.
To make the spiced cherries, cut the orange and lemon rind into julienne strips. Place in a saucepan with the juice of both fruits. Add the remaining ingredients and bring to the boil then simmer for two minutes. Remove from the heat. Once ready to plate up, remove cherries from the juice and place on the plate.
To make the puree, peel and dice the celeriac and cook in milk for 20 minutes; drain and return to the pan. Return to heat and cover with cream. Bring to the boil and remove from heat. Season then liquidise. Chargrill the venison steaks for two and a half to three minutes on each side. If you don't have a chargrill, use a griddle pan or frying pan with a little oil.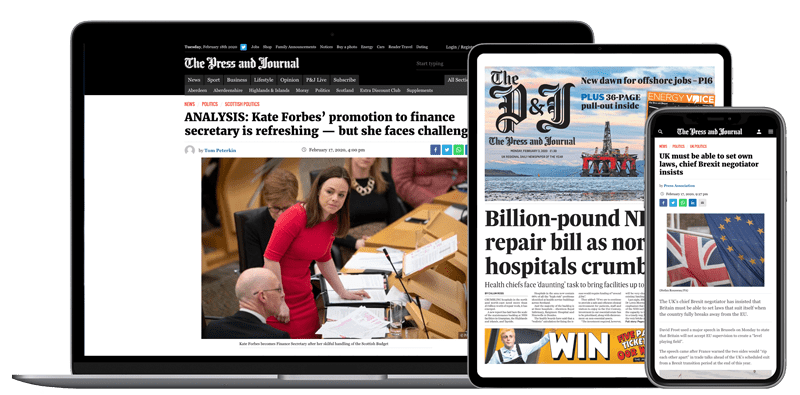 Help support quality local journalism … become a digital subscriber to The Press and Journal
For as little as £5.99 a month you can access all of our content, including Premium articles.
Subscribe