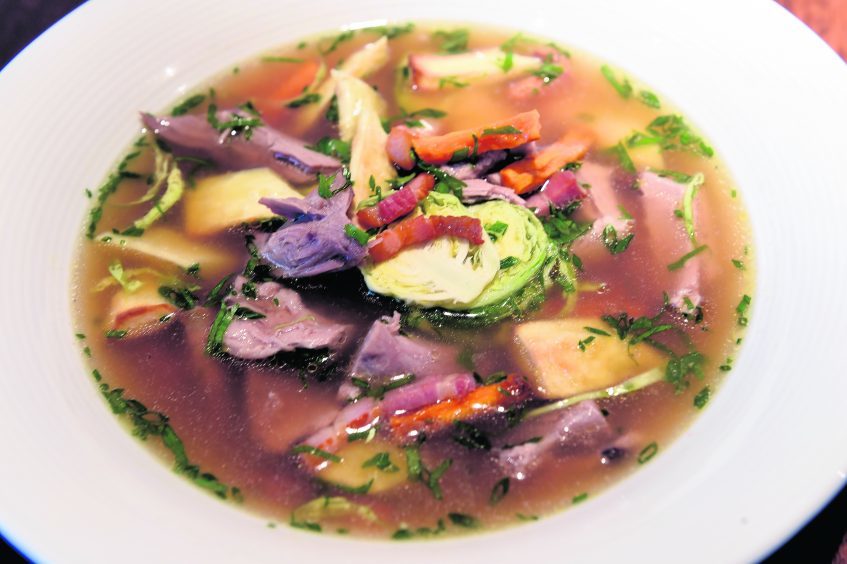 Stuck for ideas as to what to do with those Christmas Day leftovers?
Michelin star chef Nick Nairn creates two mouth-watering dishes that will tempt you back to the kitchen
There are two brilliant ways to use up any leftover Christmas dinner – soup or a curry. I've opted for soup today as it's a great way of using up any leftover turkey or ham, pigs in blankets and vegetables. The secret is to use good quality stock and get the balance right between the amount of meat, vegetables and stock you use – you don't want it to be so thick it starts to resemble porridge.
Get in the habit of keeping stock in the freezer – the next time you cook a ham or chicken, keep some stock back and freeze it. Then all you have to do is pop any leftover meat and veg into it and you have the basis of a good, filling soup. If there's anything you're not keen on such as sprouts, simply leave them out.
If you've received a few Panetonne as presents or have some left over, this pudding is a wonderful way of using it up. If not, then look out for it on offer at discounted prices at this time of year because, of all the things you can make a bread and butter pudding with – scones, croissants etc – Panetonne is the most delicious. Serve it with cranberries which have been cooked in a mulled wine syrup spiked with lovely flavours of clove, cinnamon and star anise and you have a fantastic seasonal dessert.
BOXING DAY SOUP
SERVES 6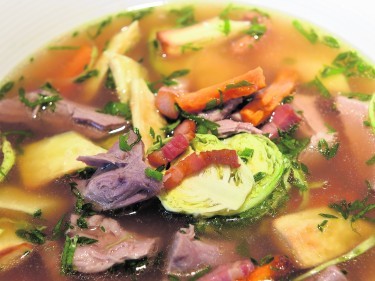 2 onions, chopped
2 cloves garlic, chopped
2tbsp olive oil
Leftover turkey meat
Leftover roast potatoes, chopped
Leftover bacon, chopped
Leftover parsnips, chopped
Leftover sprouts, sliced
2tbsp parsley, chopped
1tbsp chives, chopped
2 litres good stock (chicken or turkey)
Heat the oil in a large soup pan. Add the onions and fry gently until softened but not coloured. Add the garlic and bacon and cook for a minute. Add the stock and bring to a simmer. Now add the rest of the leftovers and heat through. Add herbs and serve. Simple as that!
PANETTONE BREAD AND BUTTER PUD WITH MULLED CRANBERRIES
SERVES 4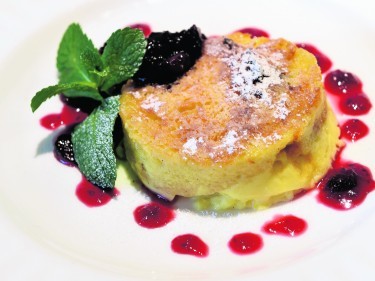 500ml double cream
500ml milk
1 vanilla pod
4 free range eggs
4 free range egg yolks
1 Panettone, cut into thick slices
Soft unsalted butter
Zest of half a medium orange
Pinch of salt
180g caster sugar
FOR THE MULLED CRANBERRIES
100g cranberries
2-3 star anise
2-3 cardamom pods
2-3 cloves
2tbsp sugar
1 cinnamon stick
200ml red wine
Start by preheating the oven to 160C. Take a heatproof serving dish about 5cm deep and a 1.5 litre capacity. Lightly butter the Panettone slices and lay them in the serving dish slightly overlapping, one layer only – too much dough will make the pudding heavy.
For the custard, bring the milk and cream just to a boil in a saucepan. Cut the vanilla pod in half, scrape out the seeds and add to the pan with the zest. Whisk the eggs with the sugar until pale. Add the hot milk and cream and mix well. Strain the cream mix over and around the Panettone and let stand for three to four minutes.
Place the dish in a roasting pan and fill the roasting pan halfway with hot water. Sprinkle with the icing sugar and bake for about 45 minutes. When cooked, it will have a slight crust on top, but will still be slightly wobbly inside.
While it's cooking, make the mulled cranberries. Place all the ingredients in a medium pan, bring to the simmer and stir until the sugar has dissolved. Reduce heat and simmer uncovered until the berries burst and the sauce thickens, stirring often for about 20 minutes. Remove from heat and set aside. Remove the pudding from the oven and let stand for five minutes before serving.
To serve dust each portion with icing sugar and have the mulled cranberries on the side.