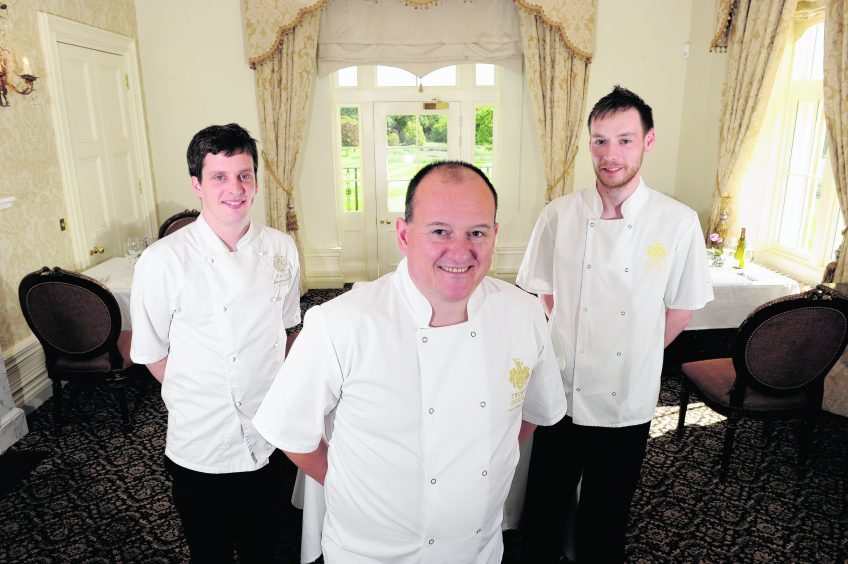 Put your culinary skills to the test with these showstopping dishes created by award-winning chef Paul Whitecross
Quality produce and fine home cooking is a treat for most during the festive period and one that many could get used to. So why not start as you mean to go on and kick-off the New Year with even more home quality cooking, using only the finest of produce?
Paul Whitecross, head chef at Trump International, has created two dish ideas using high-quality Scottish produce sourced from JK Fine Foods, to help you create the perfect meal.
PORK BELLY, BLACK PUDDING, HAND-DIVED SCALLOP WITH PARSNIP AND APPLE
SERVES 4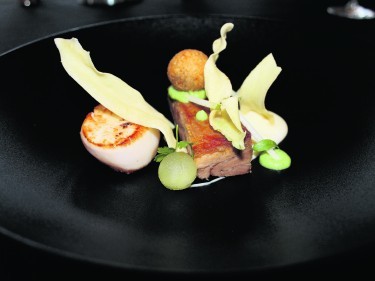 300g pork belly
100g pork skin
4 hand-dived scallops
4 black pudding bonbons (black pudding 20g rolled into balls and bread crumbed)
1 large parsnip, peeled (after peeling, peel some slices for crisps)
2 Granny Smith apples (cored and quartered) with one quarter cut into strips
45g unsalted butter
Rapeseed oil
200ml double cream
Firstly, prepare the pork belly by mixing together a marinade of:
100g sugar
100g salt
2 crushed cardamom pods
1tsp coriander seeds
1tsp fennel seeds
Dash of oil
Rub marinade into the belly and place in fridge for 24 hours, then wash off the marinade and dry with a kitchen cloth. To cook, cover with water and cook at 120°C/gas 1 for 7-8 hours, remove from liquid and allow to cool.
For the crackling, place the pork skin in a pan of cold water. Bring to the boil, cover with a lid and simmer for approximately two hours until you can pinch the skin. Remove, allow to cool, cut into pieces then fry in a fat fryer at 180°C until crisp.
To prepare the apple puree, cook apples in a pan with 20g of butter until slightly soft, remove and process until smooth. For the parsnip puree, chop parsnips finely, place in a pan with the double cream and 25g butter, and cook at a simmer until soft. Puree until smooth and season with salt and pepper.
Meanwhile, heat two frying pans with a dash of oil. To one pan, add the pork belly, fat side down. As the fat starts to colour, cook in the oven at 180°C/gas 4 for 7-8 minutes until heated through. In the other pan, when it reaches high temperature, sear off the scallop, retaining a golden brown, crisp colour. Remove and season with salt and pepper. Remove the pork belly from oven, season, and then fry the black pudding bonbons at 180°C in a fryer until golden.
To serve, spoon the parsnip puree on to a plate and assemble with the rest of the ingredients.
LOIN OF VENISON, PEARL BARLEY, SALSIFY, SPROUTS AND CHOCOLATE
SERVES 4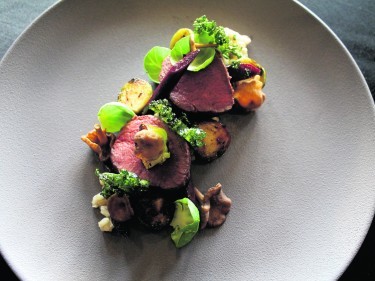 Dark chocolate with gamey venison may sound unusual, but this is a perfect marriage and goes extremely well with the earthiness of the sprouts and the sweet bitterness of the salsify. It is also recommended with pigeon.
4 x 190g venison loins
20/30g bitter chocolate (grated)
8 Brussels sprouts, peeled and halved
80g chanterelle mushrooms
100g pearl barley
250ml chicken stock
70g unsalted butter
1 shallot, peeled and finely diced
Half a clove of garlic, peeled and finely diced
2 sticks peeled salsify, cut into matchsticks
50ml port
100ml red wine
150ml venison sauce (made from trimmings and beef stock)
Prepare the garnish by firstly cooking the salsify in red wine, port and 150ml of chicken stock until soft and reduce the liquid to a syrupy consistency. Meanwhile, for the sprouts, heat a pan with a little oil and place the sprouts in face down. Brown, add 25g butter and cover with 100ml chicken stock. Reduce to a creamy texture, remove from heat, add another 25g of butter and adjust the seasoning. Saute the mushrooms in a hot pan with a dash of oil.
For the venison, heat the oven to 180°C/gas 4. In a hot pan, add a dash of oil, sear off the venison on all sides and transfer to the oven to cook for 5-10 minutes, depending on how you like your venison. Remove, allow to rest for five minutes, carve and season. For the sauce, heat the venison sauce, remove from the heat and whisk in the grated chocolate to taste.