We were hovering over various options for getting onto the exclusive private-island hotel at Eriska, off the west coast near Oban, but decided against flying in by helicopter.
The five-star hotel had kindly supplied us with helicopter co-ordinates, which, to the uninitiated, seemed harder than cracking the Enigma code.
As our helicopter was in for its annual service, we gave it a miss.
I have to say, though, that this upmarket destination is popular with the helicopter crowd. They park them on Eriska's immaculate lawns. Only the week before our arrival, a couple flew in from Glasgow just for lunch – now that's doing it in style. All they ask is that you let them know in advance if you are flying in, which seems like a sensible precaution.
You could always land on nearby Loch Linnhe in a sea plane as you can tie up at Eriska Hotel, Spa and Island's private jetty, as long as the tides are with you. It's all part of the service, but will set you back £1,500 for a return ticket between Glasgow airport and Eriska (for up to eight guests).
That would have been a cool way to do it, but they can't beat my trusty Land Rover, so we opted for a four-wheel approach along a coast-to-coast route from Aberdeen to Eriska one Friday afternoon.
I am glad we did, too – what a delightful journey through Perthshire and the Highlands. We stopped to feed a colony of ducks, which have adopted a lay-by in St Fillans, beside beautiful Loch Earn – and are spoiled rotten by passing motorists. It's a wonder they can actually get back into the water after gorging on bread, but perhaps they float better.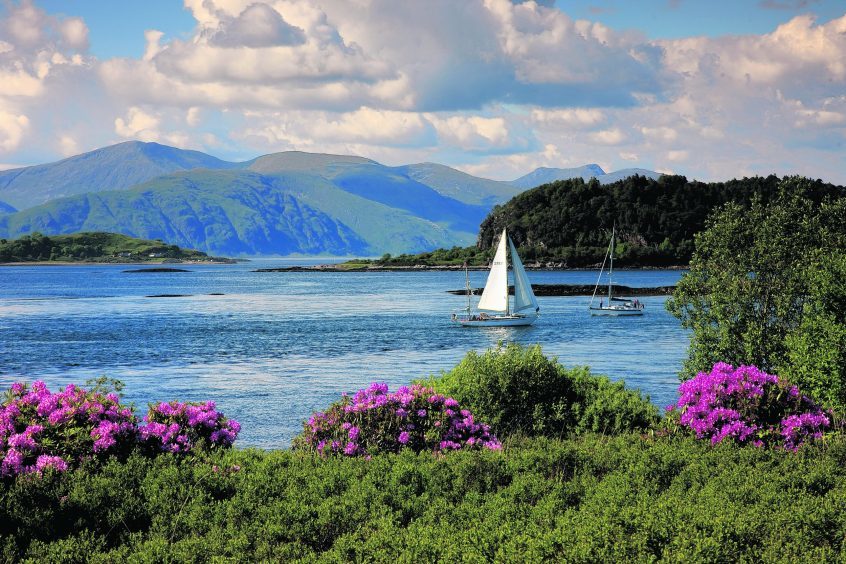 We drank in stunning Highland scenery, with each passing mile trying to outshine its neighbour.
Onwards to Crieff, Tyndrum, Crianlarich and along the breathtaking expanse of Loch Awe.
Looking at the route planner, I thought it would be more complicated, but the miles just slipped by effortlessly and then we were across Connel Bridge, coasting towards Eriska a few minutes away. We arrived half-an-hour ahead of schedule.
There was a twisting lane to negotiate, from Benderloch onto the estate, before we came to an abrupt halt at what appeared to be one of those old wartime Bailey bridges, which carries you onto the island.
The bridge was built in 1900 – a number of years after the former mansion was completed (no wonder it took three years and 300 workmen to finish the house after hauling materials over by foot and boat). The bridge was reinforced with Bailey construction in 1973, and is as sturdy as a tank. We were quickly over it, with that distinctive wooden rattling noise echoing in our ears.
The wooded driveway opened to reveal the jewel in the crown – the majestic building which is Eriska hotel, sitting at the heart of the 300-acre private island.
We crossed at the narrowest point from the mainland – so narrow that an Olympic gold-medal winning pole-vaulter might possibly jump across (with a very long run up, that is).
Eriska nestles on the map like a prime fillet steak, sandwiched between a slice of Benderloch on one side and Lismore island on the other. The food analogy is no coincidence – Eriska hotel boasts a Michelin-starred restaurant and also offers its new Deck casual-dining restaurant, which is above its recently re-opened Stables Spa just yards away. The Deck offers spectacular views across Loch Linnhe and Lismore.
The silence was golden as we bedded down in our spacious suite – our main room was about 25ft square, measured by my own feet, with a separate hallway, dressing room and bathroom.
It was very Downton Abbey: there was always a roaring fire in the wood-panelled main hall downstairs, with excellent food and superb service from the friendly and ever-attentive staff.
Eriska could have given Downton a run for it money in its heydey: in Edwardian times, its owners wintered in Edinburgh and spent spring and summer in Eriska, where 60 staff waited on them.
Walks along the shoreline, teeming with birds and other wildlife, are tempting – more so as green wellies and walking sticks are strategically placed at the main doorway for guests.
You can pamper yourself in the spa, with its newly revamped range of treatments and specialist equipment, including luxury thermal suite, heated 17metre indoor swimming pool and gym. To relax afterwards, there are luxury reclining chairs where you can admire the view – or take a nap.
There is another couch-potato option, of course, which is my favourite: doing absolutely nothing and living like a Downton toff for a few days.
Some guests liked to disappear into a good book after a hearty breakfast of salmon and scrambled eggs or a traditional Scottish breakfast served at your table, and re-surface for an afternoon tea.
Forgot your book? Don't worry, there are books everywhere here, with bookcases in the corridors and rooms. I dawdled over PG Wodehouse – Jeeves and Wooster would have loved it here.
There was even a large book for bird watchers to update fellow guests on what was flying about outside. The best vantage points for spotting wildlife and admiring the views are clearly sign-posted, including Otter Point – where I had a rather unfortunate incident later in this story.
Golf is catered for by Eriska's nine-hole course and, if you want to be alone, there are secluded hillside lodges, with outdoor tubs.
We enjoyed the conservatory for pre-dinner Friday night drinks, where my wife developed a worrying liking for Bellinis, with Tattinger champagne.
We fell in love with Eriska's Michelin-starred dining and, in particular, for me, their exquisite John Dory fish. There was also a mouthwatering aroma of cheese and we discovered a magnificent cheese trolley had pride of place just around the corner from our table. As it trundled through, we counted 25 cheeses on board, but we didn't quite sample them all.
After pottering about on Saturday, we met charming owners Beppo and Seona Buchanan-Smith. I didn't quite summon up the courage to ask Beppo about his striking name, but a very good source told me it was linked to a great uncle, called Dunlop.
Eriska draws visitors from around the world, but owes its existence to Beppo's father, who rescued the house from ruin in the 1970s and restored it in a labour of love. We spent our second night being wowed in the Deck restaurant. This is a must if you are staying or passing by on your travels around the Highlands, as non-residents are welcome. You can sit inside or on the outdoor decked area with great views.
I began with delicious, locally-caught oysters and moved onto exquisite salmon fillet and mustard mash, created by chef Leo, from Kenya. The salmon was grilled crisp on one side and finished off in the oven. What a dish. Leo later gave us some tips on how to prepare it ourselves at home.
Meanwhile, my wife was loving her Mallaig haddock and we both enjoyed apple crumble, with apples supplied by Eriska's orchard.
Back in the warm embrace of our lovely room, my pyjamas had been laid out on our bed like a stick man and a bucket of ice was waiting for us (we had explained we had a bottle of fizzy stuff with us). Hot water bottles were also tucked away in our bed – a nice, thoughtful touch by staff.
They enjoy a lot of repeat bookings here, which does not surprise me. It's also a magnet for luxury car-launch events and weddings – a family from Spain took over the hotel for a wedding, for example.
Alas, it was over too soon as we bid farewell to Eriska on Sunday morning, but the Autumn sun was shining from a clear blue sky and we were reluctant to leave.
All was tranquil outside on the lawns apart from a few loitering hooded crows, who strutted about as if they owned the place and stared back at me, as I put my head out of our room window.
We felt guilty about not making enough time to visit Otter Point. So, we headed off to walk a short distance to the shore.
I could not believe our luck. Suddenly, my wife, peering ahead, spotted the unmistakable shiny back of a large otter, crouched on a rock, looking intently out to sea.
I edged forward, quivering with excitement, camera at the ready. Now we were just yards away and I felt very David Attenborough all of a sudden.
Just feet away and I was amazed it had not bolted, especially as we were so close and probably making a commotion. It must be to do with us being downwind (a true mountain tracker, that's me) and there was plenty of undergrowth in the way. I was hissing at her to pipe down, but my wife started making strange noises – I could see she was convulsed by trying not to laugh.
As I crouched, coiled like a spring, I stared hard at the otter. Then it dawned on me – it was an otter, alright, but only a sculpture of one.
My only excuse is that I did not have a clear view and I am from the city – I didn't see a cow until I was 15. My wife's tears of laughter possibly affected the tides around Eriska for the next 24 hours.
PS: there are real otters here, too, so don't worry.
The hotel reopens during the last weekend of January for the new season.
The Valentine's Love Influences package (£324pp) includes two nights' bed and breakfast; a 4 course dinner for 2 each night in the Michelin starred restaurant; a bottle of champagne each evening; use of the leisure facilities – 17m heated indoor swimming pool, sauna, steam room and Jacuzzi, croquet lawn, golf course and driving range; morning coffee and afternoon tea each day.
Choose Eriska for your Easter break away with family or friends from £185 per person, including: Breakfast each morning; morning coffee and afternoon tea; dinner in the Michelin-starred restaurant; luxurious 5 star accommodation; use of the wide range of leisure facilities.
There is also a 3-night rate throughout April from £575 per person including: breakfast each morning; morning coffee and afternoon tea; dinner in the Michelin-starred restaurant; luxurious 5 star accommodation; use of the wide range of leisure facilities.
Enjoy a further 10% off the above rates with the Pay Before You Stay offer.
To contact Eriska, phone 01631 720 371, e-mail office@eriska-hotel.co.uk or book using the online booking system at www.eriska-hotel.co.uk