North-east Great British Bake Off star, Norman Calder has been baking up a storm for the Press and Journal in association with Laing's Kitchens, Inverurie.
This week he unleashes another delicious delight, with his Orange & Raspberry Savarin Cake.
Norman said: "Call in your friends to admire before consuming.
"As this is a very moist cake it will keep for a few days without the cream being added.o=dsZjdhNTE6_cw2F4mSui7PPWzycKXgHf
"This one was to have been my Signature Bake for Week 6 of the Bakeoff, unfortunately the Hollyberry didn't get a chance to taste it as they sent me home in Week Five – their loss."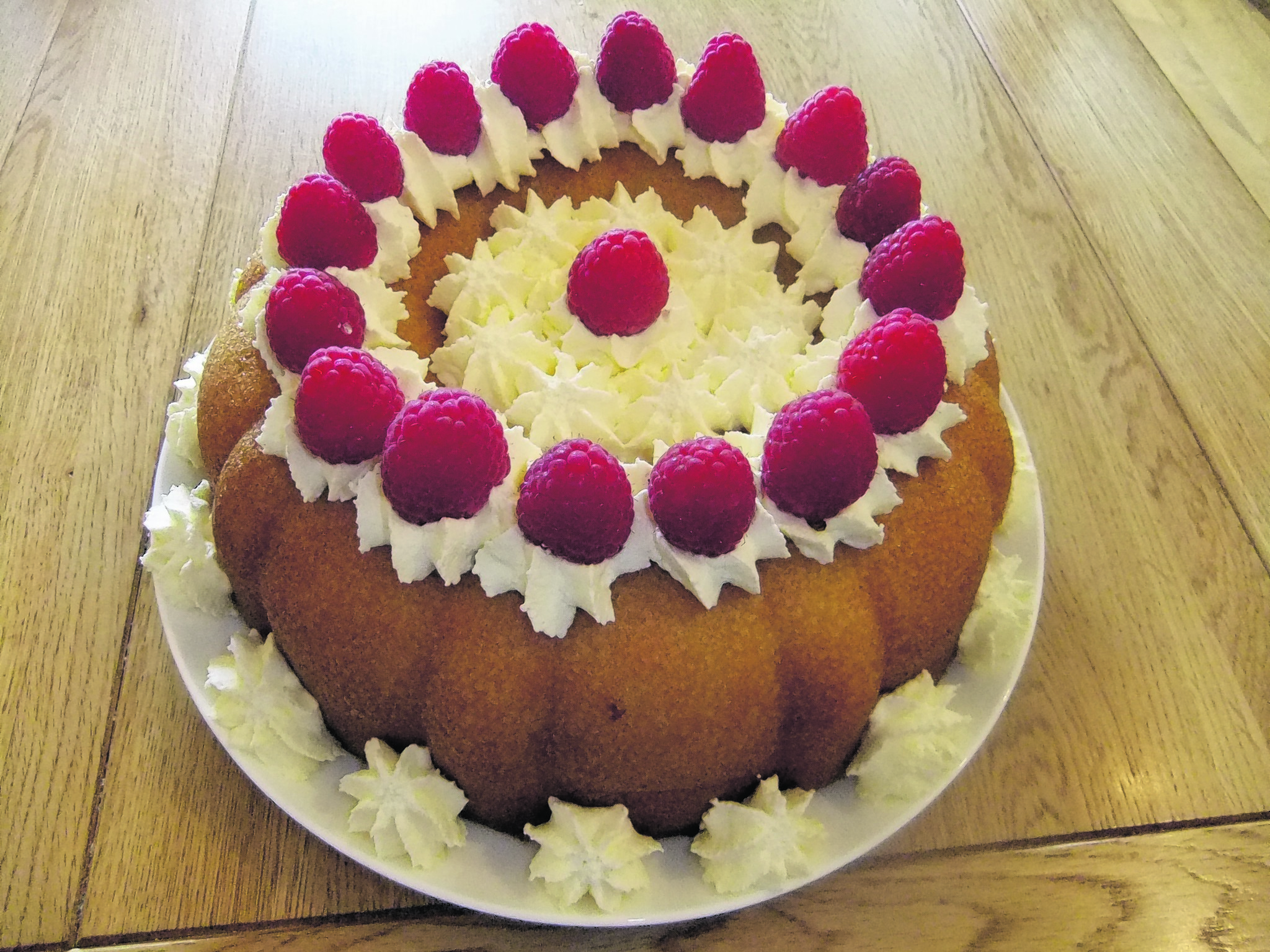 Here's how to make it:
Orange & Raspberry Savarin Cake
Ingredients
50ml lukewarm milk
8g dried active quick yeast
200g plain flour
100g unsalted butter softened
3 large eggs or 4 medium
325g sugar
500 ml water
zest and juice of one orange of one orange
75ml Cointreau orange liqueur
300ml double cream
300g raspberries
Method
Add the yeast to the milk and leave for 15-20 minutes until frothing
Mix the flour, yeast and eggs in a bowl, cover and leave to rise (45-60 minutes).
After dough has risen add the butter and 2 tbsp sugar from the 325g to the dough and mix well with your best wooden spoon.
Transfer the mixture to your greased Savarin ring and allow to rise for 40 minutes before baking at 190 C for 30 minutes.
Boil the water with the remaining sugar plus the orange rind and simmer for around 10 minutes. Stir the Cointreau into the syrup once it has cooled and pour over the cake while it is still in the tin and leave to cool/absorb the syrup.
Once the cake is cool, turn it out on to a plate, whip the cream, transfer to a piping bag with a large nozzle and garnish the top and inside the ring of the cake with cream and raspberries.You can do another row of raspberries or sliced strawberries round the bottom if you have enough spare.