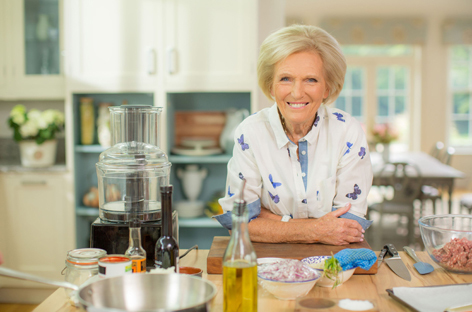 In 45 years of writing cookery books, Mary Berry has seen many a newfangled device bid for a permanent space on her spotless worktops. But the latest one – the spiralizer – hasn't passed the all-important Berry test.
"Everybody said, 'What about these spiralizers, what are they like'? So I brought several in and tried them and then used them in the programme, just because people are talking about them and they want to see people like me using them," says the 80-year-old, referring to her new show, Mary Berry's Foolproof Cooking.
"I think it's quite fun, if you want something light that spins the vegetables out and looks attractive," she adds, before concluding: "I expect it'll be something here today and gone tomorrow."
Incidentally, she's not much of a fan of 'superfood' vegetable kale either, calling it "strong and bitter".
She's certainly earned the right to express an opinion, with yet another cookbook now added to her ever-expanding collection.
The one that accompanies the BBC Two series takes her total to "about 70", all kept in what one can only imagine is a very sturdy bookcase in her immaculate Buckinghamshire home.
"I can never remember which recipe is in which book," she admits, although she does refer back to them for her favourite dishes.
The idea for Foolproof Cooking came from her love of helping budding chefs nail even the smallest details in the kitchen.
"I wanted to give every possible detail with the recipes, so I included tips all the way through the book," she explains. "So in every recipe, it says, 'Mary's foolproof tip'. Like, it's important to use smoked paprika rather than the hot variety, which has more chilli powder in it and can make a dish too hot."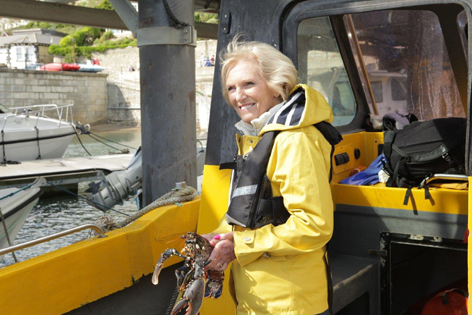 The series so far has seen the Great British Bake Off judge visit a garlic farm and go lobster fishing on the Isle of Wight, dine at London restaurant Rules to see how they make their famous Beef Wellington – and then recreate her own version at home ("Mine's much easier") – as well as catching crayfish in Oxfordshire.
"I've always liked fishing, but I enjoyed catching crayfish with an expert. It's such a privilege to talk to experts, so they can give me tips on how to do it."
In her series last year, Mary Berry's Absolute Favourites, 'Granny Cocoa', as she's affectionately known in her family, cooked on screen with her grandchildren – including twins Abby and Grace, who make an appearance this time round too, helping her with a chicken and bacon lattice pie, while her younger grandsons crop up to create cranberry and coconut energy bars.
"They love cooking," she says warmly, "they don't think about it as being on television. They just think it's a fun day to do things."
A "wartime baby", Berry grew up in Bath and had a housewife mum who cooked everything from scratch. She studied at Le Cordon Bleu in Paris in her early 20s, but was "lonely" living in a hostel in the city of love. She married husband Paul in 1966 and had three children, Thomas and Annabel, and William, who tragically died aged just 19.
"I'm very lucky to have family and there's nothing better than cooking with children – there's no happier way of keeping children amused than teaching them," she says with a smile.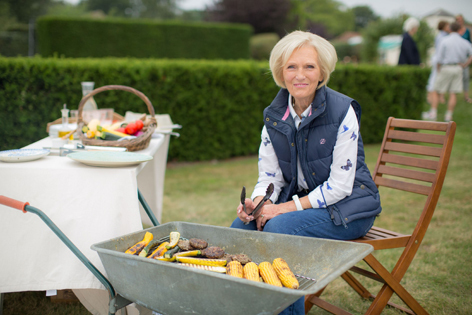 With busy family and work commitments, it's amazing Berry even gets a minute to sit down and eat, let alone make dinner for anyone else. But her mantra, as she reveals in the series, is "get organised, and try and do things ahead".
To demonstrate, she tells me about her upcoming weekend plans: "We've got a lot of people coming on Sunday for lunch and I've already made the cottage pies. They're in the fridge, ready, because you never know what's going to happen."
Doesn't cooking for family gatherings feel like a bit of a busman's holiday?
"Oh no, no, no," Berry insists. "There's usually something in the freezer, so we have that."
She turns 81 in March. Not that age has any bearing on the TV personality's work schedule; her schedule for 2016 is looking pretty crowded already.
Currently there's the Great Sport Relief Bake Off, which has already seen Prime Minister's wife Samantha Cameron win an episode, and then the normal Bake Off, now in its seventh series, as well as a Comic Relief special to make in the autumn.
"And I'm doing an Easter programme as well," she says mysteriously, acknowledging it's "a busy year".
Will there be time for a holiday at some point?
"Oh yes," says Berry, "there'll be a holiday in the summer with the children."
She cites her favourite spot in the UK as Salcombe, because she likes the coast.
Her childhood holidays were spent by the sea: "We used to stay on a farm in Devon and we walked to the beach every day, did the same thing – paddling, castles, picnic – and then came back at about four o'clock and helped with milking and gathering eggs and had tractor rides."
When she's not doing anything remotely Bake Off-related, Berry likes to watch other cooking programmes ("You always learn, they're always fun and they're often abroad") though she's so far resisted her Bake Off co-star Sue Perkins' attempts to get her hooked on Game Of Thrones.
She doesn't keep in regular contact with co-judge Paul Hollywood and presenters Mel Giedroyc and Perkins outside of term-time, or the previous contestants, although she says she's "very proud of them".
Hollywood once revealed that Berry had previously ironed some of his shirts – and today the famously snappy dresser chuckles at the mention.
"I like to see him smart," she confesses. "I don't give style tips, but if there's nobody there, I would iron his shirt and look after him, of course I would."