Great British Bake Off's north-east star Norman Calder presents his fourth video with the Press and Journal in association with Laing's of Inverurie.
The retired Merchant Navy radio officer from Buckie, won the hearts of millions of viewers with his unassuming manner and rustic cooking style when he appeared on the BBC phenomenon.
The 67-year-old, who has been dubbed "Stormin' Norman", said he nearly backed out of the show after applying. But his excited family left him with no choice but to go through with it.
Now, in an exclusive video series filmed for the Press and Journal website, Norman is using the luxury cooking equipment and kitchens of Laing's of Inverurie, leader in the design, supply and installation of luxury kitchens for over 20 years, to teach burgeoning bakers new tricks.
This week, it's his choice chicken and mushroom tarragon pie.
Ingredients:
Pastry
200g plain flour
½ tsp salt
65g butter
65g lard
Few tbsps. Chilled water
The Filling
2 chicken breasts
100g shitake or chesnut mushrooms
3 tsp fresh tarragon or 2 tsp dried
1 shallot or small onion
25g butter
25g flour
Around 10 fl ozs milk warmed
Method
First make the rough puff pastry.
Sift the flour and salt into a mixing bowl.
Cut the butter and lard into cubes of around 3 to 5mm square and add to the flour mixing well with a knife. Do not rub in the fat but leave in lumps.
Bring together with chilled water to form a dough and roll out to around 30cm x 10cm and fold the bottom third up and the top third down on top, make a quarter turn and repeat a further twice before placing in the refrigerator to chill.
Chop the onion or shallot and place in a small frying pan with the mushrooms and a little oil and fry until onion is soft and translucent, set aside to cool.
Place the chicken breasts in a small casserole with 20g butter, pinch salt & pepper + pinch tarragon, cover and bake at 170 degs C for 25 mins then remove from oven and allow to cool before shredding by hand. Add the 25g butter and 25g flour to a small saucepan and mix together and cook for 2 to 3 minutes then add the milk slowly, stirring until a nice reasonably thick sauce is made.  Add the chicken to the sauce along with the onion and mushroom, season with salt and pepper and the tarragon, mixing well.
Divide the chilled pastry in two, using one part to roll out very thinly and line the base and sides of a 20cm tart tin. Add the chicken, mushroom and sauce mixture before rolling out the other half of the pastry and covering the pie. Finish off the top with decoration from the cuttings, glaze with beaten egg and sprinkle a little oregano, black pepper & sea salt on top. Bake at 200 degrees C for 30 minutes then reduce heat to 180 degrees C for a further 20 minutes.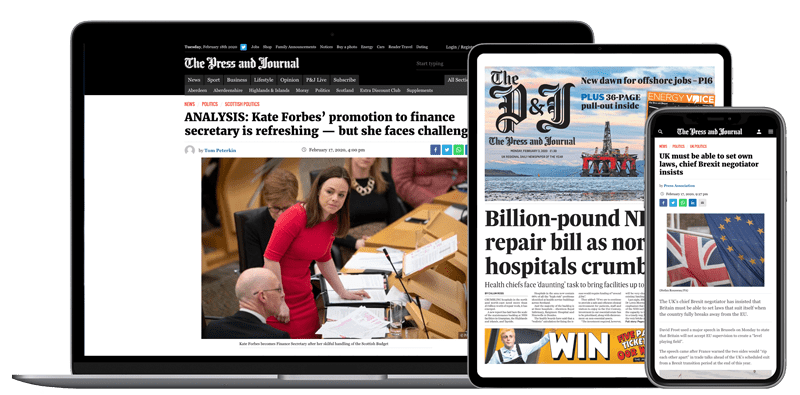 Help support quality local journalism … become a digital subscriber to The Press and Journal
For as little as £5.99 a month you can access all of our content, including Premium articles.
Subscribe