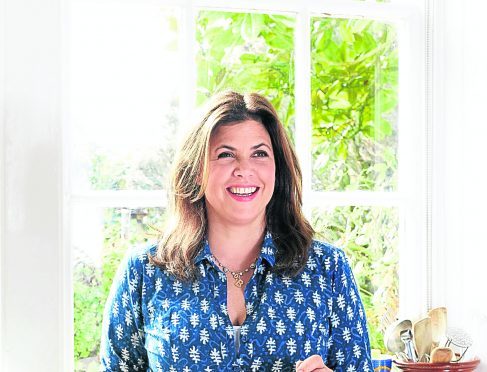 TV presenter Kirstie Allsopp is best known as one half of the Location, Location, Location double act – and we already know she's talented at scouring for properties and giving straight-talking advice.
But now her debut cookbook, Kirstie's Real Kitchen, has just hit the shelves and she's on a new mission, to inspire people who think they can't cook to give it a try.
"It's a book for people who are not that confident about themselves as a cook. There is a big 'can-do' part of my life, which I've only recently realised," she says.
"The fun bit is doing things in a certain way that people then say, 'You know, I didn't think I could do this, and now I can'. And then you think, actually, this is really a job worth doing."
Here are three recipes from Kirstie's Real Kitchen for you to try.
Tabbouleh
SERVES 4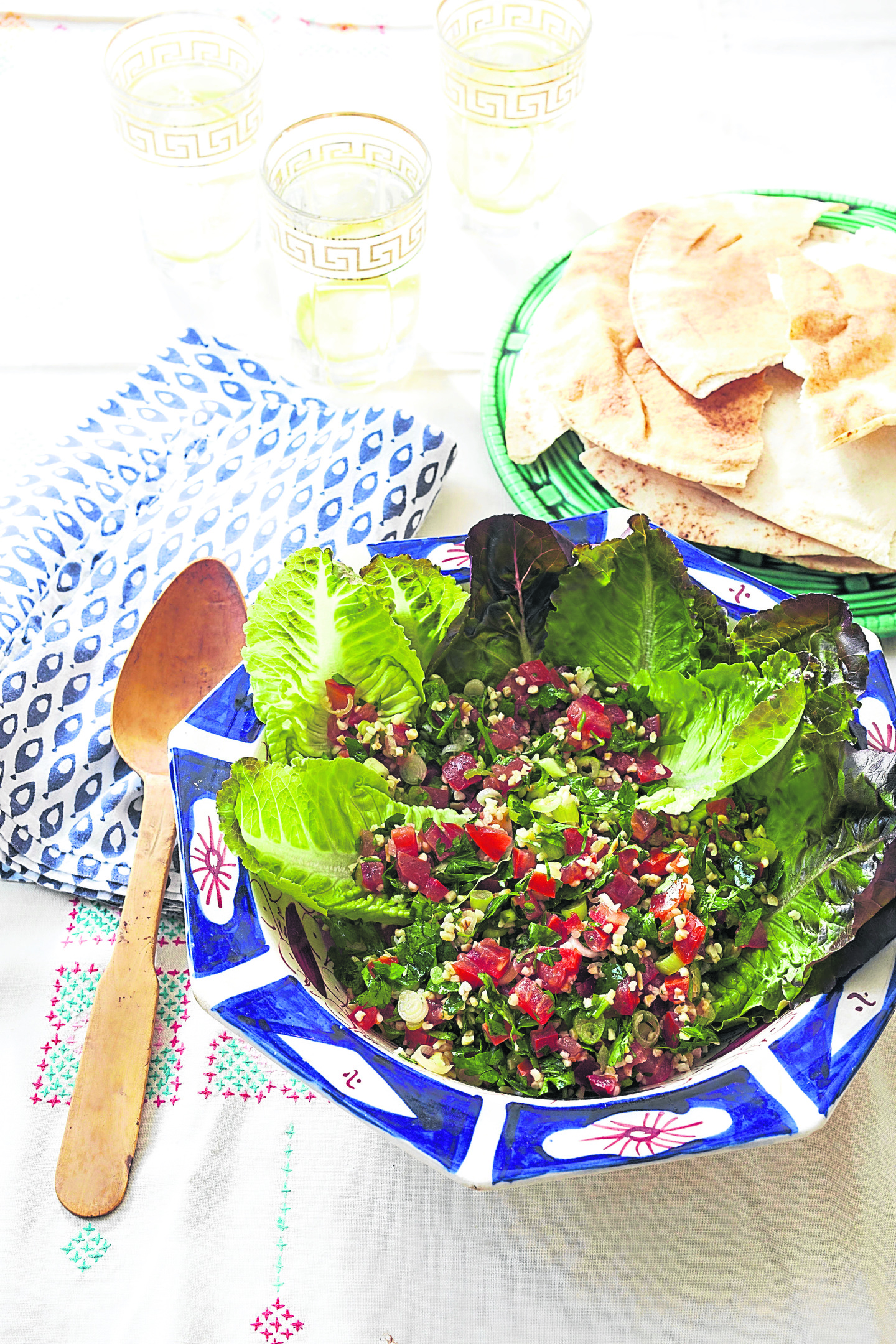 Here's a quick and easy taste of the Middle East. It's one of Kirstie's all-time favourite dishes. She says it's easy to mix your own spices for the recipe: "Simply use a pinch each of coriander, cinnamon, ginger, cloves and nutmeg to make a teaspoonful of flavouring."
The ingredients
25g bulgur wheat
50ml boiling water
300g ripe tomatoes
2 large bunches of flat-leaf parsley
Small bunch of mint
6 spring onions
3tbsp lemon juice
4tbsp extra virgin olive oil
1tsp mixed ground spices
Salt and freshly ground black pepper
TO SERVE
At least 8 small Romaine or Little Gem lettuce leaves
4 ready-made flatbreads
The method
Put the bulgur wheat in a small bowl and add the boiling water. Stir, then set aside for 20 minutes, or until the water has been absorbed. Drain in a sieve to be sure.
Meanwhile, use a sharp knife to remove the stalk and hard core from the tomatoes. (You can also skin the tomatoes and remove the seeds if you like, but I don't usually bother.)
Quarter what's left, then cut into dice and put into a large serving bowl.
Pick the parsley and mint leaves, discarding the stalks or saving them for a stock.
Chop the leaves finely, and do the same to the spring onions. Add them all to the tomatoes and mix well. When the bulgur wheat has absorbed all the water, use a fork to fluff it up and separate the grains.
Add it to the tomatoes. Drizzle the lemon juice and olive oil into the tomato mixture and season to taste with salt, pepper and your chosen spices. Mix well.
To serve, arrange the lettuce and flatbreads on four serving plates. Offer the tabbouleh in its bowl and ask people to help themselves, scooping tabbouleh into the leaves.
Slow-cooked Asian Lamb
SERVES 4-6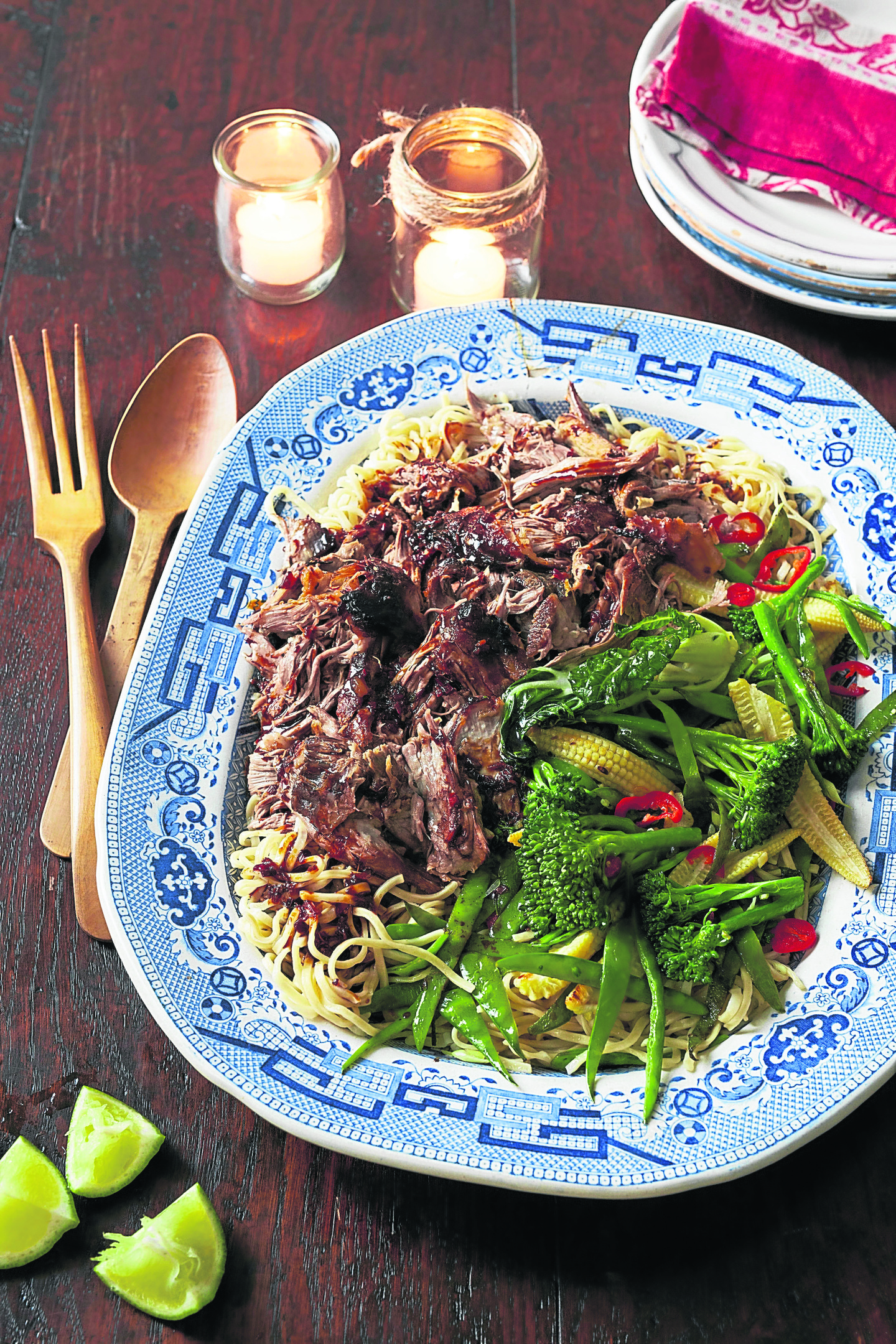 Warm up autumn evenings with this succulent dish. "The texture of the lamb is just like that of pulled pork," says Kirstie. "I have suggested adding some star anise, as this deepens the spiciness, but it's up to you."
The ingredients
1 x 1.8kg shoulder of lamb, on the bone, or 1 x 2kg leg of lamb
2tbsp vegetable oil
1 x 3in piece of fresh root ginger, peeled and grated
4 large garlic cloves, peeled and crushed or grated
2 fresh red chillies, finely chopped
4tbsp soy sauce
1tbsp Worcestershire sauce
2tbsp clear honey or maple syrup
1 large onion, peeled and halved
1 lemon, halved
3 star anise (optional)
500ml light chicken or vegetable stock (a stock cube is fine)
The method
If using a slow-cooker, make sure your joint of lamb will fit in it. If using a conventional oven, preheat it to 170°C/Fan 150°C/Gas 3.
Heat the oil in a large frying pan and brown the lamb on all sides. Place in the slow-cooker or a roasting pan. (If using an Aga, brown the lamb in the roasting oven for about 20 minutes, then do the rest in the simmering oven.)
Mix the ginger, garlic, chillies, soy sauce, Worcester sauce and honey in a bowl. Smear all over the lamb.
Tuck the onion halves, lemon halves and star anise (if using) around the joint, then pour the stock around it – you don't want to disturb that sticky topping.
Set the slow-cooker to low, put the lid on and leave the lamb to cook for around six to seven hours. In the Aga, or a conventional oven preheated as above, it will take about two-and-a-half to three hours (the longer the better, to be honest).
Keep an eye on it throughout the cooking time, and add a little more water or stock if it looks too dry. You want to have a liquid sauce at the end.
Test by using a fork to pull a little bit of meat from the joint. If it comes away very easily, it's done. If not, continue to cook in the oven until it does.
When ready, the meat will be very tender, actually falling off the bone, so be careful when moving it from pot to plate.
We serve these tender strands of meat with their juices, some quick stir-fried greens and rice or noodles.
Blackberry and Apple Crumble
SERVES 6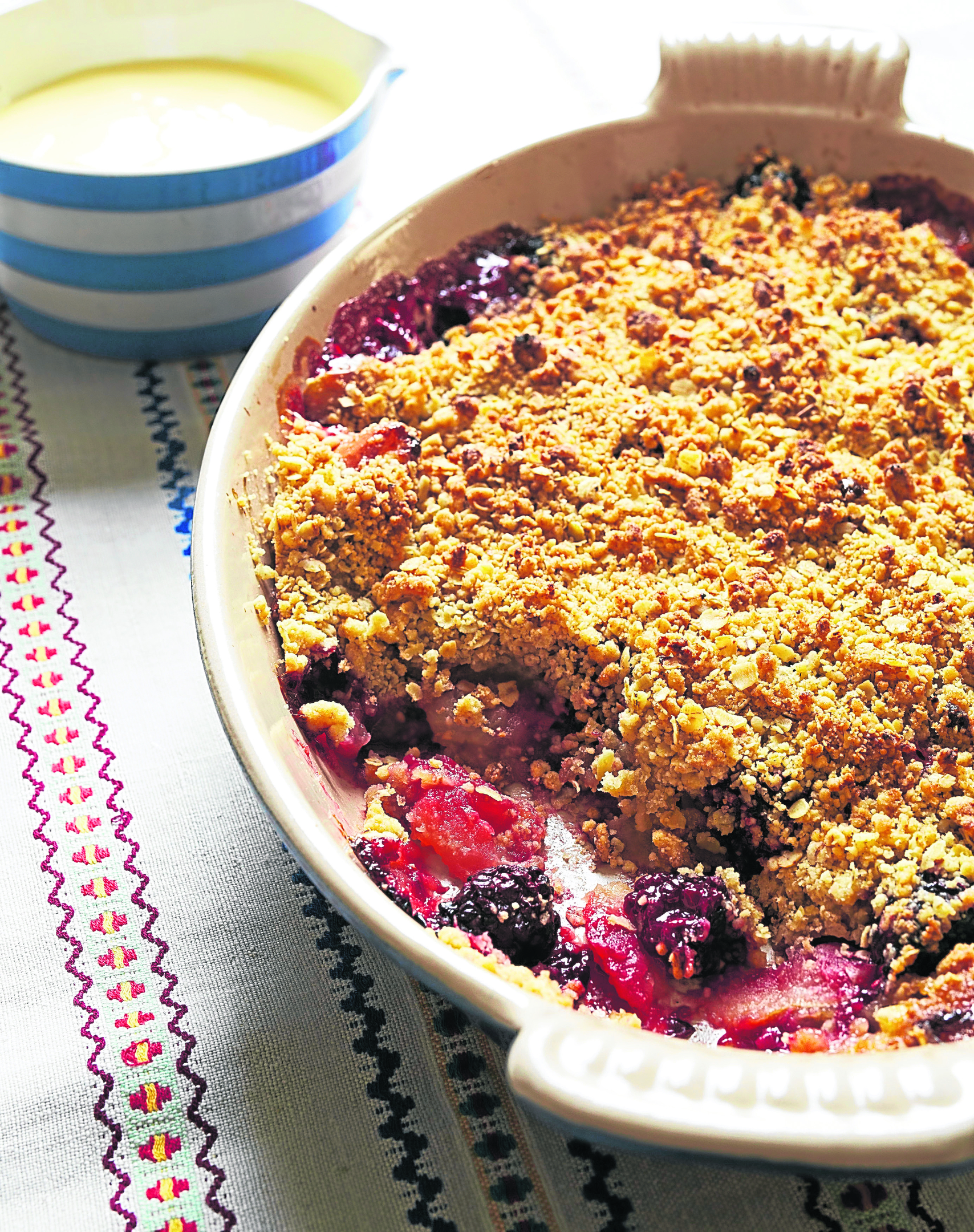 Nothing says Sunday lunch in autumn more than wafts of blackberry and apple crumble emanating from the kitchen – and the fun part is picking the blackberries, if you can find them.
Kirstie says: "Where I was brought up, in the country, there were endless hedgerows and we always picked blackberries from them. These days however, a family berry-picking expedition with the four boys means we rarely make it home with a single blackberry, so we end up eating apple crumble!"
The ingredients
700g Cox's apples, cored and cut into wedges
300g blackberries
Juice of 1 orange
1tsp ground mixed spice
3tbsp light soft brown sugar
FOR THE TOPPING
175g plain flour
100g butter, chopped
50g light soft brown sugar, plus an extra tbsp for sprinkling
50g regular rolled oats
The method
Preheat the oven to 200°C/Fan 180°C/Gas 6. Put the apples into a bowl with the blackberries, orange juice, mixed spice and two tablespoons of the sugar.
Mix well, then spoon into a shallow ovenproof dish.
To make the topping, put the flour into a large bowl and rub in the butter.
Stir in the sugar and oats, then spoon the mixture over the fruit in a thin layer. Sprinkle the remaining tablespoon sugar over the crumble.
Bake for 40 minutes, until the crumble is golden brown and the fruit underneath it has softened. Serve with custard.