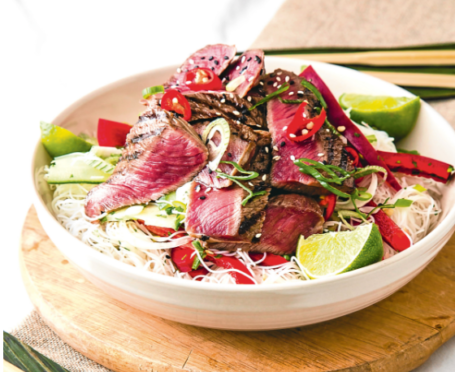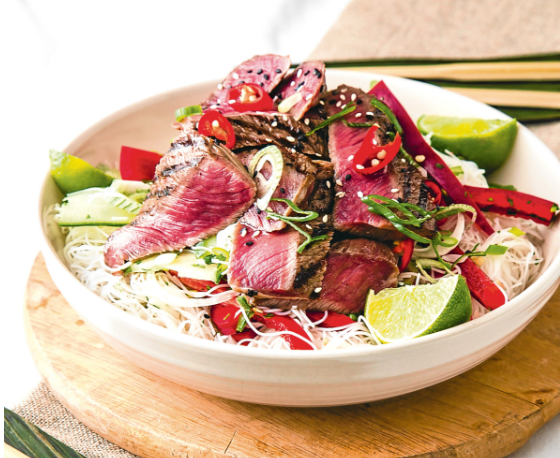 Wing Yip – the UK's leading Oriental supermarket – is encouraging fans of Oriental food to try creating authentic Chinese dishes at home.
With more than 4,500 Oriental products to choose from, Wing Yip has a range of products to suit all cooking needs – from buying a first wok, to finding authentic hoi sin sauce for crispy duck pancakes. Head to any local Wing Yip store, or shop online at www.wingyipstore.co.uk, to find all the ingredients required to create the perfect Chinese meal at home.
Steamed Salmon in Ginger and Spring Onion Sauce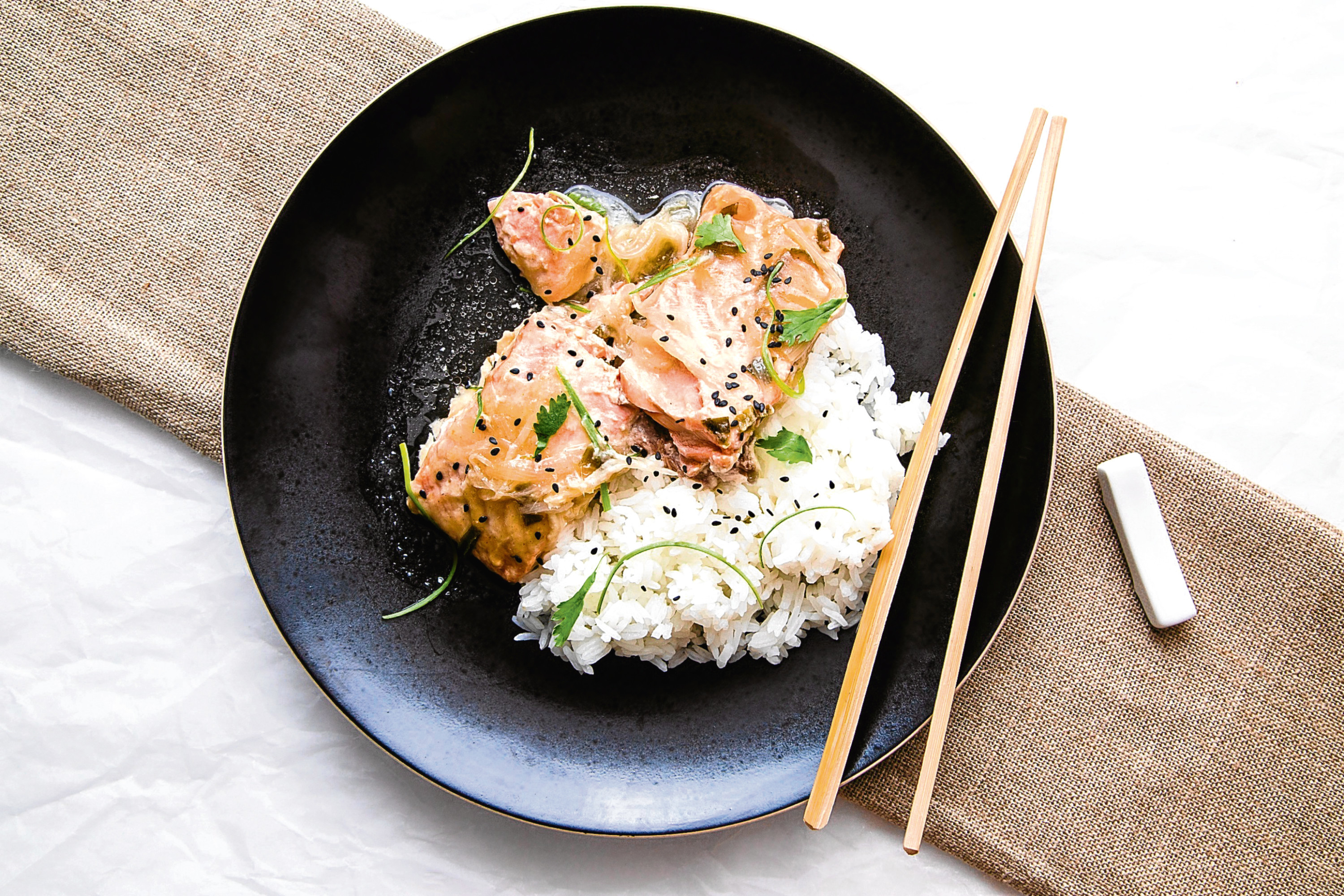 SERVES 4
4 pieces/portions salmon fillets
2 shallots, thinly sliced
4tbsp Wing Yip Ginger and Spring Onion Stir-Fry Sauce
Using a piece of foil large enough to create a parcel, place the salmon into the middle of the foil, scatter quarter of the shallots around the salmon and spoon 1tbsp of the Ginger and Spring Onion Sauce on top. Wrap up the parcel and repeat for the other three pieces of salmon.
Place in a pre-heated oven at 180°C for 10 minutes depending on the size of your fish. Check after 10 minutes, and if the fish is cooked all the way through, serve immediately.
Thai Beef Noodle Salad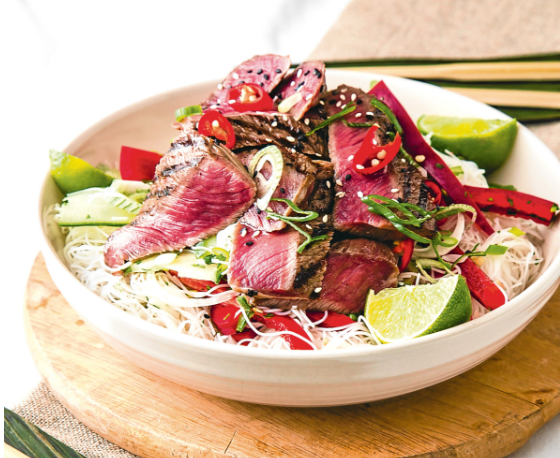 SERVES 1
230g good quality steak
110g mixed salad leaves
2 tomatoes (cut each into 6 wedges)
Small piece of cucumber, sliced
30g rice vermicelli (soaked in hot water)
FOR THE DRESSING
1tbsp Mai Siam Fish Sauce
2 bird's eye chillies (finely chopped)
3tbsp lime juice
1tsp finely chopped garlic
1tsp finely chopped ginger
Small handful chopped fresh coriander
Small handful chopped mint
1 heaped tbsp shallots (fine dice)
Mix all the dressing ingredients together in a glass bowl.
Drain the vermicelli and allow to cool. Mix the leaves with vermicelli and divide between two plates.
Scatter cucumber and tomatoes over the leaves.
Cook the steak on a very hot grill pan – cook to your preference but medium rare is recommended. Allow the steak to rest and then slice finely across the grain.
Add the steak to a glass bowl with the dressing ingredients and mix well. Serve on salad leaves.
Gua Bao (Pork Belly Buns)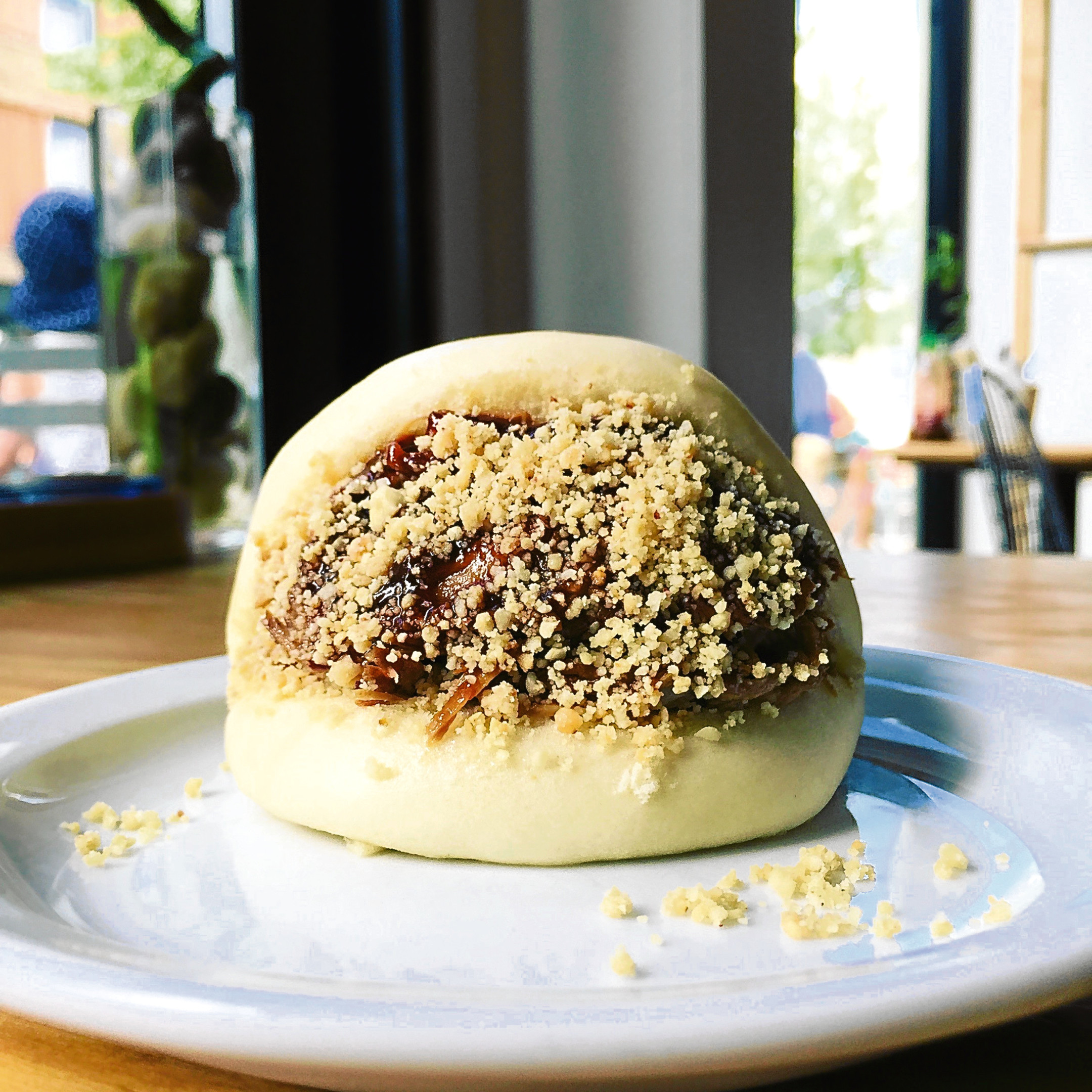 MAKES 20 BAOS
FOR THE BAO BUNS
500g Asian Bao flour, or strong white bread flour
225g milk
10g fresh yeast
75g sugar
50g unsalted butter
Half a tblsp baking powder
FOR THE PORK
500g pork belly
200g Wing Yip Hoi Sin
50g smooth peanut butter
10g Wing Yip Oyster Sauce
10g Wing Yip Light Soy Sauce
20g sugar
TO MAKE THE PORK
Pour the Hoi Sin Sauce over the pork bellies and rub in, saving all the excess marinade for later use. Place the pork bellies into a baking dish and cover with water or chicken stock and seal with foil.
Put into the oven for 2 hours 40 minutes at 160°C.
Take off all excess fat and shred. Add some of the cooking liqueur back through the meat to keep it moist.
TO MAKE THE BUNS
Combine all the ingredients together and knead for five minutes. Let the bread mixture rest for one hour. Cover with a damp cloth to stop a crust forming.
Punch the dough down and turn out onto a clean work surface. Divide the dough in half and gently roll the pieces into logs. Cut the pieces into smaller pieces of around the size of a ping-pong ball, roll into a ball and place onto parchment paper.
Flatten one ball with the palm of your hand and lay a greased chopstick in the middle and fold the bun over. Let the Baos rest for 15 minutes.
Steam the buns in a bamboo steamer with parchment paper to stop them sticking. They will only take 12 minutes. Either eat these fresh or they can be frozen and re-steamed.
To serve each bao add some Hoi Sin, cucumber, spring onions and crushed peanuts to each bao with the meat. Use some of the excess marinade to season the pork.
Created for Wing Yip by MasterChef finalist Larkin Cen.