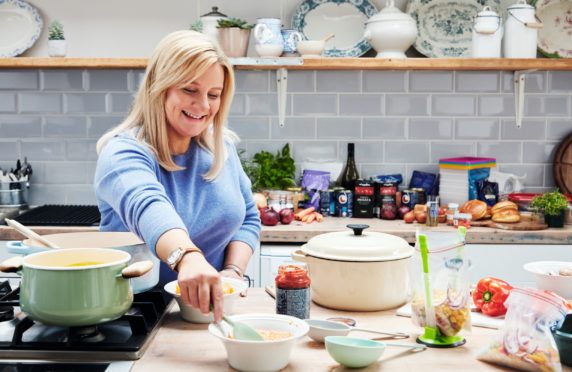 Scottish food guru Suzanne Mulholland aka The Batch Lady talks about her rise to YouTube fame, how to bulk cook during lockdown and why this type of meal-planning will become the norm.
Lockdown has given many of us a new perspective on food. Whereas normally busy parents, workers and those who just don't like cooking may have unthinkingly grabbed a ready meal or a takeaway, we're now pausing to consider if these are the healthiest and cheapest options.
As we try to leave the house as little as possible, while supermarkets limit purchases and farmers warn a shortage of workers could lead to a poor harvest, a lot of us are faced with uncomfortable questions about where our food comes from, how much we buy and how much is wasted.
Who hasn't thrown out a half-eaten bag of wilted salad or a long-forgotten piece of cheese from the back of the fridge? But changes in the economy due to the coronavirus crisis may mean that even when lockdown is over, we'll have to adopt more sustainable and purse-friendly habits.
For Suzanne Mulholland, a YouTube batch-cooking guru, this is nothing new. The Aberdeen University graduate, who now lives on a remote farm in the Scottish Borders, describes her life as being a little like a permanent lockdown – with the nearest shop located half an hour away, she has always had to meal-plan, bulk-cook and avoid waste.
The mum-of two shot to social media fame after sharing a series of videos demonstrating how to make up to 10 of her favourite freezer meals in just one hour, at the suggestion of friends.
Two years on, her channel The Batch Lady has more than 60,000 subscribers worldwide and in March she published a recipe book of the same name, which is due to launch in the USA next month.
"I actually don't like cooking, I find it a chore", she laughs.
"That's what inspired me to start doing all of this. I'm a business graduate and spent many years working in London coaching sales reps in time management, then I started to apply the same principles to cooking in order to free up time to do the things I enjoy.
"This became even more important after I had my children and moved back to Scotland, because there was suddenly so much cooking, meal-planning and shopping to do, and it took up so much time. We have an open-door policy and a big extended family, so sometimes I'd be cooking for ten people.
"I was watching videos on batch cooking online but there wasn't much variety, it was mainly just casseroles.
Most of the recipe books tend to be written by chefs who obviously enjoy cooking, so the ingredients lists are long and the methods complicated. I didn't have the time or energy for that.
"So I worked out a system to make several different meals from one set of ingredients. For example if I made spaghetti Bolognese, I would also use some of the mince and spices to make chilli. Or if I made fish pie, I'd also make fish cakes. It meant there was a variety of meals I could freeze and we didn't have to eat the same thing every night."
Over the years Suzanne honed her method, making a list of all the meals she made, obtaining recipes, paring them down to basic ingredients that were suitable for freezing and, in order to save space, she froze the meals flat in sealable freezer bags, stacking them up like books.
Word soon got out about Suzanne's super-organised cooking, with mums at her children's school asking her for tips. One night she held a fundraising event, asking her friends to donate money to a cancer charity in return for watching her do a batch-cooking demonstration.
The event was a success and Suzanne's friends suggested that she film herself and share the videos on YouTube. The rest, as they say, is history.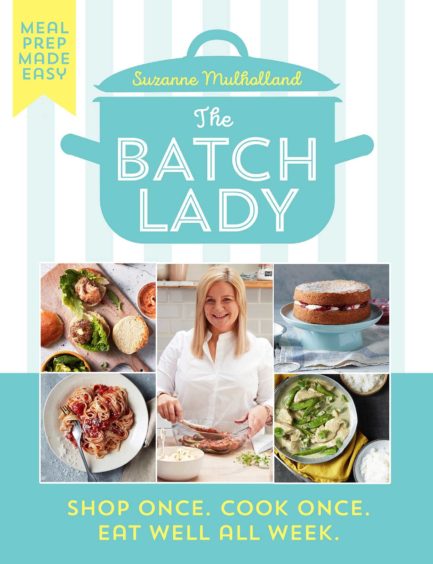 "It was funny, because I'm the biggest technophobe ever", said Suzanne.
"At the time I didn't even have my own e-mail address, I was using my husband's. The most I'd done was look at videos online, I'd never uploaded anything.
"But I decided to give it a go. It was just basic home videos, nothing fancy, but I think they struck a chord because so many people were in the same position, they were busy parents who didn't have time to cook every night but still wanted to feed their families with good quality food.
"My following grew steadily and organically – I didn't do any advertising or self-promotion, and I never meant to make a career or money out of this.
"I do think batch-cooking is the future. Now with coronavirus, people don't want to be going back and forth to the shops. They're also having to juggle working from home, home-schooling and housework.
"Batch-cooking can save a lot of time.
If you've bought all your ingredients in advance and know what you're going to make, it's enough to spend one hour on a Sunday cooking and you've got several meals ready to freeze for the rest of the week.
"It also saves a lot of money and reduces food waste too, as you're not buying food every few days that then goes off. This is going to be important even when lockdown ends, because a lot of people will have been made redundant or will have seen a change in their income.
"I think of freezing food as pressing pause when watching TV. You can always come back to the programme later and you'll enjoy it just as much. It's the same with food – freezing it is just pressing pause, and it tastes just as good when it's de-frosted, as long as all your ingredients are suitable for freezing".
The Batch Lady's top 5 batch cooking tips:
1.      Make your freezer your friend! Clear it out and make space for full meals that you can grab at a moment's notice.
2.      If you're new to batch cooking simply follow the rule, 'If you're going to make one make two'. Doubling up will give you one for that night and one for the freezer, giving you a whole night off cooking the next week.
3.      Use frozen veg and herbs, these save time and money.
4.      Get used to using sealable freezer bags and freeze everything flat, you get so much more in your freezer and the meals then defrost really quickly.
5.      Write down your 10 top evening meals and start with these, that way you know that everyone will like them, then start adding new recipes in.
RECIPE
Moussaka (serves 6)
Suzanne's Moussaka recipe uses simple ingredients and can feed six people, or one person for six days.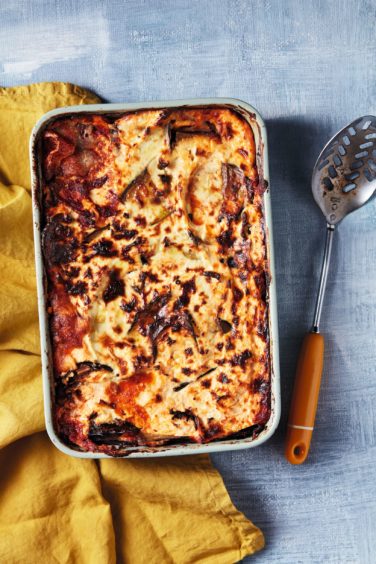 Ingredients:
butter, for greasing or splash of olive oil
1cup (115g) frozen, chopped onions
1tsp frozen, chopped garlic
500g minced lamb
2 x 400g cans  plum tomatoes, drained
2 tbsp tomato purée
1 tbsp dried mixed Italian herbs
1 tsp ground cinnamon
500g frozen, roasted aubergines
1 x 250g tub ricotta cheese
1 x 200g pack feta cheese
1 large egg, beaten
salt and freshly ground pepper, to taste
Method:
1.      Grease a large baking dish with butter.
2.      Heat a splash of oil in a large pan, then add the onions, garlic and minced lamb and cook, stirring continuously, for 5–7 minutes over a  medium  heat, until the meat  has  browned. Drain any excess fat from the pan then add the tomatoes, tomato purée, dried herbs and cinnamon and stir to combine. Reduce the heat to a simmer and leave to cook for 20 minutes.
3.      Using scissors, snip the frozen aubergine slices into 2.5cm (1inch) strips and layer half of these in  the base of your prepared dish. Set aside.
4.       In a large bowl, beat together the ricotta, feta and beaten egg until well combined, then season generously with salt and pepper.
5.      Once the meat has  finished  simmering, pour the mixture into the baking            dish over the layer of aubergines, ensuring that it reaches the edges in an even layer. Top the meat with another layer of aubergines, then pour the cheese and egg mixture  over the top and spread to form an even layer.
6.      Bake in an oven pre-heated to 180C/350F/gas mark 4 for 35-40 minutes until golden and bubbling. If the top of the Moussaka browns too quickly, cover with foil for the remainder of the cooking time.
To freeze: Set aside until cooled to room temperature, then cover with a layer of cling film followed by a layer of foil. Label clearly with the name of the dish and date it was made, then freeze for up to one month.