In this weekly series Rebecca Shearer speaks to the people involved in changing the food and drink scene across central and northern Scotland to discover the dishes that marked the milestones in their lives.
Fife-based cook and creator of Courses for Cooks, Jenny Thomson, takes us back to where it all began – from the vegetable patch at the family farm where she grew up, to opening her own cookery school nine years ago.
A cook and chef for more than 25 years, Jenny trained at the Leiths School of Food and Wine in London for a year when she was 19. She then travelled for a year working as a private chef, gaining experience in Scotland, France, Canada and the US before returning to St Andrews to work as a chef at the now defunct The Merchant's House.
Here, she shares the meals that mark the milestones in her memories, and influenced her attitude to food.
Childhood – roast chicken with veggies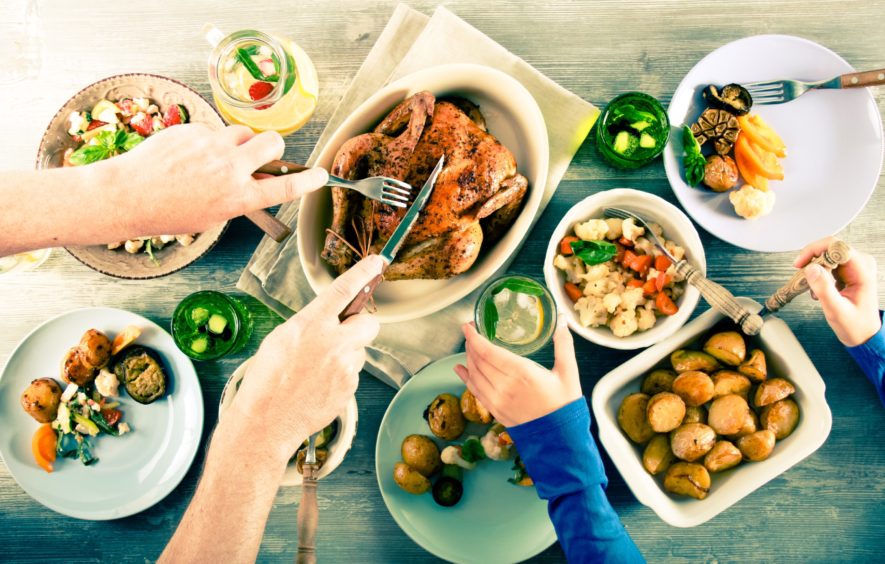 "I grew up on a farm just outside St Andrews. My dad grew potatoes, broccoli, wheat and barley.
"There were four of us children – I have two sisters and a brother and we were brought up on whatever happened to be growing in the fields at the time. So at broccoli time, we ate an awful lot of broccoli. It was very seasonal. There was a vegetable patch and we used to pick strawberries and raspberries and really peppery radishes.
"My mum and dad had a reciprocal agreement with some of my cousins, aunts and uncles. So one set of parents would go on holiday and all the cousins would come and stay.
"Whenever it was my mum's turn to have all of the children (there would be seven altogether) she would do a big roast chicken dinner. It would come with a big roast chicken, roast potatoes, stuffing, bread sauce, and there was always bacon over the breast of the chicken.
"For pudding she made chocolate souffle, usually a lemon and ginger cheesecake and there was probably a fruit salad there as well. That was probably the most memorable meal, with all of us sitting round the table. It was the go-to, entertaining-with-children meal that she made."
Teens – pork chops and apple pie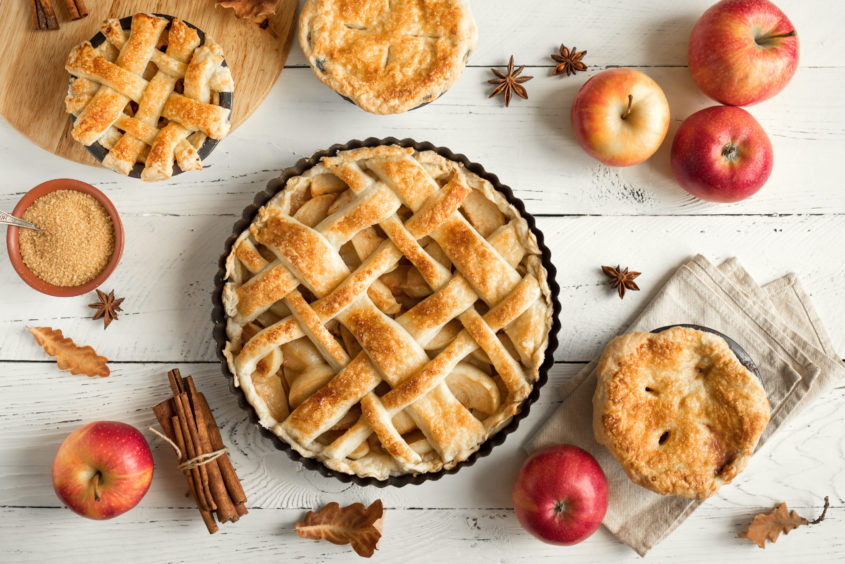 "My mum had an AGA and I often remember coming home from school to lamb or pork chops. They'd get shoved into the AGA and every time you opened the door you'd get a belch of smoke coming out of the oven.
"The chops would be well done and usually followed by apple pie. That was a great one. There's nothing better than coming home from school to an apple pie with cinnamon – that was really good. It was probably a weekly or fortnightly rotation that we got to have this, but it just depended how busy my mum was. Certainly in the winter we would have things like apple pie.
"The family would always sit around the table for these meals too, so it would bring us together.
"I didn't do a lot of cooking when I was younger as there were four of us children and my mum was cooking for six people, so it was always a case of getting a meal out without too much fuss or procrastination.
The family would always sit around the table for these meals too, so it would bring us together.
I do remember when I was about 10, I got given a cookbook, it was a Winnie the Pooh cookbook and my thing was to make pizza. There was a recipe in that book for a scone-based pizza, so that used to be my thing.
"Victoria sponge was another one I used to make. So whenever anybody had a birthday, nine times out of 10 I'd be the one who made the sponge."
Early 20s – baked potatoes with cheese and pickle
"I really didn't know what I wanted to do when I left school so I went off to Edinburgh to do a secretarial course. It was my first time away from home and in my own flat.
"And my abiding memory of this – on the first night I was there – I thought, 'Right what am I going to eat?'. I didn't have a clue where to start. I remember phoning mum up and asking her how to bake a baked potato.
"I think I lived out of a chip shop quite a lot in those days.
"When I was at college there was a pub round the corner and at lunchtime we all used to go there and they used to do the most amazing baked potatoes with cheese and pickle.
"So I think that, combined with phoning my mum on my first day to ask how to make baked potatoes, means they sum up this time of my life well.
"Not long after that I went to study for a year at Leiths in London."
Late 20s – pasta with veggie sauce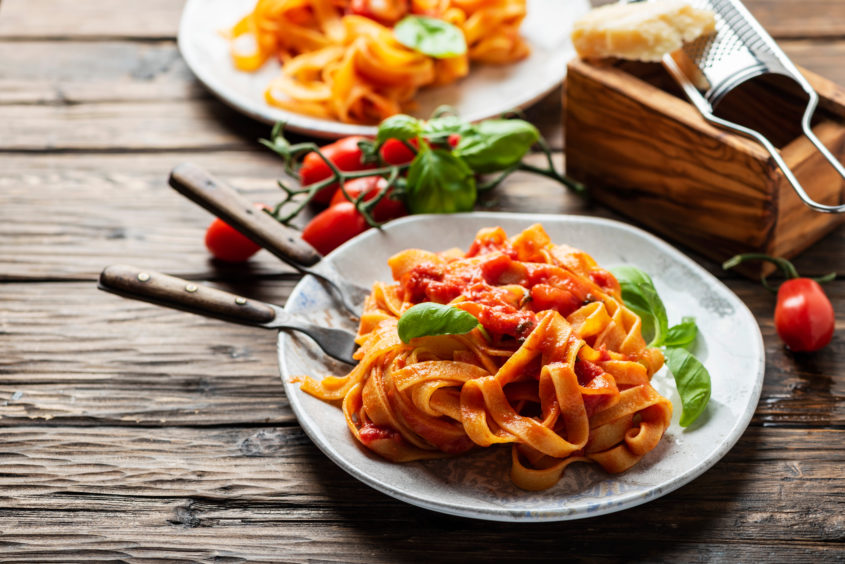 "I got married when I was 23 and my husband and I started running The Butterchurn in Cowdenbeath. It was my mother-in-law's business and my husband was from Cowdenbeath, again a farming family, and his mother had it opened up.
"I think it started as a milk bar in the 70s, but it was basically a converted farm building and my husband and I took it over when we got married.
"We spent a lot of the first year eating out-of-date stuff. But the second year, having tired of that way of eating, we started having takeaways – Indian, pizza, anything at all. We also had ready meals from the supermarket.
"We got tired of that also so we started cooking. My favourite thing to cook at that stage was pasta with vegetable and tomato sauce.
"We didn't have a lot of money so it was just whatever happened to be around at the time. I'd put everything in that sauce and then blend it up and it would last a long time. It'd be a big pot and I'd freeze it in portions and just take it out when I needed it."
30s – the Kilted Supreme
"By the time we were in our 30s the restaurant had changed quite a lot. We were developing it, we were doing a lot of building work, we'd increased our staff, and, again, we really didn't cook very much. We were busy with the restaurant so food was more like fuel for us, rather than spending time to eat delicious food.
"Once a week though we used to go out to do some market research to see what else there was out there and what other people were doing.
"At the restaurant we did lots of things, but probably one of our bestsellers at this time was what we called a 'Kilted Supreme', which was a chicken breast stuffed with haggis and wrapped in bacon.
"We had various different sauces that we served with that, from a whisky sauce to a leek sauce.
"There were also nut rissoles, which I still make today. They had veg, nuts, herbs and breadcrumbs, which were mixed together and shallow fried. It was similar to a veggie burger."
40s – dinosaur pasties
"I had two children when I was between 35 and 39, so by the time the kids had grown up a bit, I was cooking food that was a bit more suitable for children.
"I actually still make these today for my kids, who are now 15 and 17, but my son was really into dinosaurs so I would make dinosaur pasties and would put lots of different things in them. Then I would have them sitting up with their ruffled top and it would look a bit like stegosaurus's eating.
"I'd put all sorts of things in there, whether it was meat, or chicken, or fish, or beans, and lots of vegetables.
"They were the kind of thing you could make big or small, depending on appetites and they could be eaten on the go too."
Recent years – leek souffle tart
"I started Courses for Cooks in 2011, so it's been going for nine years now. Ever since then I've experimented a lot with bread, and have been doing a lot with sourdough recently.
"I'm always trying to come up with ideas for people to make in the classes as I want them to learn how to make things they will make again at home. I have a wealth of recipes that I regurgitate now and again, though probably my favourite one is a leek souffle tart.
"I teach how to make pastry and how to line a pastry case, because a souffle is a bit thicker than just quiche mixture, so if there's a crack, it doesn't run out all over the oven. It's probably one of my favourite recipes and, again, it could be adapted with all sorts of different ingredients."
---
Jenny's Most Memorable Meal Recipes
---
Leek Souffle Tart
(serves 4-5)
Ingredients for the pastry:
175g plain flour
85g butter
1 egg
grind of black pepper
Ingredients for the filling:
1 medium leek, finely sliced
1/4 tsp turmeric
1 tbsp olive oil
1 tbsp flour
2 eggs, separated
1 tbsp lemon
1 tbsp parsley
30g parmesan cheese, grated
100ml milk
50ml Greek yoghurt, creme fraiche or double cream
Method:
Make the pastry either in a food processor or by hand: combine the flour and butter until the mixture is like crumbs, add the black pepper and egg and bring together to form a ball of dough. Wrap in clingfilm and allow to rest for 20 minutes in the fridge.
Set the oven to 200°C/gas mark 6.
Roll the pastry out thinly, line a 20cm flan ring or dish and bake blind in the oven for 15 minutes or until the edges of the pastry begin to turn golden.
Sweat the leeks in the olive oil until soft.
Add the turmeric and flour and cook for a minute. Remove from the heat, add the milk and stir well to combine. Return the pan to the heat and bring gently to the boil to make a sauce.
Remove the pan from the heat, allow to cool slightly and add the parmesan cheese, yoghurt, parsley, lemon juice and salt and pepper. Add the egg yolks and stir to combine. Whip the egg whites to stiff peak and fold into the leek mixture.
Turn the oven down to 180°C/gas mark 5 and bake tart for 20 to 30 minutes until set, puffed up and golden brown.
---
Sausage & Bacon Pasties
(makes 6)
These can be made from tiny up to huge depending on appetites. I used to make them for my children when they were little and called them dinosaurs, because they looked like stegosaurus. Whatever I put into them it didn't matter, they were always wolfed down.
Ingredients for the pastry
300g flour plain or ½ and ½ plain and wholemeal
150g butter
Salt and pepper, to season
Water, to bind
Ingredients for the filling
4 pork sausages
2 rashers streaky bacon
1 onion, chopped
1 potato, chopped
1/2  small fennel bulb
2 small carrots, chopped
1/2 stick celery, chopped
Handful of mixed herbs (I used parsley and thyme), chopped
2 tbsp milk
Sprinkle of sesame seeds (optional)
Method for the pastry:
Rub the butter into the flour with a pinch of salt and a grind of black pepper.
Add cold water a little at a time, mixing with a knife until the pastry comes together and forms a dough.
Form into a flat disk and refrigerate for 20 minutes.
Method for the filling:
Pre-heat the oven to 200°C/Gas mark 6.
Chop the onion, potato, fennel, carrots & celery into approximately 5mm dice.
Chop the bacon into small pieces, remove the skins from the sausages and pinch into small pieces.
Mix everything together with a good grinding of black pepper and a little salt.
Divide the pastry into six pieces and roll out thinly. Cut into 19cm rounds and re-roll the scraps into the next circle.
Divide the filling between each piece of pastry, use a little water to dab around the edges of the circles, then fold the pastry over the filling to make a half moon parcel. Press the edges of the pastry together, then fold the edge over to make a rope like seam.
Brush with milk and sprinkle over the sesame seeds (if using).
Bake in the oven for 15 minutes at 200°C, then reduce the oven to 180°C/Gas mark 4 and cook for a further 40 minutes.
Eat warm or cold.