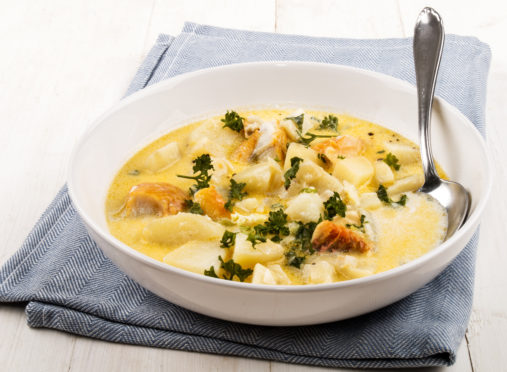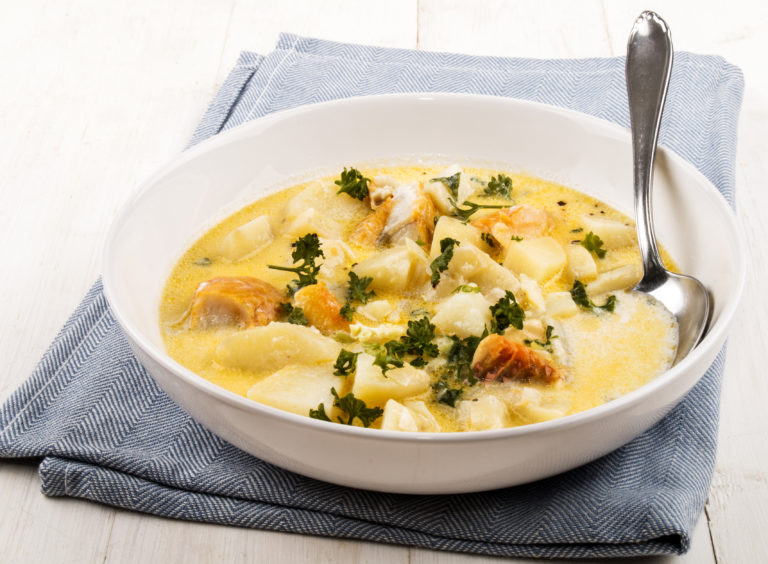 Scotland's fantastic natural larder should always be celebrated. Lady Claire does just that with this filling but healthy smoked haddock dish.
Since this lockdown began individual food shops have swung into overdrive and are going above and beyond the usual excellence of service which they all provide during normal times.
Wherever you go in Scotland you'll find such shops, delis and farmshops providing exceptional service to those living in their vicinities.
Each one deserves such praise, such thanks. And the way we can thank them is, of course, by shopping  there once this lockdown is over.
In Skye we are blessed to have access to lots of seafood.
This recipe, smoked haddock chowder, is one I  have been making for Godfrey, me and our daughter Isabella, who is coping with looking after Kinloch, where our staff are furloughed and where 13 of them are living in in lockdown.
It's a meal rather than a soup!
---
Smoked haddock chowder
(Serves 3-4)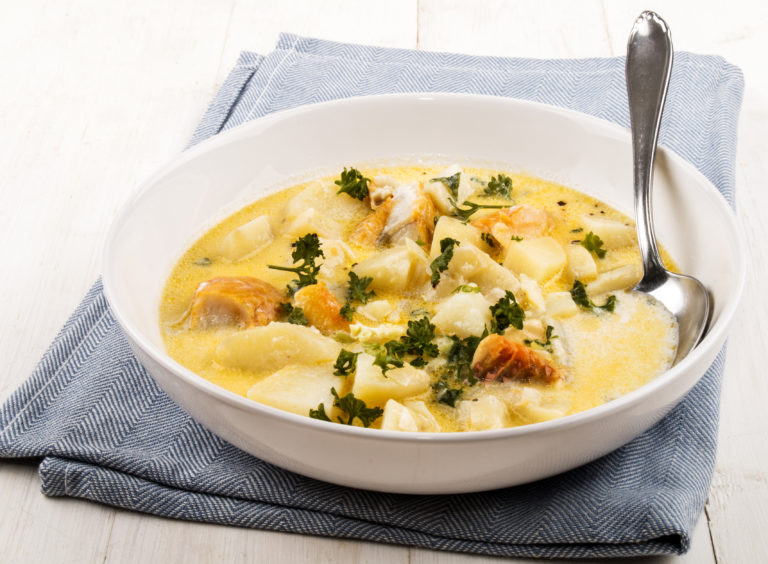 Ingredients
2 x fillets of smoked haddock (approx. 450g)
1 litre full fat milk
2-3 tbsp rapeseed oil (I use Cullisse chilli oil)
2 medium or 3 smaller onions, skinned, halved and diced
3 potatoes, peeled, diced and weighing around 450g in total
1 just rounded tsp medium strength curry powder (optional, but I always include it)
1 level tsp salt
12-15 grinds black pepper
A good grating of nutmeg
8 small tomatoes
Carton or tin of sweetcorn, drained
Handful of parsley, chopped
Method
Start by feeling the smoked haddock and remove any bones you find. Cut the fish into even sized chunks then pop in a saucepan.
Add the milk and heat until a skin forms on the surface of the milk. Take the pan off the heat and cool the contents.
Next, stab the tomatoes in a couple of places with the point of a knife. Put them in a bowl and cover with boiling water for 30 seconds.
Drain the water then peel off the tomato skins. Cut each tomato in half, scoop out the seeds, then cut in half again.
Heat the oil in a wide pan, and, over moderate heat fry the onions and potatoes for 12-15 minutes, stirring from time to time.
Add the salt, pepper, nutmeg and curry powder.
Cook for a couple of minutes. Then add in the milk in which you cooked the fish. Bring to a gentle simmer for five minutes.
With a hand held blender, whizz the contents of the pan to a smooth thick texture.
Add in the fish, tomato, sweetcorn and parsley.
Reheat gently, then serve ladled into heated soup plates or large bowls.