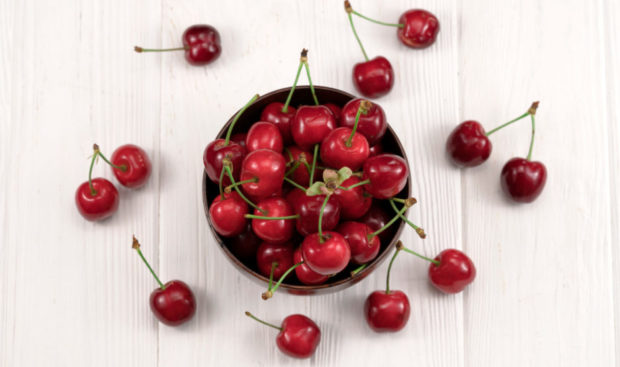 One of the shortest food seasons of the year is arguably that of cherries, which are only meant to be available for six weeks from mid-July to the end of August. Rebecca Shearer finds out more.
We know it's summer when cherries start appearing in the shops – but almost as soon as we get used to buying them, they're gone.
That's why we should make the most of them while we can.
Cherries are packed full of goodness, and just one cup of them will give you 18% of your recommended daily intake of vitamin C, while tart or sour cherries also contain high levels of melatonin which can help improve sleep cycles.
Not only that, but in 2015 the British Journal of Nutrition found that the juice from cherries has such a high amount of polyphenol content that it has capabilities of reducing blood pressure.
Cherries are also said to be good for muscle recovery when it comes to exercise-induced pain, damage and inflamation and are rich in anti-oxidants.
So, considering the wide-ranging health benefits from such a small but easy-to-find fruit, there's so much to gain from incorporating them into your summer diet.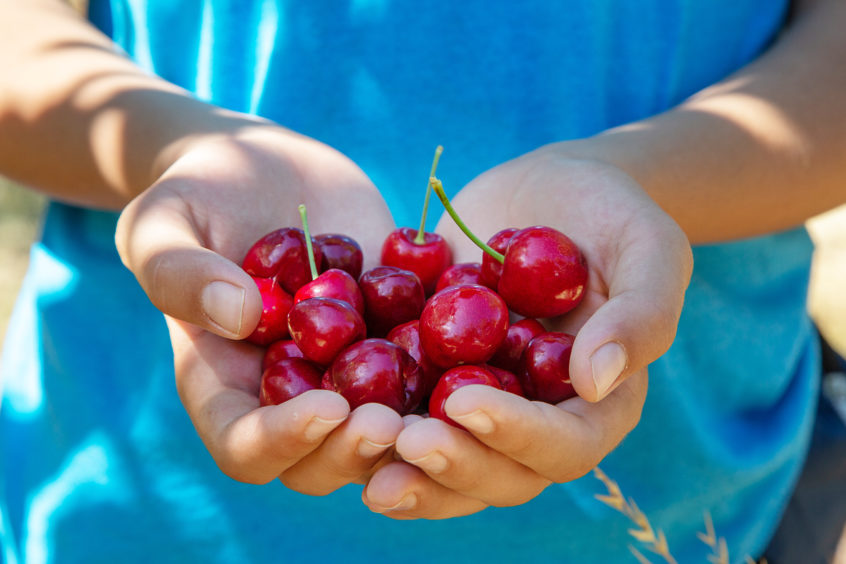 Jan Redpath, head of technical at Angus Growers LTD explains why we should be eating cherries in season.
He explained: "Eating cherries in season really helps to support farmers in Scotland. It's such a short season that you really want to make the most of them while they're here. Interestingly, it's one of the few fruit types that are not yet available consistently all year round from around the globe, leading to several lengthy absences from shop shelves over the course of the year. So it's best to get them while you can.
Jan also shares his thoughts on why the season may be so short and what it consists of.
"In Scotland it's limited to a six-week period from mid-July to late-August or early September but this year the season is running slightly earlier due to the good weather we've had. The season is so short because cherries have a very short flowering period in spring and then the fruit needs time to grow and ripen.
"The trees flower in spring and the fruit then grows and ripens ready for harvesting by hand.
"The biggest factors affecting the production are whether we get any late frosts which can damage the flowers and the young cherries, and whether we get any other stress factors through May and June which can cause the developing fruit to be shed prematurely by the tree.
"The amount of fruit that the tree will hold on to will depend on these factors, so it can be quite devastating to find all these immature cherries dropping to the floor before they even get a chance to grow and ripen."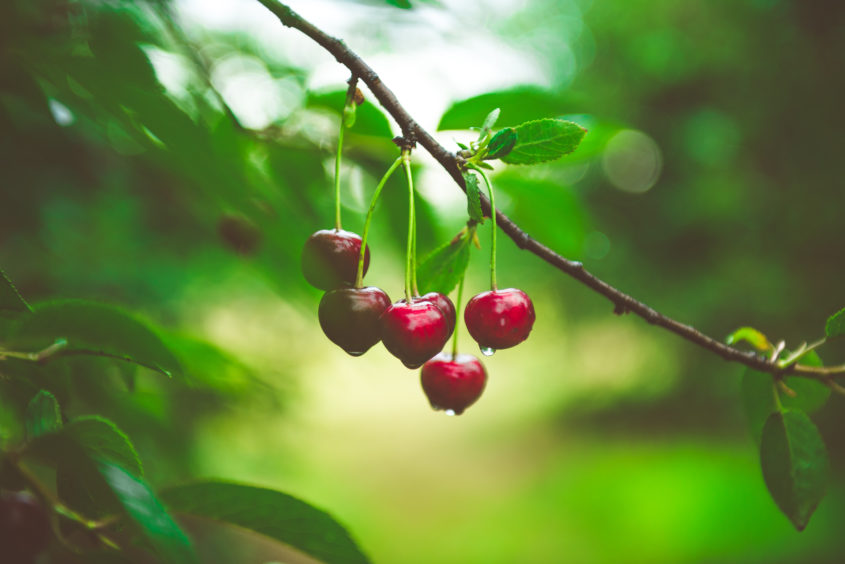 Anna Mitchell from Castleton Fruit Farm also has experience of growing cherries in the north-east of Scotland.
"We have dwarf cherry trees that allow us to grow cherries under polytunnels. So we'll start picking them in a couple of weeks, mid-July, and fill the gap between now and the end of September.
"Not all the berries on the tree ripen at the same time so we will pick some one week and come back the next week for some more and then get the remaining ones a week after that.
"As a lot of farms down south pick their cherries just for July, we could've at one point been one of the only farms in the world picking their cherries after July. The climate and polytunnels allow us to extend the season a bit further."
Anna also admits it's difficult to 'manufacture with them' as the stones often have to be removed from each one.
"It's a time consuming and annoying job to have to do but it has to be done if we want to sell them commercially."
It's no secret that Scottish produces some of the best food in the world, from its own shores and lands. Cherries are no exception, says Jan.
"We like to think that the slow ripening in our climate help to give some of the best tasting cherries you can get.
"Cherries can be eaten both in sweet and savoury dishes, if you manage to not eat them all while baking and cooking. They are delicious and nutritious!"
---
All recipes courtesy of Angus Growers. 
Cherry mess
(Serves 6)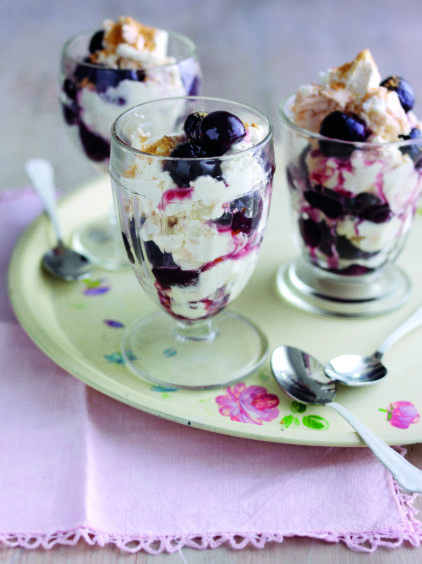 Ingredients
For the meringues:
4 egg whites
150g caster sugar
½ tsp white wine vinegar
For the roasted cherries:
500g cherries, pitted
2 tbsp runny honey
Zest ½ orange
1 vanilla pod, split and seeds removed
For the vanilla whipped cream:
300ml double cream
3 tbsp icing sugar
1 tbsp vanilla paste
To serve: 
3 ginger biscuits blitzed to ground crumbs
Method
To make the meringue:
1.     Preheat the oven to 160°C/Gas Mark 3.
2.     Whisk the egg whites with an electric mixer to stiff peaks. Add the sugar, 1 tablespoon at a time, whisking well between each addition.
3.     Fold in the vinegar with a spatula then spoon the meringue mixture on to a baking tray lined with baking parchment. You want it to be 1.5cm thick.
4.     Reduce the oven temperature to 150°C/Gas Mark 2 and bake for 45 minutes or until the outside of the meringue is set; lightly golden brown and the inside will be chewy. Leave to cool on the baking tray. Once cooled, break into pieces.
For the roasted cherries:
1.     Preheat oven to 180°C/Gas Mark 4.
2.     Place all the ingredients into a baking tray and mix well.
3.     Roast in the oven for 20 mins until the cherries have softened. Remove from the oven and remove the vanilla pod. Allow to cool to room temp before serving.
For the vanilla whipped cream: 
1.     Whisk or using an electric mixer, beat the ingredients until soft swirls and set aside until ready to serve.
To serve: 
1.     Add the broken meringue pieces to the vanilla whipped cream and then fold through the roasted cherries but don't mix too well as you want it to be red and white not all pink. Spoon into glasses, sprinkle with the crushed ginger biscuits and serve within 30 minutes so that the meringue keeps its wonderful texture.
---
Summer salad with feta and pickled cherries
(Serves 4 as a starter)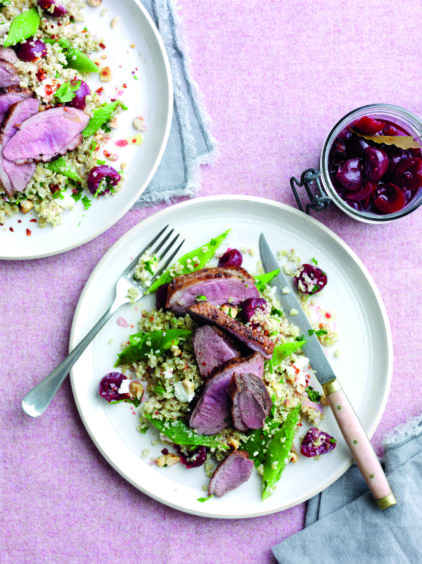 Ingredients
For the pickled cherries: 
50 ml red wine vinegar
1 tbsp sea salt
150ml water
100g caster sugar
200g cherries, halved and stones removed
For the salad: 
1 medium courgette, stalk removed
½ firm cantaloupe melon, skin and seeds removed
2 tbsp extra virgin olive oil
Pinch of sea salt
Small handful mint leaves
100g feta
Method
Place the red wine vinegar, salt, water and sugar in a small saucepan and bring to a boil.
Boil for 2 minutes, stirring to make sure all the salt and sugar has dissolved.
Take off the heat, pour into a bowl or container and leave to cool for 5 minutes. Add the cherries and leave to cool to room temperature. (If making ahead of time, place in the fridge to chill).
Use a speed peeler or mandolin to make courgette ribbons the length of the courgette.
Thinly slice with a knife or use a mandoline to thinly slice the melon into long strips. Toss the melon in a bowl with the olive oil and a pinch of salt.  Spread on a large platter.
Sprinkle on the mint, crumble on the feta and scatter over the cherries. Drizzle a couple of tbsps of the pickling liquid over the top.
Top tips: 
Feta can be replaced with a creamy burrata or mozzarella.
The pickled cherries make a great accompaniment to a cheese board.
The cherries can be kept in the fridge for a few days. The flavour will intensify.
---
Read more in this series…
Season's Eatings: Why Scottish strawberries are the cream of the crop