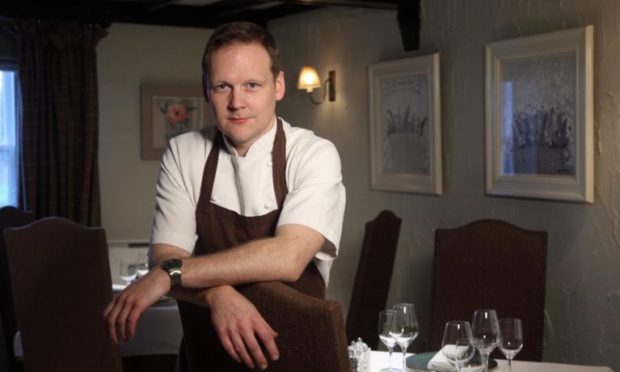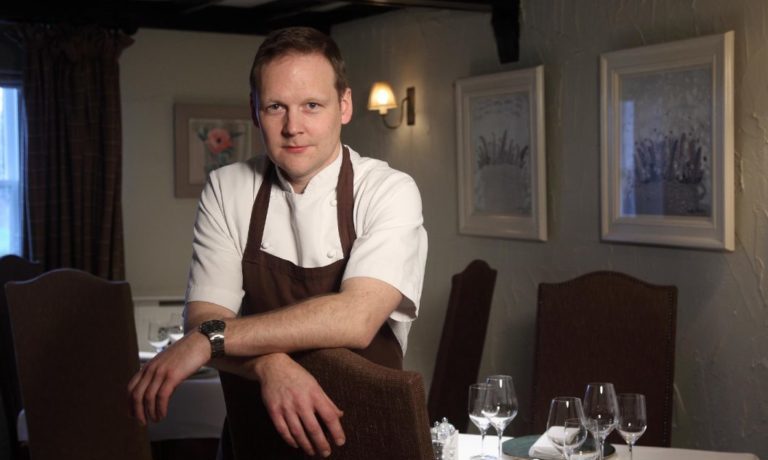 Geoffrey Smeddle of the Peat Inn is arguably one of Fife's top chefs, with his restaurant having earned a Michelin star in 2010. Here, he shares with Rebecca Shearer his favourite food memories from throughout his life and career.
The Peat Inn has long been one of Fife's fine dining diamonds since it gained a Michelin star in 2010.
Spearheading it is head chef and proprietor Geoffrey Smeddle, 49, who has an extensive background of working in restaurants across the world, before settling on the restaurant just south of St Andrews in the early 200os.
After obtaining a degree in history before training to be a chef, Geoffrey's eloquent and calm approach to food across the world  – and his passion for cooking with local ingredients – is arguably what has helped make the Peat Inn the success it is today.
Here, he shares some of his favourite meals from throughout his life and career, and the memories associated with those.
Childhood – mussels
Geoffrey grew up in Kent, where he lived until the age of 13, but his first food memories  were heavily intertwined with home cooking and French seafood.
"My mother was in the traditional mould of the housewife and her food was all home-cooked, quite simple and always very tasty. The four of us would sit down as a family.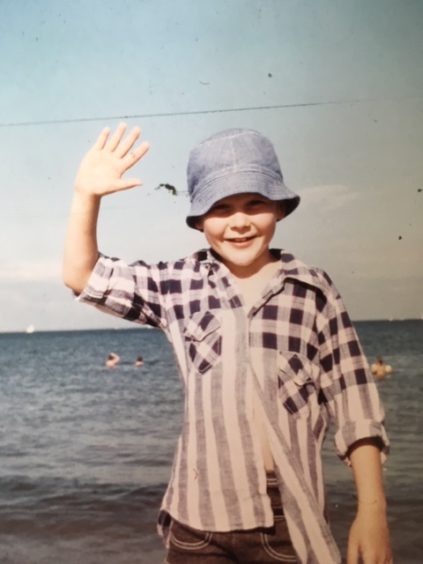 "Sundays would involve a roast, particularly if the grandparents were staying – which would be a big palaver for my poor mother who did everything herself. As children we'd lay the table and my dad would always get in the way trying to help with the washing up.
"My stand-out meal from my childhood would be from probably one of my first ever foreign holidays in which we went camping in France. One day my dad went off to a market and came back with langoustines. On our final night of the same holiday we went out for a meal and I had moules-frites (mussels in creamy sauce and crispy French fries). The chips weren't like any English chips I'd ever seen.
"My dad would do this throughout my life – he'd order something he'd think I would also like and would say I could order something I'd never tried, like mussels, so if I didn't like it then we could swap.
"I remember biting into this bright orange mussel and my eyes just opening as wide as the open shell – it was just beautiful. I was hooked on mussels from that day onward. That's something I can say has not been distorted by time.
"For me, foreign holidays were always a time to try and enjoy new foods but at home it was always the consistency of home cooking."
Teens – steamed grouper
Geoffrey's teenage years were a drastic jump from the rural Kent upbringing he'd had as his father was posted to work in Hong Kong, taking the family with him.
"From a food point of view, I think this is when I first discovered restaurants, because up until then, my experience of restaurants had been a pleasant but unauthentic local Chinese restaurant and local Italian restaurant – probably similar to what everyone experienced in the late '70s, early '80s.
"A lot of the food was extremely challenging to Western diners who weren't quite used to it but it was all delicious. To experience Cantonese food in Hong Kong was an immense privilege. But Hong Kong is a city like New York and London in the sense that it's a huge crossroads of international communities and cuisines, so you could eat dozens of high-quality versions of various cuisines.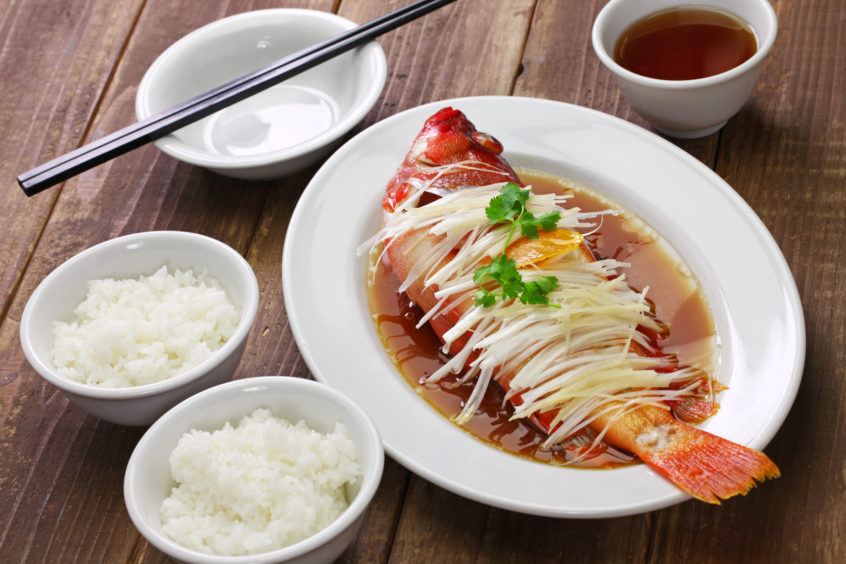 "My period in Hong Kong is probably what made me fall in love with restaurants. I was absolutely captivated and saw it almost as a theatrical production – knowing that half of the drama of what was going on was unfolding before your very eyes on the restaurant floor, but that there was so much more going on behind the doors of the kitchen. To me, it really was an on-stage and off-stage perception I had of what was happening in restaurants.
"It wasn't until I went to university many years later that I started cooking for myself. It was just typical student food, such as spaghetti bolognese and curries. There certainly wasn't anything special about any of it and I wasn't very good at much of it.
"I think this is also the first time I started getting excited about fish and seafood in general. I first discovered squid here but largely people would eat in groups and there'd be a lot of dishes based around sharing – that would be placed in the middle of the table for everyone to have.
"One of the stand-out dishes for me in this time was a steamed grouper, which is a little bit like a sea bass, but it's a large fish that would've been filled with things like coriander, ginger, lemongrass and so on. Then it was steamed and served whole for you to eat with chopsticks."
20s – Michelin star meals
In his 20s Geoffrey went to study history at university then started training as a chef after graduation.
"By the end of my 20s, I was living and working abroad as a chef. This was also the decade I first started to eat in restaurants that had Michelin stars.
"I was living and working in London for much of the decade and at that time it was when British cuisine jumpstarted in London, Gordon Ramsay was coming on to the scene and there were British chefs being awarded two Michelin stars.
"When it came to applying for jobs I was very lucky that an uncle and aunt of mine were running a small hotel in the South of France and I had the opportunity to work for them for a summer. I did it to see if the industry was what I thought it was and whether cheffing really was for me. I did the summer there, loved working in the kitchen with my aunt and got to the end of it and decided that's what I definitely wanted to do, then went on to train properly as a chef.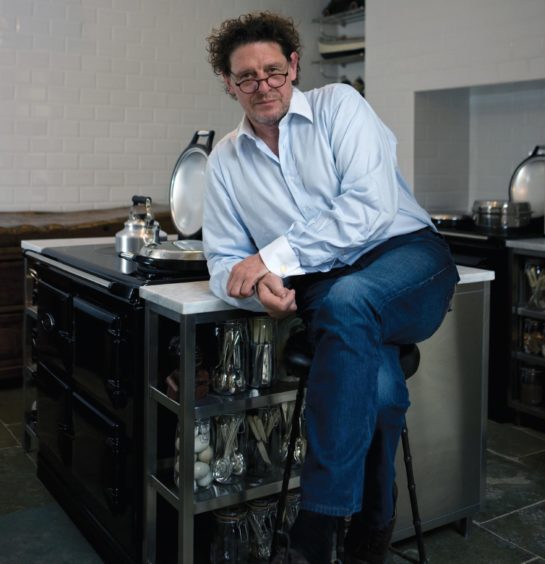 "Later in my 20s I had my first experience of eating in a restaurant with three Michelin stars, which was at Restaurant Marco Pierre White. I can remember the whole meal – the starter was a salmon ballotine, where two fillets of salmon are rolled together to make a long cylinder, then they are poached then sliced and served cold. It's all about temperature control and technique.
"My main course was a wonderful lamb dish with a sweetbread mousse over each lamb cutlet, which was delicious and exquisitely presented as well. Then the dessert was a caramel parfait with sheets of pink grapefruit leaning up against it.
"Every point of that meal was just excellence, judgment and technique, with real elegance and restraint as well."
30s – mackerel and tomato tart
"At the start of my 30s I was working in Prague then subsequently moved to Chicago and worked there for a spell. Being in the US was a wonderful experience – I'd never been to America before that and Chicago is a great city to experience the country if it's your first time.
"When I was there I got to dine at Charlie Trotter's restaurant, who was one of the stand-out chefs in the US and this restaurant in Chicago was really famous. I was privileged to be taken there by my boss at the time.
"One of the things he did well was casual dining. It's something we've embraced a lot better now in the UK but that was a wonderful experience to have in America.
"Then when I was 32 I moved from Chicago to Glasgow to take on a head chef role. This was where I started to fall in love with Scottish ingredients. It was a joy to have those fresh Scottish ingredients on my doorstep, and it still is.
"One of my stand-out meals from this time came from a restaurant I visited on a birthday trip to Paris. It was a very thin, flat open tart of mackerel and tomato – a thin layer of pastry, with an oregano and tomato compote spread over it, almost like a really sophisticated and refined pizza. Then there were slivers of mackerel and black olive served on top.
"On the surface it looked really simple but I've tried to remake it and to get the pastry still crisp but the tomato warm and moist and the compote not overcooked is like a magician's juggling act. I think it's a real lesson for chefs who can fall into the trap of being over-elaborate and complex. There were three ingredients but they were executed to perfection."
Now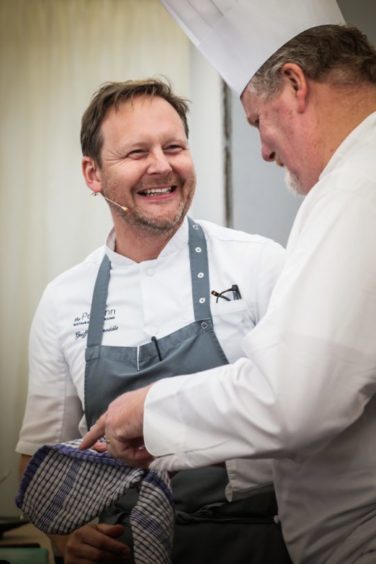 In his mid-30s, Geoffrey and his wife bought the Peat Inn near St Andrews, a restaurant with rooms, which is where he remains as a chef and proprietor today.
"The constant throughout all these years of owning the Peat Inn has been that all the ingredients are, as much as possible, Scottish. Then failing that, they're British.
"I wouldn't say the menu is fusion food, though I have been inspired by many of these international places I've worked in. But many of our diners are also from overseas, as well as local diners who have international experiences. Many of them are knowledgeable, well travelled and sophisticated – which they also demand to see reflected in the cooking.
"For example, on the menu at the moment, we have a strawberry dish using Fife strawberries – tarts filled with chopped, marinaded strawberries from Easter Grangemuir in Pittenweem, with that we serve a really light mousse flavoured with rose petals. Then we finish it with a sorbet which is flavoured with lemongrass, chilli and ginger. It's midway through our tasting menu and as you transition from the savoury to the sweet it's something very clean, light, refreshing and cleansing but at the same time very exciting and many of guests say it's one of their favourite dishes of the menu.
"It's an example of how I will take a Scottish ingredient and insert my own experience of my travels and create a dish which I think is distinctive and unusual."
---
Lebanese flatbreads
Geoffrey says: "Cooking all week means at home I want recipes that are quick, easy and yet still delicious. These flatbreads take two minutes to prepare and a few more minutes to cook. Once cooked they are best eaten within a few hours either warmed or at room temperature with dips, salads, lamb meatballs or even reheated over the barbecue with your favourite grilled staples."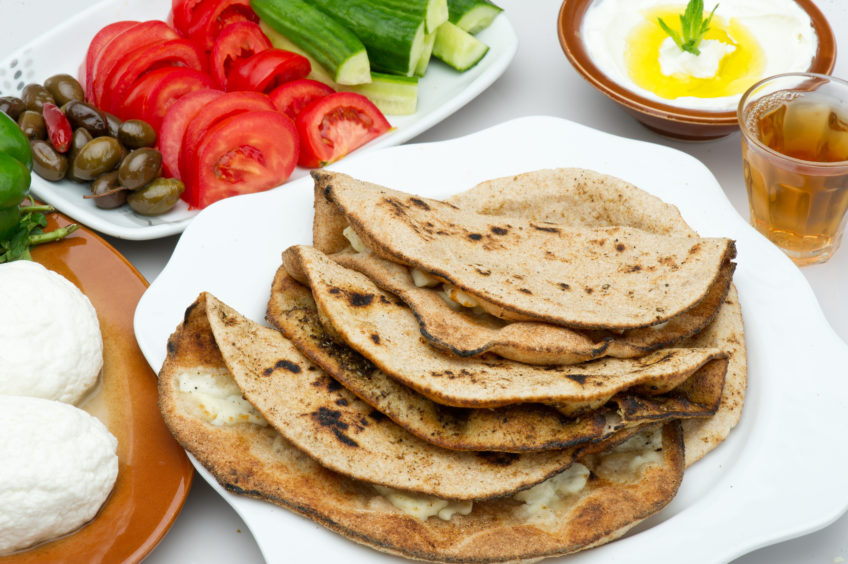 Ingredients
300g plain flour, plus a little more for dusting the work surface
250g natural yogurt
1 clove of garlic (or two if you fancy it a bit more gutsy), very finely chopped
1 dessertspoon of basil, finely chopped
1 dessertspoon coriander leaves, finely chopped
Method
Weigh the flour into a suitable sized mixing bowl and add all the other ingredients
With clean hands, work all the ingredients together until a dough is formed, there is no need to over work it.
Dust a work surface generously with flour. Cut the dough into pieces about the size of a golf ball. With a floured rolling pin, roll out each of the dough pieces, placing them on a tray lined woth  greaseproof paper  as you go. Don't let them touch or overlap in case they stick
Once they're all rolled out heat a wide frying pan and add a light film of vegetable oil.
Cook one flatbread in the frying pan At a time until the first side is dark gold then turn and finish the second side. Lift out into a clean tray and repeat until all are cooked
Serve either at once while hot  or at room temperature. They can hold for several hours without spoiling and  can also be rewarmed over a barbecue.
---
Read more in this series…
My Memories in Meals: Lady Claire Macdonald spills the beans on her favourite food throughout the decades
My Memories in Meals: Failing the cooking exam for his catering GCSE didn't hamper the spirits of this chef