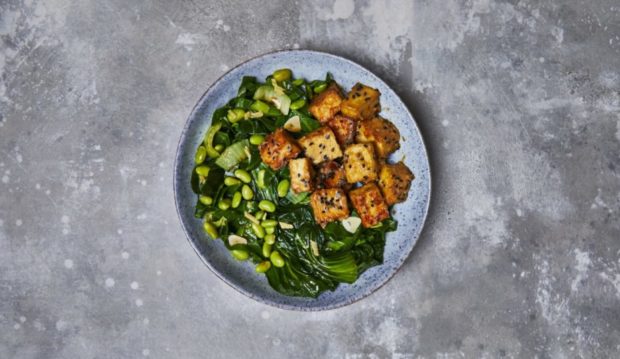 Combining ginger with a whole range of Japanese-inspired ingredients is a delicious way to give your body the nutrients it needs to power through the rest of the week.
In honour of yesterday's National Tofu Day, we've chosen this delicious Japanese-inspired recipe by Joe Wicks for Gousto to jazz up your weeknight meals.
Vibrant, healthy and oh-so-yummy, this is a really easy way to add some of the nutrients you need to power through the rest of the week.
Here's a closer look at some of the ingredients that make this dish:
Pak choi has antioxidant properties that help protect against 'free radicals'.
Mirin, a staple in most Japanese kitchens, is a sweet rice wine that gives dishes a bit more acidity. It is similar to sake but has more sugar and less alcohol.
Edamame are 'immature' soybeans that are high in protein.
Spring greens are basically the first cabbage heads of the year and don't contain the hard centre that normal cabbages do.
A staple of Japanese cooking, miso paste is made from fermented soya beans and can sometimes take several years to make.
Have a go at putting these ingredients together with the recipe below..
---
Miso tofu with stir fried ginger greens
(Serves 2)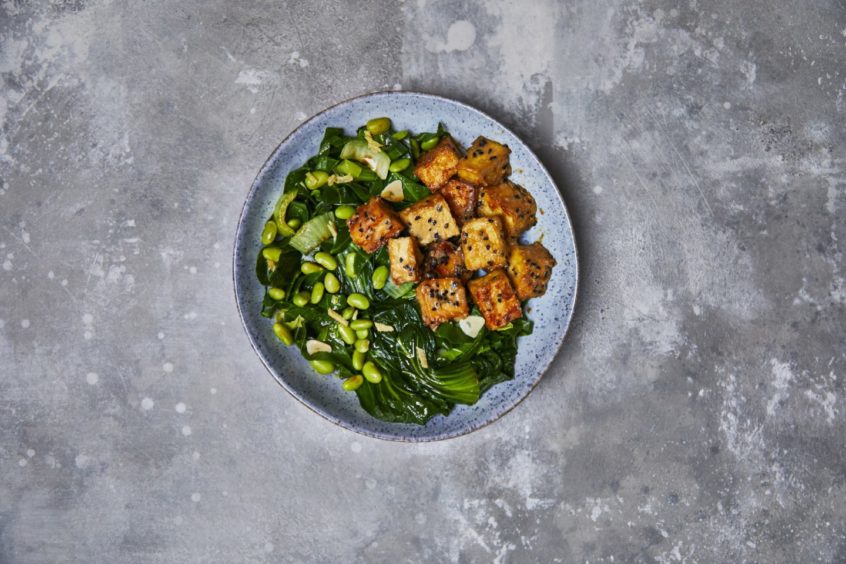 Ingredients
1 garlic clove
15g fresh root ginger
8g soy sauce
2 tbsp white miso paste
200g pak choi
150g spring greens
280g plain tofu
15ml mirin
5g black sesame seed
80g blanched edamame beans
Method
Boil half a kettle. Drain the tofu and pat it dry with kitchen paper, then cut the tofu into cubes.
Rip the leaves off the spring greens, discard the tough stalks, then layer the leaves over each other, roll them up and slice into thin strips.
Cut the pak choi in half, separating the white bases and green tops. Then cut the white bases into bite-sized pieces.
Put the edamame beans in a bowl and cover with boiled water.
Add the miso paste and mirin to a small bowl with 1 tbsp vegetable oil and mix until smooth – this is your miso glaze.
Peel and finely slice (don't chop!) the garlic and peel and finely chop the ginger into batons.
Heat a large, wide-based pan (preferably non-stick) with 1 tbsp vegetable oil over a high heat. Once hot, add the tofu cubes and cook for 5-6 minutes or until browned all over and starting to crisp
Meanwhile, heat a separate wide-based pan (preferably non-stick) with 1 tbsp vegetable oil over a medium-high heat. Once hot, add the shredded spring greens and pak choi bases and cook for 2-3 minutes or until starting to wilt.
Drain, then add the edamame beans, pak choi tops and chopped ginger and garlic to the greens and cook for a further 2-3 minutes or until fragrant and everything is tender with a bite.
Add the soy sauce and give everything a good mix up – these are your stir fried ginger greens.
Once the tofu is golden, add the miso glaze and cook for 2-3 minutes or until the sauce has coated the tofu and is starting to caramelise.
Sprinkle over the black sesame seeds and serve the miso tofu with the stir fried ginger greens to the side. Get in!
---