Choose sweet or savoury and make double cream your new kitchen best friend with these recipes.
Adaptable enough to be added to both savoury and sweet dishes, double cream is perfect for whipping, dolloping, spreading, blending and even piping on to cakes.
Regardless of how you choose to use it, double cream is likely to be a winner and add richness and creaminess to any dish.
Below, we've found three recipes, courtesy of Graham's the Family Dairy to use double cream, including a quiche, some tarts and even a rice pudding.
For more three ways with, be sure to have a look at previous recipes in the series here.
---
Bacon and leek quiche
(Serves 7)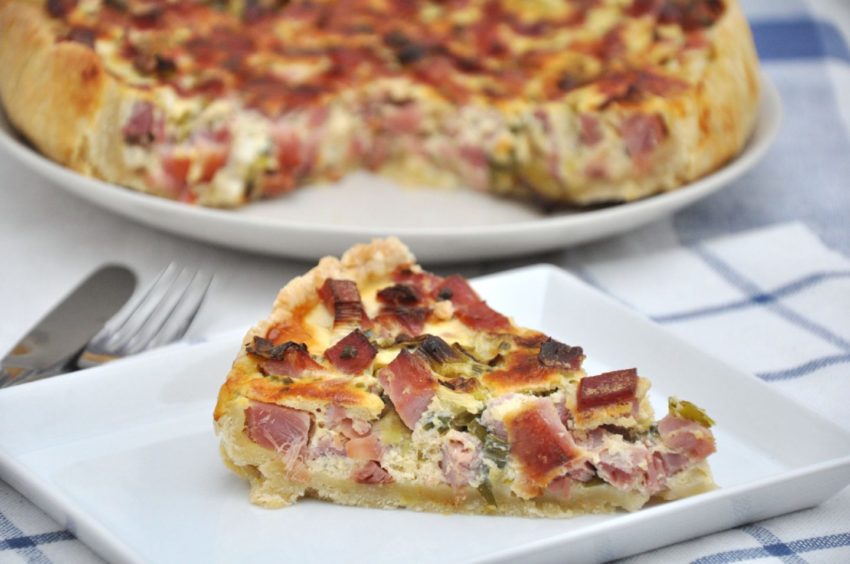 Ingredients
For the shortcrust pastry:
200g plain white flour
100g Graham's slightly salted butter, cold
50g ice cold water
For the quiche filling:
2 medium onions
2 small-medium leeks (or 1 large)
50g Graham's unsalted butter
A pinch of salt and pepper
10 rashers of smoked streaky bacon
2 medium eggs
300ml Graham's double cream
50g Italian hard cheese (such as parmesan), grated
Method
First, make the pastry. Weigh your flour and butter into a large bowl and rub them together with your fingertips until combined. Try to rub your thumb over the rest of your fingers, using them as a washboard.
Keep going till the mix is like breadcrumbs. Add your cold water and stir with the blade of a table knife until mostly combined, then use your hands to bring together into a flattish lump of dough.
Wrap this lump in cling film and place it in the fridge to rest for 10 minutes. Preheat your oven to 180C/160C fan/Gas 4, and grease a 12-inch metal tart tin with plenty of butter.
Roll out your chilled pastry on a floured surface to the thickness of a £1 coin. Transfer your sheet into your tin, and then trim around the edges, but leaving at least a centimetre hanging over.
You can freeze any excess pastry. Cover your pastry case with a sheet of baking paper and then weigh this down with a few copper coins. Bake for 15 minutes covered, then remove the paper and coins and bake for another 10 minutes uncovered, before setting aside until the filling is ready.
Once baked, you should trim off any excess pastry with a sharp knife. While the pastry case is baking, make the filling.
Chop your onions, leeks and then bacon into thin-ish slices. In a frying pan, melt the butter over a medium heat and then add the onions, leeks and bacon. Fry them until completely soft and starting to go golden brown – if they're sticking or browning too fast, add some water.
This will take about 15-20 minutes. Beat the eggs, cream and half the hard cheese together in a bowl and add a pinch of salt and pepper.
Stir in your soft onions, leeks and bacon, then scoop this mixture into your blind-baked tart case. Sprinkle on top the rest of the cheese and bake for another 25-30 minutes, or until a deep golden brown.
Recipe by James Morton for Graham's the Family Dairy.
---
White chocolate and raspberry tarts
(Serves 4)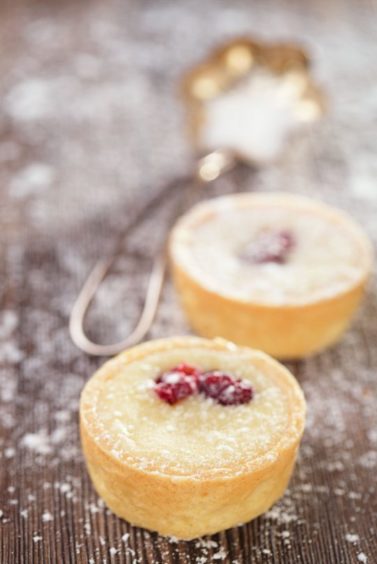 Ingredients
For the pastry:
200g plain flour
100g Graham's unsalted butter, cold
50g (weigh it) cold water
For the filling:
300g white chocolate
250g Graham's double cream
Good raspberry jam
Fresh raspberries, to finish
Method
Into a large bowl, weigh your flour. Weigh your butter, then chop this up into squares and add this too.
Rub these together with your fingers (or a food processor) until they have the appearance of breadcrumbs. Add your cold water and use a butter knife to mix everything together, gently.
Use your hands to bring the pastry into a rough dough (don't knead or overmix) then wrap this in cling film and place it in the fridge for at least 10 minutes. This will relax the gluten and give you a crumblier pastry. You can leave it here for up to two days, or freeze it.
At this point, preheat your oven to 180C/160C fan/Gas 4. Look out and grease six individual metal tart tins with loads of butter. If they're quite big, you might only get four out of this recipe. Alternatively, you could make one big tart.
Remove your pastry from the fridge and place on a floured work surface. Add more flour on top, and then roll it out until it's the thickness of a £1 coin. I like to use a coin to measure this.
Keep the pastry moving all the time and add more flour as necessary to stop it sticking. Cut out circles a bit bigger than your tins and tuck the pastry inside, leaving any excess dangling over the edge. Prick each case all over with a fork.
Place them in the oven and bake for 25-30 minutes, or until they're turning golden. They're not going to get cooked again so make sure they're crisp. I'd check them after 10 minutes and push down any bubbles that form, or you could weigh them down with baking beans.
Once done, remove the pastry and leave to cool, before trimming off the overhang with a sharp knife.
Spread the bottom of each tart case with a thin layer of jam. Make the ganache by heating your double cream in a saucepan over a medium heat until it begins to simmer.
As it's heating, break your chocolate into squares and place in a bowl. Pour your simmering cream over your chocolate and mix together gently with a wooden spoon.
To finish, pour your white chocolate ganache into your jammy tart cases and smooth out if necessary. Place them in the fridge to set for 20 minutes or so, and then decorate with a few fresh raspberries.
Cover any sins with a dusting of icing sugar. Enjoy!
Recipe by James Morton for Graham's the Family Dairy.
---
Rice pudding
(Serves 4) 
Ingredients
125g pudding rice
75g caster sugar
1 litre Graham's gold top milk
150ml double cream
1 tsp vanilla extract or ½ vanilla pod, split lengthways
Pinch of salt
Method
Preheat the oven to 140C. Add all of the ingredients to a casserole dish, mix together, then cover with the lid and bake in the oven for 2 hours.
Remove the dish from the oven and allow to cool for 5 minutes before serving.
Some of our favourite variations: Add 75g of raisins at the start of the process. This is how our granny used to make it. The raisins plump up during cooking and are squishy and delicious!
Top with a spoonful of homemade raspberry jam and/or a simple dusting of nutmeg.
Recipe by Three Sisters Bake for Graham's the Family Dairy.
---
Read more in this series…
Three ways with cheesecake: Make the most of summer berries and ginger with these tasty dessert recipes
Three ways with beetroot: From red velvet pancakes to tarte tatin, enjoy beetroot as never before